Pretty much everyone who had planned a naturist vacation in Europe or is still hoping to plan one is probably following the news carefully. Every country has meanwhile started its recovery plan, some are taking huge leaps while others keep going in baby steps. Countries like Spain, Portugal, Italy, and Greece are happily reporting that they will receive tourists this summer. But other questions remain: Which borders will open up? Will my government allow me to leave the country? Will there be quarantines when I return? Will there be flights? What if I get stuck somewhere?
Other than organizational worries, also the health factor will remain extremely important. The virus isn't gone, we've only become much more aware of the potential risks. Places where lots of people come together, obviously are still to be taken with much care. It's not a surprise that a recent survey about naturist vacations in 2020 showed that camping will gain in popularity this summer. Lots of naturists want to travel with their own transportation and stay in natural places where social distancing will not be much of a concern.
If you're planning to go camping in Europe or considering changing your current plans, you're in for a real treat. Europe is an excellent destination for naturist camping. With the following tips, your nude camping trip will be even more memorable.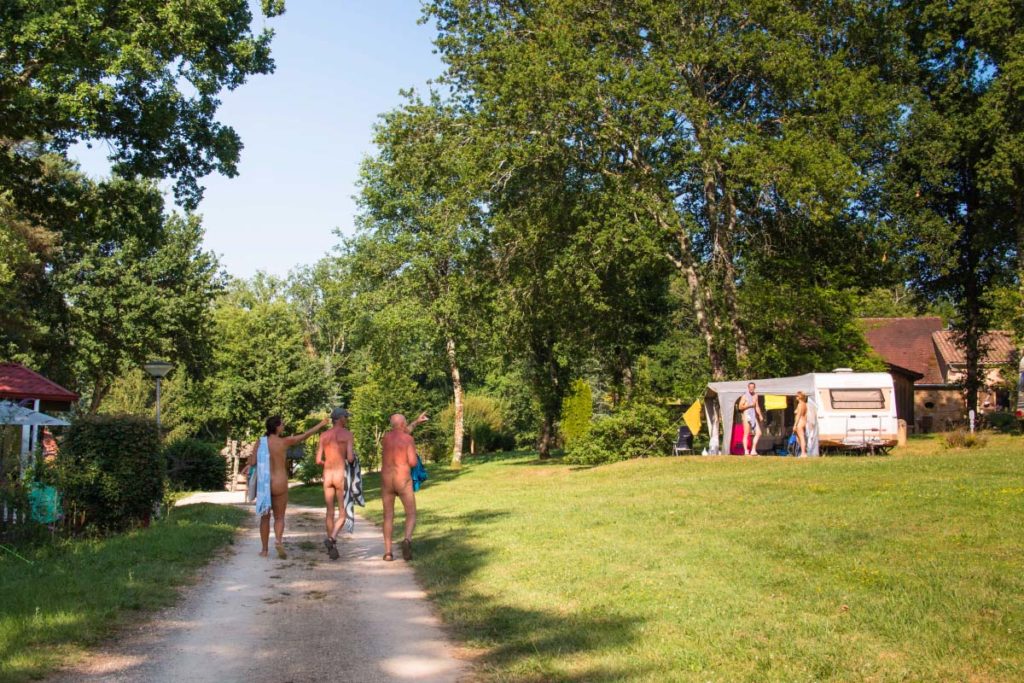 Naturist campsites come in all forms and sizes
If there's one thing you can be certain about when it comes to naturist campsites in Europe, it's that not two campsites are alike. They all differ in size, capacity, facilities, and atmosphere. Here's a short overview that will help you pick the right type of campsite.
Club campsites
These campsites are part of a naturist club property. Most of the time they have limited space and facilities. The naturist values are held high at club campsites and "nude when possible" is often the main rule. The condition of the facilities depends a lot on the popularity of the club. Clubs with lots of members often have excellent facilities, while others can be in urgent need of repairs. Club campsites often have a very social atmosphere and activities are common. Membership at a recognized naturist federation is often a must to be allowed to stay.
A great example of a club campsite is
Liga Völs in Austria
.
Small naturist campsites
Small naturist campsites are very similar to club campsites, with the difference that they aim for making a profit. These campsites will often be found in nature, away from popular tourist destinations. Most small campsites have basic facilities like a swimming pool, a bar/restaurant and sports facilities. The atmosphere tends to be social and group activities are common. Some small campsites will ask for federation membership, but most don't.
Important to mention is that with "small", we mean the number of camping spots. Not the size of the property. We've been to small campsites that are located in a huge natural property.
Great examples of small naturist campsites are
Quinta do Maral in Portugal
,
Le Clos Barrat in France
, and
Sasso Corbo in Italy
.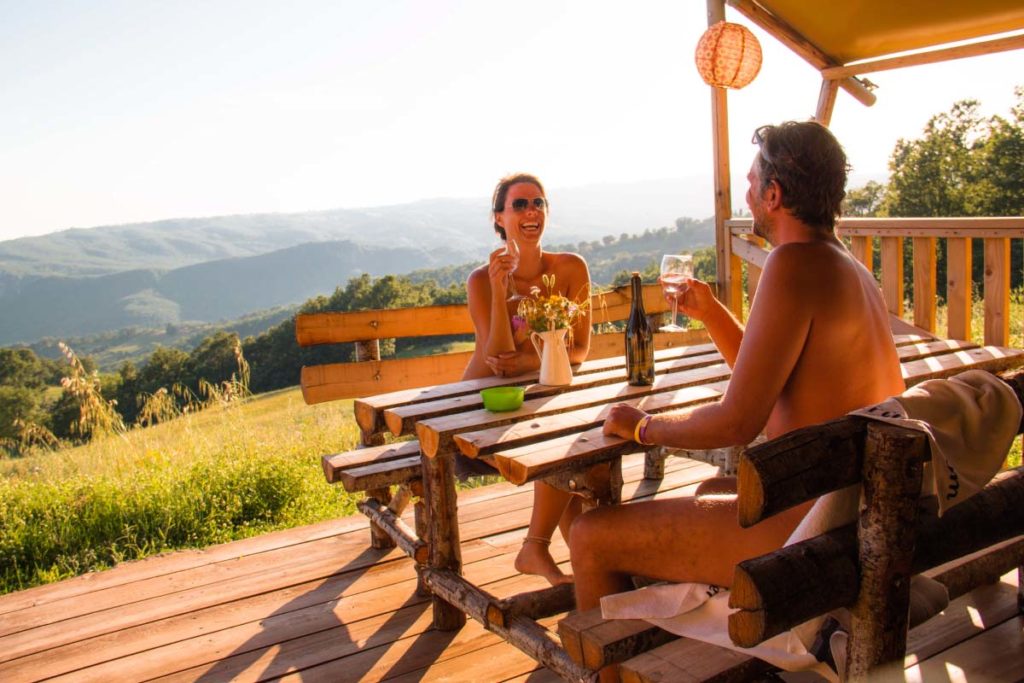 Mid-size naturist campsites
Mid-size campsites have several hundreds of camping spots and often also a variety of rental accommodation. The facilities most often include one or more swimming pools, many sports facilities, bars, restaurants, shops, activities, and often even a wellness section. At mid-size naturist campsites, it's never necessary to leave the campsite if you don't want to. These are also preferred places for families with children. Because of the size, the social aspect is less common except for the campsites that actively promote it. Federation membership is rarely requested at these campsites.
Great examples of mid-size naturist campsites are
Bélézy in France
and
Baldarin in Croatia
.
Naturist villages
These are the large naturist campsites that accommodate thousands of naturists. The facilities are plenty, which makes these campsites look like actual villages (hence the name).
Naturist villages
often include a nude beach. At these campsites, anonymity is more important than the social aspect. They are great destinations for those who want to spend their time 24/7 in the nude or want to blend in among many other naturists.
Federation membership is rarely requested at these campsites.
Be careful: "naturist village" is not a patented term, so every campsite can call itself a naturist village. Make sure to check first before you book.
Great examples of naturist villages are
CHM Montalivet in France
and
Euronat in France
.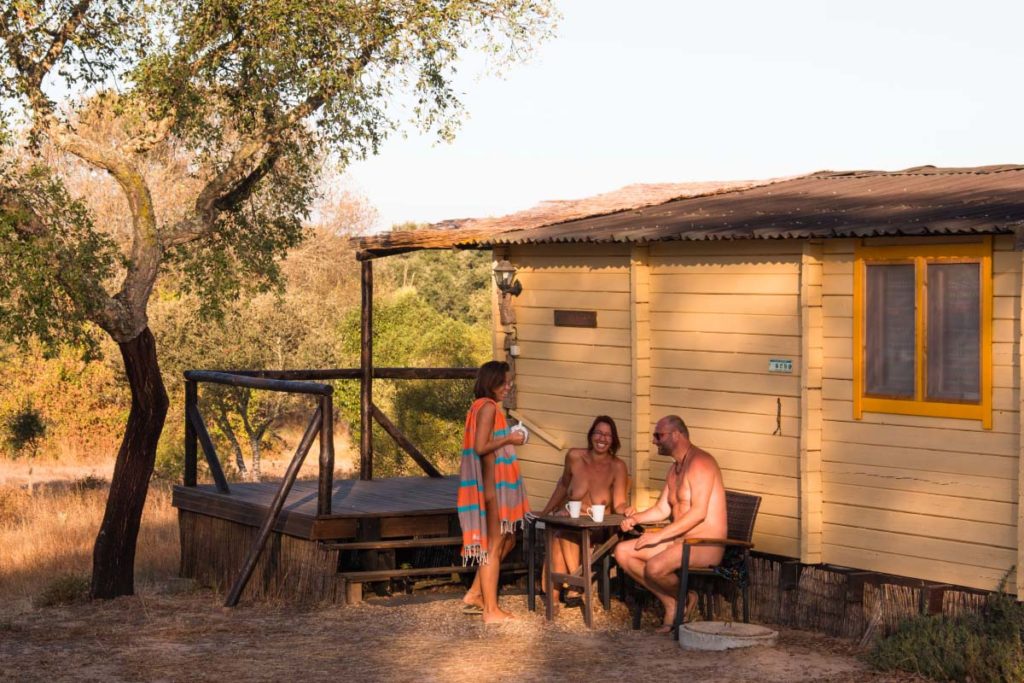 You don't need to bring your own accommodation if you don't want to
Many still link camping with sleeping in a tent or camper. For the large majority of naturist campsite visitors, this is their preferred way to spend their vacation. But it doesn't have to be. If you like more comfort, many naturist campgrounds provide a variety of rental options. Bungalows and mobile homes have been gaining popularity for many years, but recently there's a new kid on the block: Glamping. A perfect mix between nature and luxury.
Basically, glamping means that you still sleep in a tent, although a very large one that has all the amenities of a mobile home or bungalow. Glamping tents often have their own kitchen, bathroom, one or more bedrooms (with a real bed), and lounging area. Some even have more. At
naturist campsite Bélézy
we saw a family glamping tent which had two floors. And at
Creuse Nature
we stayed in a glamping tent that had a real bathtub. We'll always remember the evenings when we watched the sunset over the lake while drinking wine in the tub.
Creativity is key when it comes to glamping and we're certain that you'll find amazing glamping opportunities including beach tents, treehouses, domes, yurts, and so on.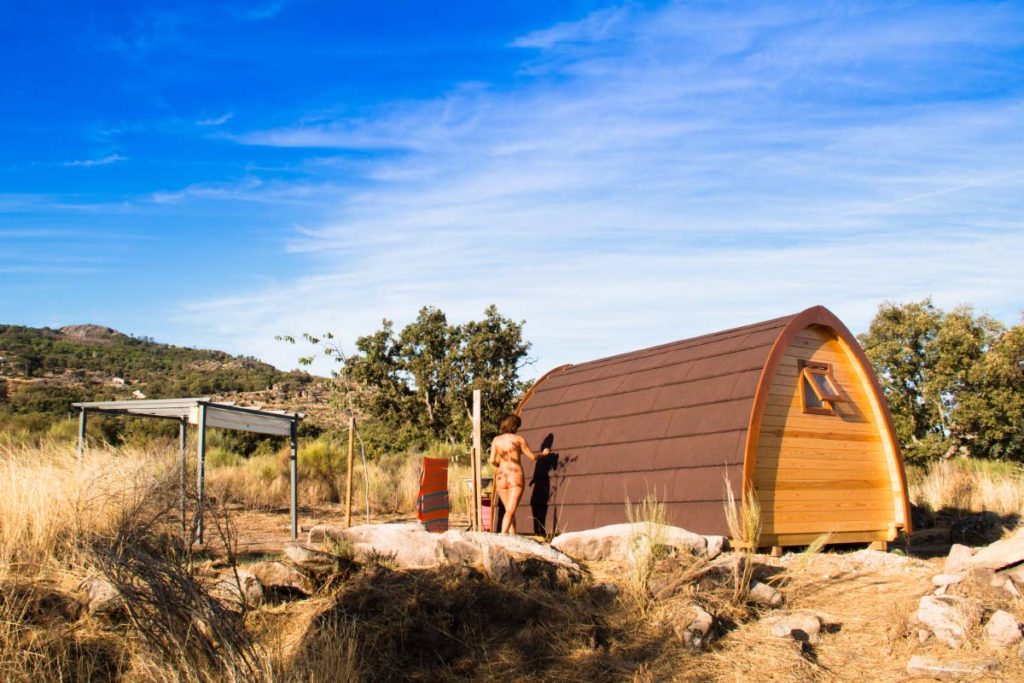 Bring your own (safe) gear
If you're traveling in a tent or camper, it's pretty obvious that you'll have to bring everything you need. But also if you stay in rental accommodation, it's best to check what's included in the price and whatnot. What really surprised us, for example, is that linen is often not included in the rental price at European campsites. So either you'll have to bring your own, but many campsites rent them out as well. Also cleaning is often excluded, so you get the option to either clean after yourself or pay an extra fee.
Wildfires are a serious issue in many European countries throughout the summer, so open fires (such as barbeques or bonfires) are often not allowed. Some campsites do provide a designated spot where you can grill your meat, but in front of your tent, it's often not allowed.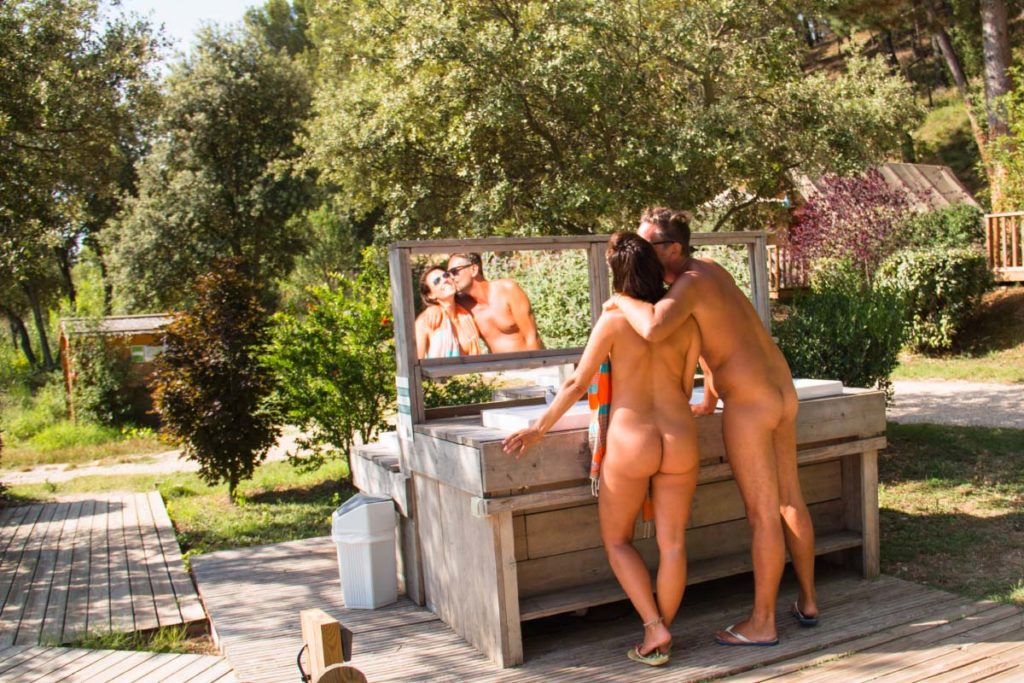 Clothes may be an option
The term "clothing optional" is not really common in Europe. Most campsites call themselves "naturist" or "fkk" and ask their guests to be nude whenever possible or comfortable. At the larger campsites, nudity rules are hard to maintain. There's always someone leaving or arriving who's not undressed yet. Also comfort is a term that's open to interpretation. Many visitors of naturist campsites love to sunbathe or swim in the nude but don't feel comfortable riding a bike, doing yoga, or buying groceries without at least a sarong.
Something that keeps surprising us at naturist campsites around Europe is that many naturists prefer to dress up when they go for dinner. Even when the restaurant is inside the campsite grounds, when nudity is allowed and when the weather is still agreeable (if not hot). We believe that it's a European thing. Europeans like to dress up for dinner, whether they're at a naturist place or not.
Some campsites, although few, even ask for minimum coverup during dinner. For example at
Sérignan Plage Nature
.
Here are some tips to help you decide whether to wear clothes or not:
⛺ Nudity is always obligatory in water facilities like the swimming pool, jacuzzi, sauna,…
⛺ If the campsite has a nude beach, nudity will also be obligatory there.
⛺ Bathing suits are frowned upon. Either you're nude or you wear a sarong or clothes, but no bathing suits.
⛺ Most naturist campsites have a relaxed attitude towards clothed teenagers.
⛺ Clothing is common during sports activities and in restaurants.
⛺ If you have no intention to get naked, don't go to a naturist campsite.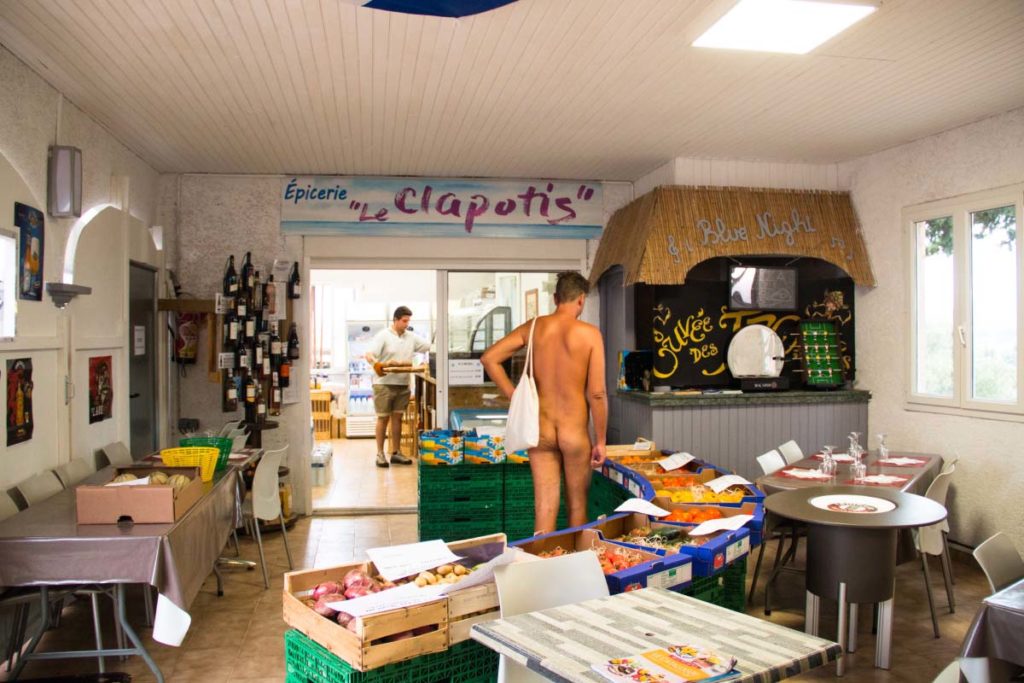 Camp local for once
Each European country has its popular naturist camping destination. The Germans go to Croatia, the Belgians go to the south of France, the British go to Spain and the Dutch… well, they go everywhere. Given the current situation, your preferred naturist destination might not be an option. But here's some good news: Many European countries have naturist campsites.
We all know about
Croatia
,
France
, and
Spain
, but did you know that also
Portugal
has some excellent naturist camping options? How about
Belgium
, Denmark, Sweden, Czech Republic,
Luxembourg
, Hungary, Slovenia, you name it? This might be a good chance to leave your beloved destination aside for a year and try naturism closer to home.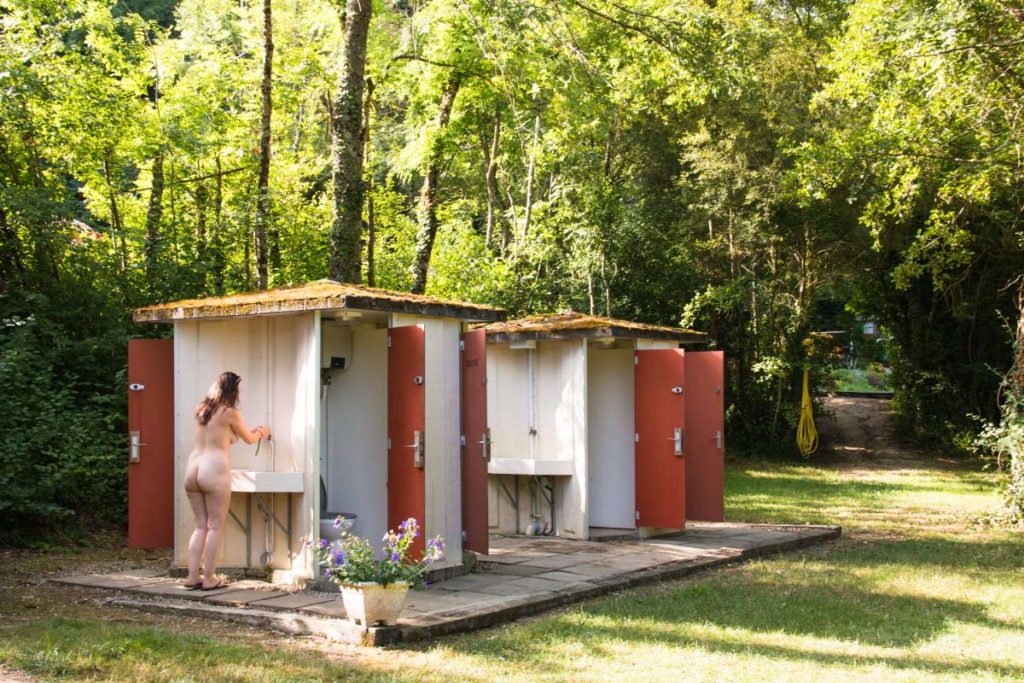 Travel at the right pace
We remember a chat with a receptionist at a naturist campsite who mentioned that her most important task was to put new arriving visitors at ease. Often they have been driving all day or all night (or both), with some screaming kids on the backseat. They've gotten stuck in traffic jams, had to stop at three different highway restaurants before finding a toilet that didn't have an hour-long queue. They're hungry, thirsty, and sleepy. They are not happy campers and the goal of that friendly lady was to bring them to vacation mode as fast as possible.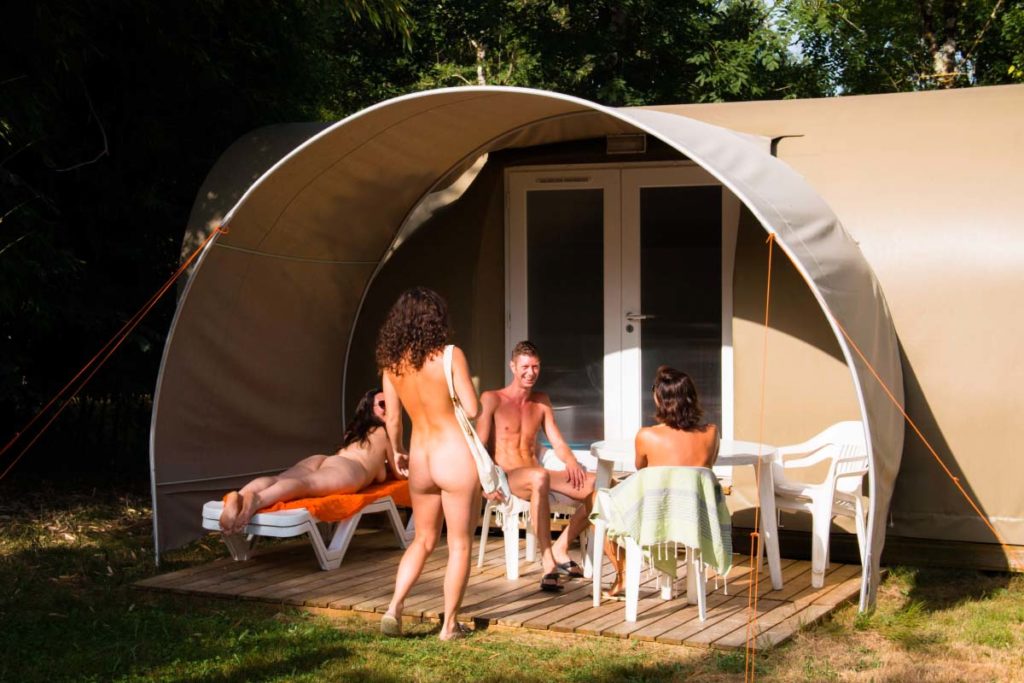 Pick a place that makes you feel comfortable
More than ever, you'll want to find a place where you feel comfortable. A place where you can forget about the coronavirus for a while. Somewhere where you feel safe. Whether that's in a naturist village or a club campsite, in
France
or in
Italy
, that's completely up to you. We hope that this blog post will be a help to find your perfect naturist camping spot for this summer.
---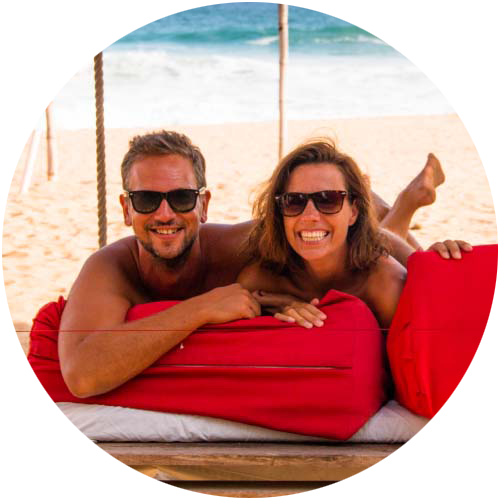 Support Naked Wanderings
Do you like what we do for naturism and naturists? Did we make you laugh or cry? Did we help you find the information you were looking for? Then definitely join our Patreon community!
---