Going on a nude vacation in France always feels a bit like coming home. France just breathes naturism. We can't think of any other country which has such an abundance of places where you can get comfortably nude in a social setting. There are probably more naturist campsites in France than there are bowling alleys. Our plan for the following months is to get a taste of all that France has to offer to the naturists. Because we've just told you that France is a country where naturists can come home, we wanted our first stop to be a place that really felt like coming home. That's how Le Clos Barrat, a family-run naturist campsite in France's Lot region appeared on our itinerary.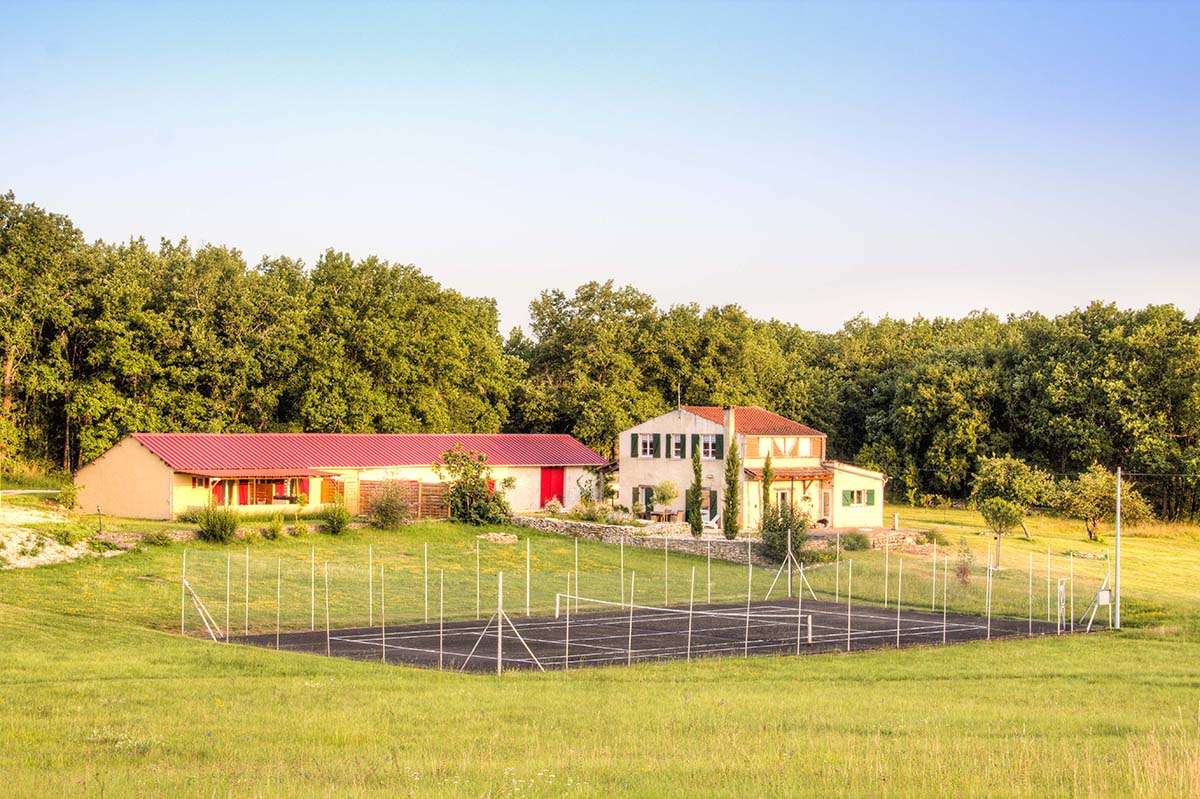 How to get to Le Clos Barrat
Le Clos Barrat is located within the Bordeaux, Toulouse, and Limoges triangle, so from wherever you're driving in, these are the directions you want to follow. Once on the A20 or A62 road you better start following your GPS so the person next to you can also enjoy the beautiful scenery instead of having to look at the map all the time. From either highway, it will take you about 30 to 45 minutes (depending on your driving style) to get to Le Clos Barrat.
If you're coming by train, there's a high-speed connection between Paris and Bordeaux which brings you to this part of southern France in about two hours. From Bordeaux, you can take a local train to Cahors.
A less ecological option but definitely a possibility is to arrive by plane. The nearest airport to Le Clos Barrat is Bergerac-Dordogne-Perigord which has several connections within France and to the UK and Rotterdam. Larger airports with connections to all over Europe can be found in Bordeaux and Toulouse.
No matter how you're planning to arrive, having your own transport is pretty much a necessity. Not only to get to Le Clos Barrat but also to be able to explore the region. Car rental offices can be found in all three before-mentioned airports and in the train station of Cahors.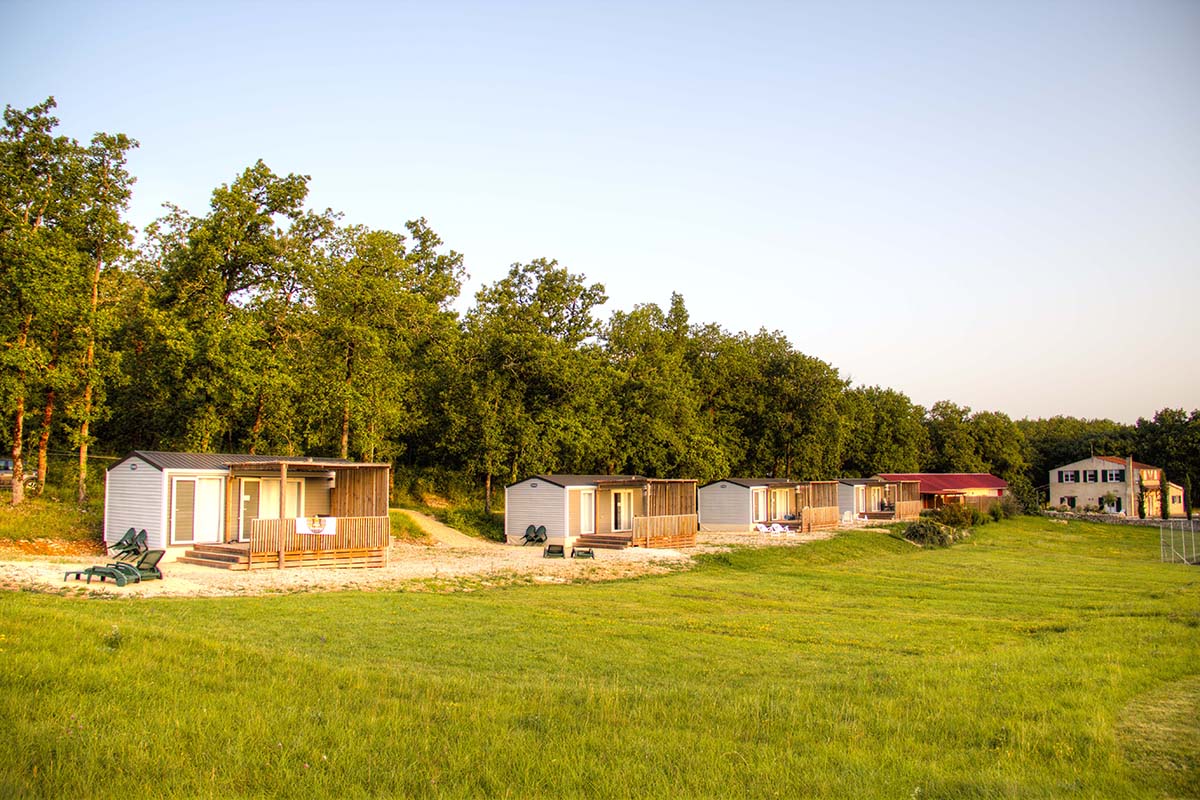 Where to stay at Le Clos Barrat
Having to bring your own transportation does not particularly mean that you have to bring your home as well. Although many visitors prefer to do so. Le Clos Barrat is a campsite after all. 61 spacious camping spots are at your availability to put down your camper, caravan, mobile home, tent, or even wigwam if you wish. One of the things we like a lot about Le Clos Barrat is that the 10-hectare domain is divided into several different camping sections.
For those who don't like to walk a lot during the day (or know that they do like to drink a lot during the evening), there are camping spots right nearby the main building. That's where most of the activities are happening. If you prefer a good view when you wander out in the morning, somewhere in the main field you'll find your perfect spot. And if you really want to be in nature or all day in the shade, there are some spots in the forest that will definitely steal your heart.
All parts of the campsite have their own sanitary block.
But we told you that you don't actually need to bring your own home and neither did we. In this case, you can stay in one of the two gîtes (guest houses) or the four rental mobile homes. We have spent our time at Le Clos Barrat in the latter and we can definitely recommend them. For plenty of reasons but the most important ones are that they are brand new, very spacious, fully equipped, and have a large terrace with some of the best views of the campsite. That feeling like home we talked about in the introduction, we found it in this mobile home.
Also important to mention is that several of the camping spots and all of the sanitary blocks are easily accessible for those with reduced mobility.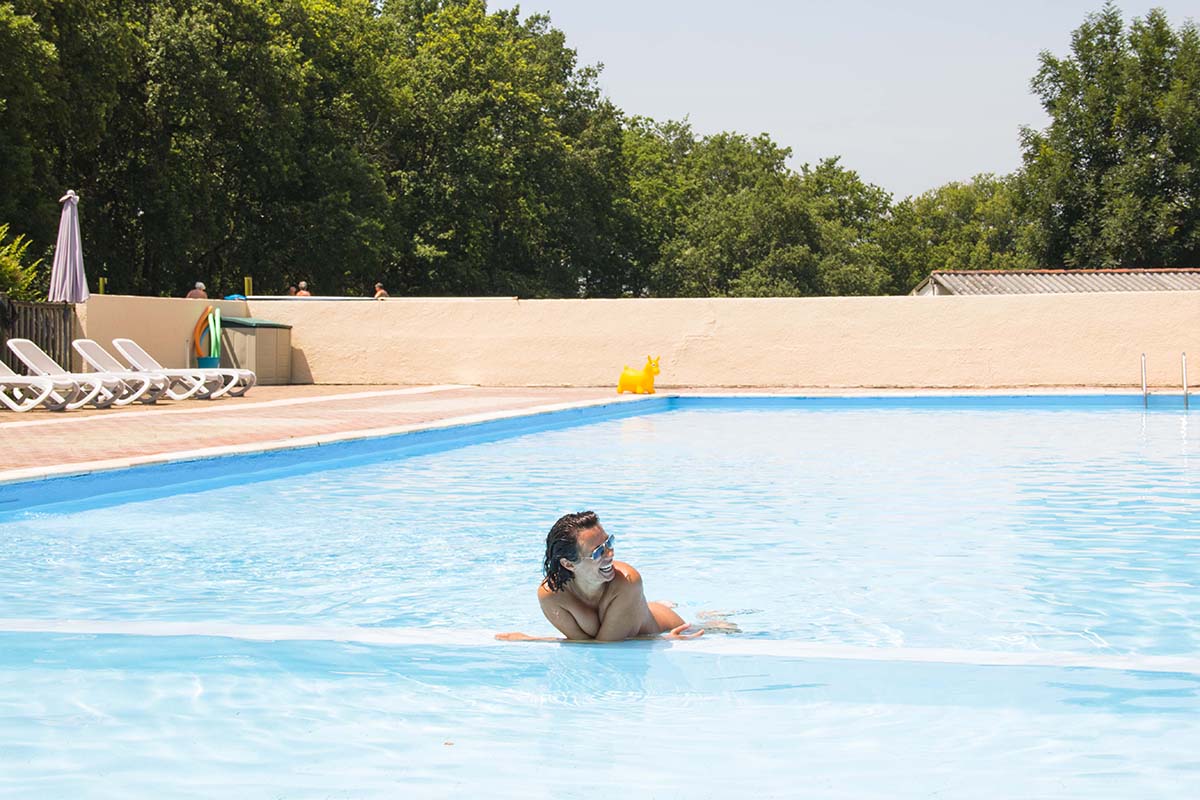 What to do at Le Clos Barrat
Le Clos Barrat has all facilities that allow them to proudly wear the name "great naturist campsite". There's a volleyball court, a tennis court, a children's playground, and a large swimming pool. Then there's a gnome walking trail (signposted with gnomes, you won't be asked to walk into a mushroom) and a magnificent viewing point. Then there is also the common area with the bar. Which is another reason why Le Clos Barrat felt like home. Not because of the actual bar, believe it or not, but because of the atmosphere.
At home, we all have a certain place where we gather with people we like after a long day at work. At Le Clos Barrat you'll have the exact same place, where you'll gather after a long day of sunbathing or swimming or exploring the area, with people you'll like very soon. We just called that spot the bar but it's more like the common area. It's where people meet at the end of the day and this doesn't really happen by coincidence. Most of all, Le Clos Barrat is a social place and it's where people are brought together.
Within the first hour after our arrival, we were introduced to Ger, who happened to play the guitar at the bonfire that evening. Next thing we knew we were drinking wine and listening to his songs and talking to others. It didn't take long before we were talked into participating at the music quiz the evening after. Something we can strongly recommend, by the way, those quizzes are lots of fun. Then there were the communal dinners, the morning yoga sessions, and who knows what else is going to be organized during the summer. Those events might have the purpose to entertain you, to us they mostly were a way to get to know a bunch of lovely naturists.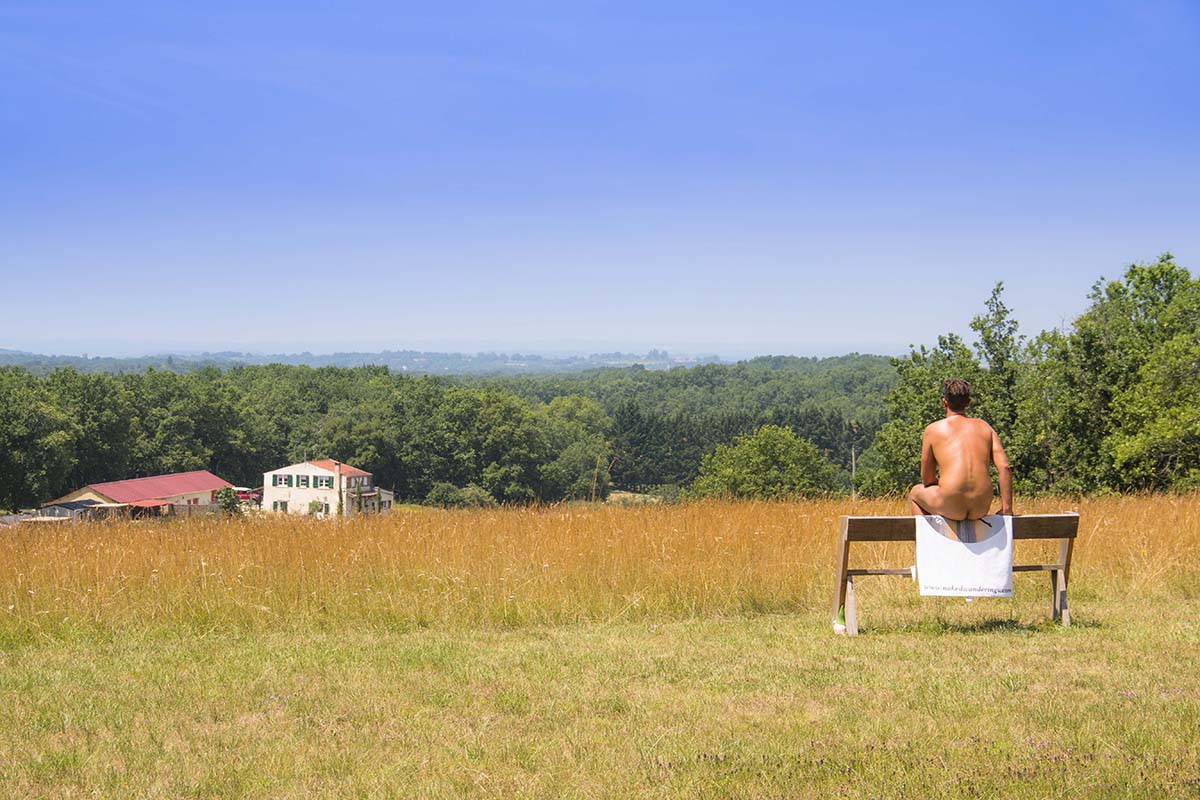 Around Le Clos Barrat
Being located at the border of the Lot region and the Dordogne region, Le Clos Barrat is the perfect basis for visiting these wonderful parts of southern France. Castles, bastides, and chateaux enrich the landscape and the orchards and vineyards take part in the breathtaking scenery. There's definitely not a shortage in cultural, historical, and natural places to visit.
Lovers of historical architecture can find their thing in many of the villages surrounding Le Clos Barrat and of course in the cities Bergerac and Cahors. By the way, there is something else these cities are famous for… You guessed it, the wine. Both the Lot and the Dordogne are excellent wine regions. These wines are best tasted with other local specialties like truffle, Rocamadour cheese, walnuts, and melons.
For your own safety, it's better not to drink and drive, luckily the bar at Le Clos Barrat serves some excellent Cahors wine so there's no need to take your car to get a taste. There's no need to put on clothes either, which is another important advantage if you ask us.
The very near area of Le Clos Barrat is great for walking and cycling through forests, fields, and vineyards. Several trails can be found in the region and some even start very nearby Le Clos Barrat. Check out the maps in the info stand at the campsite or ask the staff for inside tips.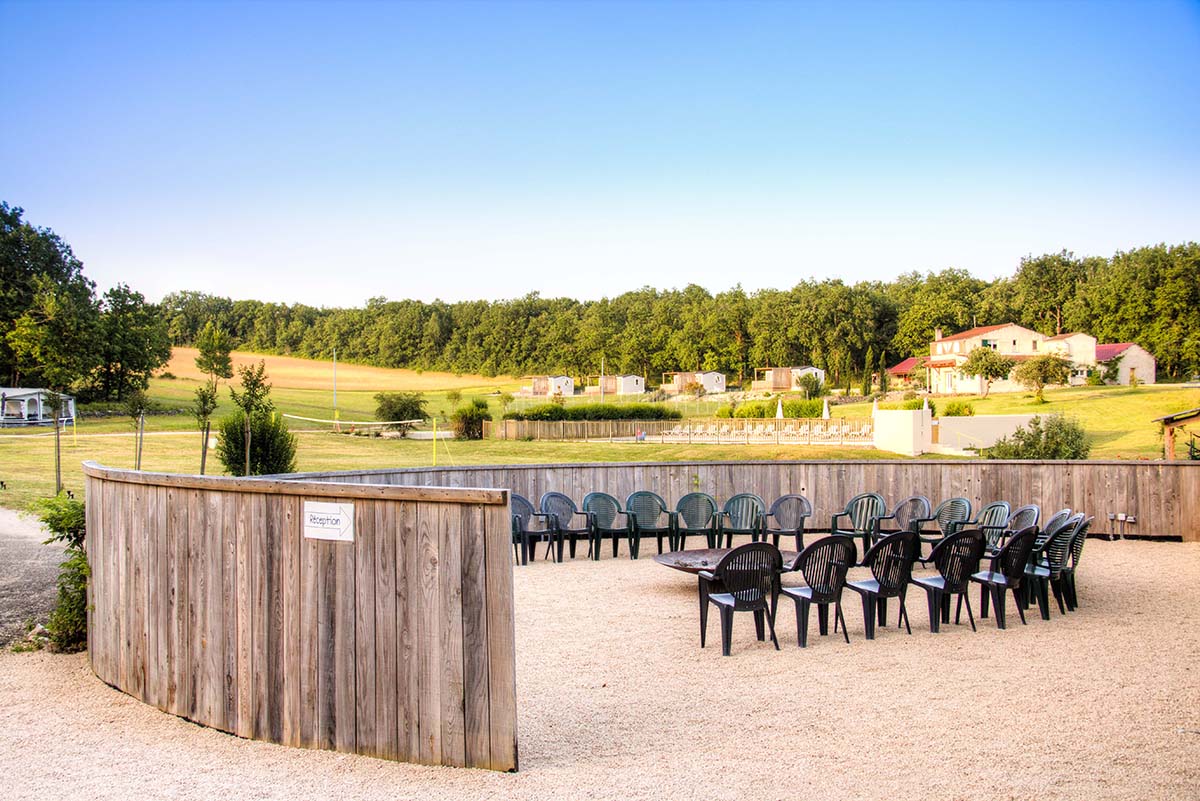 Staff of Le Clos Barrat
Yolanda and Johan have bought Le Clos Barrat when its name didn't mean all that much anymore in the naturist community. We have no experience with the campsite before their arrival, so we can not judge. But from the stories of regular visitors, we can only conclude one thing: If it wasn't for Yolanda and Johan, Le Clos Barrat would probably not have been celebrating its 40th birthday soon. They have put their hearts and souls in this campsite and are still doing everything they can to give it back its deserved glory.
Maybe even the previous is an understatement. When we were at Le Clos Barrat, we saw with our own eyes what working 24/7 truly means. From the moment we woke up at sunrise to take pictures until late at night when we finished our last wine, they were somewhere around. If not taking some of their precious time to chat with us and the other guests. We don't have to tell you that high season can be a hectic time at a naturist campsite and that guests, even laid back naturist guests, have needs to be fulfilled and questions to be answered. Yet they manage to succeed in every single part.
If there's one thing we would wish Yolanda and Johan it's that they could take the time during the low season to relax next to their own swimming pool and enjoy the beauty of their own piece of nature. But we know that by the time winter arrives, new projects will be running through their heads and new plans will be brewing. So Le Clos Barrat will be even better the year after.
Luckily, they don't have to do this all by themselves. During high season they get support from one or more job students. We've met one of them during our last day at Le Clos Barrat and we're pretty sure that he will be a good help. And he has a great taste in guitar players, ask him about it.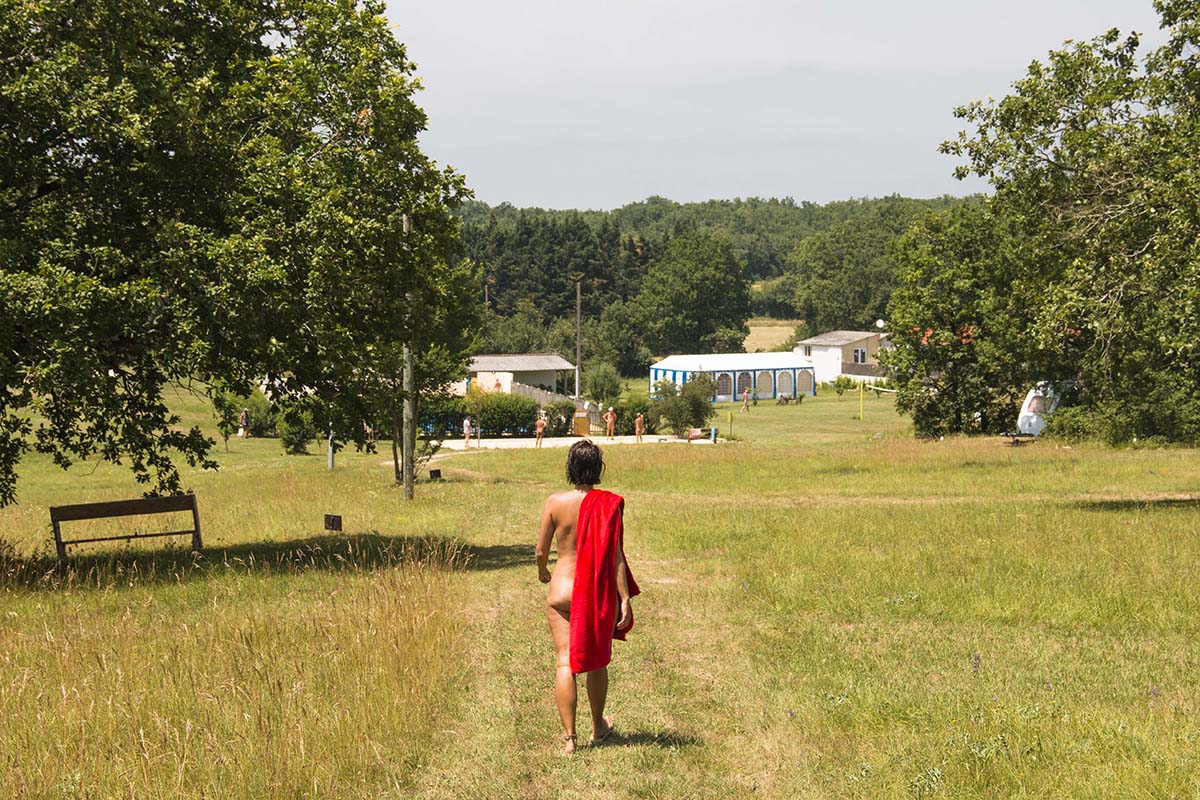 Guests at Le Clos Barrat
We stayed at Le Clos Barrat during June, a period in which most travelers are often of an older age. But that never meant we felt excluded. Although we bailed on the yearly petanque tournament, we've spent lots of time with the other visitors during the dinners and the quiz. The fun thing with naturism is that age doesn't really matter because you have a common ground. And we had tons of great talks over a couple of Cahors wines. We'd love to share the names of all our talking partners but for privacy reasons, we are not allowed. Okay, we admit, we're just not that good in remembering names.
Summer of course changes everything and that's also when younger couples and families have the chance to take their holidays. And of course also at Le Clos Barrat, the demographics change in July and August and a younger audience finds its way.
When it comes to nationalities, during our stay the majority of other visitors were Dutch and Belgians and several guests from the UK.
The high season also means a larger variety of guests and that's the time when Le Clos Barrat attracts French and German visitors as well. But here we'll go again telling the same old story, just like age doesn't matter when it comes to naturism, neither does nationality. More than once we were speaking different languages to different people and so did the other guests. Not always in perfect English, German, French, or Dutch but that doesn't matter at all. Naturists together always find a way to communicate.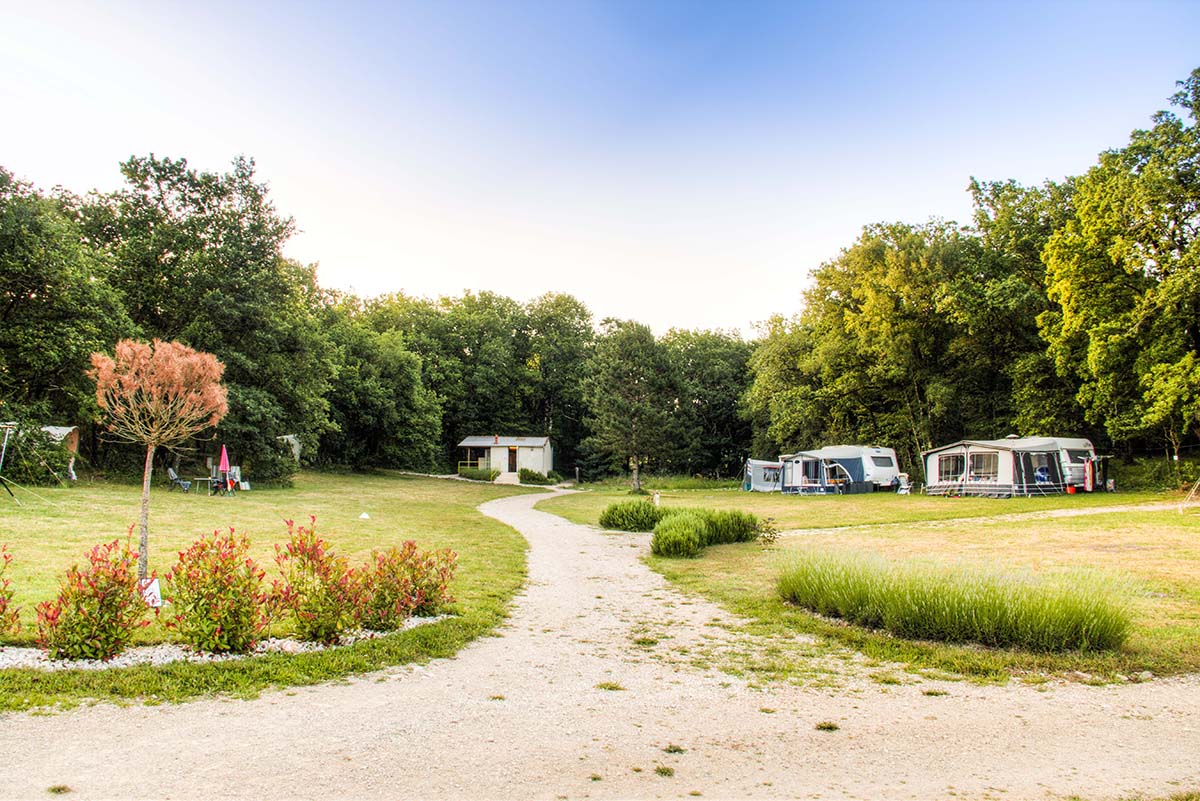 Reservations & Contact
We've met people who came to Le Clos Barrat for a several weeks' stay and we've met others who stayed while they were passing through the region. And then we met others who passed through last year but decided to make Le Clos Barrat their holiday base for the time to come.
It's possible to communicate in Dutch, French, English, or German
Le Clos Barrat is open from half of April until half of October.
Summary
The variety of naturist campsites in France is large and it's often difficult to make a perfect choice. Since we don't know who you are, we can't tell you which place will be the best for you. But if you'd like to come home (where home is a naturist campsite with a great pool and lots of friendly people), you'll certainly love Le Clos Barrat.
Naked Wanderings' Ultimate Guide for Naturism in France: Occitanie ebook

Are you looking for great nudist resorts and nude beaches in Occitanie?
Are you looking for the best tips for a nude vacation in Occitanie?
Then our ebook will be the perfect resource for you!

Learn More
Need help with planning your trip? Check out our Resources Page for an overview of the best companies we use during our travels
Disclaimer: We have been invited as guests of Le Clos Barrat, but of course all opinions are our own. We are super confident you will love this place as much as we did!
---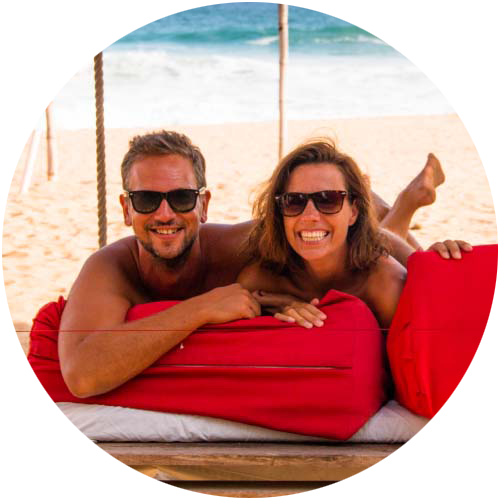 Support Naked Wanderings
Do you like what we do for naturism and naturists? Did we make you laugh or cry? Did we help you find the information you were looking for? Then definitely join our Patreon community!
---