Because
Austria
is so close to Germany and because it has such great nature, one would think that there would be an abundance of naturist campings.
Apparently not, as we discovered minutes before we entered the country.
Especially in the area where we wanted to go, around the city of Innsbruck, we could find only one FKK camp: Liga Völs.
UPDATE 2020: We have been recently confirmed that guests don't have to pay for hot showers anymore and that the shower blocks will be completely renewed in the winder of 2020-21. The club is also actively attracting more younger members and families.
How to get to Liga Völs
Well, there was a reason why we wanted to go to this area… The place is breathtaking! Surrounded by mountains and green fields, Innsbruck is where you want to go to if you like nature and long walks.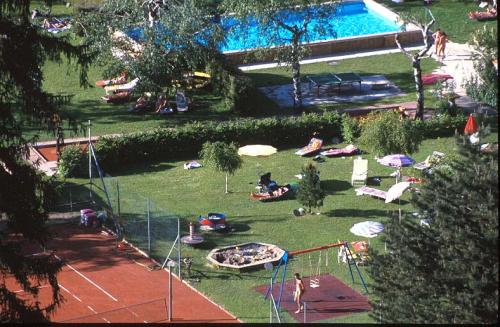 Like it happened so many times before, our GPS has no idea where the campground was exactly located (we suspect GPS builders to have agreed on a secret pact to make it as hard as possible for nudists to find their destination). In the end we discovered a dirt road leading to a huge gate. No sign or anything, but judging from the size of the gate and fence we were likely to have arrived.
Soon a guy opened the gate and asked us what we wanted. When we asked in our best German if we could come in, the guy answered "Nein" and closed the gate again. That was a bit awkward…
While we were discussing our options the gate opened again and another guy appeared, asking again what we wanted. We explained that we were looking for a nudist campground and asked if they had some tent space available. The guy smiled, opened the gate and let us in.
Later they explained that the first guy thought we were at the wrong place because we didn't really look like the average visitor. We'll tell you later why.
But back to the location. Maybe your GPS is better than ours, but if not, Google maps can help you out. Once you get close, you'll find signs for the local boy scouts. If you follow those you'll pass by the campground gate.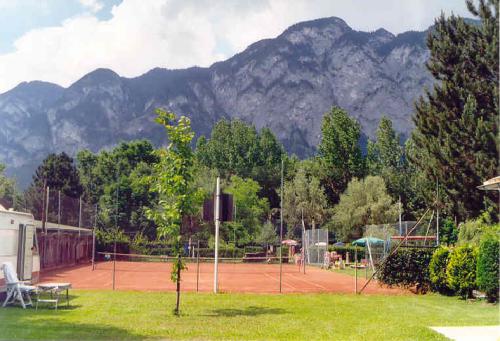 Where to stay at Liga Völs
Liga Völs is a really small campground.
Campers, vans and tents get a spot on a small lawn, which isn't divided into separate spots, but which could impossibly accommodate more than 6-7 campers. if all the guests would come with a tent, there's maybe place for 10 tents. If they aren't too big.
Even though we got there in the middle of high season and we didn't have a reservation, there was still plenty of space. Next to a Dutch couple we were the only guests.
What to do at Liga Völs
Given the fact that this is such a small campground, the facilities are amazing.
There's a very big swimming pool with mountain views, a children's playground, several table tennis tables, a tennis court and a bar/restaurant.
Because we arrived late in the afternoon, we were wondering how they could possibly maintain such a site when they have such a few visitors. The day after we found out that the majority of the guests are day visitors from the area. Which is pretty amazing because you can have some social time during the day and in the evenings you have the whole place more or less for yourself.
A little downside though was that you have to pay to use the showers in the shower block. This is something we rarely see on nudist campgrounds. Not that we actually paid… We used the outside showers instead.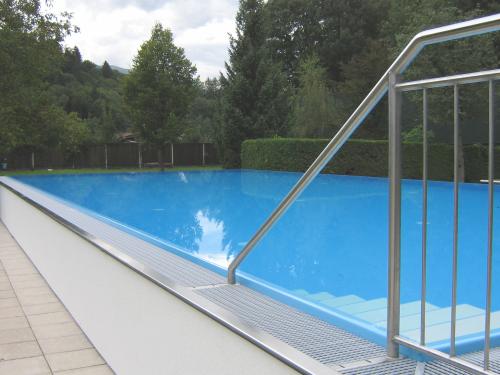 Around Liga Völs
As said before, this area is great if you like mountain walks. There are several hiking trails leaving from the village ranging from easy strolls through the surrounding meadows to mountain hikes for which you've better had some training (and warm clothes).
for those who like the views but not the walks, there's a great (though quite expensive) cable cart system towards the top of the mountains as well.
If you're more a city person, you could easily spend some days in the close by city of Innsbruck. Walking around the historical center and on the banks of the river Inn, tasting some of the local wine or spirits or have some of the famous local pork meat.
There are several museums to visit and in the evenings there's opera.
Staff at Liga Völs
We're still not sure who was actually running the place. Since this is an official nudist club, many of the visitors were also doing some of the work. But there was one couple who seemed to be around all the time so we expect that they were kind of in charge. Even though we got off a bit on the wrong foot, we can say that the "staff" has always been friendly and helpful while we were there, given the fact that there was a huge language barrier (they spoke only German and our German is quite… ehm.. basic).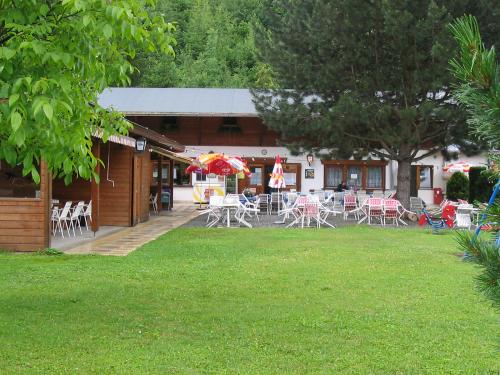 Guests at Liga Völs
Now we get to the part why we weren't the average visitors.
First of all they seem to get very few foreign visitors, most visitors are locals who come for the day and secondly, the average age was… well… way above ours. The club was founded in 1950 and most visitors are members since the early years.
Now we don't have any issues with the age difference and everyone was very friendly, but somehow we did get the feeling that we didn't really belong there.
Summary
We certainly had a good experience at Liga Völs, although we doubt that we'll ever go back.
But that shouldn't stop you from checking it out if you ever find yourself in the heart of Tirol!
Read more about this place on
NUDE
---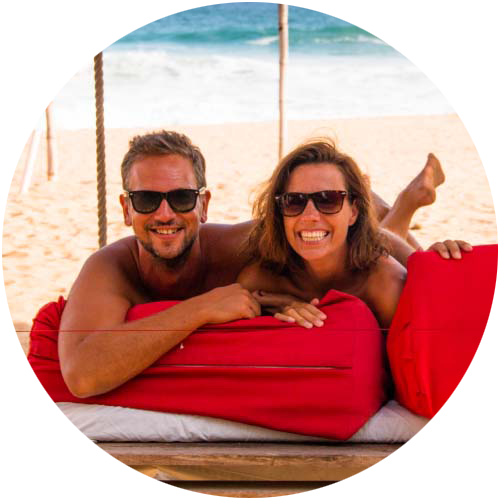 Support Naked Wanderings
Do you like what we do for naturism and naturists? Did we make you laugh or cry? Did we help you find the information you were looking for? Then definitely join our Patreon community!
---