Names like Lisbon, Porto, or Algarve often even ring a bell for those who haven't even visited Portugal before. These are the tourist highlights of the country. The pages of the
Lonely Planet guide
between which everyone puts a Post-It. But of course, Portugal is much more than that. Those who take the time to get off the beaten track are rewarded with wonderful landscapes, hills and forests, sleepy towns, and historical villages. And best of all, beautiful naturist campsites. Like Quinta Do Maral for example in Northern Alentejo. At only a stone's throw from the Spanish border. This how we prefer to explore Portugal. Naked and amazed by its natural beauty.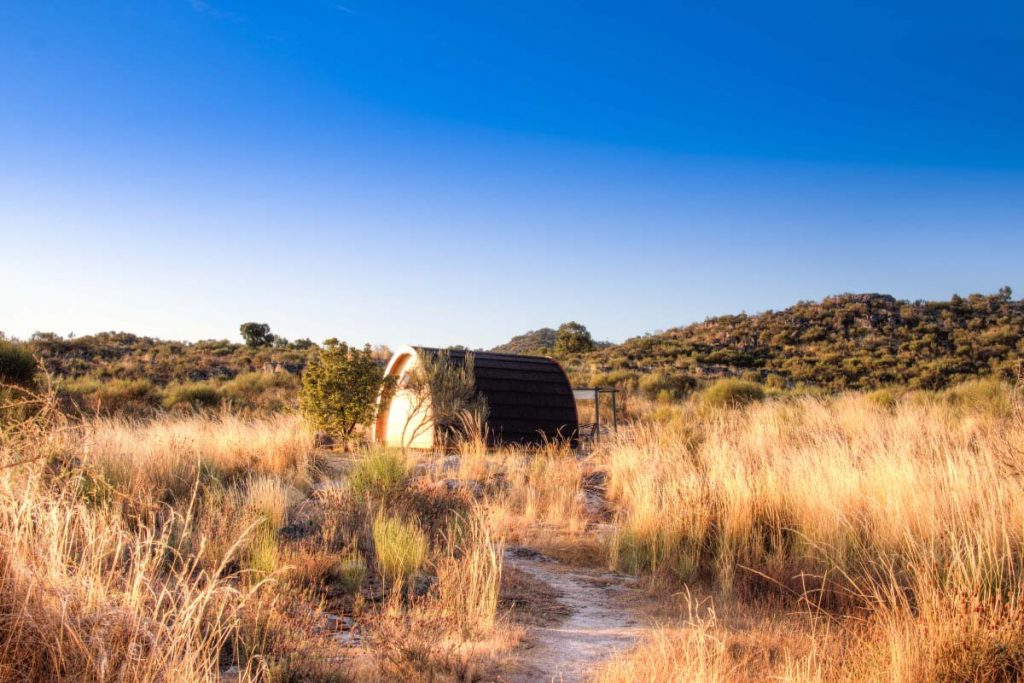 How to get to Quinta Do Maral
Quinta Do Maral is located in the central-east part of Portugal. Coming from the north of the country there are several options to reach the region. The most convenient will be via the E1 highway to Torres Novas, from there the A23 towards Fratel switching to the E802 just before Fratel. From here you want to follow the direction Marvão.
Coming from Lisbon or the south, you can take the A6 to Évora and then the E802 to Marvão. If you're traveling from Spain, follow directions to Cáceres from where you can take the N-521 across the border.
Once you're in the region of Marvão it's very important NOT to trust your GPS. Really, it will send you via a road which you really don't want to take. Ask for decent directions at Quinta do Maral before arriving.
The nearest airport to Quinta Do Maral is Lisbon, which has connections to all over Europe and many other places around the world. From Lisbon, it's about a 2.5 – 3 hours drive. For those who prefer to travel by public transport only, there's a daily bus from Lisbon Sete Rios station all the way to Marvão. From there it's only a 4km hike down. We would recommend you to get your own transport though so you can easily visit the beautiful surroundings of Quinta Do Maral as well.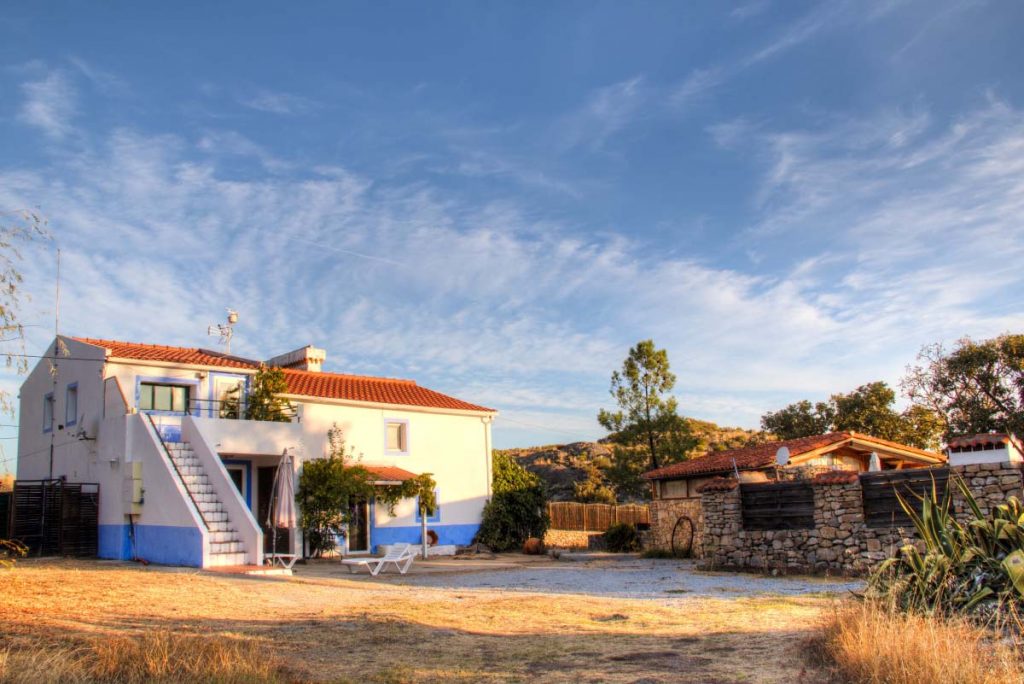 Where to stay at Quinta Do Maral
The best way to define Quinta Do Maral is probably as rural campsite. Away from the noise of cities and highways. A place you would never have found back in the day when the GPS didn't exist yet. Clean air and fresh spring water are as normal here as the early morning sunrise. But don't be tricked by the term "rural". This doesn't mean (at least not in this case) that cold water and candlelight will have to become your new best friends. Although there's barely a sign of humanity to be seen from the campsite, Quinta Do Maral does have all the facilities for a comfortable naturist camping vacation.
Including accommodation options. Other than about 30 large camping spots in the center of the 10-hectare large domain, there are also three rental accommodations. One even cozier than the other. The first one that will definitely catch your eye is the oval-shaped wooden cabin. It gives a very close to nature feel and the mountain views from the terrace are just magnificent. The second option is the Refúgio do Cancho. A studio in the historical building with a kitchenette and direct access to the pool.
While we were at Quinta Do Maral we had the chance to stay in the most comfortable option of all: The Cantinho das Oliveiras, a 4 person apartment complete with a living room, kitchen, private bathroom, and terrace. Staying on a rural camping has rarely been this comfortable.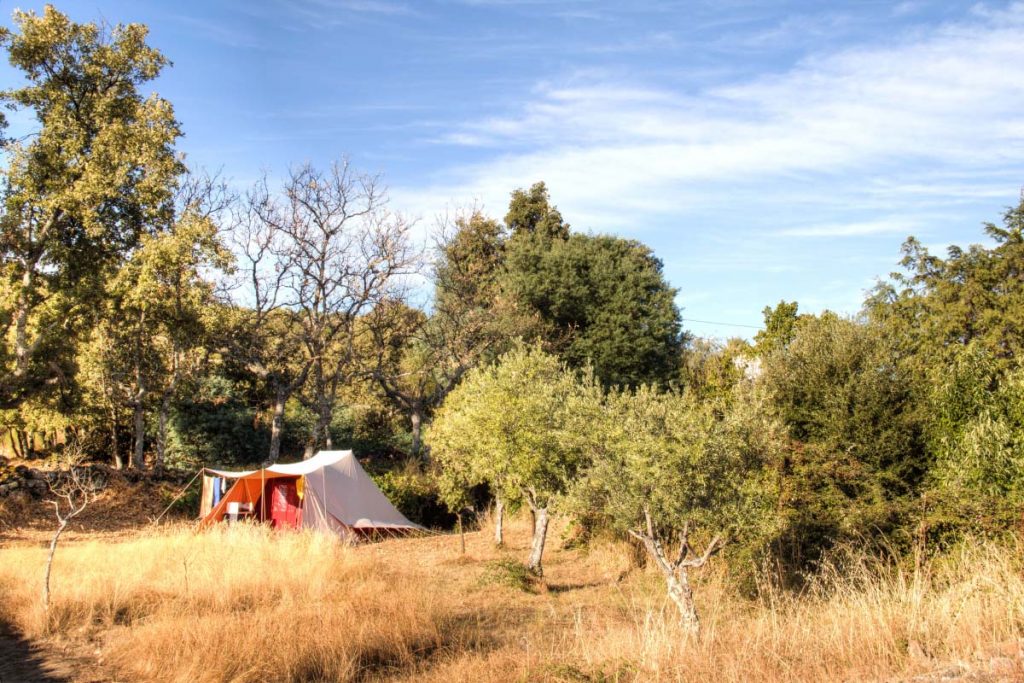 What to do at Quinta Do Maral
Visitors of Quinta Do Maral have many different reasons to pick this exact spot for their nude vacations. Some come for nature and others for the relaxed setting. The beautiful surroundings (see further) are also an important factor. Visitors often praise the friendly atmosphere and say that it is something you'll rarely find in any other place. For some, it's also a way to get back to basic.
For us, it's pretty much a combination of all that. Lots of our time at Quinta Do Maral was just spent with hanging around. Looking around. Picking a perfect spot on the domain and enjoying the sound of the birds and the sun on our bodies. Nuno, one of the owners, told us that at Quinta Do Maral they sell silence. We liked that expression but don't think that it includes the whole concept. They rather sell a chance to escape. Escape from the outside world, from busy life and noise and conformism and even from clothes. Basically they sell you your true self.
Other than relaxing and musing about life in this secluded part of Portugal, there are several other things to be done at Quinta Do Maral. The domain is large enough for some walking and bird watching, climb a rock for spectacular nude photoshoots. The bar is where people get together in the evenings and the perfect place to meet some of the other visitors. And if the Portuguese summer sun would get a little bit too hot, you can take a refreshing dive in the tiny pool. Every September, the 2-day yoga and mindfulness festival Naturalis is organized at Quinta Do Maral, but that's something we'll tell you all about next time.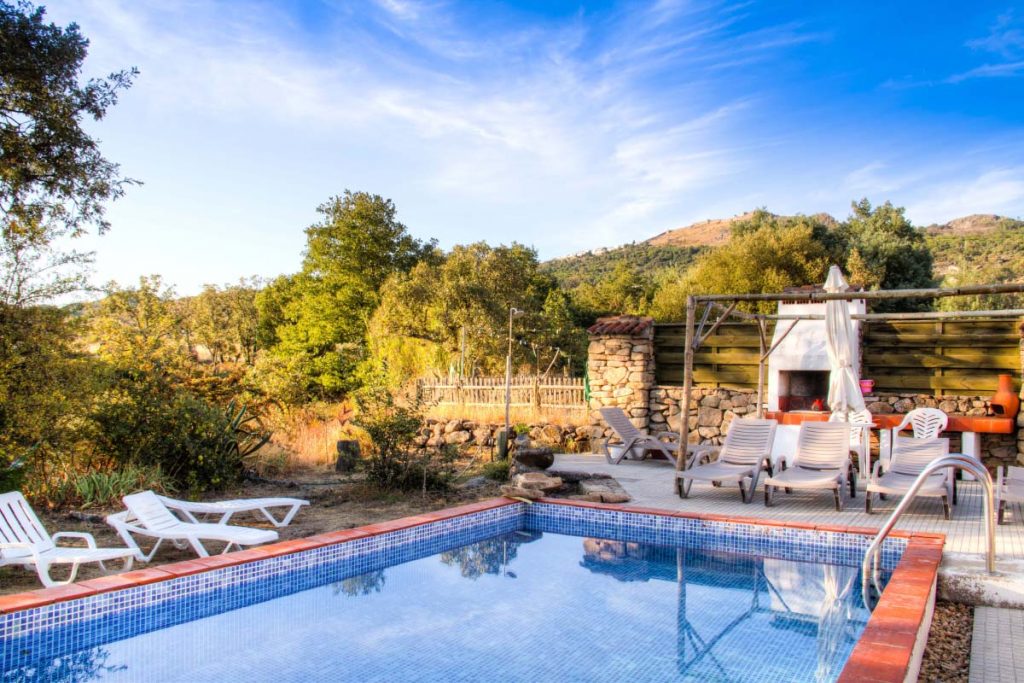 Around Quinta Do Maral
Traveling to Quinta Do Maral is a bit like traveling in time. The further you drive away from Lisbon or Évora, the more changes you'll notice. Not only in landscapes, but also in the size of the villages and the habits of the villagers. It remembered us of movies from the previous century. We doubt that much has changed here during the last decades.
Two of the most lovely historical villages of the region are within walking distance from Quinta Do Maral: Marvão and Castelo de Vide. Marvão is located on the top of a hill and can be seen from the campsite. The labyrinth of small streets with local shops and the views from the castle is definitely worth some of your time. Here's an insider tip by the way: Visit the castle in the evening for a spectacular sunset.
Castelo de Vide is a bit more lively and has more restaurants, bars, and shops than Marvão. Also here you want to put the castle on your itinerary, as well as the Jewish quarter. If you're into hiking, there's a nice 10km trail between the two towns. And there are plenty of other trails nearby the campsite. This whole area is part of the Serra de São Mamede Natural Park so nature is all around. There's a local saying that when the God of the stones was doing a delivery, his bag broke near Marvão. Once you visit the region, you'll immediately understand what that means.
Other than amazing nature and cozy historical towns, this area is also known for its arts and crafts and local products. A name you definitely want to write down in your notebook or on your smartphone is Maria Leal da Costa. She's an internationally renowned sculptor living in Marvão. Her large garden has been transformed into a huge sculpture park where you can enjoy guided tours. Her husband will give you lots of information about his wife, her art, and the region. See more about this on their website:
Alentejo Sculpture Park
.
Another very much recommended excursion from Quinta Do Maral is to the traditional Olive Mill of Galegos. We know, olive mills and wineries, we've all seen plenty of those. But trust us, this one is really cool. First of all, because the tour, and especially the guide, is great. She managed to keep us focused during the whole trip which is quite an accomplishment. And then we hadn't come to the tasting yet. You have no idea how many delicious things can be made with olive oil! It's incredible.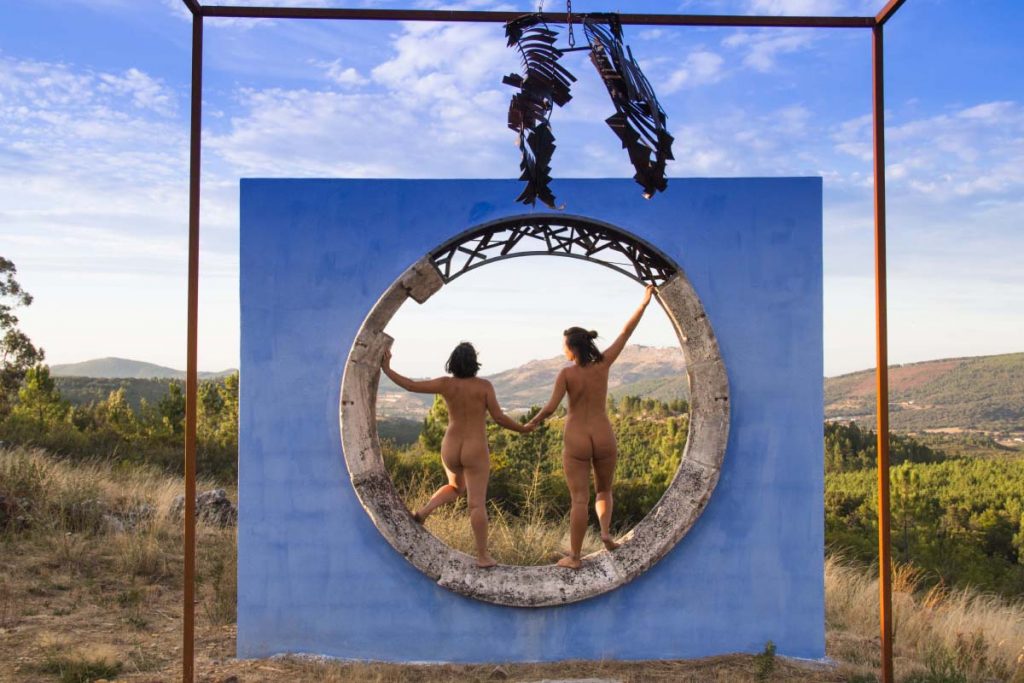 Staff of Quinta Do Maral
If you get the chance to spend more time than us at Quinta Do Maral, we're sure that you'll be able to discover many other wonderful places. In fact, you don't even have to discover them. There are two persons who can tell you everything there is to do and who can give you all the best tips. Their names are Paula and Nuno and they are the owners of Quinta Do Maral.
The fact that they are about our age can certainly be a reason why we enjoyed being around Paula and Nuno from the first moment we arrived. But we're pretty sure that their likability factor will charm you as well. They're two lovely persons living up their dream of being naked in a remote part of Portugal. Other than a source of local information, they are also full of fun stories and quotes you might remember for a long time.
If you can dream about putting up a larger than life screen so the Spanish can also enjoy the Portuguese goals during the world cup (and win a trip to Brazil with that dream) and if you can talk your local baker into becoming a naturist and deliver the daily bread in the nude, you're fun people. Period.
Guests at Quinta Do Maral
As we've already mentioned, Quinta Do Maral attracts lots of visitors who are looking for a place to get naked in nature, under the warm Portuguese sun and away from the outside world. Both Portuguese and international naturists are finding their way to this remote part of central Portugal.
Because of the size of the domain and the friendly atmosphere, Quinta Do Maral is also a great destination for beginning naturists. If you're also planning to try naturism for the first time at this campsite, make sure to mention this during your reservation. Paula and Nuno will take care of you and make sure that everything is as comfortable as possible.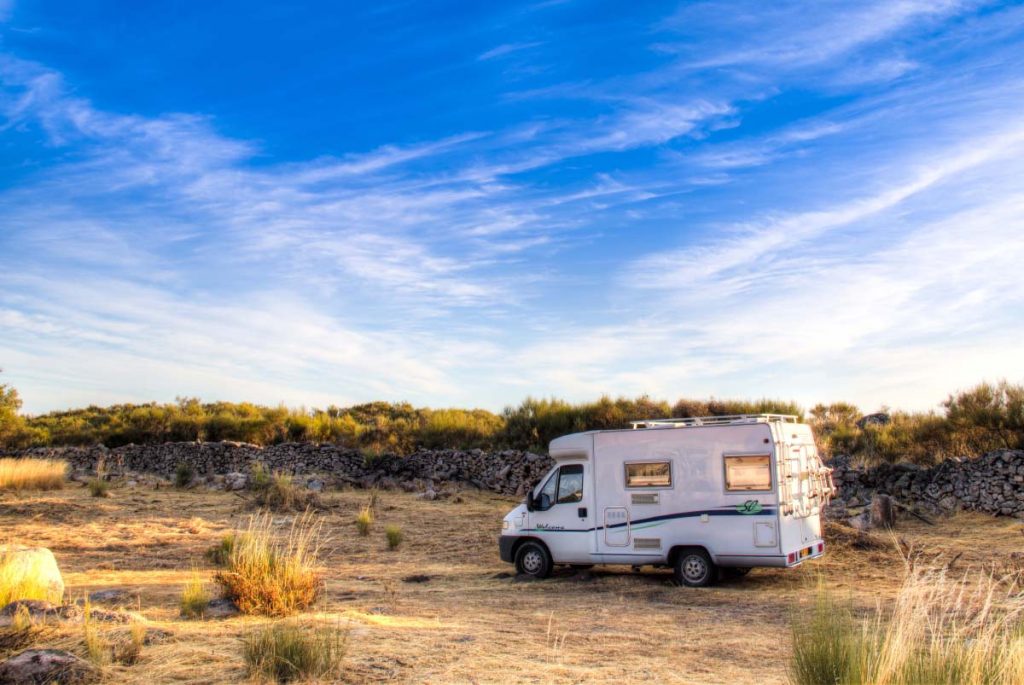 Reservations & Contact
Reservations at Quinta Do Maral are preferably made via:
✅ E-mail: [email protected]
✅ Phone: +351 963 462 169
✅ Website: https://www.quintadomaral.com
It's possible to communicate in English, Portuguese, and French.
Because the central Portugal region also has agreeable weather during winters, Quinta Do Maral is open year-round.
Summary
Quinta Do Maral is a place where you get the chance to experience how life was before cities and capitalism got its grip on our society. It's about going back to nature and living life in its essence. But without having to shower in a river or sleep in a cave.
Disclaimer: We have been invited as guests of Quinta Do Maral, but of course all opinions are our own. We are super confident you will love this place as much as we did!
---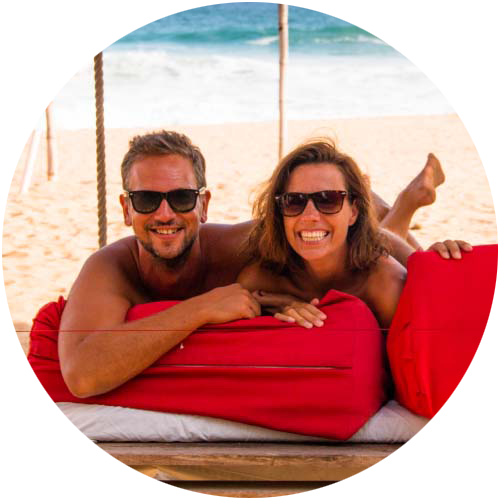 Support Naked Wanderings
Do you like what we do for naturism and naturists? Did we make you laugh or cry? Did we help you find the information you were looking for? Then definitely join our Patreon community!
---