Having a nakation at the end of the world, how does that sound?
FKK naturist camping Baldarin is not exactly at the end of the world, but it's on the end of Cres Island in
Croatia
, which more or less seems like the end of the world. But in a good way. Certainly in a good way!
If there is a heaven for naturists it might as well be this place, if you like sunshine, blue seas with nude beaches, and forest of course. Hidden in a huge pine forest we found naturist camping Baldarin, a place of which we knew that if we just stayed a little bit longer, we might never go home again.
How to get to Baldarin
As we said in the introduction, Camping Baldarin is more or less situated at the end of the world. When you're driving, be prepared for quite a ride. The only way to get to Cres island is by ferry, either from Brestova if you're coming from the west or the north or from Krk island if you come from east or south. In any case, once you've arrived on the island, you're up for another 1 – 1.5-hour ride until you reach Punta Kriza. But from far before you'll notice the signs for Camping Baldarin. Luckily there are a couple of nice towns along the way which are worth a stop.
Once you reach Punta Kriza it's only about 2 kilometers until you reach the camping.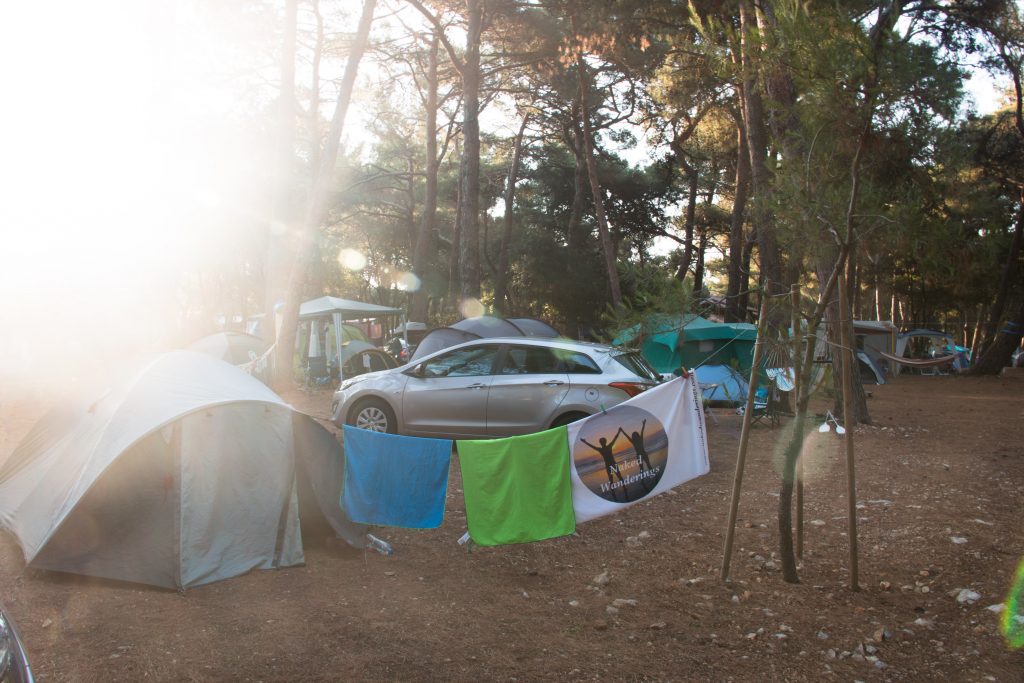 Where to stay at Baldarin
Naturist camping Baldarin provides a huge range of possibilities of accommodation, fulfilling all needs and budgets. The cheapest option is free camping, where you put up your tent or camper on any available spot in the designated areas. These areas are in the middle of the forest, which kind of gives you the idea that you're wild camping… If it wasn't for the other campers of course. Another good thing about being in the forest is that almost every place is shady, which is a huge advantage under the Croatian summer sun. Then there are several types of camping pitches, differing in price based on the connection to water and electricity and the proximity to the sea. But wherever you stay, even on the free camping areas, you're always just steps away from the water.
If you didn't bring your own tent or camper, there are several other options. One possibility is of course renting a mobile home or camper, but another option, which was a lot more appealing to us was the "Glamping tents". These are professionally made tents that provide just that little bit of extra comfort that you can never have in your own tent. If you like camping but you want to sleep in a real bed and have some space to put your things, this is what you want.
We stayed for two nights in a "Bell tent", which kind of looked like a tipi but much more professionally made. It was a great change from our own iglo tent with self-inflating mats. And waking up in the morning in a real bed, walking outside naked, and seeing the ocean is… well… something you really have to experience yourself. If there was one thing we could have added to the bell tent it would have been a mirror, then we shouldn't have to take out our own small one to put in our contact lenses.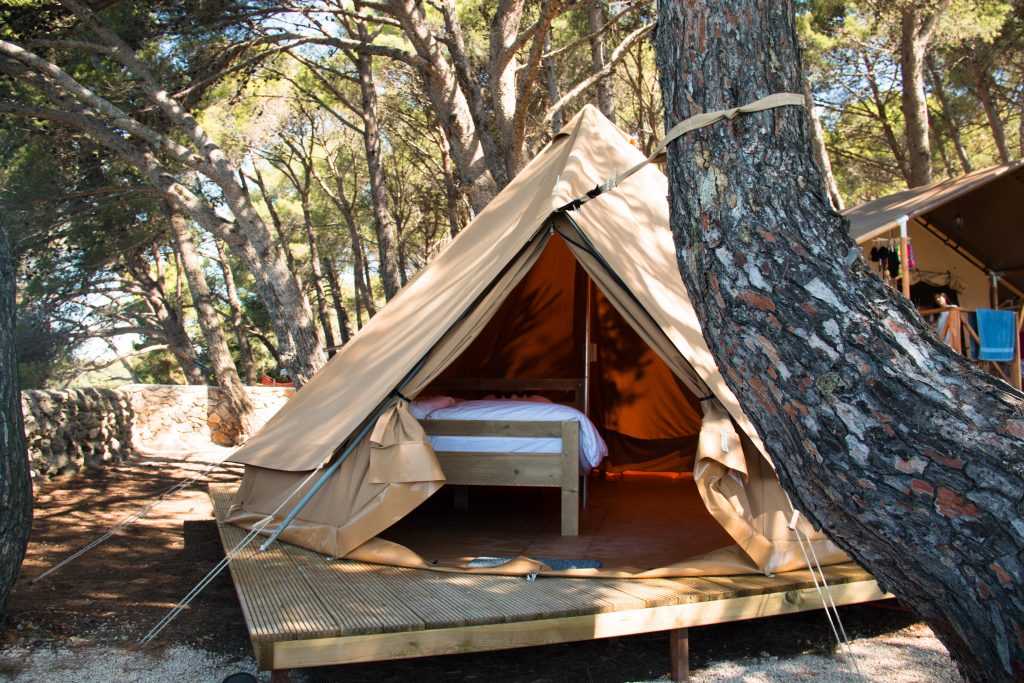 What to do at Baldarin
You have to know that this is not an exclusive nudist place, the first part of the campground is reserved for textiles. We don't know the exact numbers but from what we saw, we think that the nudist part was at least four times bigger than the textile part. Nevertheless, the onsite store was located on the textile part. We know we're being a pain in the ass right now, but after enjoying a great day in the nude it's really a burden to get dressed just to get a bottle of wine on the other side of the barrier. But we didn't have to if we didn't want it. There is a restaurant on the nudist side and even a small pizza place where you can get your takeaway in the nude.
Other than a shop and several places for breakfast, lunch, or dinner, there is a truck that comes by several mornings where you can buy fresh fish, there are a couple of tennis fields, a playground, a place where you can rent kayaks and paddle boards and probably several other things we haven't noticed.
And then we haven't said anything about the sanitary facilities. There were more than enough shower and toilet blocks so we never had to walk far to get ourselves refreshed (or relieved). A big mystery to us is still how they are able to keep these places that spotless. We have been to many campings and we do understand that everything can't always be completely clean. Yet somehow they managed to do this at Baldarin.
Around Baldarin
Well, you're in the middle of a forest. If you want to spend your holidays partying and getting drunk, you might be in the wrong place. But if you enjoy the silence of nature this will be your thing. There are several walking trails to nearby beaches, on which you can always go nude. You can enjoy walks in the forest and if you want to see another human being or have a beer on some terrace, there are a couple of villages nearby. Although "villages" might be an overstatement. Most of the time it's just a couple of houses. The only town we found worth spending more than a couple of hours was Cres town. A beautiful harbor village which reminded us of some desolated places in Italy or Spain.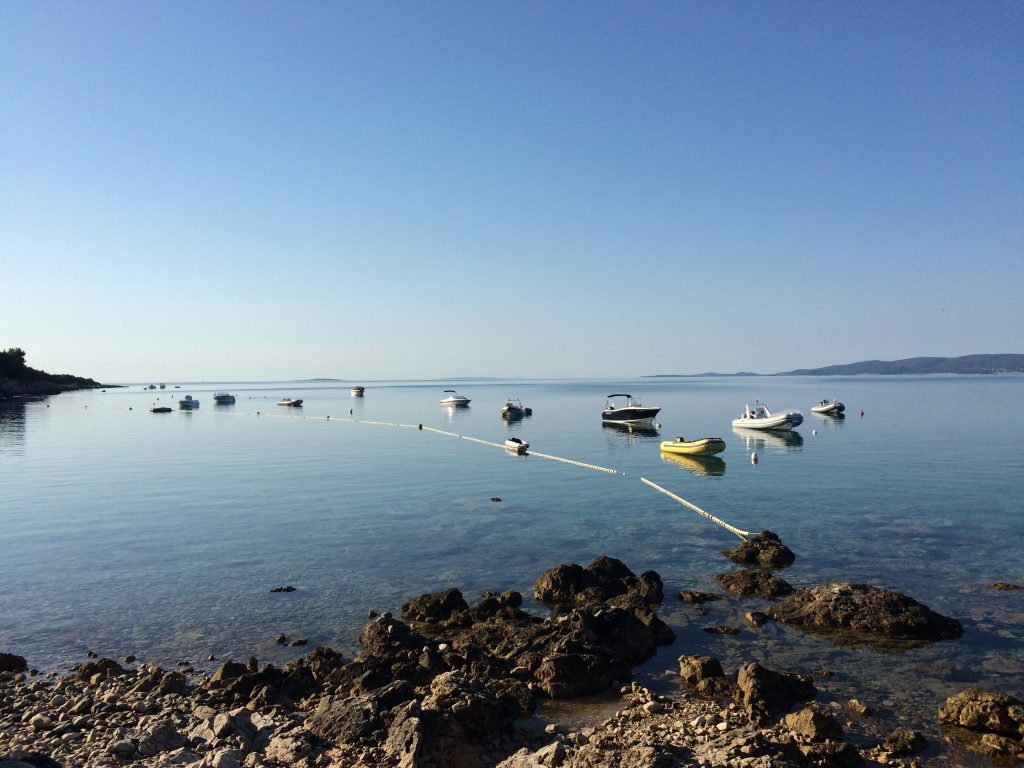 Staff at Baldarin
There isn't so much we can tell you about the staff because we rarely got in touch with them. Everything was very well regulated so there wasn't really any need to. But the times we did meet them, we always felt welcome and all of our questions were answered with a smile. Also, the waiters in the restaurant and cashiers in the store were always friendly and helpful. We noticed that the whole staff spoke Croatian (duh!) and also more or less perfectly German (at least we think because our German isn't exactly at a high level) but when we addressed them in English they were always able to help us out.
Guests of Baldarin
By watching the license plates, we could tell that the majority of guests were either German, Austrian, Slovenian, or Italian. Which wasn't such a big surprise because those are the most proximate countries. But license plates don't tell you everything. We know because we had a Croatian plate on our rental car. When listening around (yes, we do that from time to time but only for the sake of research of course), we heard several Dutch, Spanish, English, and even Belgians as well.
Other than the different nationalities, there was a huge variation in visitors: young couples, elder couples, families with children, singles, groups of friends, you name it. Because Baldarin is quite a big camping we also noticed the different types of naturists. Some stayed naked 24/7 the whole time of their holiday (except when they had to get wine from the store) and others remained clothed until they got to the beach. And of course the many others in between.
Summary
We had an amazing stay at naturist camping Baldarin, a stay we won't forget easily. Sleeping in the bell tent was great, afterwards, we stayed one more night in our own tent which was a bit of a downgrade comfort-wise but being in the middle of the forest certainly helped. We enjoyed the views, the sunsets, and the swimming in the ocean. If our wanderlust and curiosity didn't urge us to explore other places, we could have stayed there for weeks. Even months.
Read more about this place on NUDE
Naked Wanderings' Ultimate Guide for Naturism in Croatia ebook

Are you looking for great nudist resorts and nude beaches in Croatia?
Are you looking for the best tips for a nude vacation in Croatia?
Then our ebook will be the perfect resource for you!

Learn More
Need help with planning your trip? Check out our Resources Page for an overview of the best companies we use during our travels
Disclaimer: We have been invited as guests of Camping Baldarin, but of course all opinions are our own. We are super confident you will love this place as much as we did!
---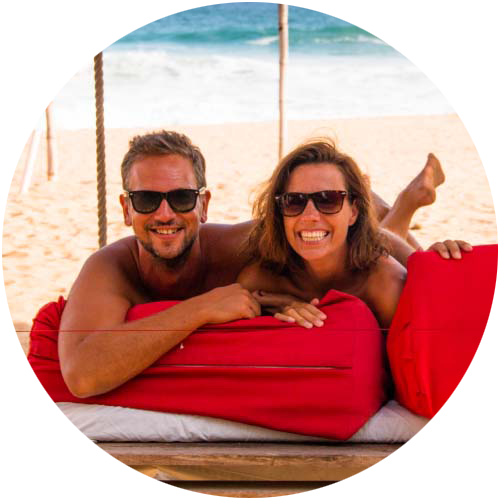 Support Naked Wanderings
Do you like what we do for naturism and naturists? Did we make you laugh or cry? Did we help you find the information you were looking for? Then definitely join our Patreon community!
---