During our nude trip through Italy, we discovered a wonderful region in southern Tuscany which hasn't been overrun by tourists yet. Well, we didn't actually discover it, Bas and Domenica did about nine years ago. They decided that it was the perfect place to start their own naturist campsite Sasso Corbo. A choice with which we couldn't agree more. The surroundings provide the perfect place for naturists who want to indulge in nature and history and have a great nude vacation in Italy. But those are not the only reasons why we liked Sasso Corbo that much.
How to get to Sasso Corbo
An explanation why the southern part of Tuscany is less visited than the rest of the region might be that there isn't really a nearby airport. If you're planning to arrive by plane when visiting Sasso Corbo, your best bet will be to either fly to Pisa or to Rome. Both cities have an international airport, Pisa connects mostly to European destinations while Rome receives flights from all over the world. From both Pisa and Rome it's about a two and a half hours drive to Sasso Corbo.
If you're arriving by train, the nearest station will be Grosseto, which has connections with Rome Termini station. From Grosseto, it's still somewhat 60 kilometers to Sasso Corbo. So no matter how you're getting to Tuscany, if you want to stay at Sasso Corbo, having your own transportation is definitely a must. Not only to get there but also to explore the wonderful region.
Of course, most of the visitors of Sasso Corbo do come with their own car, van or camper because in the end it's a campsite and you'll probably want to bring your camping gear. Sasso Corbo is especially popular among naturists doing a road trip through Italy or parts of the country. To get to Sasso Corbo you'll have to take the A12/E80 between Pisa and Rome and get off near Grosseto where a long and winding but beautiful road awaits you. A decent GPS is definitely a good thing to have in this region. Around Petricci some GPS might fail to help you any further (like our free
maps.me
app) but there you'll find several signs towards Sasso Corbo.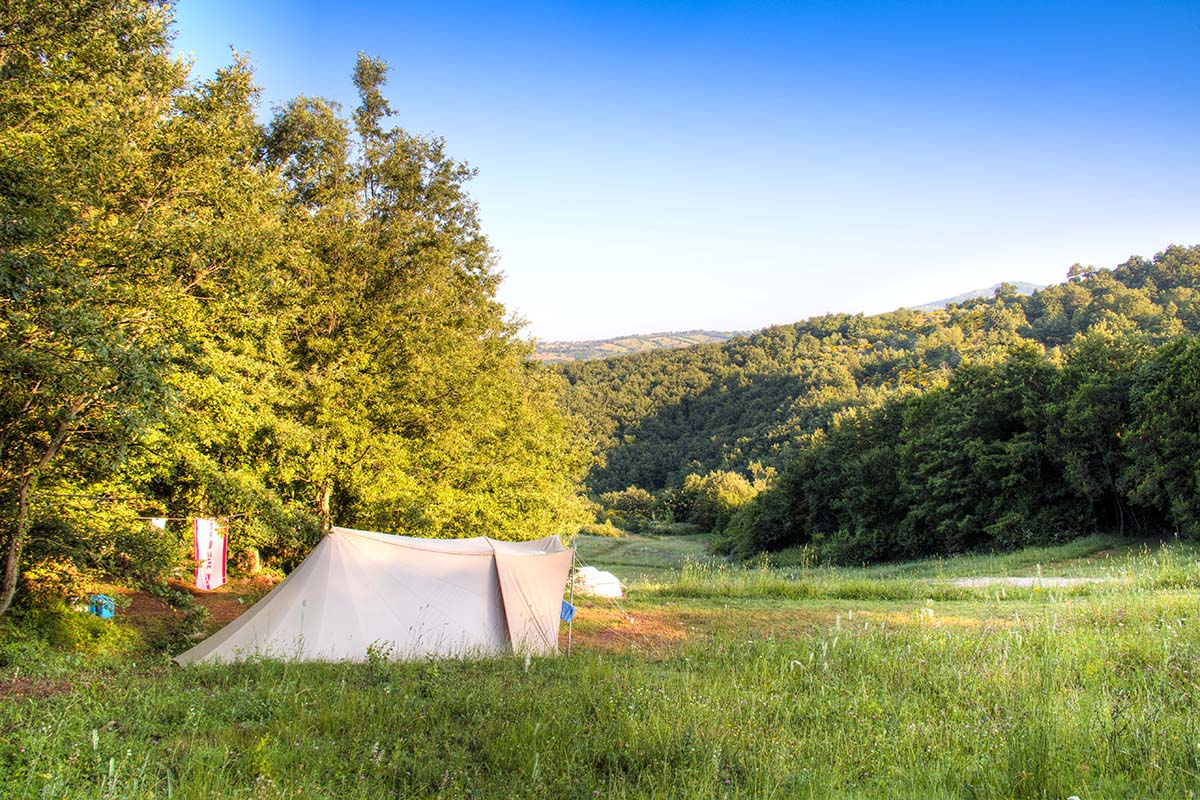 Where to stay at Sasso Corbo
Sasso Corbo is a naturist campsite but we can assure you that it's nothing like the first image that comes to your mind when you hear the word "campsite" (unless maybe if you're
Canadian
). Listen to this: The size of the whole property is 23 hectares and yet there are only 42 camping spots. A math professor who we met at Sasso Corbo told us that his way of deciding whether he'll enjoy a campsite or not is to divide the size by the number of camping spots. We don't have to tell you that Sasso Corbo scores very high on his scale.
This doesn't mean that every camping spot has the size of half a hectare, but that the natural areas around the spots are much larger than at most other places. You're provided with such a serenity that it might look as if you're the only guest at the place. And that's not even all of the good news. Sasso Corbo is built on a hillside and from pretty much every camping spot you'll get magnificent views over the valley and the surrounding hills.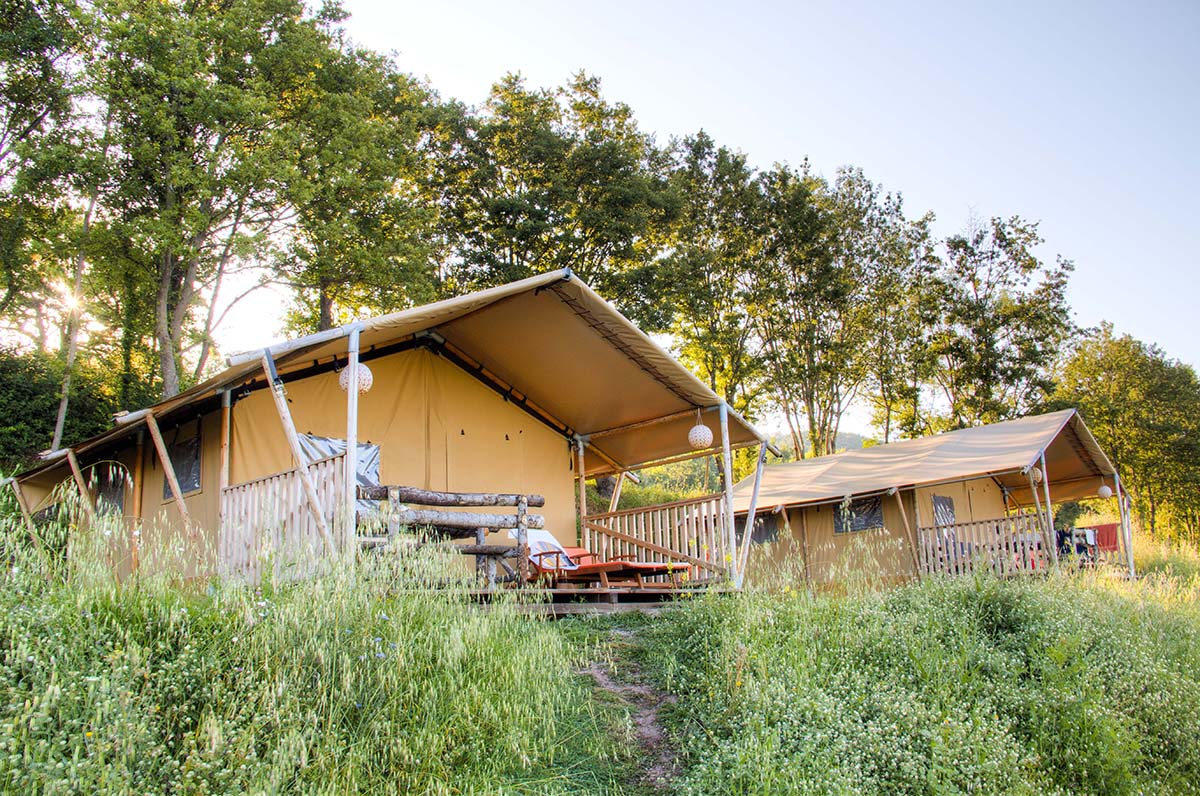 Camping isn't of course everyone's piece of cake. What if you don't have a camper? What if you don't like sleeping in a small tent? What if your air mattress exploded the other day or what about world travelers who don't want to carry camping gear on their backs?
Also for these guests, Sasso Corbo provides a solution: Three super deluxe Safari Tents. This type of tent that is often called a "glamping tent", is becoming very popular around Europe and we know exactly why. Indeed, because we've just slept in one of those at Sasso Corbo.
The Safari tents have two separate bedrooms, one with a double bed (one of the most comfortable ones we've found in Italy) and the other with two bunks. There's a fully equipped kitchen where you can cook the most spectacular meals and a terrace from where you have some of the best views over the valley, including a wonderful sunset at the end of your day.
One more important thing to mention is that the camping spots are rented out via a first come first serve principle. Try to arrive around noon when the leavers are already gone and the arrivers still have to get there. By following this tip, Naked Wanderings readers will always have the best spots. Wink wink.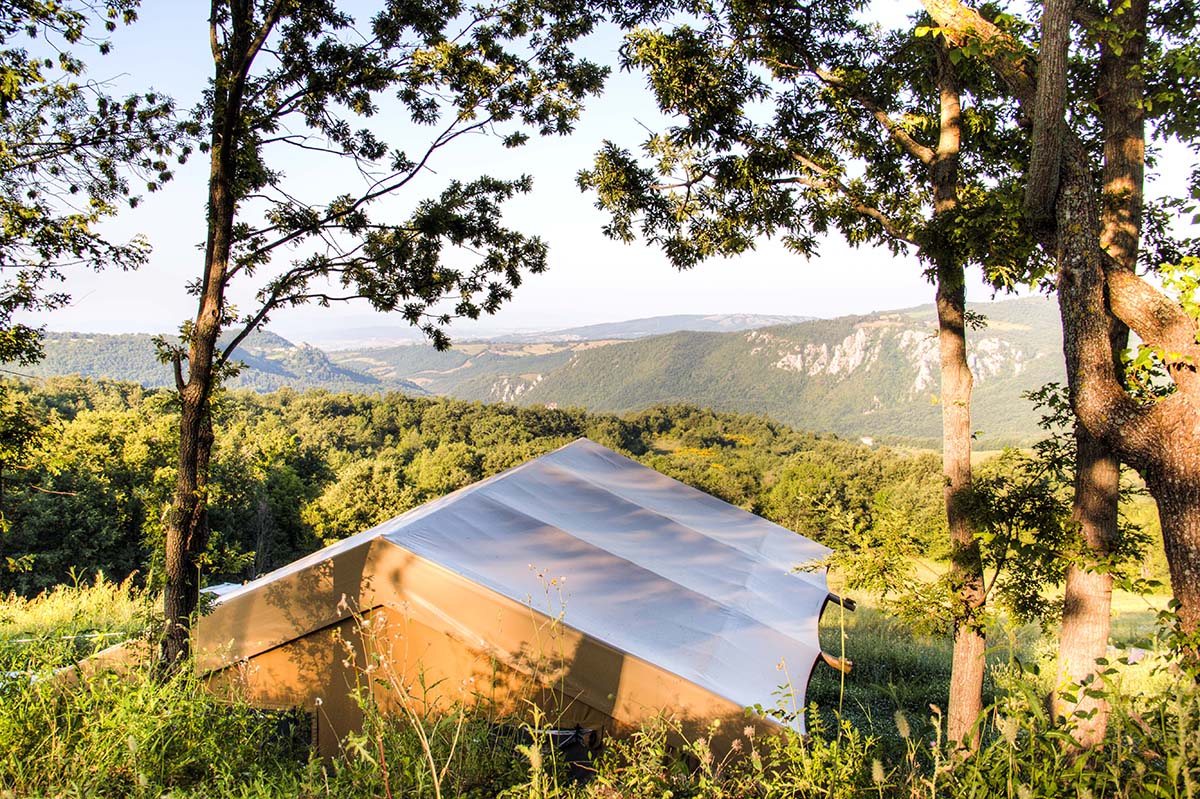 What to do at Sasso Corbo
We have to mention that amazing view once more. Because that's what you'll be doing a lot of your time at Sasso Corbo, just staring in the distance. At least that's what we did. If you're more of an active person, it's easy to get moving without having to put your pants on. A walk around the property and all the way down to the river can easily take an hour of your time. If you stop along the way to have a chat, play some ping pong, feed the horses, a skinny dip in the pool, and get a beer at the bar, we're probably talking about half a day.
That bar is the central point of the campsite and the place where you'll meet the other guests. Because it works with a trust system it's pretty much open 24/7 so there's always a possibility to get a beer, some wine, or anything else you want to quench your thirst with. There's also the possibility to order fresh bread, to get fresh eggs and to pick vegetables from the garden. And Sasso Corbo has a small shop where you can find the basics for a meal if you forgot to go to the store or if you're too comfortably nude to drive back to the store. They might not have all the ingredients for those culinary delights you'll be making the next days in your Safari tent, but there will be food on your table.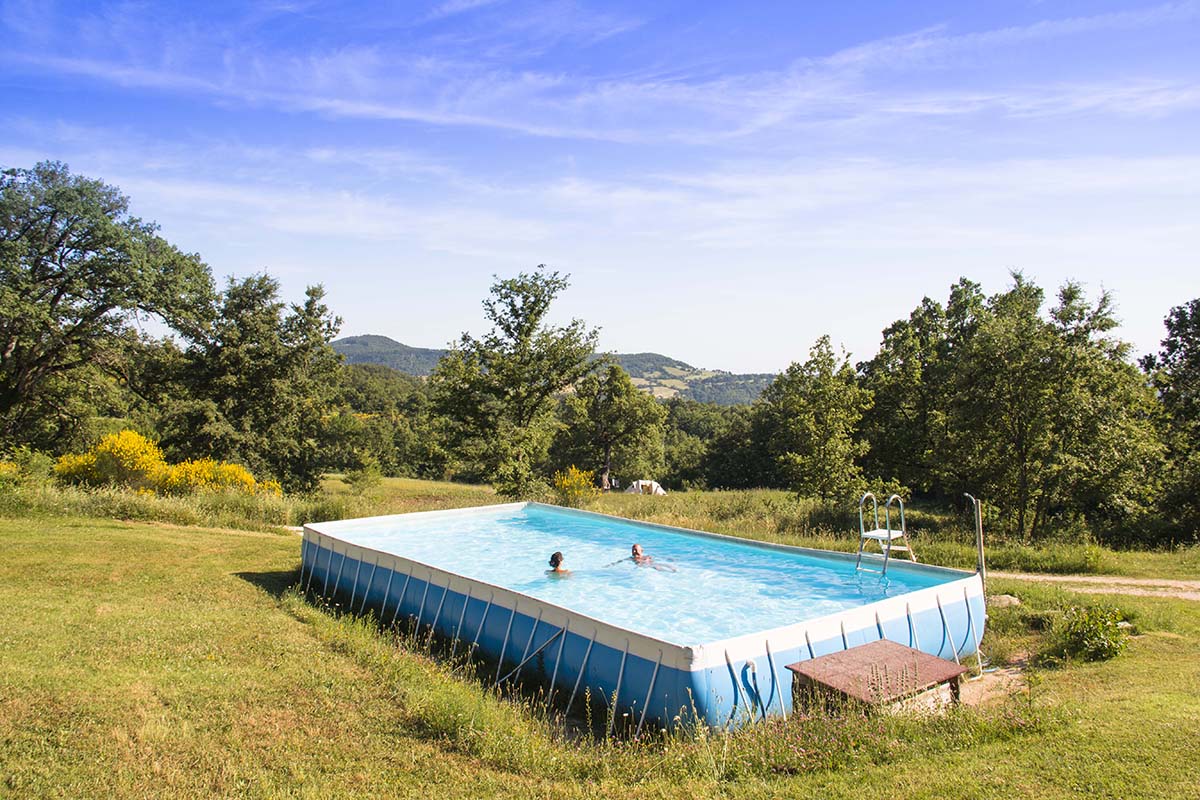 As we mentioned, the bar is the social area, and being social happens to be an important aspect for many naturists. Therefore, twice a week a communal dinner is organized. Domenica appeared to be an excellent cook who creates pretty awesome dishes and you'll get the chance to be surprised about how many visitors there actually are on the campsite. While we were at Sasso Corbo, the large majority of the visitors joined the dinner and we kept talking until the wee hours. Maybe fuelled with a little too much local wine. But hey, the wine they serve is bio, so it can't be bad. At least that was our excuse.
Once per week, there is an organized wine tour to the bio winery that produces the house wine of Sasso Corbo. It's something we can definitely recommend. Unlike at other wineries, this tour is not tourism-oriented at all. You'll meet the farmer who passionately talks about his wines and get the chance to taste them all in proportions that are quite larger than economically necessary. We're not complaining of course.
During the summer there are several activities organized for the children as well, like baking bread rolls over a bonfire.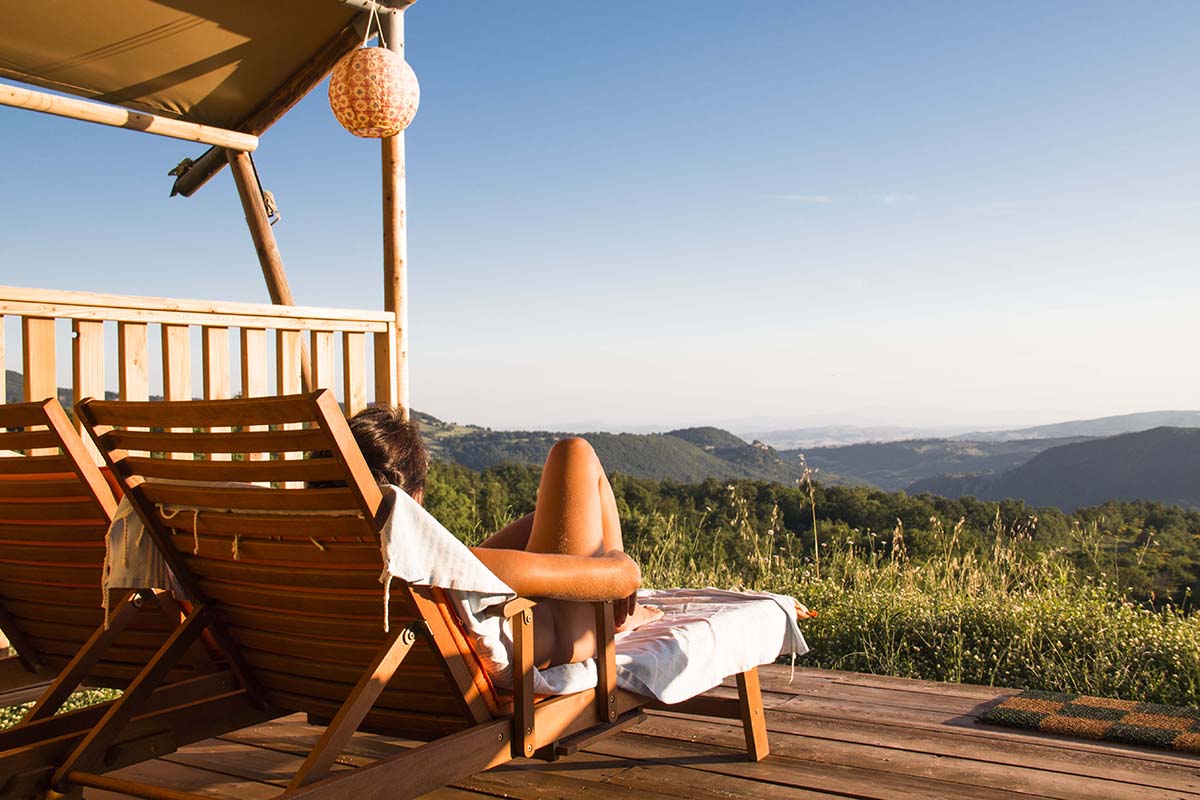 Around Sasso Corbo
During our stay at Sasso Corbo, we've seen many guests who never seemed to leave the campsite. Something we can understand because also we had a hard time getting dressed and go explore the region. We're glad we did though. Near Sasso Corbo are several villages like Petricci and Semproniano which look like time has stopped a couple of decades ago. They are fun to wander around or ride your bike and have a couple of bars, shops, and restaurants. Talking about restaurants, we've had a great dinner at Novecento in Semproniano. Write it down and thank us later.
Other nice places to visit nearby are the hot springs of Saturnia (well, that one is only worth it if you packed a bathing suit) and the Etrusk villages Savana, Sorano, and Pitigliano. Beautiful ancient settlements of which we are sure that they would have thousands of tour buses and souvenir shops if they happened to be in any other part of Tuscany.
Even Italy's most famous tourist destinations like Siena, Pisa, Lucca, Florence or Rome can be visited on a day trip if you're okay with waking up early.
Are you more like a nature person? Not only can you do great hikes right outside of Sasso Corbo, but there are also several natural gems like the Rocconi wildlife park, the Monte Amiata, and the Bolsena lake.
There is even a nude beach at less than an hour and a half drive, in the Maremma Natural Parc. Long story short, you'll have a lot to do during your stay. If you manage to leave Sasso Corbo of course.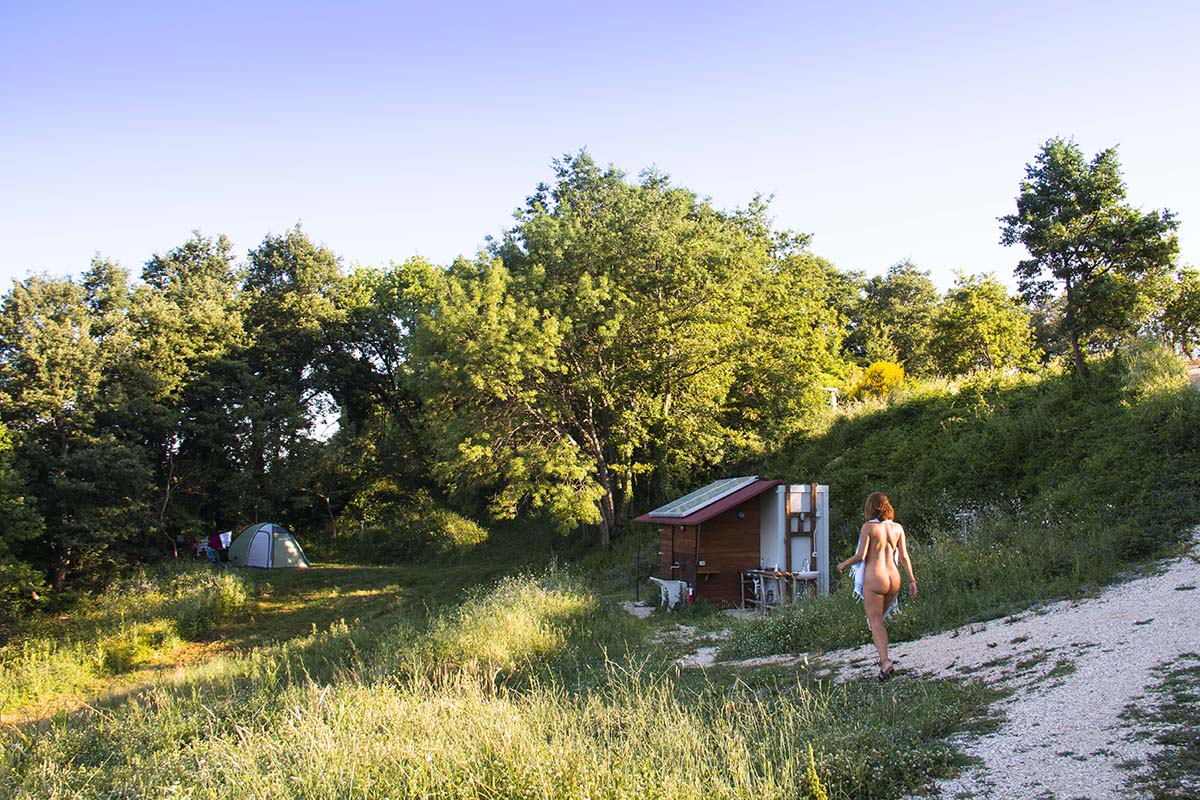 Staff of Sasso Corbo
During the last nine years, the Dutch couple Bas and Domenica have transformed a piece of land in southern Tuscany into what Sasso Corbo is today. So we believe that we can honestly say that they have earned their stripes when it comes to running a successful naturist campsite. Sasso Corbo was their dream and it still is. Something you can feel in any aspect of what they do. For example, while they could have built their own house years ago, they still live in a caravan because they decided that investing in their campsite was more important.
When you live your dream, working is never really working. Which is another thing you feel at Sasso Corbo. Bas and Domenica are always there to help you, whether it's to give you a restaurant tip, to pull your caravan up the hill, or to have a good chat. It's who they are and what they do. What's also typical at Sasso Corbo is that it's managed with a positive vibe. We noticed this in the little things, like that you'll rarely find a "you have to" or a "you can not" in their info booklet.
A bit more behind the scenes are Ruben, Jorn, Sem, and Cas, the four sons of Bas and Domenica. They help a hand around the campsite and provide a young face to their parents' naturist business.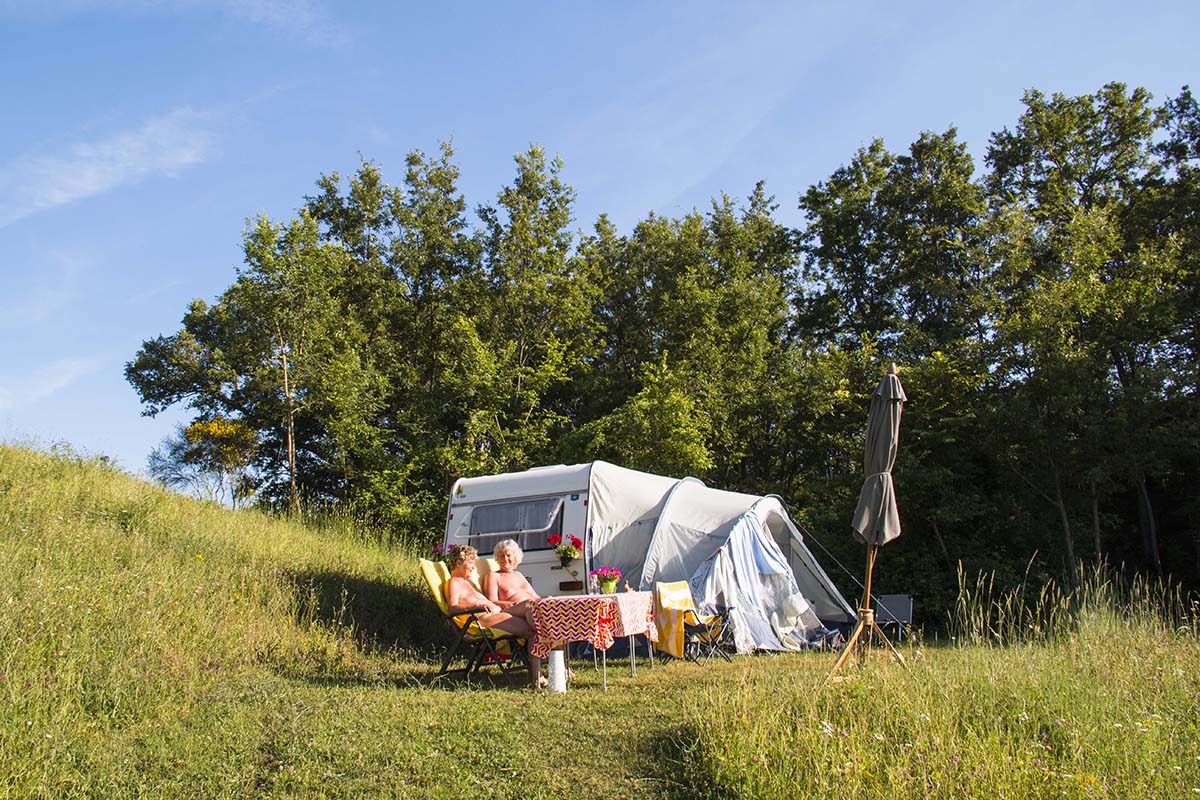 Guests at Sasso Corbo
A couple of days before we arrived at Sasso Corbo, we heard a rumor that it was mostly a Dutch place. Immediately an old experience nestled itself back in our memory. Not that we have anything against the Dutch, on the contrary, but when they are together they can be a bit… Ehm… all over the place. This is something many Dutch agree with as well by the way.
We were happy to see that this was certainly not the case at Sasso Corbo. Yes, the majority of the other guests were indeed Dutch, but the campsite is that large that you never really notice the others unless you actually want to. Dutch was often spoken at the bar, but we noticed that both Bas and Domenica and the other guests made efforts to include the German couple at the table in the conversations. This is certainly not the Dutch naturist club we somehow feared it to be.
Other than people from the Netherlands, their guests are coming from all over Europe. Belgians, Germans, some English. We even heard a great story about an Aussie couple who arrived at Sasso Corbo on bicycles, not knowing that it was a naturist campsite. Reluctant to ride their bikes back on the hill they figured that they might as well give naturism a try. Sometimes luck can be in a very small corner. Like in southern Tuscany.
During high season Sasso Corbo is also a favorite among naturist families.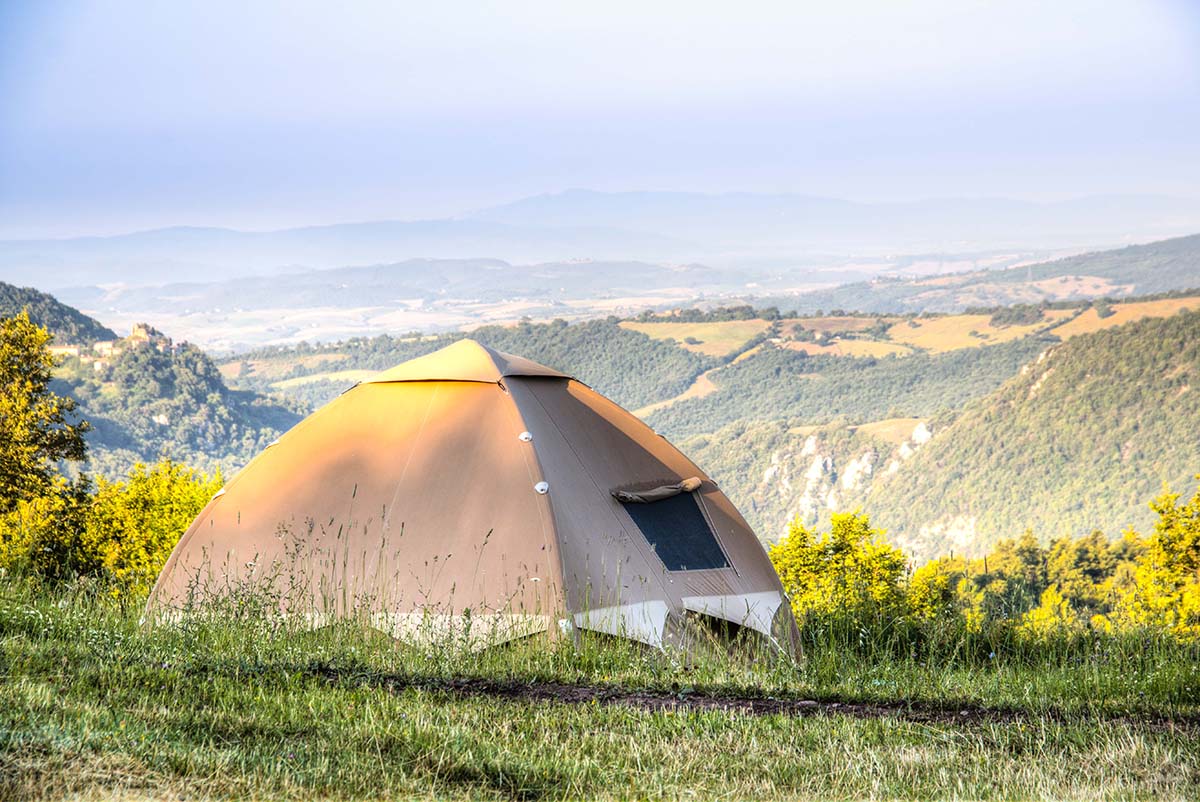 Reservations & Contact
Be aware that when we were at Sasso Corbo, the high season hadn't even started yet but the campsite was pretty much fully booked. So if you can, make your reservations in advance to secure a spot. Or give them a call before you arrive to check if they have anything available.
It's best to communicate in English, Italian, Dutch, French, or German.
Sasso Corbo is open from April 20th to October 1st.
Summary
We don't really like to use clichés but in this case, we feel like we have no other choice. Sasso Corbo is one of those places that put the word nature in naturism. Do you think that sounds lame? Then we invite you to check out the camping for yourself and tell us that we're wrong.
Disclaimer: We have been invited as guests of Sasso Corbo, but of course all opinions are our own. We are super confident you will love this place as much as we did!
---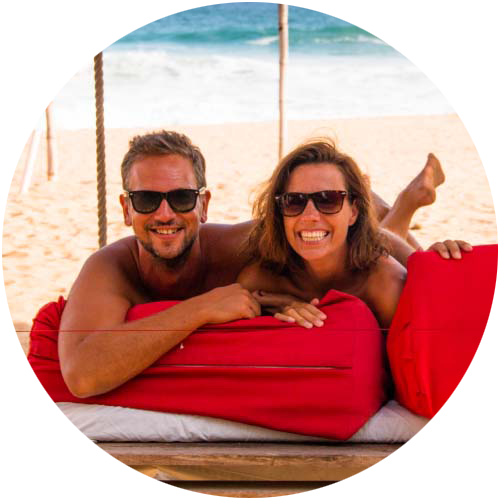 Support Naked Wanderings
Do you like what we do for naturism and naturists? Did we make you laugh or cry? Did we help you find the information you were looking for? Then definitely join our Patreon community!
---