After our
recent experiences at Cap d'Agde
, the idea of naturism at the French Mediterranean coast got a bitter taste. But we don't give up that easily and decided to give the region a second chance. At less than a half-hour drive from Cap, we found another Mediterranean naturist beach resort called Sérignan Plage Nature. Also located at a popular nude beach. Would this place be able to bring us back to naturism as we have known it before?
Important: Before we continue with this review, it's important to mention that the huge Sérignan Plage camping is divided into a naturist and a textile part. This review is exclusively about the naturist part (Sérignan Plage Nature) unless otherwise mentioned.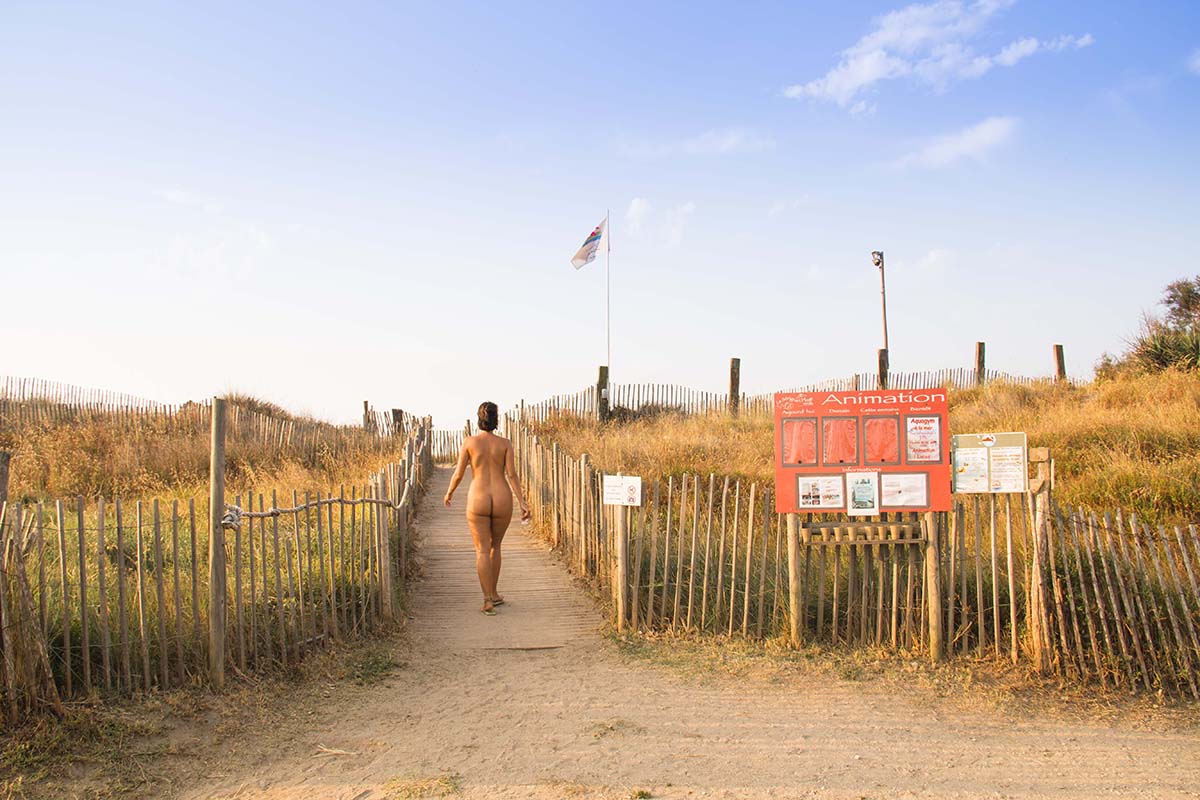 How to get to Sérignan Plage Nature
Getting to Sérignan Plage Nature is pretty easy. From anywhere in France you want to follow the direction of Montpellier to get on the A9 highway. Once on the A9, if you're coming from Montpellier you want to take exit 64 near Bézier. Coming from the south you take exit 36 (also near Bézier). In both cases, you follow the signs towards Sérignan and afterward to Sérignan Plage. The campsite is very well signposted from there.
It's perfectly possible to visit Sérignan Plage by public transport as well. The southern TGV Line (high-speed train) can take you towards Béziers train station from where several buses go to Villeneuve-Lès-Béziers. From there bus 20 goes every two hours towards Sérignan Plage.
Béziers also has its own airport with connections to the UK, Ireland, and Belgium. If you're flying in from other parts of the world, Montpellier airport will be a better option.
An
Uber
from Bézier to Sérignan Plage costs about 35 – 40 euros. A taxi is slightly more expensive with prices at around 40-50 euros. If you like flexibility or you're planning to visit the area around Sérignan Plage as well, it's recommended to rent a car in one of the airports or at Bézier train station.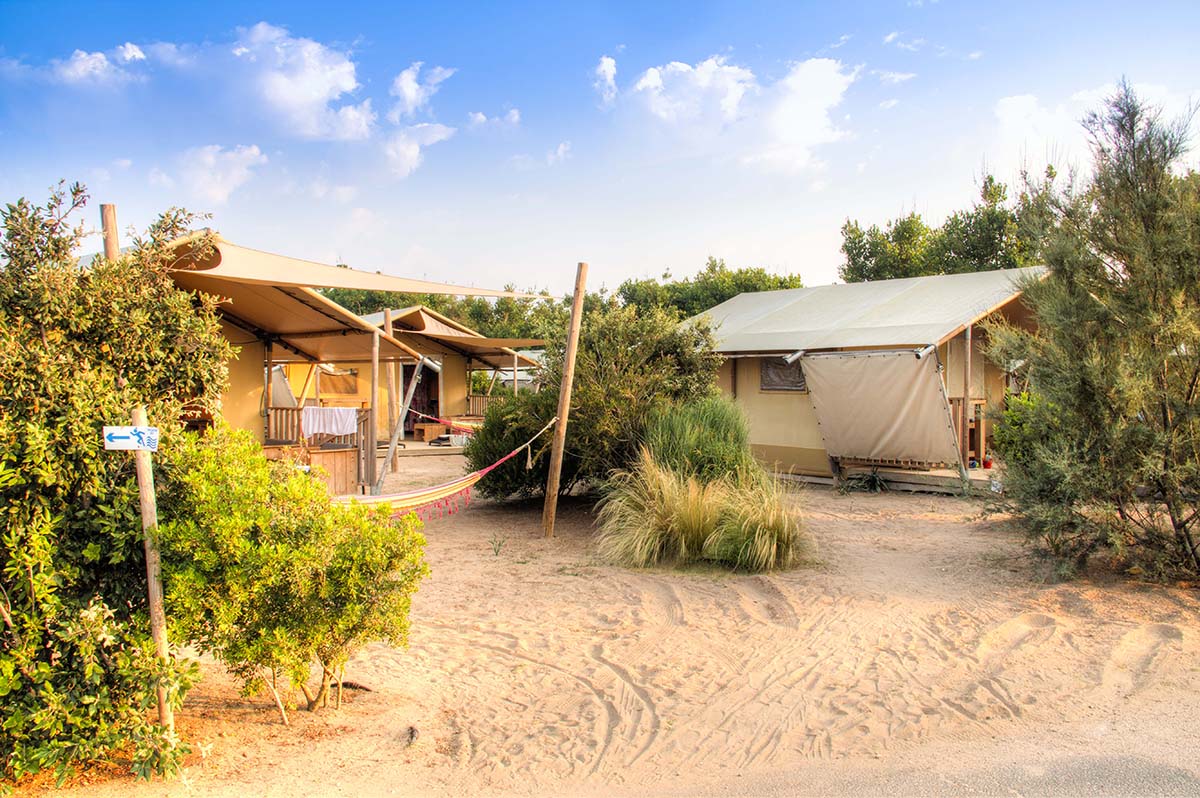 Where to stay at Sérignan Plage Nature
Since Sérignan Plage has both a textile and a naturist section, do make sure that you're booking your spot at the right side of the campsite. Well, that is if you want to get the nudest time out of your vacation of course. The naturist section, called Sérignan Plage Nature, has about 300 available places of which 60 percent are camping pitches and 40 percent rentals. The growth in rental options is something we see everywhere in Europe and we can only applaud to that. The days of the old fashioned "naturist camps" are long gone and naturists who prefer a bit more comfort than a tent or caravan now get many options. Especially at Sérignan Plage Nature.
Here you can find several different types of mobile homes that accommodate 4 to 6 persons. Other than the capacity, the difference is mostly in their location. We definitely enjoyed our spacious mobile home near the pool area. Not just because of the comfort and the nice inside decoration but also because they are strategically put so you're not looking directly into your neighbor's terrace all the time. An abundance of greenery and flowers (which is not all that common for a beach campsite) also provides lots of privacy.
No matter how much we enjoyed staying in our mobile home, we regretted that all the safari tents (Tente Nature) had already sold out at the time of our booking. Not just because we absolutely LOVE safari tents, but also because they're so nicely located at a sandy part of the campsite right at the beachside. They give a feel of camping in the dunes. More than once we've passed by those safari tents giving the current visitors jealous looks.
Something we also enjoyed very much is that with all rental accommodations you get free to use bicycles. Those are great for riding around the campsite, visiting the dark side (textile part), or picking up something from the store. You can even use them to check out some other nearby places.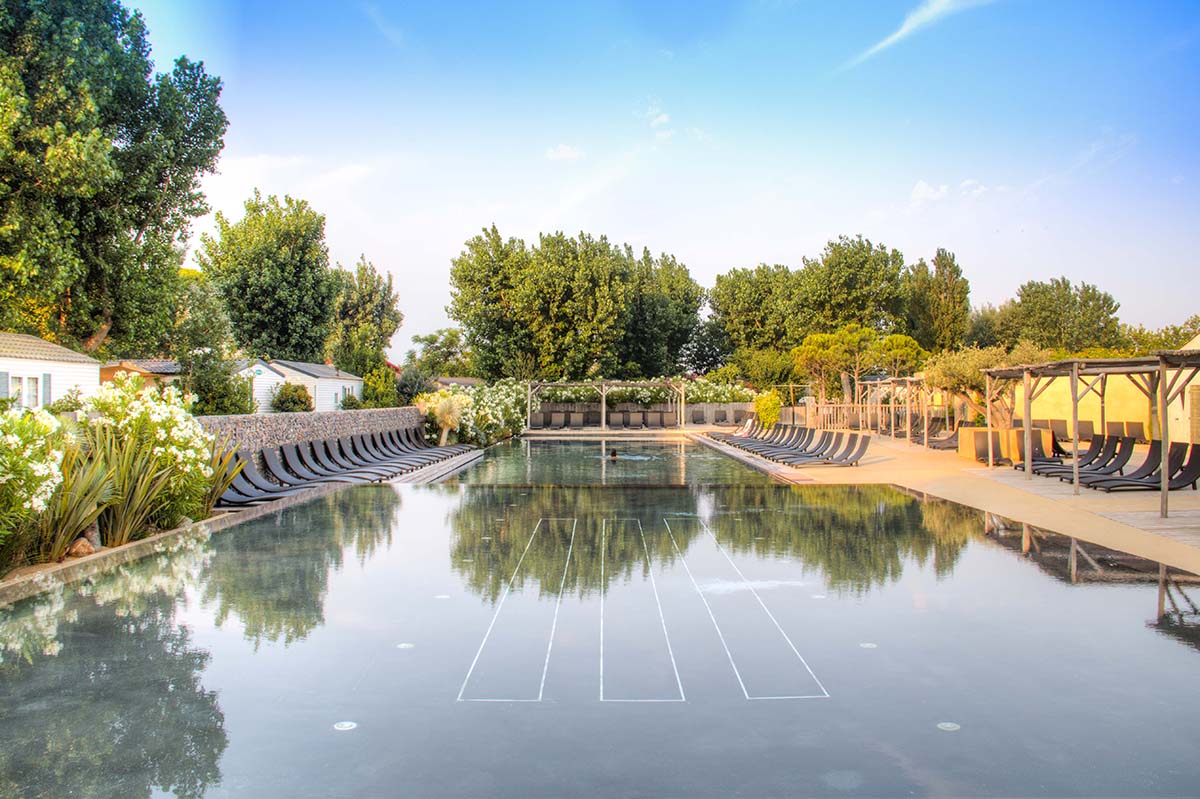 What to do at Sérignan Plage Nature
If there is one word with which we have to describe Sérignan Plage Nature, it's probably "luxurious". And this reflects in every aspect of the campsite. The main attraction is definitely the large new swimming pool which looks like it has been stolen from a design magazine. We noticed that lots of the visitors preferred to settle themselves at this pool and the morning and didn't leave until dinner time.
More luxury can be found in the two restaurants. La Villa has an Italian style kitchen and is accessible from both the naturist and the textile part. Le Clos des Oliviers is uniquely for the naturist side and has a more mixed cuisine. It's also possible here to get snacks during the day. We particularly loved Le Clos des Oliviers, not only for their great food but also for the care with which Nathalie and Sandrine treat their customers.
At both La Villa and Le Clos des Oliviers the terrace is nude friendly but the at the restaurant clothing is required.
Looking for even more luxury? Entering the huge spa section (the Balnéo) feels like stepping into an ancient Roman bathhouse. Complete with several different pools and a huge jacuzzi. This is also where you can get your well-deserved massage or beauty treatment after an exhausting day of sunbathing. Because the Balnéo is shared between the naturist and the textile section, nudity is only allowed during the first half of the day. During the second half, a bathing suit is required. While we were at the Balnéo we saw many visitors from the textile section coming in for a nude spa experience. We wondered if this would also be the other way around and if naturists would put clothes on to visit the spa during the afternoon. But we couldn't check. We didn't bring bathing suits.
Another major highlight of Sérignan Plage Nature is of course the "Plage" (beach) itself. A large stretch of nude beach directly accessible from the campsite. The white sand and the calm Mediterranean sea does not only attract the nude campers but also lots of day visitors and we have no doubt that also here, there are textile campers dropping their bathing suits.
We can keep going on and on about all the things that are possible at Sérignan Plage Nature, but this piece has already become pretty long. So we'll keep it short: Sports activities, a large shop, animation for children and adults, it's all there. And even if you can't find something at Sérignan Plage Nature, as a naturist you have free access to the textile side where you can find even more facilities and shopping options. But don't forget to put some clothes on.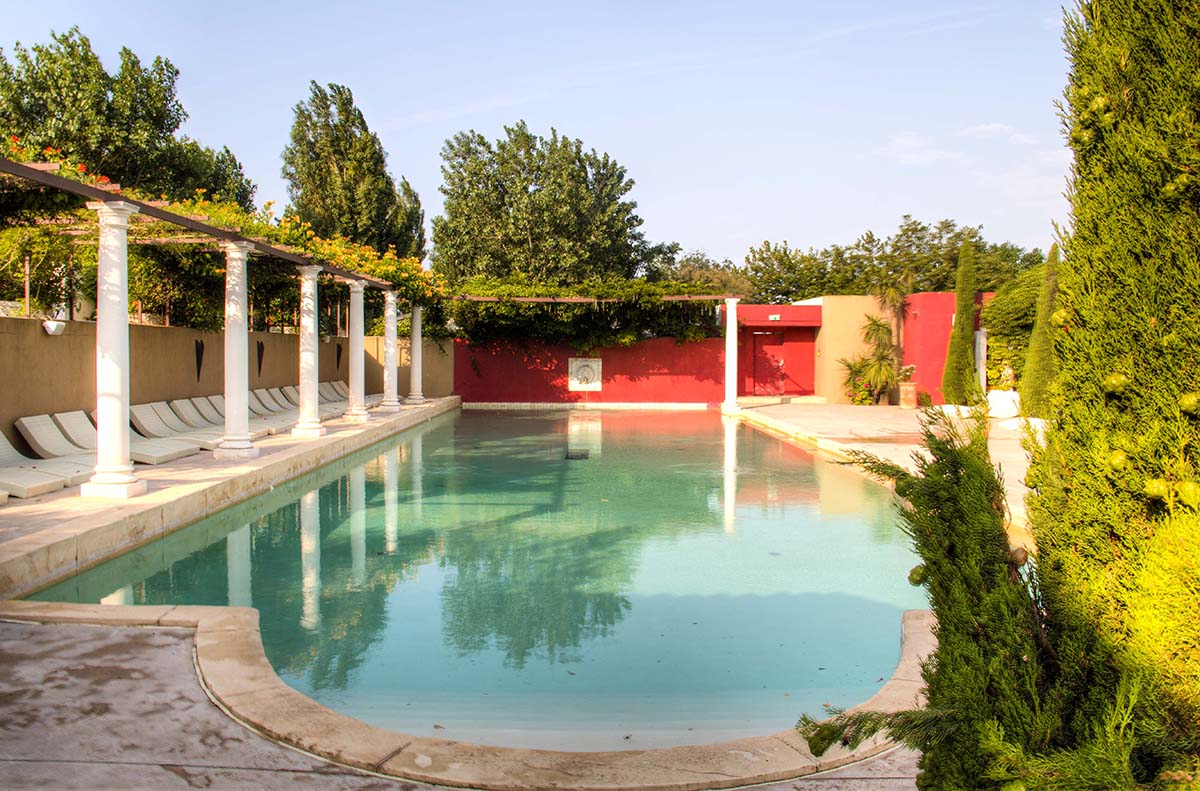 Around Sérignan Plage Nature
Sérignan Plage is located in the heart of the Languedoc region. So if you can find the courage to leave the pool, the beach, or the spa for a day, there are lots of things to discover.
Enchanting historical towns like Saint-Guilhem-le-Désert or Pézenas and fun cities like Bézier, Narbonne, and of course Montpellier. You can follow winding roads past wineries and chateaux and abbeys. The natural parks of Narbonne and the Haut Languedoc are also nearby. And there's so much more. We don't really have to tell you this, in the textile part of Sérignan Plage you can find a tourist office where the people know much more about the region than we do.
Talking about tourist offices, the one of Bézier Mediterranée sells tourist passes which you can exchange for boat trips, wine tastings, adventure parks, or even a seafood platter in the nearby town Valras Plage. Because we are concerned about the health of our dear readers we felt that it was our duty to go test those delicious seafood platters. Twice, just to make sure.
For more nude opportunities in the region you could visit the nude village of Cap d'Agde, but make sure to read about
our experience
at the place first. Especially if you're going for a family visit. At about an hour's drive to the south is the other famous French nude beach called Leucate Plage in Leucate
naturist village
.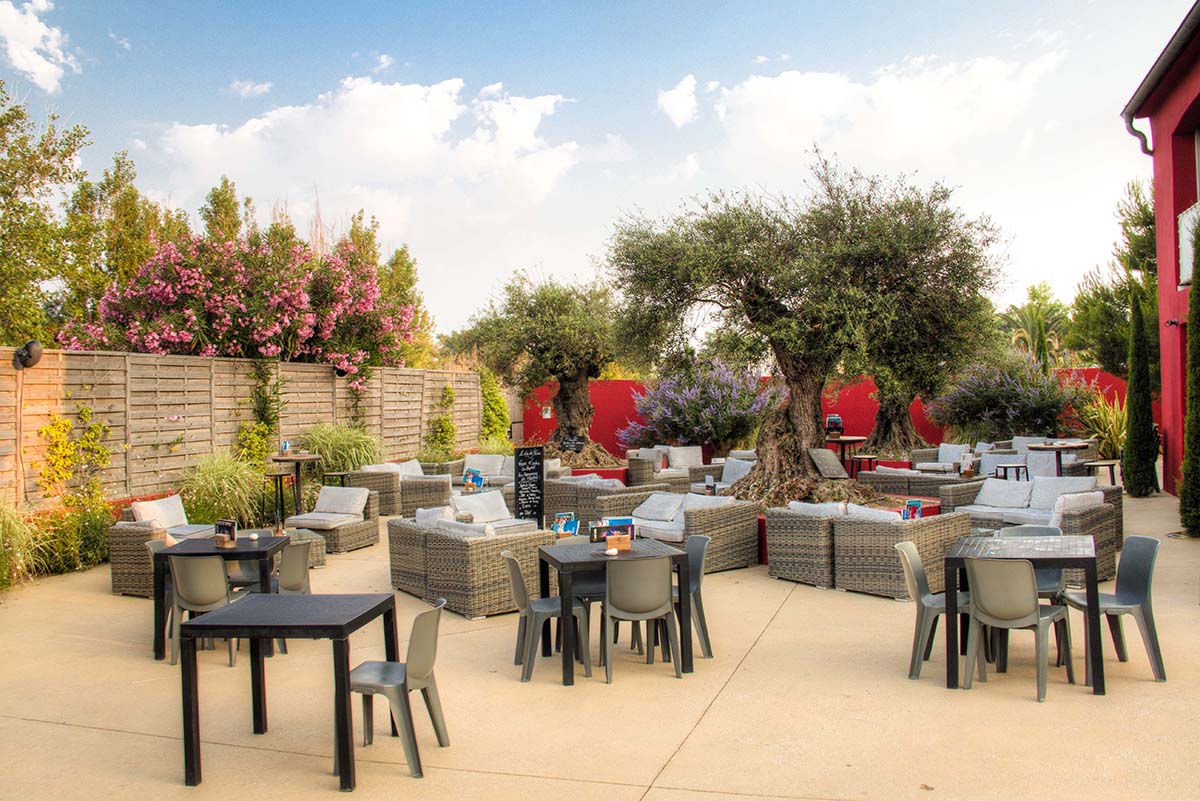 Staff of Sérignan Plage Nature
The staff at Sérignan Plage Nature is abundant and takes great care of the wellbeing of their customers. Funny enough, they aren't always easy to recognize. Something we didn't really expect at a high-end naturist campsite like this was that there seems to be no clothing policy for the staff. The hot weather in this region definitely has something to do with that. It was pretty funny to see how Manu, one of the pool attendants, arrived in the morning fully clothed, and the higher the sun went, the more clothes he dropped.
All around Sérignan Plage Nature, even at the reception, we would find staff in different states of (un)dressing. Sandra made the joke that she has one of the few jobs in the world where it's perfectly normal and acceptable to forget your underwear at work. To us that sounded like a great description of a future clothing optional world.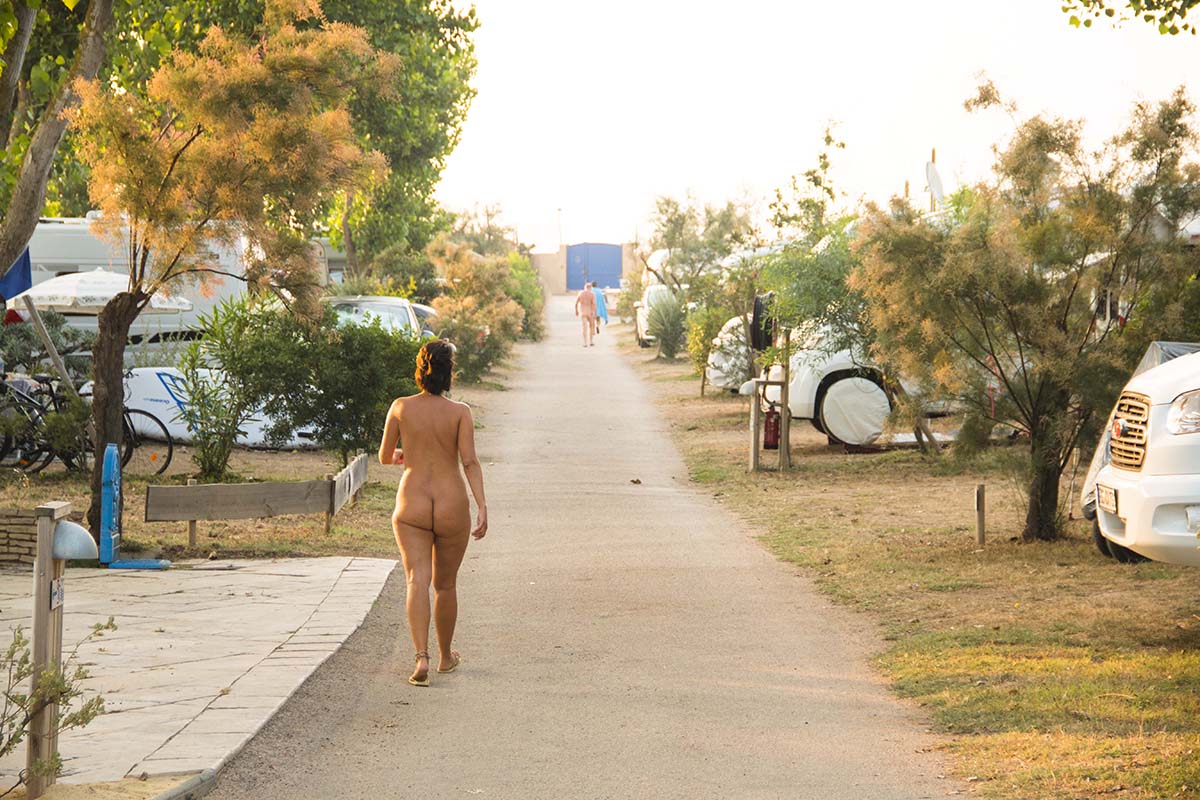 Guests at Sérignan Plage Nature
While it's often said that the naturist campsites in France are much more visited by foreigners than by Europeans, Sérignan Plage Nature proves this statement untrue. With about 50% of their visitors being French. Of course, this has a lot to do with a recent revolution in French naturism and the many young families that seem to gain interest in a nude lifestyle. The families are not uniquely French though. We were happy to hear that Sérignan Plage Nature has seen significant growth in naturist families in general during the last three years.
The popularity of naturism in France and the surrounding countries will certainly be a reason for that, but the management of Sérignan Plage Nature also makes sure that both parents and children can have a great time at the campsite.
Another advantage concerning this is the presence of the Gymno Club Méditerranéen, the local naturist club of Sérignan Plage. While the staff at naturist campsites doesn't always find the time to support first-time visitors, this naturist club takes over that task and is happy to show the ropes to those not familiar (yet) with naturism.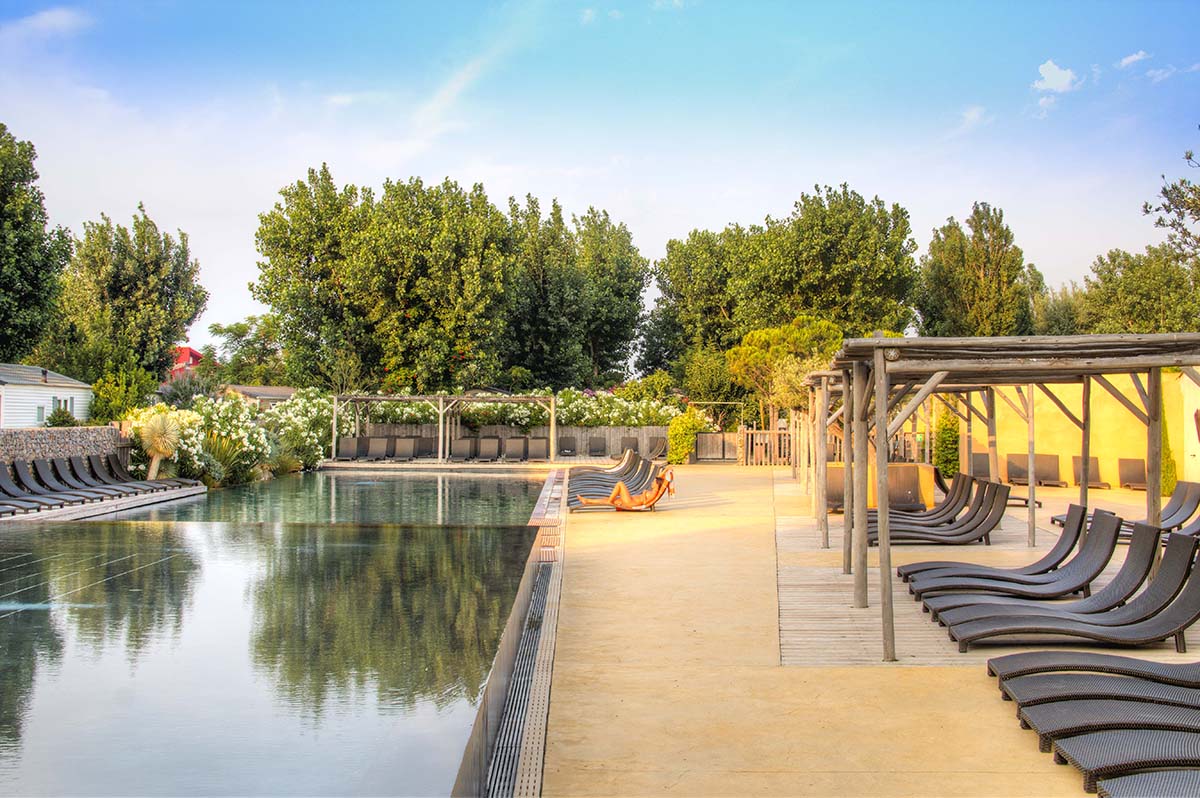 Reservations & Contact
After a visit to Sérignan Plage Nature, guests get the opportunity to already reserve a spot for the next year. As a result, 60% of all spots are occupied before the bookings are even open. So we don't need to tell you that it's better to book early, especially if you want to visit in high season.
Reservations are preferably made via:
✅ Website: https://www.leserignannature.com
✅ E-mail: [email protected]
✅ Phone: +33 (0)4 67 32 09 61
It's possible to communicate in French, English, German, Dutch, Italian, and Spanish.
Sérignan Plage Nature is open from half of April to the end of September.
Summary
Although Sérignan Plage Nature might be (almost literally) located in the shadow of the enormous
Cap d'Agde
, it does shine a bright light over that infamous nude village. At Sérignan Plage Nature you'll be sure of a top-class naturist experience, both at the campsite as at the beach.
Naked Wanderings' Ultimate Guide for Naturism in France: Occitanie ebook

Are you looking for great nudist resorts and nude beaches in Occitanie?
Are you looking for the best tips for a nude vacation in Occitanie?
Then our ebook will be the perfect resource for you!

Learn More
Need help with planning your trip? Check out our Resources Page for an overview of the best companies we use during our travels
Disclaimer: We have been invited as guests of Sérignan Plage Nature, but of course all opinions are our own. We are super confident you will love this place as much as we did!
---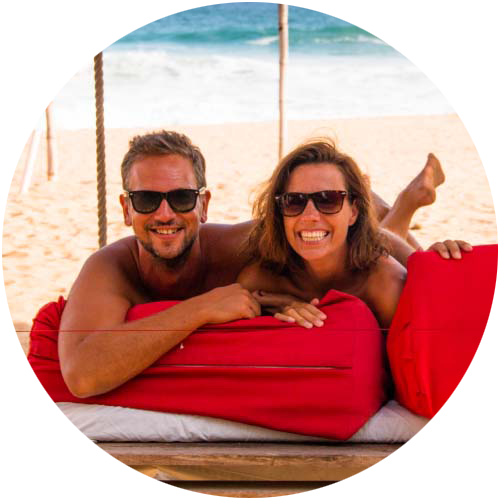 Support Naked Wanderings
Do you like what we do for naturism and naturists? Did we make you laugh or cry? Did we help you find the information you were looking for? Then definitely join our Patreon community!
---