Naturism is an experience that every person should have at least once in their life. We definitely realize how daunting the prospect may seem to many people. Me? Naked? In front of strangers? It's rather the setting for a nightmare instead of inspiration for a
new way of living
.
We remember our first naturist experience as if it was yesterday. And how scary it was. We remember looking at all the cars in the parking lot. Until that moment, only some family members, close friends, and former boyfriends and girlfriends had ever seen us naked. Within minutes, that number would easily triple or quadruple. And all those new members of the premium club of people who get to see our nude bodies wouldn't even be people we trust. They would be complete strangers.
We'd love to tell you that after this first experience, we were so much blown out of our (figuratively) pants that we decided never to wear clothes again. But that's not how it happened. It was a great experience, that much is sure. But it took us more than 6 months before we would try social nudity again. Although there wasn't a single thing wrong with what we had seen and done, it still felt like we were doing something dishonorable. Something shameful. Something we definitely shouldn't tell anyone about.
Today, 12 years later, our nude butts and (also nude) faces have appeared in newspapers and on televisions in many different countries. People around the world know that we are naturists. The thing we didn't talk about to anyone for more than 2 years has become the thing we talk about as much as possible to as many people as we possibly can.
What happened?
During our first years as naturists, we made two very important discoveries. The first one was that we, back then in our mid-twenties, were often the youngest at the naturist places that we visited. The youngest, by far. Most others could easily be our parents or grandparents.
Being the internet-generation, Google is what we depend on when we want answers. The more we learned to appreciate naturism, the more questions we had. How do we behave? Where can we go to? And most importantly, we wanted confirmation that what we were starting to love was not shameful at all. That's when we made the second discovery. The websites about naturism that we found didn't represent anything of what we experienced. The information was old, patronizing, and often downright boring.
It wasn't hard to connect the dots. If we had searched for information about naturism before actually trying it, we'd probably have written it off as something old, weird and boring as well. We thought about how many others there might be, who will never experience the joy of naturism just because nobody gave them the right information.
Naked Wanderings was born
More years went by, but the idea got stuck in our heads. We knew at least one of the reasons why naturism doesn't attract more people our age. And we were doing nothing about it. Then we made a decision. We were planning a long-term world trip and this would be a perfect way for us to learn more about naturism, and to tell the world what it's really about. To show how we experience naturism. Naturism through the eyes of, by then, 30-somethings.
A blog seemed the perfect way to do so. It was (and since you're reading this, it probably still is) a very popular medium to share thoughts, ideas and visions. Next, we needed a name. We were going to wander, physically, around the world. But also mentally, wander through a way of life that's still unknown to many. In the end, we needed to decide between "Naked Wanderings" and "Naked Wanderers". Funny side note: From the moment we chose Naked Wanderings, everyone started calling us the naked wanderers…
Naked Wanderings on the road
What started as a rough idea of a 2-year trip, is meanwhile lasting more than three years. And we have no intention of stopping any time soon. Naked Wanderings has grown to be a huge success. Apparently, we were not the only ones who were missing young and fresh stories about naturism and naturist places.
Even after more than three years on the road, gaining an impressive amount of experience and a large number of new friends, we have to make sure that we don't wander off track. Meanwhile, we have been naturists for so long and we visited so many naturist places, that sometimes it all seems so obvious and easy to us. When someone asks us for guidance for his or her first naturist experience, sometimes we want to say "Dude, it's no big deal, just take off your clothes". And then we remember that these are the words that we found so meaningless when we became naturists. Then we remember the full parking lot.
The Naked Wanderings Manifesto
To make sure that we never forget what we are doing and why we are doing it, we've put down a manifesto. A list of our values. Things that we have to keep in mind, wherever we go.
This is what we do.
This is Naked Wanderings.
1. We will get out of our comfort zone. A lot!
We wouldn't have become naturists if we hadn't taken that huge step out of our comfort zones. We could have chickened out, turned around, and drove back home. We just don't want to think about how different our lives would be if we had done that. This is one of the most important things we've ever learned: All of the cool stuff happens out of your comfort zone. So that's where we want to be.
2. We will be positive. always!
There's a lot of negativity in this world. Also in the naturist world. One of the things we hated during our research was the many articles about voyeurs, exhibitionists, perverts, youth becoming prude, and all those topics that put a negative light on naturism. Our goal is to put a positive light on it. In everything we do.
3. We won't avoid the difficult or awkward topics
Of course, we don't want to picture a wrong image by not talking about the dark sides of naturism. But there are two ways to do so. We could cry and complain about them, or we could acknowledge their existence and try to come up with constructive answers to those problems. We chose the latter.
4. We will explore all facets of naturism.
Naturism is something everyone can enjoy and in many different ways. Our goal is to get the full scope. To eventually come up with the complete list of options and opportunities. From clubs to resorts, from campgrounds to hotels, from beaches to hot springs, from home parties to large naturist events.
5. We will make our own choices about what we're comfortable doing
It's not because we want to try everything possible within naturism, that we're going to like all of it. So we're pretty sure that some things will be a one time experience. We won't force ourselves into uncomfortable situations just for the sake of it.
6. We will be an example for other naturists
Only if we stay true to the naturist values, we will be respected by the naturist community. That's something we're absolutely sure about. Once our readers and followers start questioning what we're doing and why we're doing it, Naked Wanderings won't be of much use anymore.
7. We will be an example for non-naturists too. Maybe even more
As one of our major goals is to show the world what naturism is really about, what a great way of living it really is, and why everyone should give it a try at least once in their lives, it's even more important that we show naturism in its full sense.
8. We will always listen to others.
If there's one thing that we've learned from traveling, it's to listen to people. Most of the best experiences in our lives happened because someone told us to go there/try this/eat that/… If we want people to listen to us, we also need to listen to them.
9. We will be acceptant to other ideas and opinions
Life is not mathematics, there are no absolute rights or wrongs. We don't want to force our ideas and opinions upon others as being the one and only truth. Instead, we want to inspire people to find their own truth. To find out what makes them happy.
10. We will question established ideas and opinions
Naked Wanderings was started because we questioned the information about naturism that we found online. And look where we are now. We won't take the established ideas for granted. Instead, we will be looking for what else is out there, which improvements can be made.
11. We will keep changing our minds about everything
If you would read our blog like a book, from the first post to the last one, you will find lots of contradictions. What we thought and believed 4 years ago is not necessarily what we believe today. We've had so many mind-opening experiences and met so many interesting people who all inspired us. And that's great, how boring would life be if we stopped learning?
12. We will always respect the privacy of the other naturists
As bloggers, we tell stories. About ourselves and about other people. And we do the one thing that's a major no-no within naturism: We take pictures. But we will never invade the privacy of others or put them into situations in which they don't want to be.
13. We will support other bloggers and influencers in the community
There is no competition in naturist blogging. In fact, there are by far not enough naturist bloggers and influencers in the world. The more people who help to show what naturism is really about, the more our community will grow. So support them all in every way we can.
14. We will remember to close the laptop and enjoy the moment.
Blogging is a job that never stops. It can be a burden too. Whenever we're visiting a new place, we start thinking about how we will write about what we see, hear and feel. When will be the best light to take photos, what would make a great Instagram picture, what was the name again of that friendly lady? And then we have to write that all down before we forget. Now and then, we need to remember to close that physical and mental laptop and just sit back to enjoy the great life we have.
15. We will be grateful for every stupid, amazing, unexpected, breathtaking moment and all the amazing people who enrich our lives.
Whatever happens, if it didn't turn out into a great experience, it was a great lesson. Or a funny story. And whoever we meet, even just for a moment, might bring a change into our lives. Directly or via the butterfly effect. This is something we always have to keep in mind. What we accomplished is just slightly thanks to our own effort. We write the stories down, but many others helped to create them.
---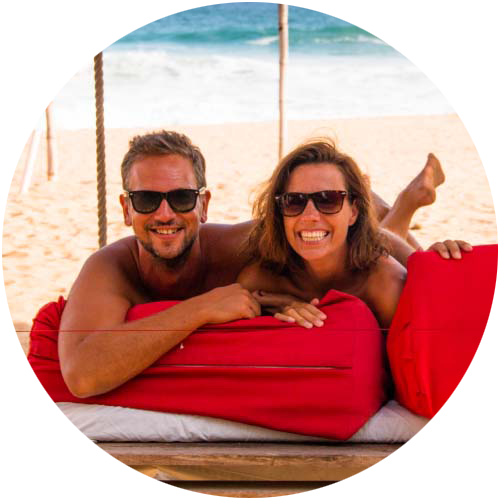 Support Naked Wanderings
Do you like what we do for naturism and naturists? Did we make you laugh or cry? Did we help you find the information you were looking for? Then definitely join our Patreon community!
---