What started as a fun way to document our naturist travels around the globe, has meanwhile grown to be a full time project. And we love every single moment of it. Naked Wanderings has brought us to the most incredible places in the world and is the reason for meeting the most amazing people.
But what we probably love the most about what we do is the great feedback that we receive. The many thank you messages from aspiring naturists who we've helped taking the first steps into naturism, from long time naturists who we've shown places they didn't know yet, from men and women who we've helped coping with their body confidence, and from people who can't travel themselves but can now see the world through our eyes.
"Your reviews of French resorts have led us to book our first naturist holiday this summer at CHM Montalivet - so excited!"
"Hi, your blog is really really helpful, I can't thank you enough. You guys helped me to get over some very bad thoughts I had about myself. And now being naked made me feel more comfortable. Thanks you guys so much!"
"Inspired by your example being nude, I have learned to accept myself "
"You're awesome! I didn't know much about naturists. I've just heard some rumors and mainly bad things. I decided to search about it and i found you on instagram and your blog. Thanks for all that you share with us and all your efforts to spread amazing concepts of naturism."
"You both got this Disabled Veteran to move forward in the United States"
"I want to start with such a wholehearted THANK YOU  for all you have done and continue to do! You were one of the first couples/pages outside of the Federations to breathe an enormous and vital breath of fresh air into the community"
When we started Naked Wanderings, we had a budget to survive for about two years. That was back in 2016, and we're still on the road. Needless to say that none of this would have happened without all the support that receive from our community.
So a BIG THANK YOU goes out to all the naturist resorts, organizations, and federations who have been supporting us along the way. But most of all, to every single on of you who has been supporting us.
THANK YOU SO MUCH FOR BELIEVING IN US.
Thank you so much for supporting our cause!
Thank you so much for being part of this!
Without you, Naked Wanderings simply wouldn't exist.
If you are not supporting us (yet) but you like what we do, the very best way to help us out is through Patreon. This is a platform that has been specifically built to help content creators get funds to accomplish their projects. It's a bit like crowdfunding, except that it is not about one single project but about more permanent support.
Patreon works on a subscription basis, you can choose a "tier" for a certain monthly amount and then you're just charged every month.
IMPORTANT: Patreon charges at the date when you subscribe, and then at the 1st of every month. Unfortunately, this means that if you subscribe at the 30th or 31st, You'll be charged twice in only a couple of days. So we do recommend joining our Patreon early in the month.
An advantage of Patreon is that, dependent of which tier you subscribe to, you get exclusive content in return. What this is specifically depends from creator to creator. The Naked Wanderings Patreon, for example, we have 5 different tiers. In the lowest tier, you get to read our blog posts several days before they are published, you can watch the bloopers of our Nudist News Show, and you get a personal welcome message. The higher the tier, the more extras are added, like never before told stories, Lins' cooking show, one-on-one talks and lots more.
Basically, joining the Naked Wanderings Patreon doesn't just help us out, it also gives you some more insights about who we are and what we do.  If you also want to support us, just click the button below!
If you represent a naturist organization or business, you are, of course, very welcome to join our Patreon as well. But we can definitely talk about other options too to come to a collaboration of which we both get better. Just drop us a line via our Contact form or check out our Work with Us page for more info.
So, once again, thank you so much for the support everyone! It doesn't just mean the world to us, it also helps us showing the world how great social nudity really is!
---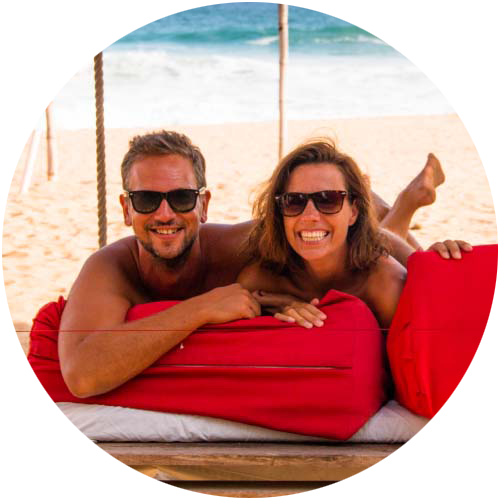 Support Naked Wanderings
Do you like what we do for naturism and naturists? Did we make you laugh or cry? Did we help you find the information you were looking for? Then definitely join our Patreon community!
---