So you're a nudist?
Or a naturist?
Or you enjoy being nude but don't like to be called nudist or naturist?
Maybe you've been a nudist all your life or maybe you just heard about this wonderful lifestyle and came over here because you like to know what it's all about.
Maybe you want to read some fun stories on a nudist blog?
Maybe you want to try nudism for the first time and you're looking for some tips?
Maybe you're searching for a new nudist vacation destination?
Maybe…
It doesn't really matter.
If you're interested in nudism, naturism or nude travelling, you've come to the right place.
Let us first set one thing straight though. If you came here looking for porn, we can already tell you that you will be disappointed. There are many places for that on the internet, NakedWanderings.com is not such a place.
Alright then! Let's dive in!
Who are we?
We are Nick & Lins, that naked world travelling couple who you just discovered on the internet or of whom you may have read on another naturist website or nudist blog or even in the newspapers.
You can read the whole story about who we are and what we do on our About Us Page.
What's nudism, naturism and nude recreation?
There are endless discussions about which term means what, but they all have a very important thing in common: The joy of non-sexual nudity.
Because these terms are very interchangeable depending on which place in the world you're reading this, we don't really make a difference on this website. Sometimes we'll say nudist and sometimes we'll say naturism. Just keep in mind that we basically mean the same thing.
You can read more about this in our blog post about nudism, naturism and nude recreation.
Do you want to take the first steps into nudism?
Lucky you!
Not only are you about to experience a wonderful lifestyle, but you're also in for a huge treat on Naked Wanderings. We've written a lot about this topic!
The best place to start is our Complete Guide for the First Time Nudist.
Or even better, get yourself the Extended Version of this guide for even more info and tips.
We've literally written about everything there is to know for the first timer.
Special tips for men, for women, for couples and for families.
How to pick the best nudists spots.
The advantages of sleeping nude.
How to use nudism to get rid of stress.
What to do if one of your friends or family is a nudist.
And lots and lots more!
For more info, have a look on our Tips & Trick page.
Do you want to go on a nude vacation?
Well, we don't want to brag, but if there's anything we really know A LOT about, it's about nude traveling. We have been constantly on the road for a long time, we have experienced nudism in many different parts of the world and we have stayed in many different kinds of nudist accommodations.
More importantly, we have written extensively about every single place we visited.
No matter if you wish to go nude camping, to a naturist B&B, on a nude boat trip or to an all-inclusive top class nudist resort.
No matter if you want to go to France, Thailand, California or Argentina.
We can give you a lot of tips.
Your best starting point for this is certainly our Destinations Page.
For some places we have also written Ultimate Naturist Destination Guides and we're planning to extend our range with many other guides soon.
Still haven't found what you're looking for?
Damn, you're tough!
Maybe you're looking for movies or documentaries about nudism?
Maybe you're looking for stories from other nudists?
Maybe you want to learn more about naked yoga?
You want to know about nudity on social media?
You want to organise a nude home party?
We're not going to keep guessing…
If you still can't find what you're looking for, send us a message via our Contact Form and we'll let you know where we've hidden it.
And if we haven't covered the subject yet, we might do so especially for you.
Stay in touch!
Subscribe to our Newsletter to receive an update every month about how we're doing, where we are, what happened on Naked Wanderings and what's coming up. If there's any cool news to be told, our newsletter subscribers are the first to know.
Naked Wanderings is more than "just" a nudist blog and we share content on several different platforms.
Check out our behind the scene pictures on Instagram.
Read more about what we do on Facebook.
Or receive updates about our latest posts on Twitter.
Enjoy Naked Wanderings!
---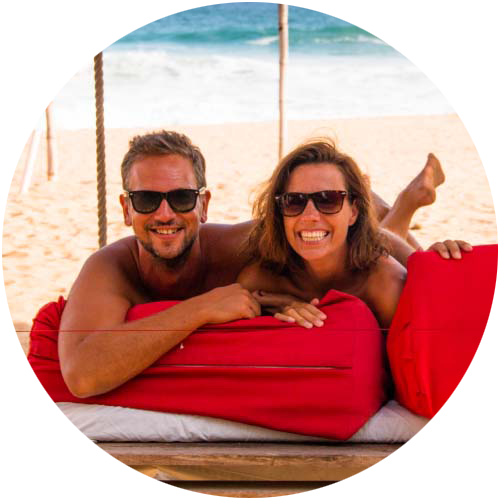 Support Naked Wanderings
Do you like what we do for naturism and naturists? Did we make you laugh or cry? Did we help you find the information you were looking for? Then definitely join our Patreon community!
---