After three summers of road tripping through
France
, we can definitely say that we've seen a fair share of what the country has to offer to the naturist visiter. But even then, there are still quite a lot of places that we still need to discover. This is the reason why we keep calling France the "Queen of naturism". There are just so many options to choose from. For us, this is definitely a blessing. Especially in the summer of 2020, when the COVID pandemic could possibly close borders almost from one day to another, we knew that we would have more than enough opportunities if we just
stayed in France all summer
.
For many others, the choice can be overwhelming. How to pick the best spot for your naturist vacation when there are so many places to choose from? Naturist resorts in France come in many different types and sizes and have different rules and etiquette. So, unfortunately, it's hard for us to tell you which place you'll enjoy the most. But we can definitely tell you what we like.
When we go camping, we mostly enjoy campsites that provide a decent level of comfort and facilities. Places where we can keep ourselves busy and meet other naturists. And maybe even most of all, we think that it's important that the campsites hold on to the naturist philosophy, but that they are not afraid to adjust to the modern ideas. If that sounds like you too, you might want to look in the direction of
France4Naturisme
.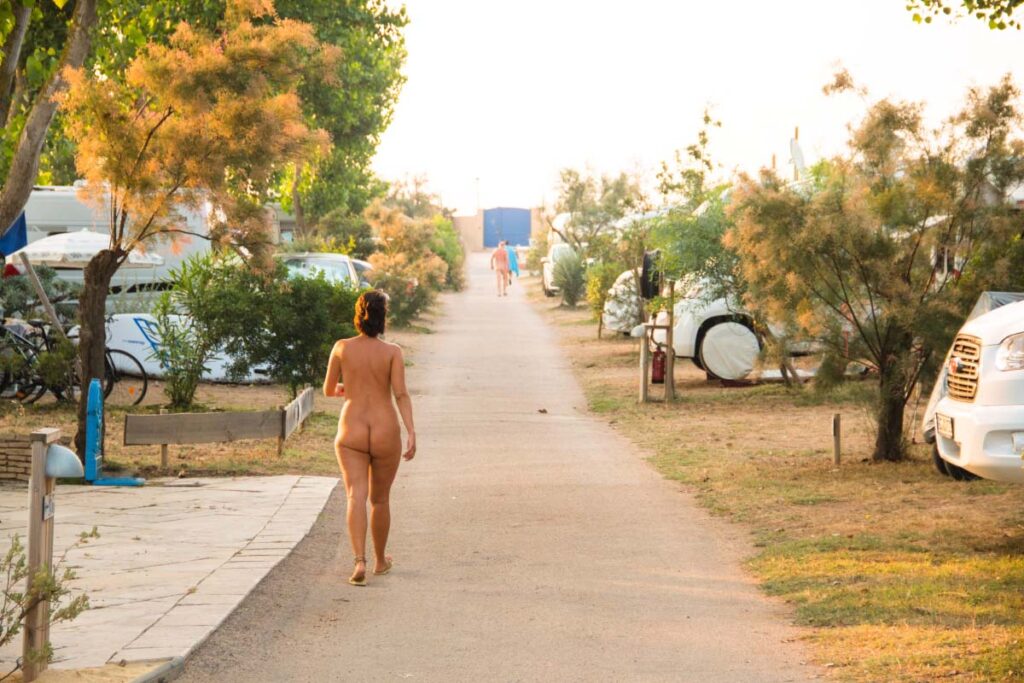 What is France4Naturisme?
The organization of naturism is quite complicated in France. Just like in many other countries, there are several local clubs and associations, and there is one national federation called
FFN
(Fédération Française de Naturisme). These organizations mostly focus on French naturists. But since France is the world's most popular destination for naturist vacations and many campsites focus on international guests, there are also several groups of campsites, of which
France4Naturisme
is one.
Basically, France4Naturisme is a group of 6 naturist campsites, scattered across the southern regions of France. All of these campsites share the same values and philosophy and provide a similar level of facilities and quality. This doesn't mean that every campsite of the group is an exact copy of the others. In fact, they are all quite unique in their own way. But if you have enjoyed a vacation at one of the France4Naturisme campsites, it's pretty much guaranteed that you will like the others as well.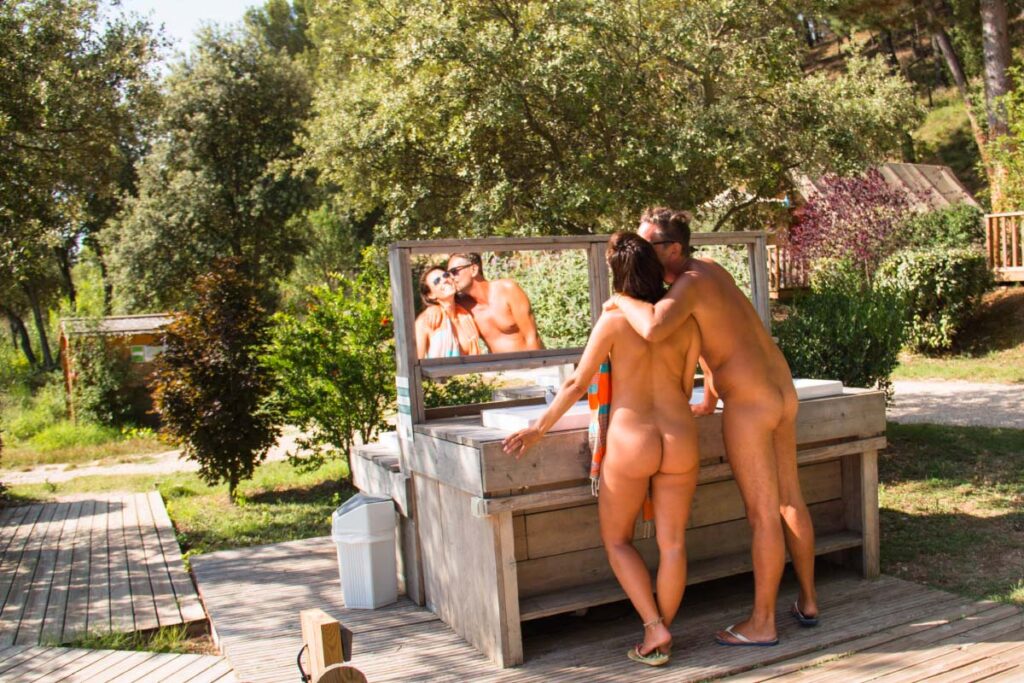 Why we like the France4Naturisme campsites
Having visited all 6 campsites of the group, we have quite a clear idea of what
France4Naturisme
stands for. One aspect that's important to realize is that these are large businesses with several hundreds of pitches and rentals. Which makes them very different from the typical naturist club. We understand why some naturists dislike the commercial approach, but we believe that this definitely has some advantages.
While it seems like many naturist resorts never really made it into the 21st century, the France4Naturisme campsites are known to be modern and adjusted to the times. They realized that if they want to attract the younger generations to naturism, they need to provide a kind of naturism that is attractive to them. This reflects in the types of accommodation, the facilities, the activities, and the etiquette. And it works, all of the campsites are popular among naturists of all ages.
The France4Naturisme campsites have also been among the first in France to open their doors to the press. Until only one or two decades ago, the only resort in the country that happily received journalists was
Cap d'Agde
. As a result, this is still by far the best-known place, although if you ask us, it's definitely not the best resort. By maintaining a good relationship with the press, France4Naturisme is not just able to show the world that there are more naturist places in France. More importantly, they show that genuine naturism still stands strong. This is definitely one of the reasons why
naturism is growing among French families
recently.
The France4Naturism campsites
Euronat: The big one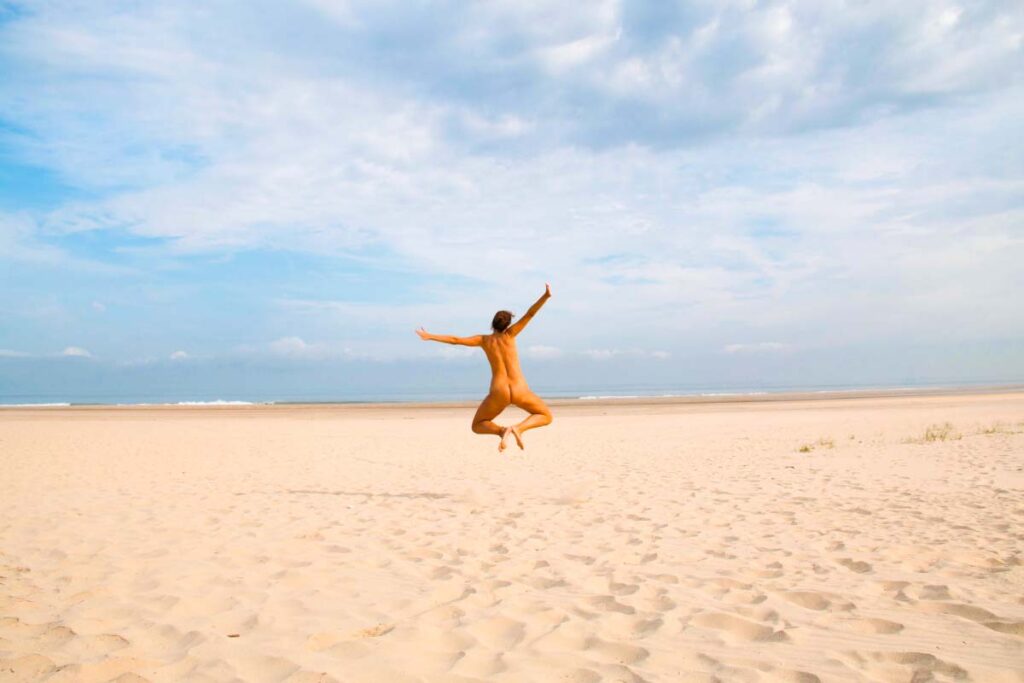 As one of the largest naturist campsites in France, Euronat hosts about 10 000 guests per day in the high season. That's a lot of naturists! The advantage of such a huge place is that the campsite literally has it all. A nude beach, a spa, several pools, lots of sports facilities, different shops, bars, and restaurants, and so on. Although it's obviously a private domain, it's easy to see why Euronat is often called a "naturist village".
Some people love Euronat because of its abundance of facilities, others think it's too large and anonymous. The campsite attracts many different kinds of naturists, from those who love to spend their whole vacation without clothes, to those who only enjoy nude sunbathing on the beach and wrap around a sarong the rest of the time.
Arnaoutchot: The green one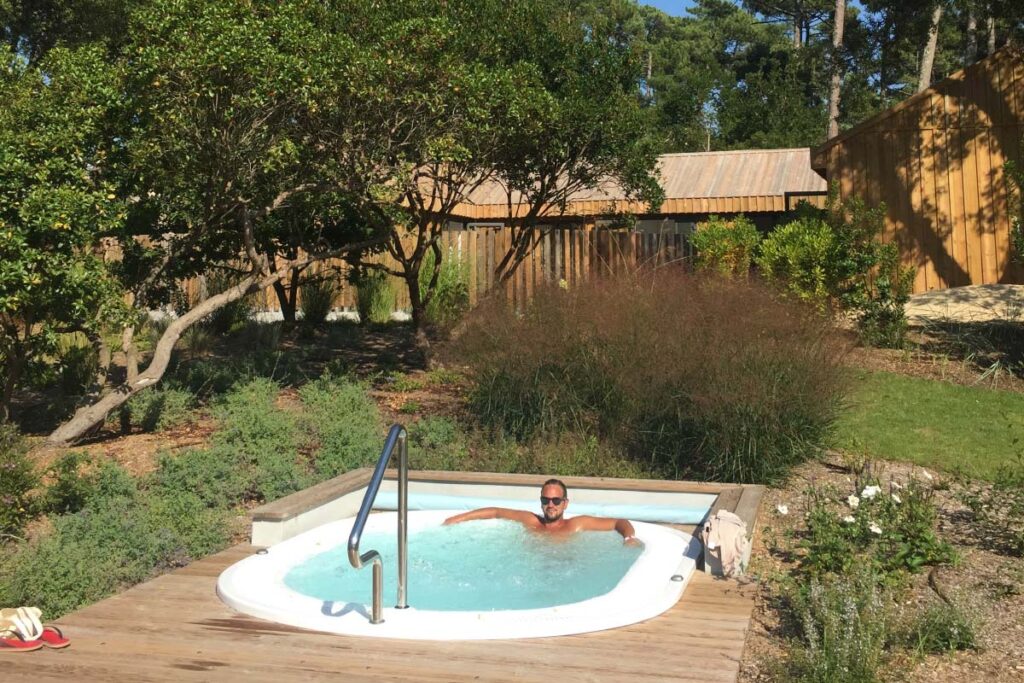 If you think that Euronat is too large, you might want to check out Arnaoutchot instead. "Only" hosting about 2500 naturists a day, Arna is like a more cozy version of Euronat. Since it's also located at the Atlantic ocean, nature and environment are pretty similar and there's also access to a nude beach. But we found Arna to be one of the greenest naturist campsites in the country.
For a couple of years, the campsite has a completely renewed spa complex called "Les Bassins d'Arna", which perfectly fits in with the natural surroundings. Many of the activities at Arna are also focused on ecological and sustainable living.
Le Sérignan Plage Nature: The Mediterranean one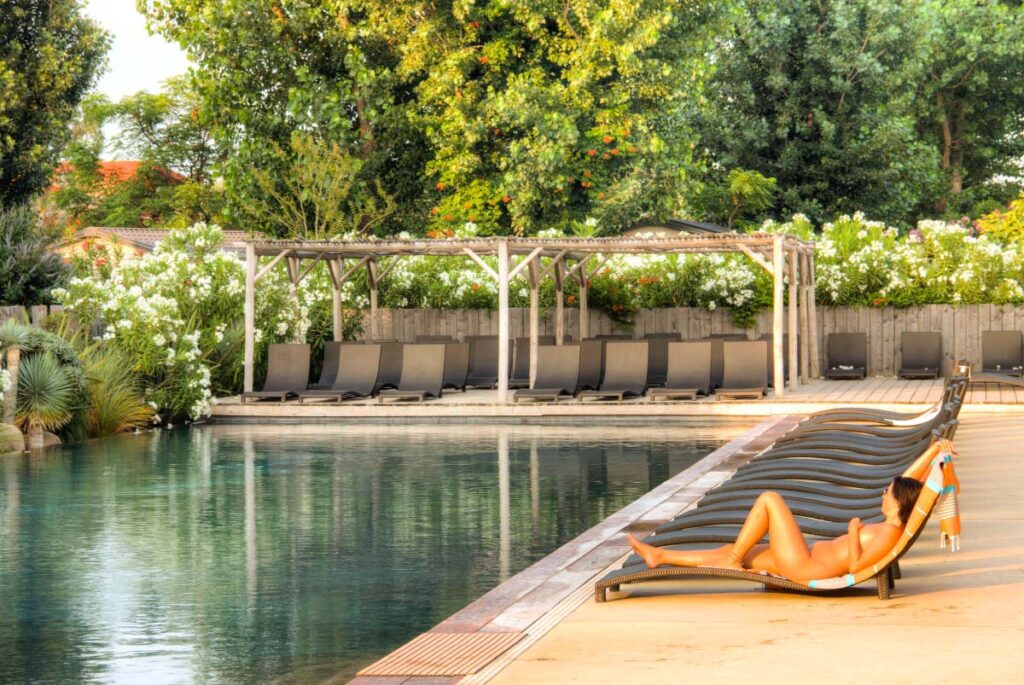 It's curious that even though there are many naturist resorts in France, only a handful of them are at the Mediterranean coast, and very few provide direct access to a Mediterranean nude beach. Le Sérignan Plage Nature is one of these lucky few. Most visitors pick this place for a warm nude beach vacation, but the campsite has much more to offer.
At Sérignan Plage Nature, luxury is an important asset. It's one of the two naturist campsites in France that has 5 starts and feels more like a vacation center than a campsite. The high-quality facilities and accommodations, excellent restaurants, the fancy pool, and the large spa center definitely play a role in this.
✅ More info about Sérignan Plage Nature
Bélézy: The active one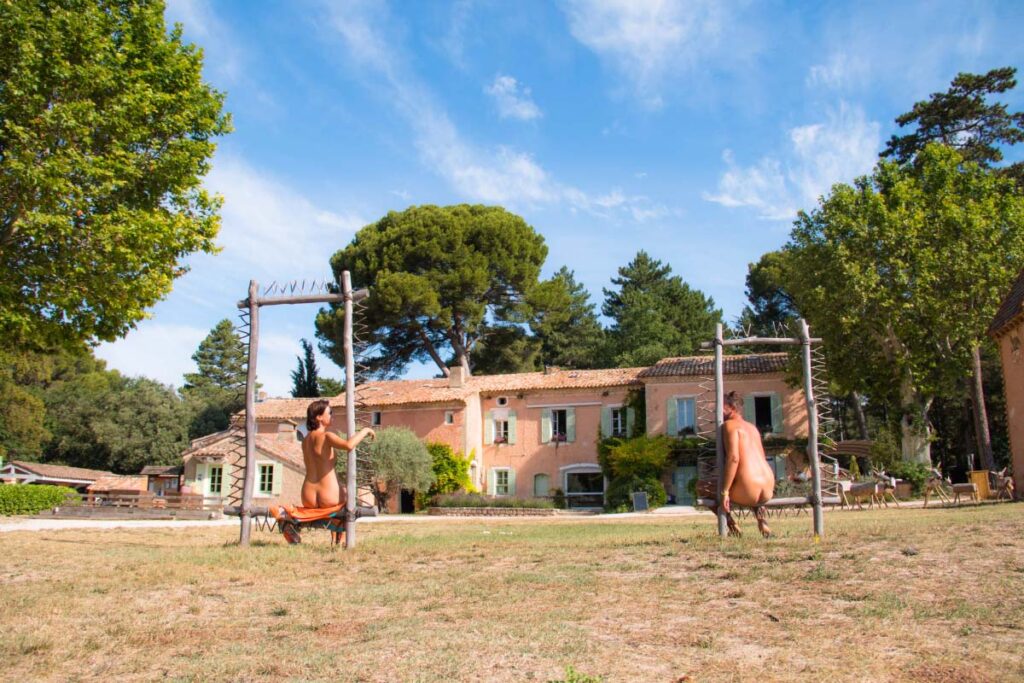 We like naturist campsites where there is always something going on. Activities, sports, you name it. As long as we have something else to do than laying next to the pool. That's one of the reasons why we enjoy staying at Bélézy so much. There isn't just always something to do, there is always A LOT to do. From aqua gym in the early morning to parties and movies in the evenings.
Bélézy is the other 5-star naturist campsite and also considers quality in both facilities and service to be a very high value. And we also enjoy the design of the campsite very much. It's roughly divided into two large parts, separated by a tunnel. One part is the campsite part, where most people will stay and where the atmosphere is always relaxed. The other part is where all the facilities, sports, and activities are and where it's always busy.
La Sablière: The scenic one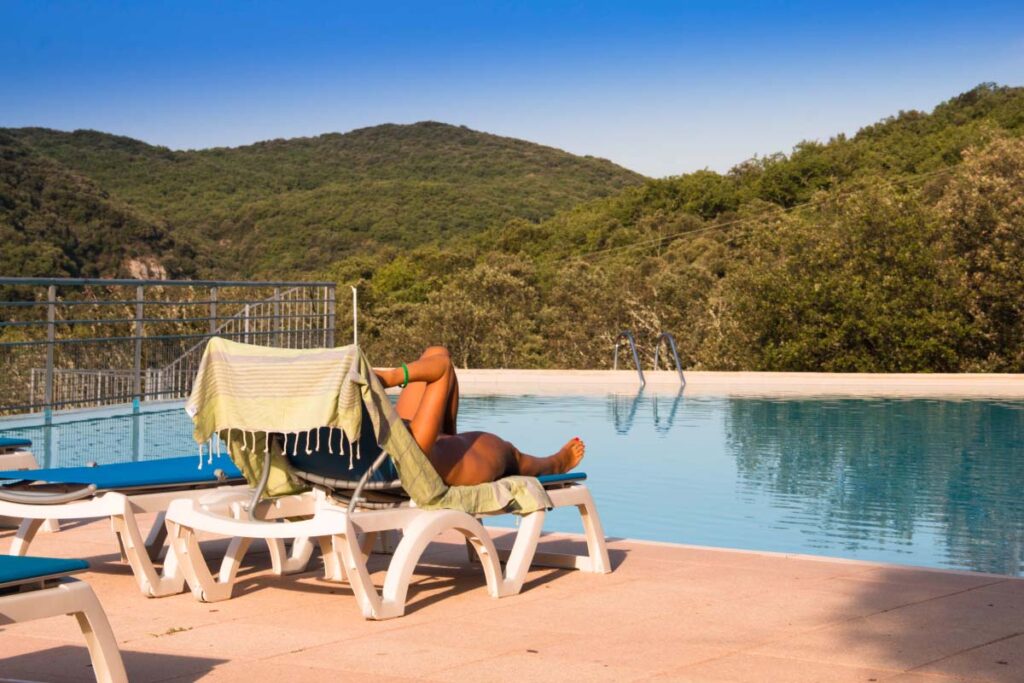 If impressive scenery is your thing, you might want to put Domaine de la Sablière on your bucket list. Being located on a complete slope of a hill, you can choose to camp right on the banks of the Cèze river at the very bottom of the campsite, or on top of the hill and have the most amazing panoramic views. Or just anywhere in between, of course.
The natural beauty is definitely one of the biggest assets of La Sablière, but also here you'll find an abundance of amenities that is typical for the France4Naturisme campsites. Like the three different pools for example, of which one is an infinity pool that even gives you excellent views when you're skinny dipping.
Riva Bella: The relaxed one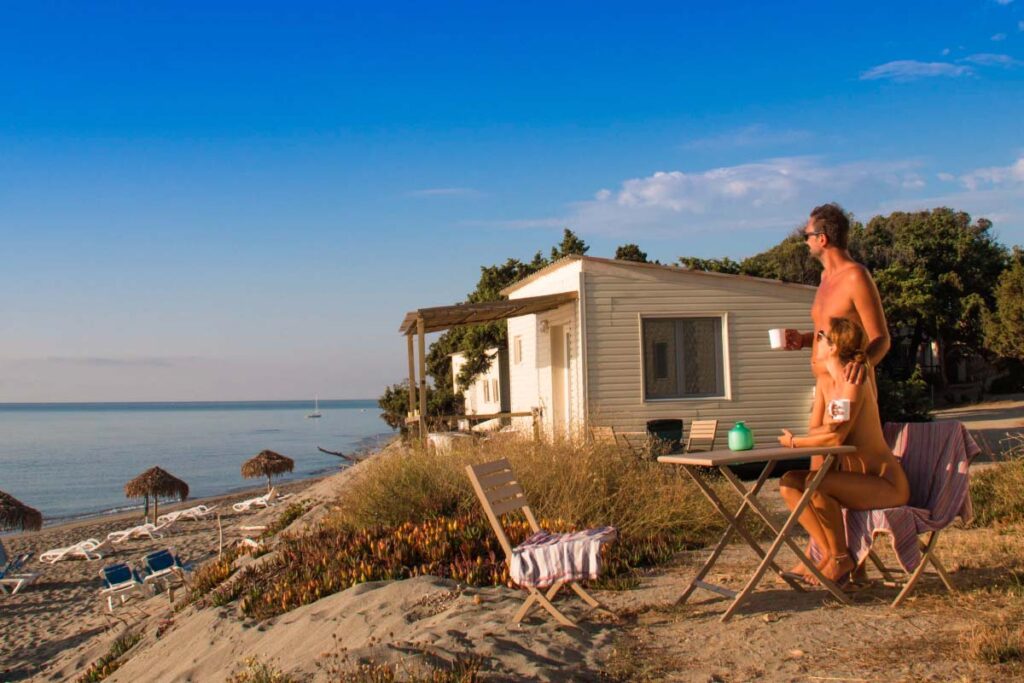 For a 100% relaxing naturist vacation, we recommend a stay at Riva Bella, on Corsica island. In fact, this is also one of the few Mediterranean naturist campsites of France, but in a whole other part of the country. What we appreciated a lot about Riva Bella is that the domain is very wide and full of natural aspects like huge lakes. Because of this, it never really feels crowded at Riva Bella, although the campsite can definitely accommodate a lot of guests.
More relaxation can be found at Riva Bella's large spa center, where you can get massages right next to the beach. This brings us to another great thing about this domain: Its excellent nude beach. Being a bit separated from the large Plage Linguizzetta nude beach, it's never really crowded either. And there are lots of spots where you can camp pretty much right on the beach. Waking up in the morning and the first thing you see is the Mediterranean… Does it get any more relaxing?
---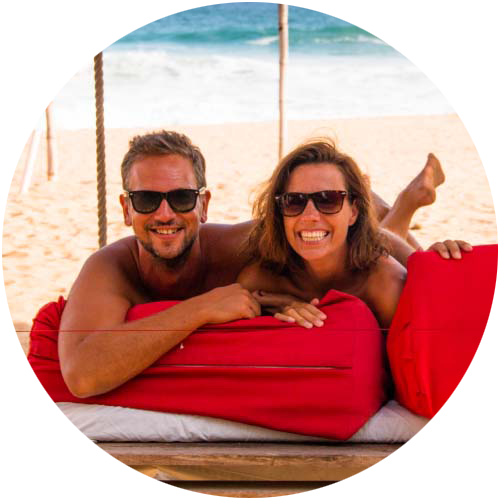 Support Naked Wanderings
Do you like what we do for naturism and naturists? Did we make you laugh or cry? Did we help you find the information you were looking for? Then definitely join our Patreon community!
---