In the not-so-distant past, naturism was primarily limited to certain regions of Europe and North America. While clubs and associations attempted to offer year-round activities, being naked in natural surroundings was often reserved for the most adventurous during specific seasons. However, the landscape has significantly transformed over the past few decades.
Today, an increasing number of countries are embracing naturism and establishing dedicated facilities for naturist vacations. This remarkable shift means that there is no longer a single moment throughout the year where you cannot find a place to be fully nude around the clock.
NOTE: In this blog post, we'll be using the seasons of the northern hemisphere. If you're from the southern side of the world, just switch summer and winter 🙂
View this post on Instagram
Summer naturist destinations
Let's start with the most obvious and the easiest of all: Summer, from June to September. These are the heydays for naturist resorts in
Europe
,
Canada
, and the
United States
. Every naturist resort is open and the choices are plenty. From mid-July to mid-August, it's the very high season, which means the most chances for great weather but also for higher prices. If you're planning to travel in these months, it's best to book upfront to make sure that there's availability.
In Europe, and we imagine also in the other places mentioned, July and August are when the families like to travel (due to school holidays, of course). This means that there will be a vibrant atmosphere and many young people. June and September tend to be a bit more quiet and relaxed and this is when you'll find more couples without children.
Natural water temperatures in the northern hemisphere tend to be the highest around August/September, so if you enjoy skinny dipping in lakes, rivers, seas, or oceans, you probably want to take this into account.
View this post on Instagram
Spring/Autumn naturist destinations
Lots of naturist resorts open their doors in April and close them again at the end of September or early October. But shoulder seasons are often a hit or miss, you can get lucky and have excellent naturist weather, or you can spend most of your time in trousers and a jacket.
Luckily, there are a number of places where your chances of great weather are quite high and where the naturist resorts actually thrive during these seasons. The southern
Spanish coast
, for example, is often better visited during the shoulder seasons because of the very high temperatures in summer.
Croatia
also tends to have better weather in spring and autumn than most other parts of Europe and so does the south of
Italy
. Also states like Texas and Florida are often better visited during the shoulder seasons.
Another great example is
Corsica island
in France, where you can find the amazing
Bagheera Naturist Resort
and
Riva Bella Resort
. The island tends to get quite crowdy during the summer months, and thanks to its mild climate, lots of people prefer to go just before or after the summer when it's much more relaxed to travel around and the sea water is warm enough for morning skinny dips.
View this post on Instagram
Winter naturist destinations
In wintertime, you want to be on or below the equator. We've been happily surprised by what
South Africa
has to offer to the naturist traveller and also for Australia and New Zealand, this is when the true naturist season is happening. By the way, did you know that skinny dipping is legal everywhere in New Zealand? We recently learned, and it's a reason to get over there soon. In winter, of course.
In Europe, you may still find some naturist resorts that are open but don't expect to be naked 24/7. An exception is the
Canary Islands
, which are technically Europe but are located off the coast of Africa. Especially Lanzarote and Fuerteventura are popular among naturists and these islands are actually better visited in winter because they get strong winds during the summer months.
Something that doesn't really fit in this list because it doesn't happen outdoors, but is well worth a mention is the
European spa culture
. Mostly in countries like Belgium, the Netherlands, and Germany, you'll find a striving spa culture with centres that look like waterparks for grownups. By the way, fun fact! Did you know that "spa" is short for "Sanus Per Aquam", which is Latin for "health through water". We just learned this a week ago.
View this post on Instagram
Year-round naturist destinations
Last but not least are the countries that have such an ideal position in the world that it never really gets cold. These are the places where you could move over there, burn all your clothes and live naked for the rest of your life. Given that you're not planning to ever leave the resort, of course.
For quite a while, the Caribbean had somewhat of a monopoly on year-round naturism, with resorts on several islands like the Dominican Republic, Jamaica, and Saint Martin. The Mexican Rivièra Maya has built quite a reputation too with resorts like
Hidden Beach
,
Intima
, and
Playa Sonrisa
. But since the last decade, it seems like they have to give the crown to
Zipolite
on the Pacific Coast of Mexico, which keeps growing in popularity among naturists and is home to the famous
nudist festival
.
Brazil
and
Bali
provide year-round options for naturists too, but the biggest grower of all must be
Thailand
. In a recent video, we made the joke that naturism grows so fast in Thailand that a new resort might pop up just after we leave the country. Now guess what just happened… This is not a joke.
Important to mention here is that although these countries have excellent temperatures year-round, many of them do have a dry season and a rainy season. So you might want to plan accordingly. On the other hand, you'll get wet in the pool anyway.
---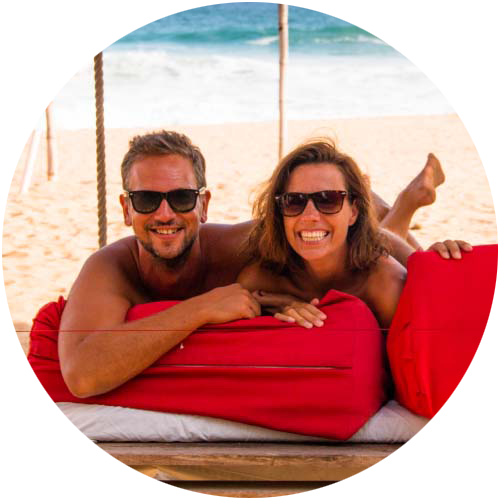 Support Naked Wanderings
Do you like what we do for naturism and naturists? Did we make you laugh or cry? Did we help you find the information you were looking for? Then definitely join our Patreon community!
---