There are those places of which we just keep forgetting that they exist. The kind which, when they pop up on some travel blog, makes you think "Oh yeah, I've never been there yet, I got to put this on the list sometime". A thought that quickly dissolves again when we scroll further and end up reading another blog post of a place that we did visit and that brings back wonderful memories.
That's what happened to us with Corsica, a French island in the Mediterranean Sea. Not that we didn't think it was worth a visit. Not that we didn't want to go there. It just… never happened. Until this summer, when we were pointing out destinations for our
Big Nude Tour de France
. We noticed that Corsica doesn't only have some naturist resorts, but also a huge nude beach. Suddenly, Corsica was catapulted to the very top of our list. We just HAD to go there!
Dates were picked, ferry tickets were bought and soon we started dreaming of our first stop on the island: naturist campsite Riva Bella. A dream that would continue even when we were already there.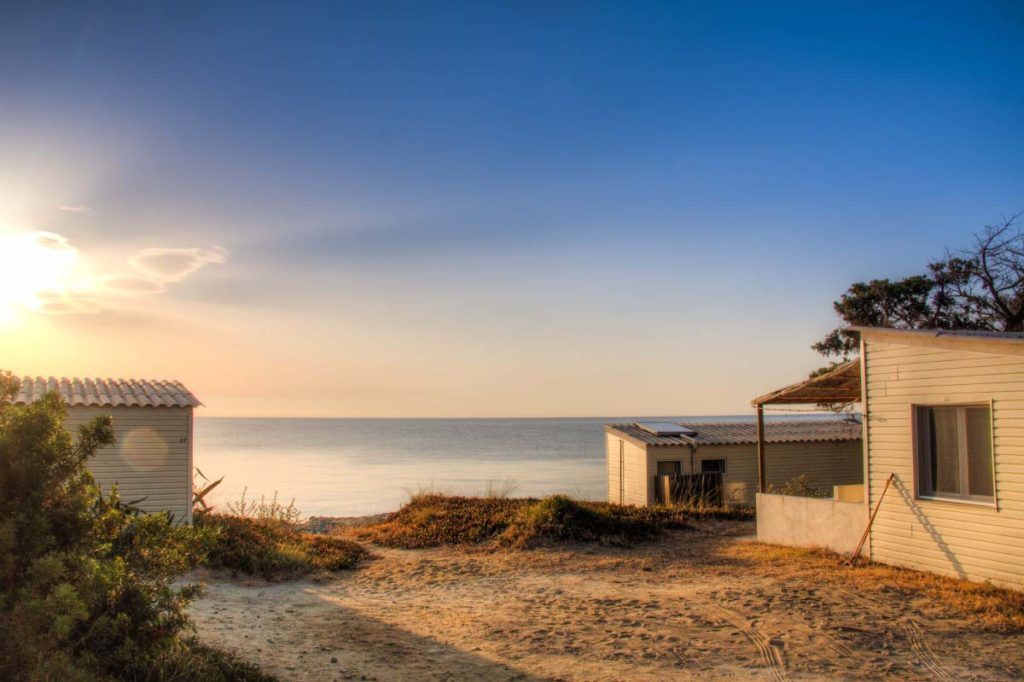 How to get to Riva Bella
Most Western European visitors to Corsica decide to drive all the way to the Mediterranean coast and then board one of the many ferries that bring you to the island. The main ferry ports on the European mainland are Marseille, Toulon, and Nice in France and Genua, Livorno, Piombino, and Savona in Italy. From northern Italy and Nice, the ferry ride doesn't take more than a couple of hours. If you're traveling from Marseille, you're looking at a full day or night on the water.
On the Corsican side, you will arrive in either Ajaccio, Bastia, Ile Rousse, Porto-Vecchio or Calvi. Bastia and Porto-Vecchio are the closest to Riva Bella, but since the island isn't very large, the drive from the other ports won't take much more than 1.5 – 2 hours either. And we have to say, a ride through central Corsica is nothing less than spectacular.
We traveled from Toulon with Corsica Ferries, which was the cheapest option. On arrival, we wished that we hadn't booked the return ticket with the same company. The ship was dirty, the staff unfriendly and there were way more people than should ever be allowed in one place during COVID-times. The way back was, even though significantly longer, much more agreeable. Much fewer people provided more space for naps on the benches. The cleanliness had also improved. Yet, not a single smile could be spotted on the faces of the staff.
Anyway, traveling by ferry with your own transportation is very much recommended as it gives you the opportunity to take lots of camping gear and explore the wonderful island. Another option is a fly and drive. Corsica has 4 airports, located in Ajaccio, Bastia, Calvi, and Figari. The one in Ajaccio serves most airlines. On arrival, you can easily rent a car and continue your trip to Riva Bella.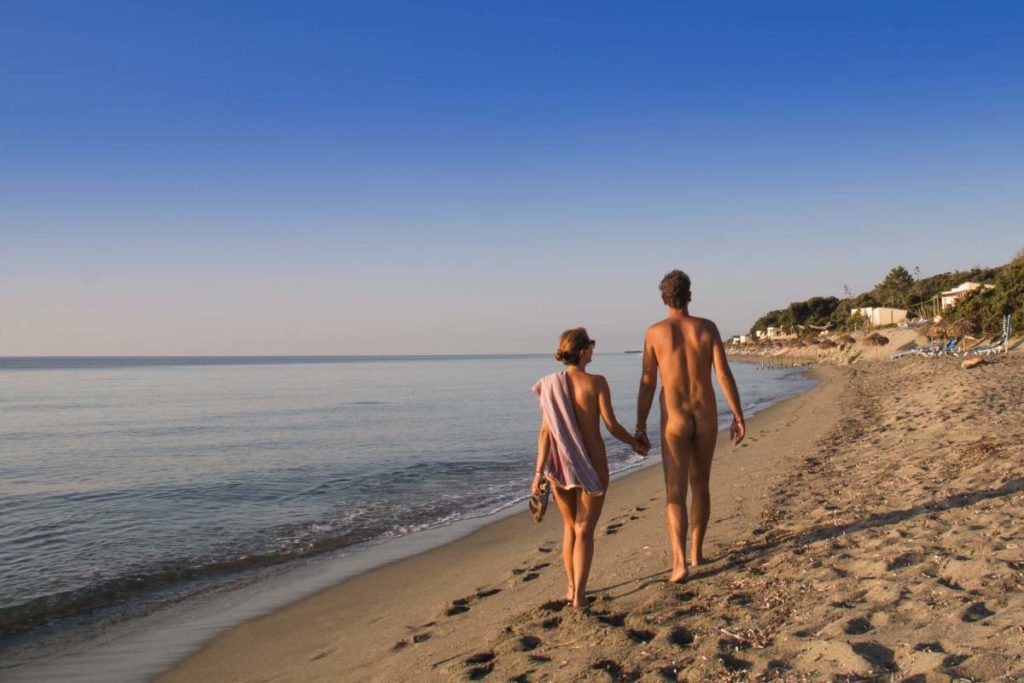 Where to stay at Riva Bella
On the 75 hectare domain of Riva Bella, you get a variety of options to spend your naturist vacation days (or at least the nights). If you came with your own tent or camper, you get the choice of 145 camping pitches of which some are located right on the beach. Stepping out of your tent in the morning and feeling the soft sand between your toes is an excellent booster of your mood, that we can assure you.
If you do love camping but don't want to bother bringing your own gear, you have the choice between three types of rental tents. These will give you a genuine naturist camping experience but with a touch of luxury. Who doesn't like a real bed in a tent, right?
For even more luxury, there are 100 other rental homes that come in the form of mini-villas and chalets. Some, like the Véranda Alba which we occupied during our stay, come with a complimentary sea view. These also come with a warning though. When seeing the emerald-colored Mediterranean sea the moment when you wake up, you will feel a strong urge for a skinny dip. You can't help it and trust us, it's not worth fighting it. You'll be nude anyway and the warm summer waters will soon become your perfect wakeup ritual.
What we loved specifically about Riva Bella is that the camping area is one long stretch near the beach. Even if the campsite would be completely full, it will never feel crowded. Because the camping pitches are not nicely divided in squares, you'll also get the feel of camping in the wild. A perfect combination with the wild landscape of the island.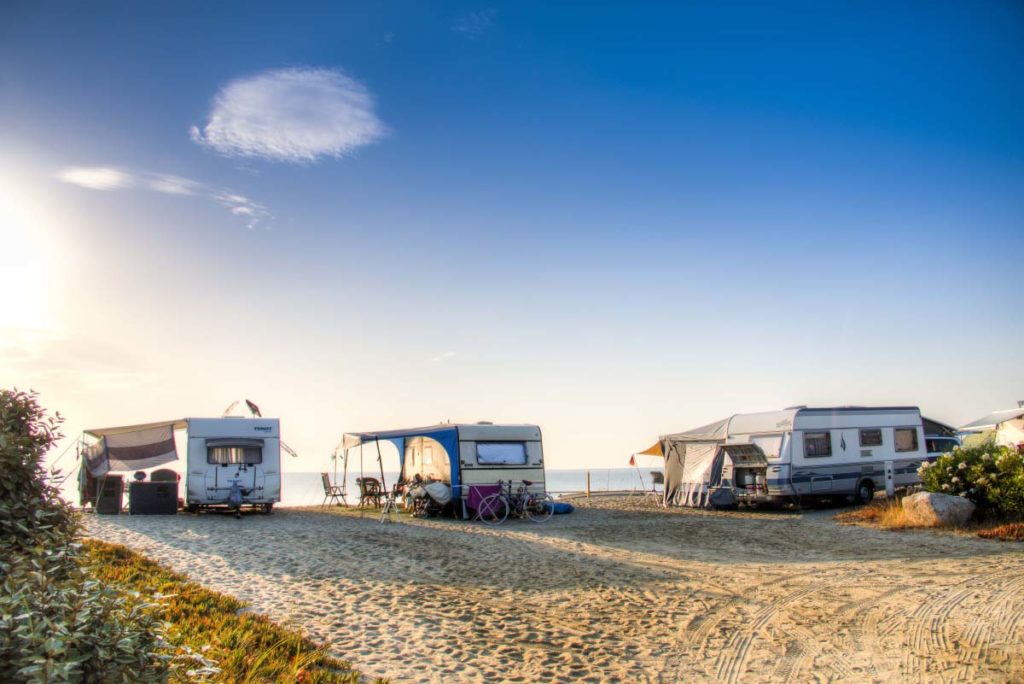 What to do at Riva Bella
Being quite a large resort, Riva Bella puts a lot of effort into keeping their guests entertained. Especially during the summer months, there are several activities organized every day. And there's something for everyone. The active naturist can enjoy volleyball tournaments, the 3km fitness trail, or the very much recommended water aerobics in the sea.
When relaxation is the main subject of your vacation, you are up for a real treat. One of the main highlights at Riva Bella is its wonderful spa center with a huge variety of treatments to get your body and your mind to a perfect state. The years of traveling have been a serious attack on our bodies, so we figured that this was the perfect time to give it some appreciation. Or at least that's what we told ourselves, we just LOVE a day at the spa now and then. A hydromassage, a salinea cavitosonic treatment, a led treatment, and half an hour at the seawater circuit later, we felt completely reborn. Also thanks to the amazing staff who picked out the perfect treatments for our optimal pleasure.
Treating yourself well is definitely a goal during your stay at Riva Bella and this continues throughout the whole day. Skinny dips and lazing on the beach will be a significant part of your stay, soaking up lots of vitamin D. In the evenings you can enjoy cocktails and delicious Corsican cuisine while watching the sunset and the sky and sea turn all shades of magenta and pink. Once the outdoors turn black, a local band starts playing live music, and the party starts.
When we arrived at Riva Bella, Nick looked out of the car window and said "I think I just saw a lama!". Yeah right… This is Corsica and although the high mountains may have some resemblance with the Andes, we're definitely not in Peru. That was probably just a sheep with an extraordinarily long neck. But it wasn't. It was a lama and there are plenty of them at Riva Bella. Lamas and donkeys just wander around freely on the domain and are a magnificent distraction during your morning walks.
When we posted a picture of the lamas on Twitter, a previous guest of Riva Bella told us that he had been followed around by a donkey during his stay. Then he sent us a picture of himself in the nude with the donkey at about 3 meters behind him. We thought it was the funniest thing ever. Those are memories that last a lifetime.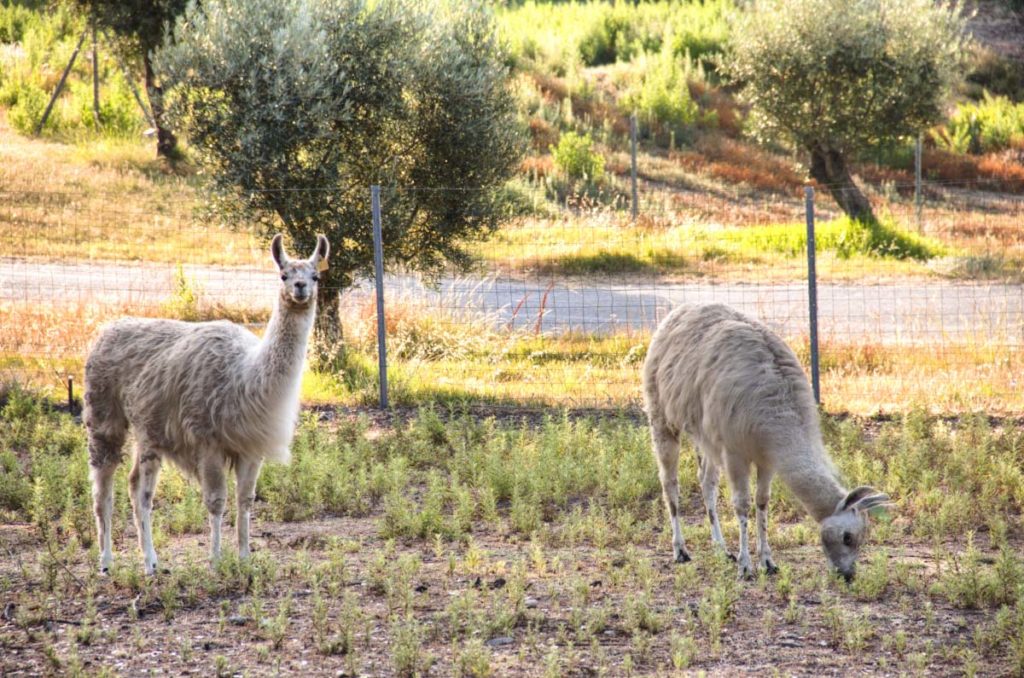 Around Riva Bella
Corsica appeared to be a hidden treasure that we just didn't know about yet. Even before we arrived at Riva Bella, when we were driving from the Ile Rousse ferry port to the east side of the island, we fell in love with the island.
Right next to Riva Bella, you'll find the Étang de Diane. A huge lake with a specific eco-system and an ancient tower from the Roman empire. More natural beauty can be found in the Scandola Nature Reserve on the east side of the island and the Désert des Agriates in the north. Two very distinct landscapes for such a small island.
For history lovers, Corsica has great importance because it is the birthplace of Napoleon Bonaparte. One of Europe's greatest leaders or worst dictators, depending on who you ask. The house where Napoleon was born is now a museum, the Maison Bonaparte in Ajaccio, and is filled with furniture from the period and the family's personal possessions.
The many towns and cities of the island will give you an insight into the typical architecture of Corsica and more importantly (at least to us), the many bars and restaurants will give you an insight into the local delicacies. Corsica is famous for its fresh fish, cheeses, and "charcuterie", a meat platter. Different fruits and oils can be bought from small roadside shops and the many wineries will let you try some of their best wines. Corsica is not just an island that you visit, it's one that you taste as well.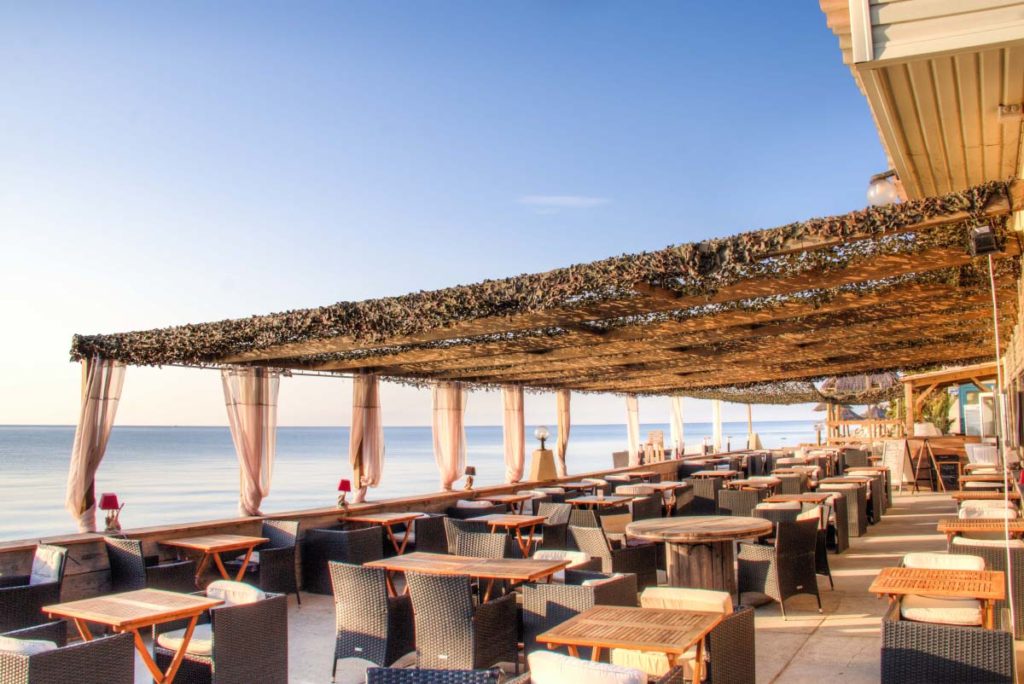 Staff of Riva Bella
Someone who definitely stood out during our stay was Sabrina, the wonderful lady at the reception desk of the spa. Her perfect hospitality was half the reason why the treatments were so successful. But that's actually the case with all the staff we got in touch with. From Valentin and the rest of the team at the campsite reception, who really made us feel that our well-deserved naturist vacation started right now. To the people from the restaurant who served us one delicious plate after another.
Marie-Claire, the owner of Riva Bella can often be spotted around the campsite in one of her colorful dresses. She's been in this business for so long, that she has an excellent feel of what happens at the campsite. We're pretty sure that even in case of a disaster, she wouldn't lose her calm and her flair. This is a very underestimated part of the hospitality sector. Running a smooth team of professional staff is something that influences the whole atmosphere. In the case of Riva Bella, we don't think that it could get any better.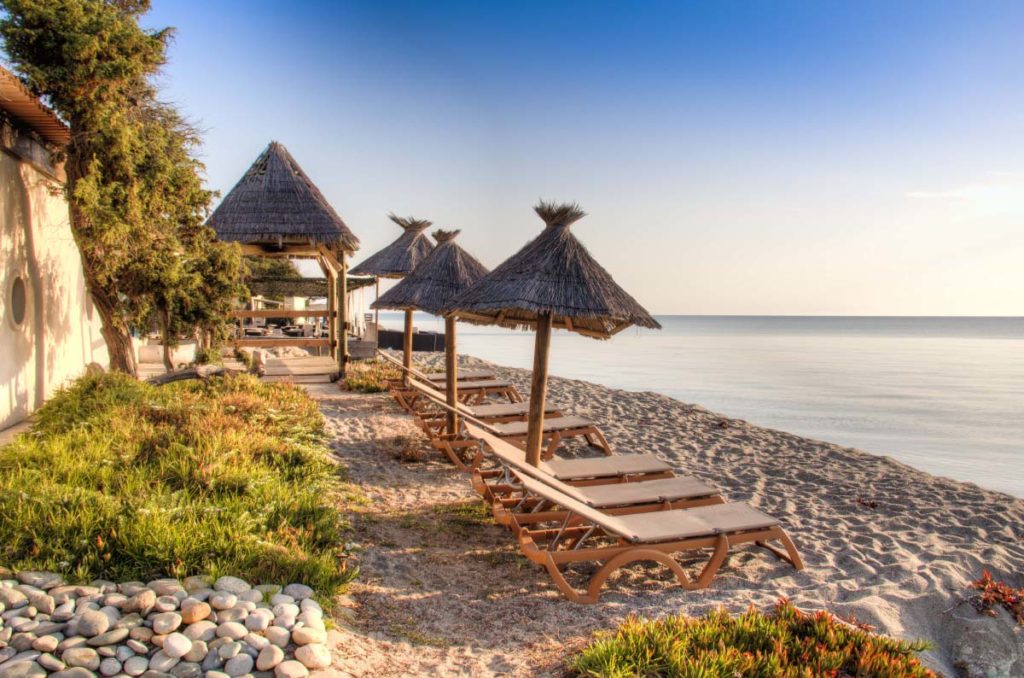 Guests at Riva Bella
One very important thing about Riva Bella that we haven't told you yet, is that the campsite is completely clothing-optional. Except for two parts: Nudity is obligatory for all adults on the beach and clothing is obligatory in the bar/restaurant area. This concept, together with the spa, make Riva Bella an excellent resort for first-time naturists. This is not just our opinion, the statistics at Riva Bella prove it.
The genius is in the combination of the clothing-optional spa and the nude obligatory beach. Many local day-visitors come to the spa with no intention to get naked. After hours of relaxation, they step out of the door and get a full view of the sea. As mentioned before, those waters have such an attraction that it's almost impossible to not go for a swim. But if you want to, those bathing suits have to be gone. Our
first naturist experience
has been at a spa and ever since we have been convinced that these places are excellent for first-timers. This is yet another example that proves us right.
Corsica is a popular vacation destination for many Europeans. During our stay, the other guests came mostly from France and Germany, but we also saw several Swiss, Dutch, Belgian, and Italian license plates on the parking spots. The combination of splendid beaches, high mountains, and amazing landscapes is just something everyone can (and should) enjoy.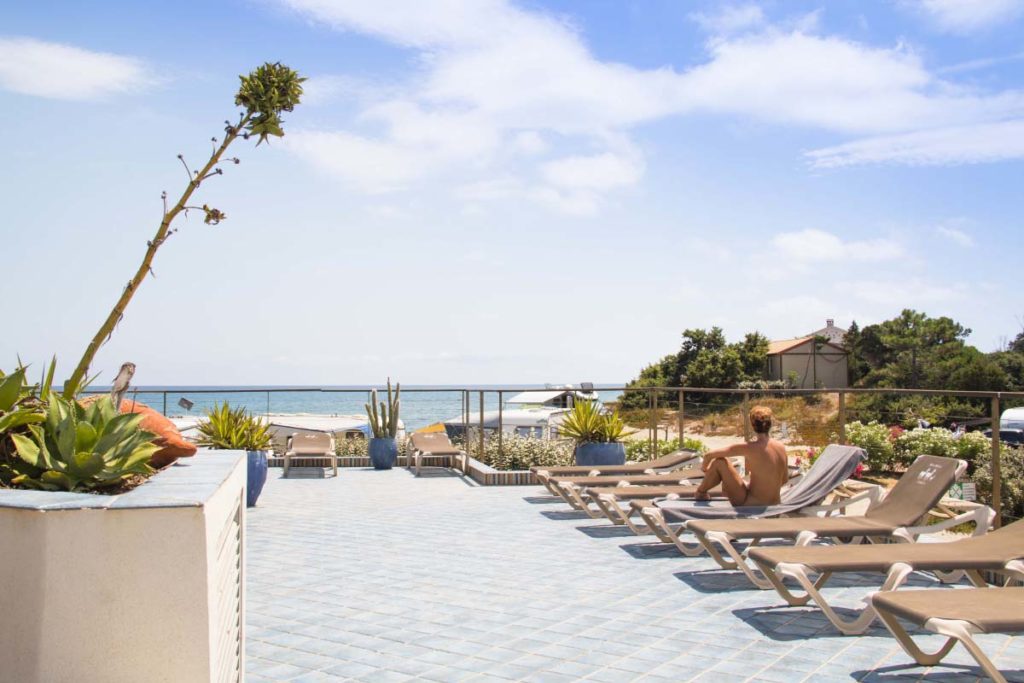 Reservations & Contact
Both the campsite and the spa at Riva Bella are open year-round, but naturism is only practiced between April and November.
It's possible to communicate in French, English, German, and Dutch.
Summary
Corsica appeared to be a paradise of which we wished that we had discovered it much sooner. Riva Bella is definitely a reason why we loved our visit to the island so much. The great nude beach, the complete relaxation at the spa, and the amazing hospitality are just the perfect mix for your naturist vacations.
Disclaimer: We have been invited as guests of Riva Bella, but of course all opinions are our own. We are super confident you will love this place as much as we did!
---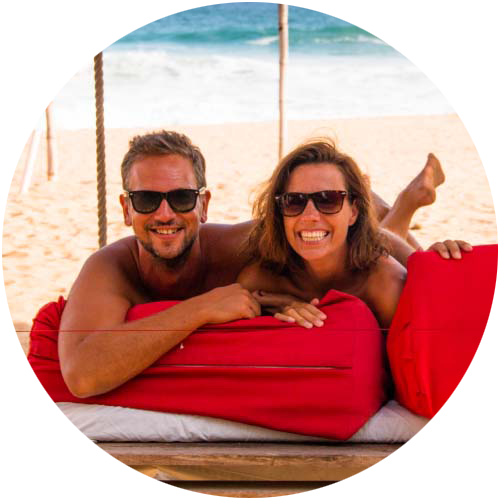 Support Naked Wanderings
Do you like what we do for naturism and naturists? Did we make you laugh or cry? Did we help you find the information you were looking for? Then definitely join our Patreon community!
---