How often have we already said that we've been to the end of the world? Or at least the end of civilization. Nudist resort owners tend to find the most remote spots ever to start their business. And every time we think "Okay, this is it. It can't really get that much more away from the outside world than this". But they never fail to surprise us with even further away spots. Like Xcalak village in Mexico for example, where we found a wonderful Mexican nudist hotel called Playa Sonrisa. Think of a tropical nude vacation at the Riviera Maya, a bohemian nudist resort, and a wonderful white nude beach. A little piece of heaven on earth for a nudist holiday.
But it wasn't all heaven to get there…
Now imagine this: You wake up because the sun is shining directly in your face and you wonder where the hell that's coming from. You open one eye and find out that you're on some kind of wooden platform on the sea. The only thing else you can see is water. Then a pelican passes by who seems to smile at you and you know that you're probably dreaming. You want to go back to sleep but the sun is just too damn hot. You open your other eye and start to look around, luckily on the other side of the platform there's land. White beaches and palm trees. Everywhere.
How did we ever end up here? Through the trees, you see some buildings and you're pretty happy that you haven't become the second Robinson Crusoe and then you start remembering. The long walk, the heath, the mosquitoes, and how you walked all exhausted to the platform and fell in a deep sleep.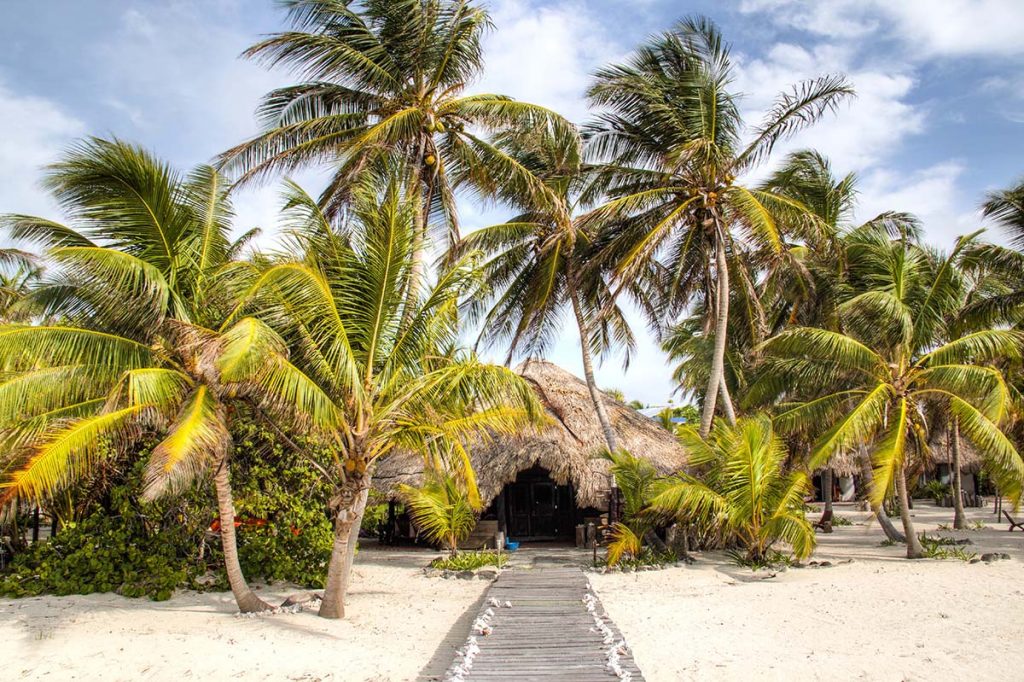 How to get to Playa Sonrisa
"Always listen to the locals", it's a tip we've been giving every traveler asking us for help. "They know the best". But sometimes even we don't follow our own recommendations. Although the instructions that had been sent to us were strict: "Don't come with the bus to Xcalak, there are no taxis and Playa Sonrisa is 7km out of town", we figured that it couldn't be that hard to get a ride. Everywhere in Mexico, you can't turn a corner without hearing "taxi, amigos, taxi" so how could Xcalak be any different? It was. We asked around and nobody seemed to be willing to bring us the last 7 kilometers (later we would learn that the nearest gas station is 60km out of town, that's why the people are pretty conservative when it comes to driving).
So we started walking, somebody would pass by and pick us up, right? That didn't happen either. At least not for the first five kilometers. Then a lady on a scooter passed by who felt so sorry for us that she drove us the last part of the way.
So if you don't believe the instructions in the e-mail from Playa Sonrisa, please believe us.
The two nearest airports are Chetumal and Cancun, Chetumal is closer by but if you're coming from outside of Mexico you'll probably end up arriving in Cancun. From there you can either rent a car (certainly the best option because it can get you around during your stay as well) or you can take a bus to Mahahual and take a taxi from there.
Or if you're really stubborn you can take one of the two daily buses to Xcalak but make sure that you bring hiking shoes, mosquito spray, and lots of water. It's a long walk.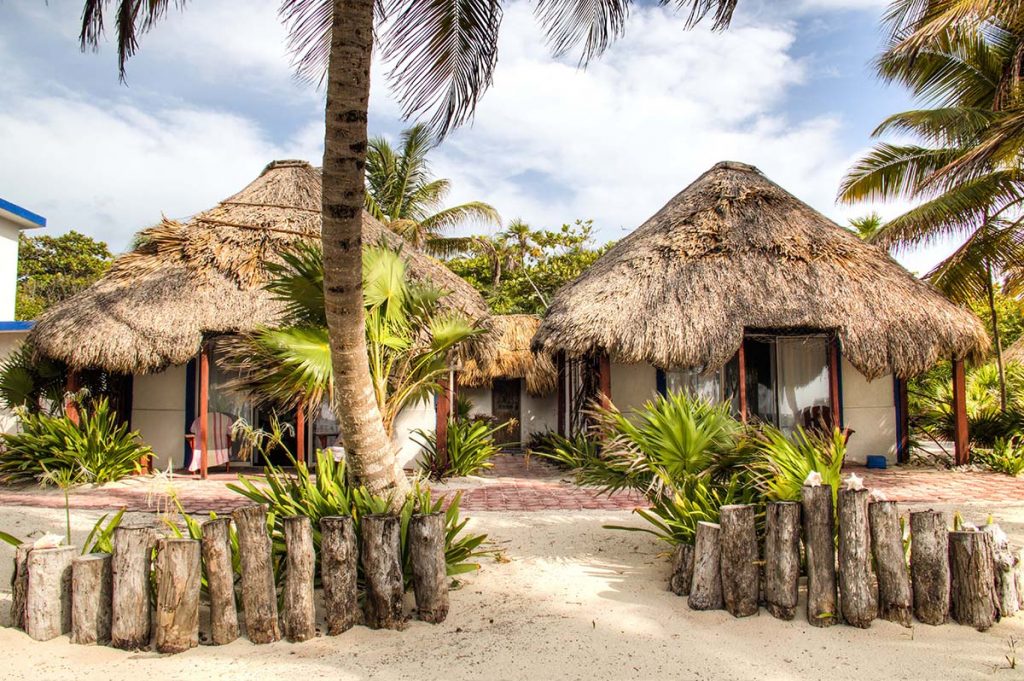 Where to stay at Playa Sonrisa
There are only six rooms but divided into three types of accommodation. We stayed in one of the two beachfront bungalows which have a kingsize bed, a small couch, a closet, and a bathroom with a toilet, sink, and shower.
Other accommodation options are either a room in Villa Caracol or one in the much larger Villa Sonrisa. All rooms come with a private bathroom and a seaside view.
Although Playa Sonrisa is not advertising itself as an eco-resort, it's as eco as probably can be. All electricity comes from solar panels (there is a generator though if it really would be necessary) and the water is collected during the summer rains. This comes with certain constraints like no fridge or hairdryer in the room but other than that you will be surprised about the comfort you still get. Yes, there's wifi, yes, you can charge your phone, yes, you can flush your toilet, yes, there is hot water in the shower and most importantly: Yes, they serve cold beers!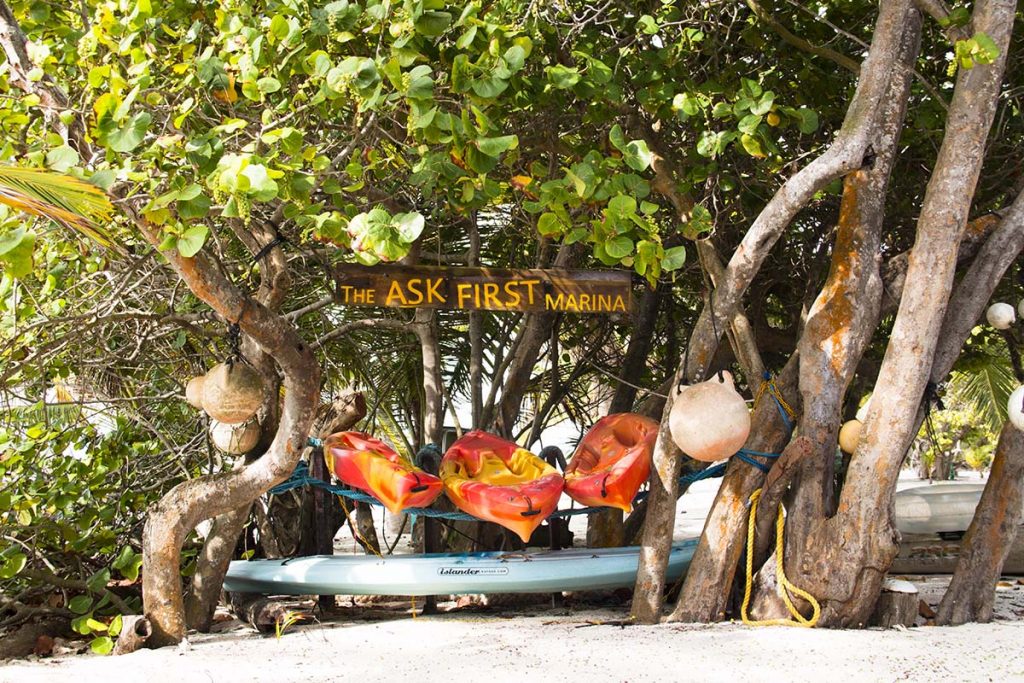 What to do at Playa Sonrisa
The main facilities and the ones you'll appreciate the most are natural ones: A nice stretch of pure white sand and an even bigger stretch of Caribbean sea. Deck chairs and hammocks are provided and Playa Sonrisa has its own pier with a platform at the end (yes, the one we woke up at) which also has deck chairs and a complimentary sea breeze. There's also a bar and restaurant where you can get breakfast, lunch and dinner and of course a nice variety in sodas, beers, and other mind-altering liquids.
This is a place where you come to relax and be away from the world. Read a good book (there is a library), have afternoon naps,
a nude swim
in the warm sea, or do just less than that.
If you want to get at least some action, you could take one of the kayaks and snorkeling gear and get your naked ass towards the coral reef or you could dare Murph and Cindy to a game of petanque (they call it something different, but it comes down to the same. Throwing big balls towards a smaller one).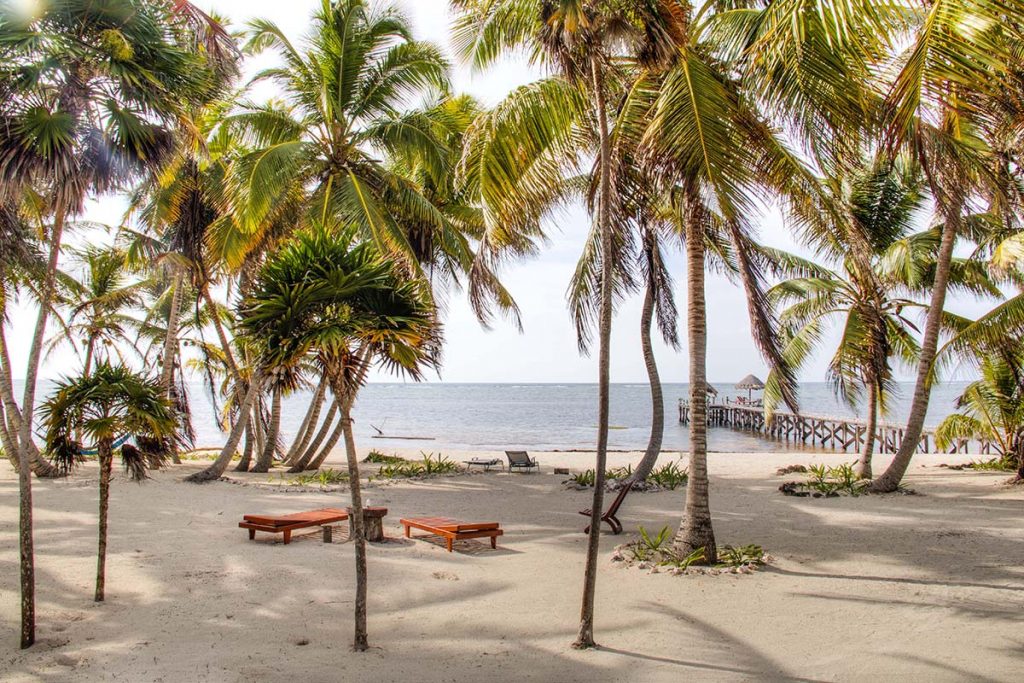 Around Playa Sonrisa
We can be short about the surroundings: It's pure emptiness. This comes with a big advantage, although Playa Sonrisa has its own nude beach you can easily walk further up and down the beach completely nude without encountering anyone. This is one of the few places in the world where you'll feel like you have the whole world for your own naked self. Including a Caribbean sea. And yet a cold beer is never far away.
But there's much more, Xcalak is famous for its fly fishing and diving and both sports can be organized from the resort. Because it's truly in the middle of the forest, Playa Sonrisa is also the perfect base for some world-class bird-watching. The things to do in Xcalak town are rather limited. There are a couple of restaurants but while we were there, most of those were closed.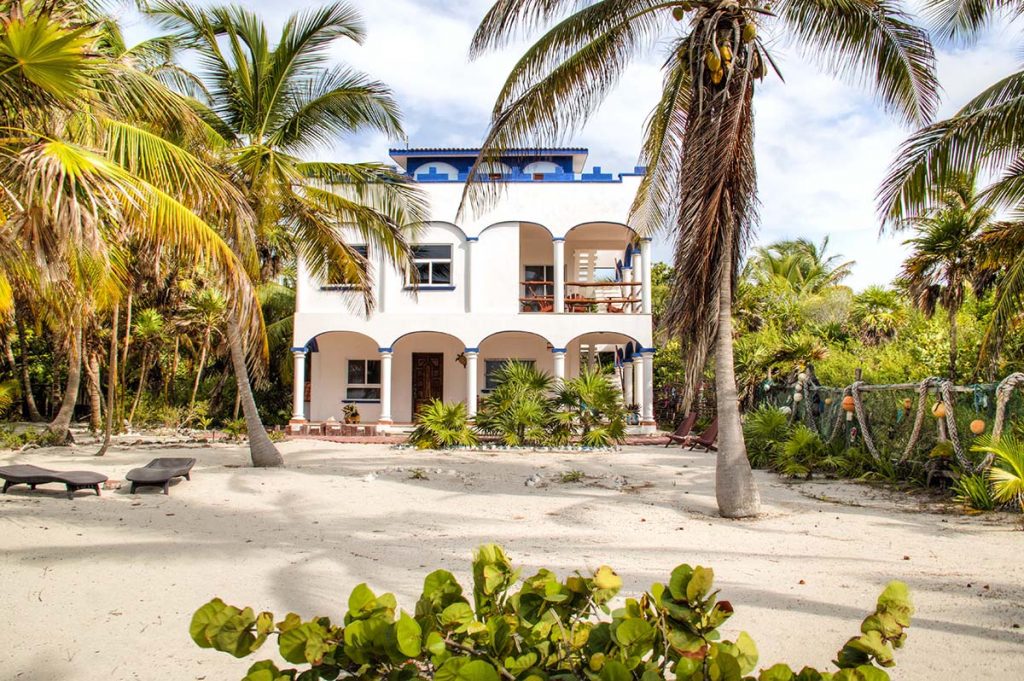 Staff at Playa Sonrisa
Murph and Cindy are an American couple who moved to Mexico about twenty years ago to start their own nudist resort. They are the brains and the heart of the place and great to spend several evenings chatting about life and how perfect it can be. When it comes to cooking, Murph is the boss of the bar and the grill and Cindy prepares the rest and together they will bring great food on your plate day after day. Because this is a rather small resort, the amount of staff is limited. There's a very friendly maid (remember that we got a lift on a scooter when nobody wanted to bring us? That was her) and her brother does mostly the maintenance of the beach. You'll barely notice them during most of your stay though.
Guests of Playa Sonrisa
Normally Playa Sonrisa was about to close when we were there but they decided to stay open to have us (many thanks for that!). So there were no other guests. From what we hear their visitors are mostly international, Canadians, Americans, and Europeans but Murph is keeping scores and they have had 41 different nationalities. Most of the guests come here to relax, a naked holiday on their own perfect nude beach.
Summary
Playa Sonrisa is the most perfect getaway from the daily rat race and you'll have a hard time finding a similar place in the Caribbean, let alone in Mexico. You come here to get away from the world for a week, two weeks, a month, or maybe your whole life… Here's some inside info: After almost 20 years of business, Murph and Cindy are thinking about retiring. Because Playa Sonrisa has become their life's work, they are reluctant to throw the place on the real estate market with the huge risk that it will become yet another textile diving or fishing resort. They really really want the place to remain nudist. So if you ever considered running a nudist resort in your own little paradise, do get in touch with them!
Read more about this resort on  
NUDE
Naked Wanderings' Ultimate Guide for Nudism in Mexico ebook

Are you looking for great nudist and clothing-optional resorts in Mexico?
Are you looking for the best tips for a nude vacation in Mexico?
Then our ebook will be the perfect resource for you!

Learn More
Need help with planning your trip? Check out our Resources Page for an overview of the best companies we use during our travels
Disclaimer: We have been invited as guests of Playa Sonrisa, but of course all opinions are our own. We are super confident you will love this place as much as we did!
---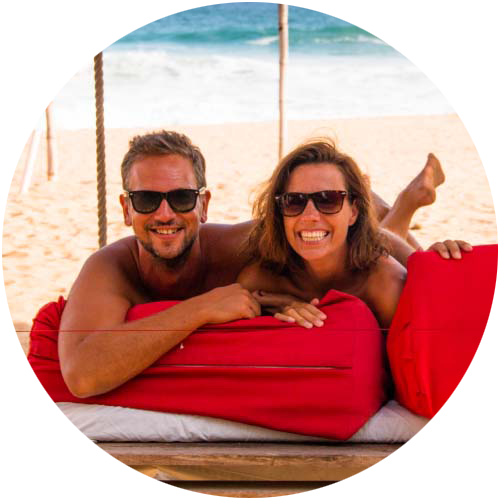 Support Naked Wanderings
Do you like what we do for naturism and naturists? Did we make you laugh or cry? Did we help you find the information you were looking for? Then definitely join our Patreon community!
---