It was surreal how fast those two months in Mexico had passed by, just like yesterday we had arrived at the house of
Hector Martinez
in the middle of the night and now we were only a couple of days away from our flight towards our next destination, Canada. But there was one place we still had to explore: Hidden Beach Resort at the Riviera Maya in Mexico. Located near Playa del Carmen and Cancun, this is the only resort in the region that provides top-notch all-inclusive adults-only vacation specifically for genuine nudists.
This place was supposed to be a combination of what we had been experiencing before, a nudist resort but soaked in a kind of luxury that could only be found in this particular part of Mexico.
While driving up and down parts of the Riviera, we had gotten a slight idea of what would be waiting for us, big names appeared on the side of the road like Barceló and Hard Rock Hotel but never could we see more than just the enormous main gates. This time our names would be on the guest list as well and we would be able to get a peak about what was really out there. We probably don't have to tell you that we were pretty excited.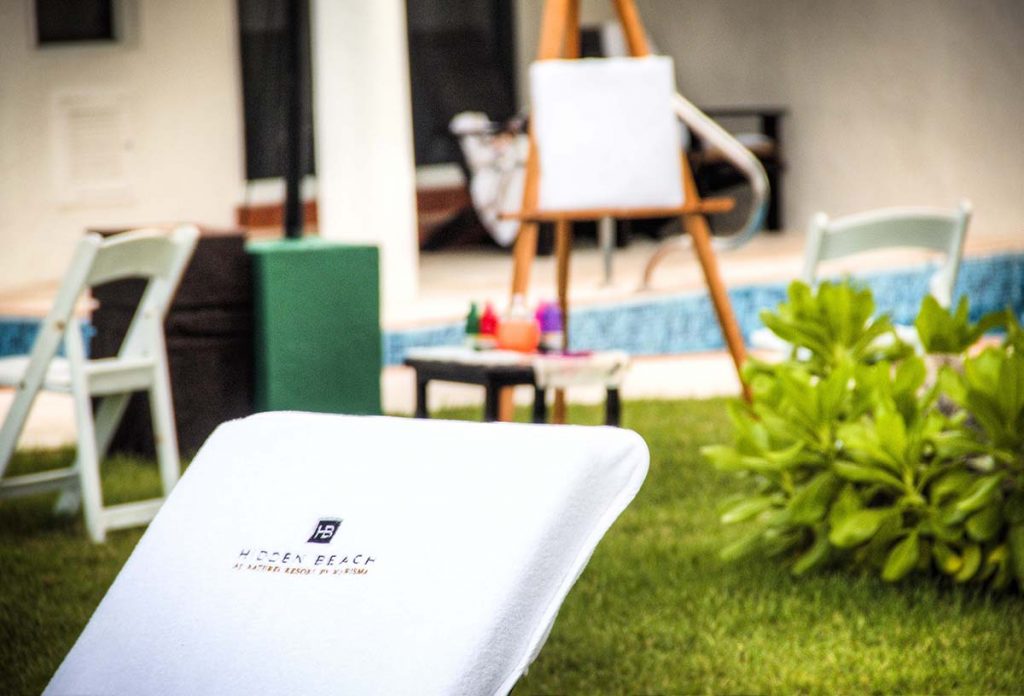 How to get to Hidden Beach Resort
Hidden Beach Resort is part of the Karisma Hotel group and the front gate we drove through would lead to three hotels of the group next to each other. On one side was the El Dorado, on the other side the Sensimar and right in between of them was our resort, the smallest one of the three and the only one where bringing clothes would not be a necessity.
Getting to the Riviera Maya is easy, the main airport in Cancun has direct flights to more or less all major airports in the Americas and Europe and even if you're coming from inside of Mexico, Cancun is still the place where you want to land.
The resorts are located at about 20 kilometers south of Playa del Carmen town and as everywhere at the Riviera Maya, you basically have two options to get there from the airport:
renting a car
or taking a taxi. If you're staying for a longer time and you want to explore some parts of the area,
renting a car
is certainly your better option. There are plenty of car rental companies at the airport. If you're planning to take a taxi, make sure to arrange it via the resort while you're booking, they will make sure that you get a fair price as the taxi drivers in Cancun are infamous for ripping off tourists big time.
Another more economical option could be to take the airport bus to Playa del Carmen and take a taxi from there. The taxi drivers in town might not always know Hidden Beach, so it's often better to ask for El Dorado or Sensimar.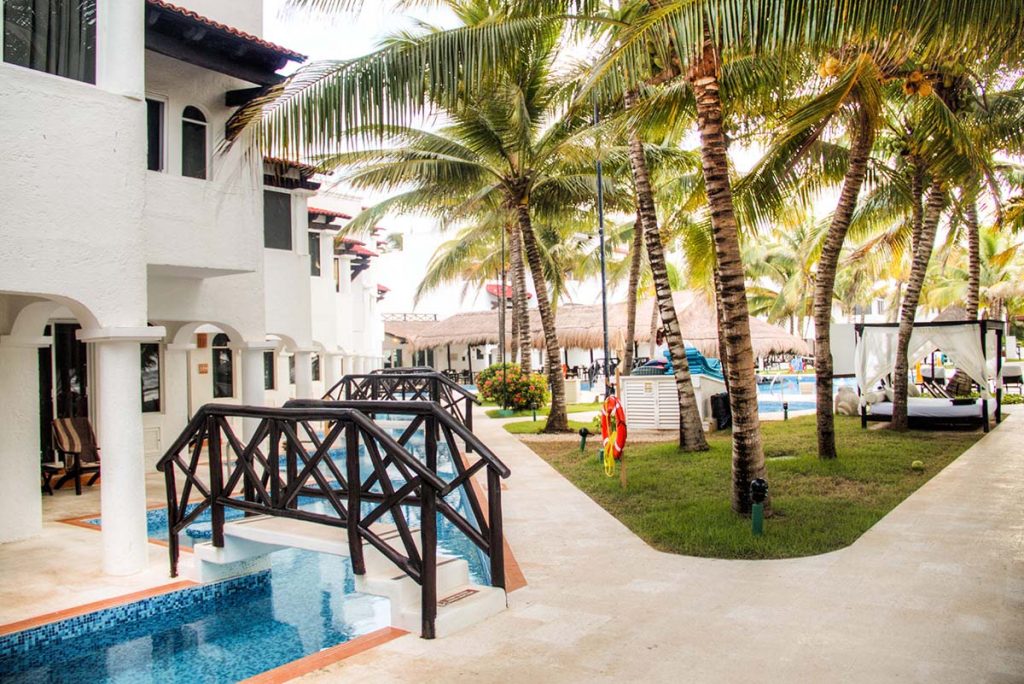 Where to stay at Hidden Beach Resort
Because of its inventive architecture, all rooms at Hidden Beach have an ocean view. So that's one thing you don't have to consider while picking your perfect spot. You will see the Caribbean sea when you wake up. Based on the other facilities, there are four different kinds of rooms for you to pick from. The Jacuzzi Junior Suite and the Dome Suite are both on the first level and give you an excellent view over the whole resort but we had the chance to stay in the Swim Up Jacuzzi Junior Suite which is on the ground level and has one not to miss feature… You guessed it… It's swim-up.
All these suites are connected via small swimming pools which lead to the main pool. Not only can you relax in the water right in front of your terrace but you don't even have to get out of it to get a refill at the swim-up bar or when the daily water volleyball game starts. How about that? Your own little private pool is only a couple of steps away from your own indoor jacuzzi where you can have even more water fun.
Top of the bill, however, is the beachfront villas that are directly on the beach and also come with a private pool and an outdoor shower called "Aguas del Amor" (waters of love). Your own butler will make sure that you don't even need to leave your villa if you don't feel like doing so.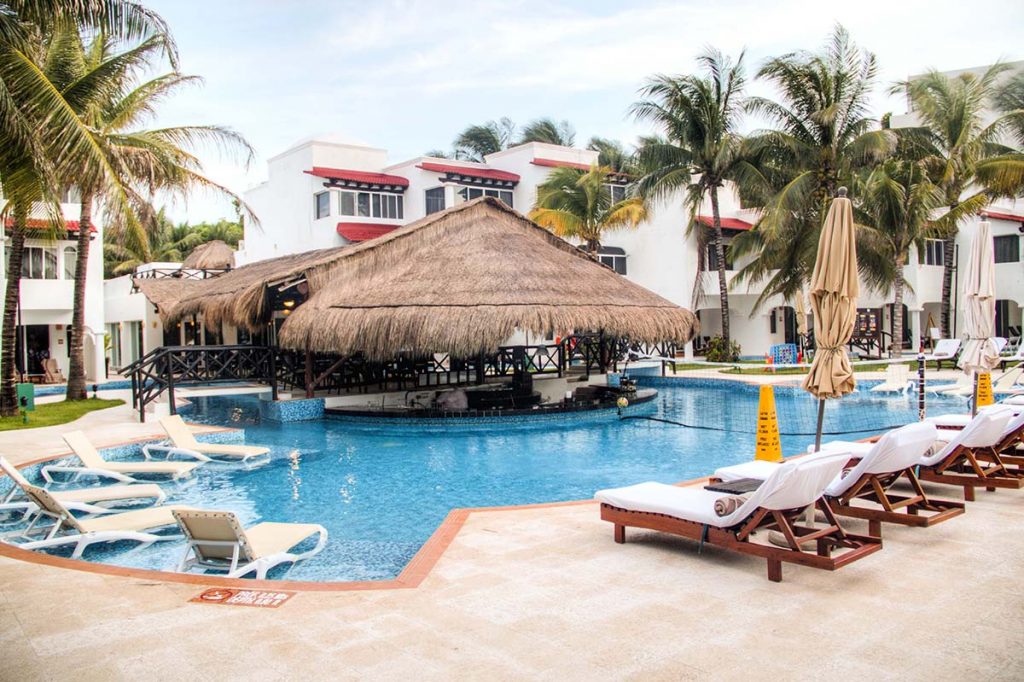 What to do at Hidden Beach Resort
The top facilities at Hidden Beach are of course its beach and the swimming pool, which are both clothing optional. Although Hidden Beach is in the middle of two textile resorts, its beach has been fenced off from the others so it's perfectly possible to lounge naked in one of the beach beds and to have a skinny dip in the Caribbean sea. Most visitors, however, prefer to spend their days in and around the pool where also most of the activities are happening during the day. A big swim-up bar in the center makes sure that you'll never get too thirsty while you engage in one of the water volleyball games, quizzes or aqua fit or Zumba classes. Other activities include yoga, pilates, Spanish lessons, or foam parties. On Saturdays, there's even a blackjack tournament.
The Hidden Beach restaurant serves breakfast (buffet or a la carte), lunch, and dinner, and other than that a pool grill bar is also available during the day with a gourmet buffet. And here's some more good news for those who like to have their taste buds pampered: As a guest of Hidden Beach, your all-inclusive formula also includes any restaurant or bar at the El Dorado and Sensimar resorts next door. A choice of about ten restaurants and bars are waiting for you to explore, but beware: you'll have to put on some clothes if you want to visit any of those, while nudity is completely accepted at the Hidden Beach restaurant.
Important: Guests of the other two resorts need to buy a day pass to be able to use the Hidden Beach facilities.
For evening entertainment you will have to move your naked behind towards the Moonlight bar, where daily theme nights are taking place. Every day you'll be impressed by dancers and singers and on Fridays, they will even hand over the microphone to you for the karaoke session. The evenings typically end with a local band or DJ before you return to your room for some well-deserved rest. Tomorrow you'll have another hard day of relaxing, swimming, dancing, and meeting new friends.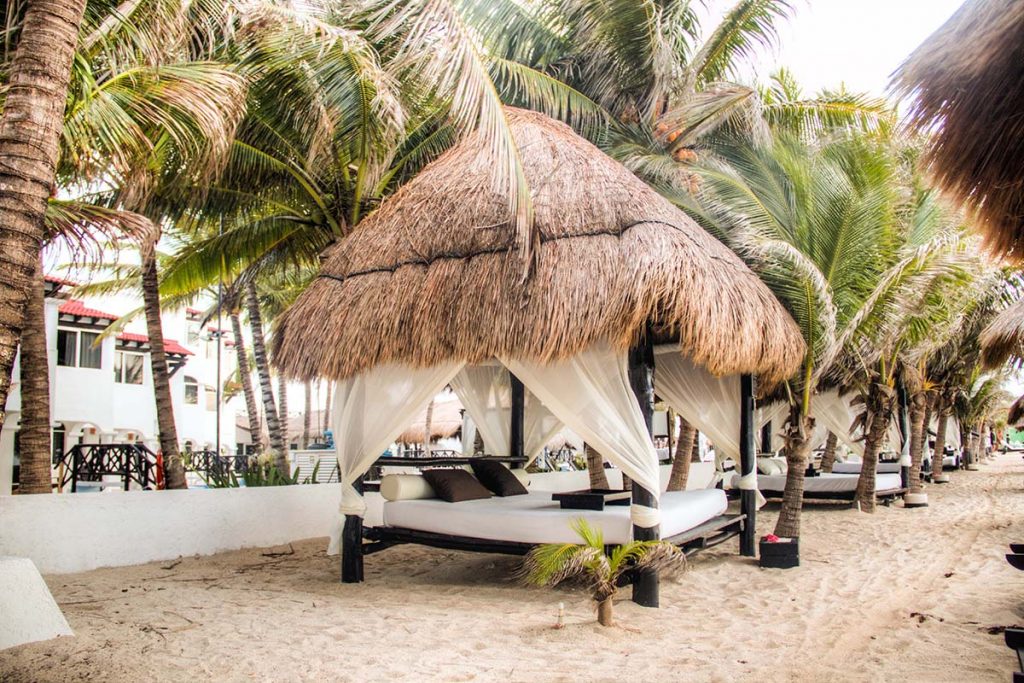 Around Hidden Beach Resort
The nearest city to Hidden Beach is Playa del Carmen, one of the most famous tourist and party towns at the Riviera. Here you'll find souvenirs for those who didn't have the chance to join your nakation and the plentiful bars and restaurants can certainly keep you busy for the day. One annoyance at "Playa" (as the locals call it) is the many touts. Every two steps you take there will be someone trying to sell you tours, fake Cuban cigars, cheap Tequila for a ridiculous price, and all kinds of other stuff you don't really need.
Playa is also the gateway to the wonderful Cozumel island, a ferry ride of about half an hour will take you to this Caribbean paradise which is famous for its excellent snorkeling and diving.
About half an hour south of Hidden Beach you can find the town Tulum, a bohemian village that used to be a very popular backpacker hangout but is meanwhile transforming to yet another tourist city. The atmosphere is still much more relaxed than at Playa and there are some excellent beaches to spend an afternoon. From Tulum, you're also just a short ride away from the Biosphere which has great views and fauna and flora.
North of Playa are Puerto Moreles, a fishing village that somehow managed to escape mass tourism and which we liked quite a lot, and more north is the hyper tourist city Cancun which we disliked quite a lot. We think that the only reason why you should visit Cancun is to take a ferry to Isla Mujeres, another Caribbean pearl away from the Mexican coast.
All previously mentioned places can be visited via custom made tours arranged by the Hidden Beach travel agency.
Staff at Hidden Beach Resort
As soon as we walked into the reception of Hidden Beach we were greeted by a beautiful smile called Linda who gave us an extensive explanation about all the facilities and possibilities that Hidden Beach has to offer. A slight hangover from the day before made us refuse the glass of champagne but we were very happy to accept the cold wet towel to refresh our sweaty faces.
Something that we had never seen before but we believe is well worth a mention is that you get a choice of pillows which you can try out to make your nightly rest the most comfortable ever.
Other staff names we have unfortunately forgotten but not the quality of their service. From the bartenders to the waiters at the restaurant to the animation team, they all did a perfect job to make sure that all our needs were served.
Guests of Hidden Beach Resort
Although the all-inclusive adults-only resorts in the Caribbean often get the name to attract more "lifestyle" guests, we are happy to say that at Hidden Beach we encountered only genuine nudists. The majority were clearly Americans who had found the perfect place to escape from family, children, and the daily rat race. At Hidden Beach, it's not difficult to forget your sorrows and get absorbed in a piece of paradise which you can call home for a couple of days, a week, or who knows how long your planning to stay.
Summary
If the words "top class", "adults only", "all-inclusive" and "perfect Caribbean weather" describe your perfect naked holiday, search no longer! Hidden beach will provide everything you have been looking for and days of lounging naked in and around the pool are waiting for you!
Read more about this resort on  
NUDE
Naked Wanderings' Ultimate Guide for Nudism in Mexico ebook

Are you looking for great nudist and clothing-optional resorts in Mexico?
Are you looking for the best tips for a nude vacation in Mexico?
Then our ebook will be the perfect resource for you!

Learn More
Need help with planning your trip? Check out our Resources Page for an overview of the best companies we use during our travels
Disclaimer: We have been invited as guests of Hidden Beach Resort, but of course all opinions are our own. We are super confident you will love this place as much as we did!
---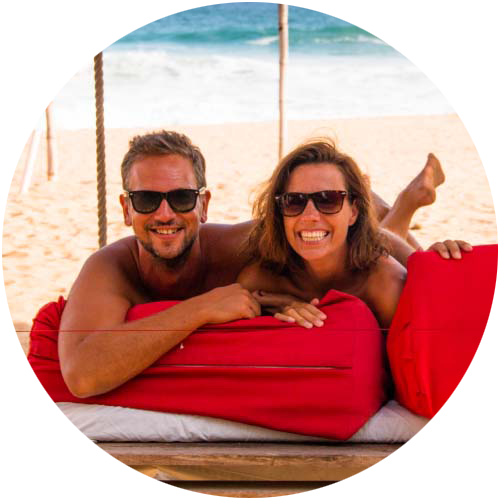 Support Naked Wanderings
Do you like what we do for naturism and naturists? Did we make you laugh or cry? Did we help you find the information you were looking for? Then definitely join our Patreon community!
---