During our initial trip to Thailand five years ago, we discovered the only naturist resort in the Phuket region, which was known as
Lemon Tree Resort
. It is unfortunate that the resort no longer operates as a naturist establishment today. Nevertheless, Patty and Golf, the dedicated managers of Lemon Tree, have ventured into a new endeavour. They have created a larger, more luxurious resort in a prime location near shops, restaurants, and beautiful beaches.
Our memories of Patty and Golf left a lasting impression. They were a dynamic couple who consistently went above and beyond for their guests. With this in mind, we had high expectations for their new venture, and after perusing the
reviews on Tripadvisor
, our anticipation was confirmed. Previous visitors were effusive in their praise of the exceptional service provided by Patty and Golf. So we were very much looking forward to reconnecting with them at their magnificent new resort, Peace Blue Naiharn.
How to get to Peace Blue Naiharn
Peace Blue Naiharn is located in the very south of Phuket island. If you're coming by plane, the closest airport will be Phuket International, which connects to several destinations within Asia as well as to major airline hubs like Bangkok, Singapore, Dubai, and Qatar.
There are a number of ways to get from the airport to the resort. The most economical one is the airport bus that will take you to Ban Sai Yuan in Rawai from where it's another 10-minute walk (or a very quick taxi ride). The bus ride easily takes 2 to 3 hours. If you want to get there quicker, it's better to look into the door-to-door shuttle services or taxis. The resort can arrange these for you.
Another option is to rent a car at one of the many rental offices in the airport. The quickest road is the one south-east towards Phuket Town and then continue further south towards Rawai. A slower but more scenic way takes you along the west coast of the island, passing by all the beach towns.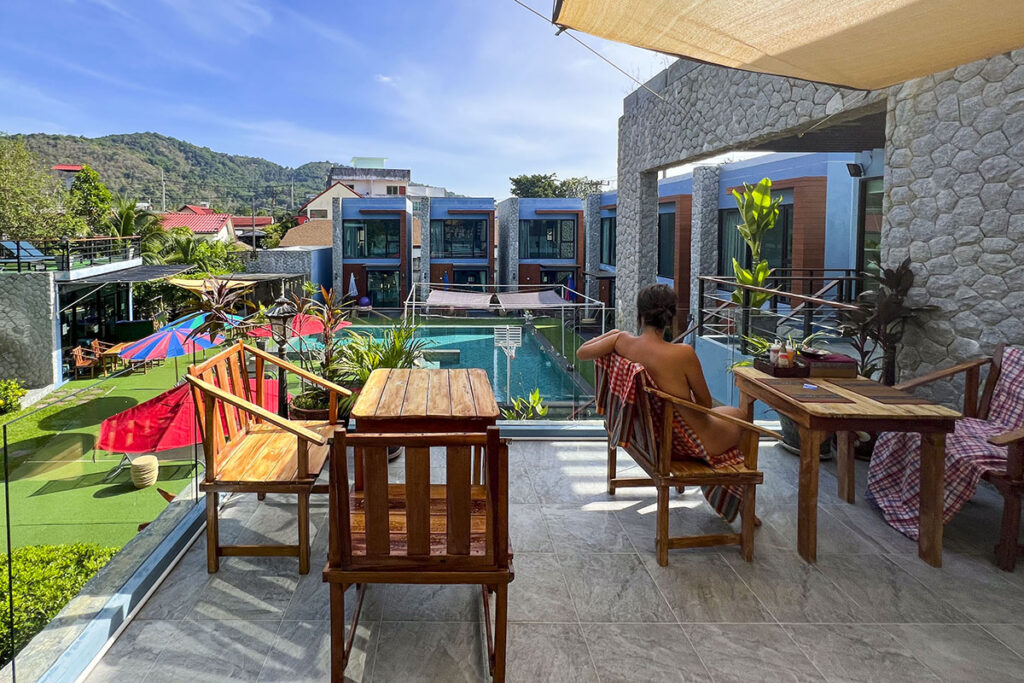 Where to stay at Peace Blue Naiharn
You'll find a variety of accommodations at Peace Blue Naiharn, primarily categorized into rooms and villas. When opting for a room, you can expect a comfortable space with an ensuite bathroom and a terrace. On the other hand, the villas follow a duplex layout, featuring a bedroom on the upper level and a living room, kitchenette, and bathroom on the ground floor.
The villas offer further options based on your needs, with choices ranging from one to two bedrooms. Additionally, there is a deluxe Garden Suite Pool Villa available, which includes a private jacuzzi and a small pool. Your selection of rooms will likely depend on your preference for the building's level. Ground-level rooms provide direct access to the pool, while rooms on higher floors offer increased privacy.
During our stay, we opted for a spacious superior king room located on the first level of the building. From our terrace, we enjoyed lovely views of the resort, and we found the room to be both comfortable and accommodating.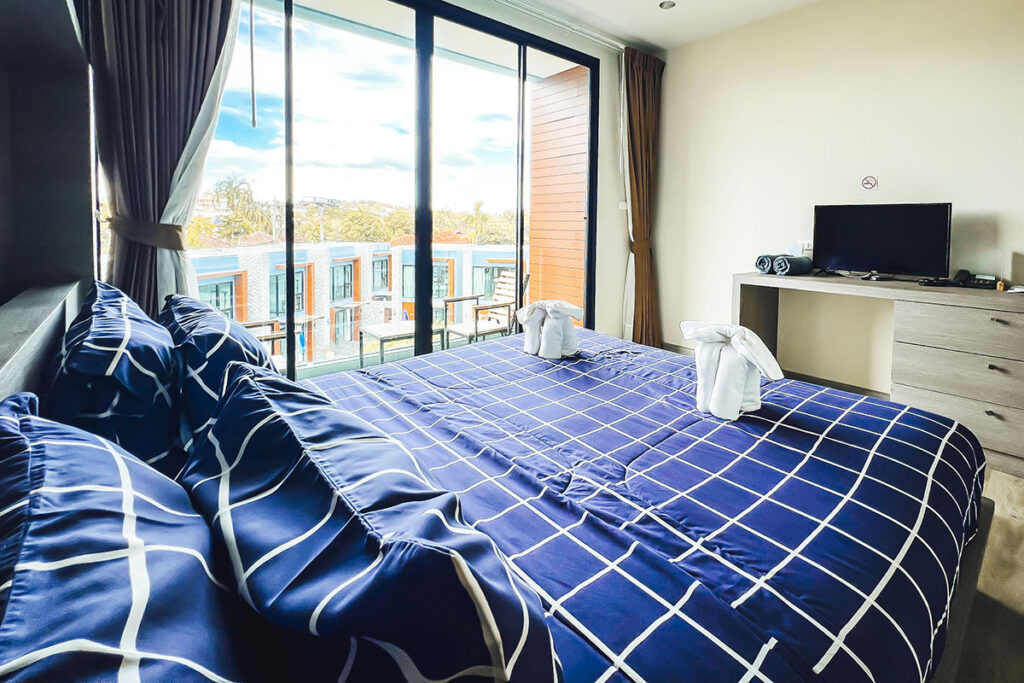 What to do at Peace Blue Naiharn
Peace Blue Naiharn is the kind of city resort where people just like to relax next to the pool (or inside it) when they're not exploring the region. The common area consists of a large swimming pool with plenty of sunbeds around it. There's also a bar and restaurant that serves lunch and dinner on request. Breakfast is included in the room price and is being served in the breakfast area.
There is also a sauna and a gym for those who think that the Thai weather isn't sweaty enough. Throughout our whole stay, we haven't seen a single person use those though. Reading a book, having a swim, or socialising with the other guests over a beer appear to be the most important activities at Peace Blue.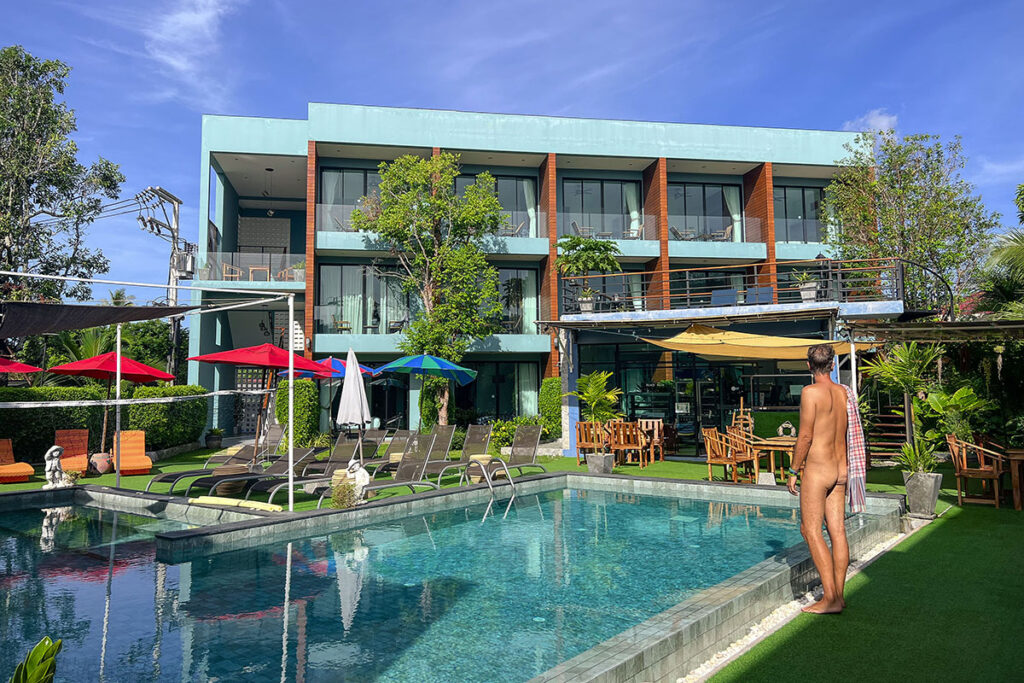 Around Peace Blue Naiharn
Phuket is Thailand's most visited area and not without reason. There's an incredible lot of things to do here. Some of the highlights are a visit to the big Buddha and some of the impressive temples, a day visit to the historical centre of Phuket town and its bustling night market, and of course a visit to Patong Beach, where you'll also find Phuket's busiest nightlife on Bangla Road.
Close to the resort are the Rawai and Naiharn regions. Rawai is a coastal village known for its vibrant local atmosphere and stunning sea views. As you explore Rawai, you'll encounter a bustling fish market where you can witness the daily catch being brought in and even enjoy some of the freshest seafood at nearby restaurants. The area is also dotted with charming cafes and shops selling unique handicrafts.
For beach lovers, a short distance away lies Naiharn Beach, renowned for its crystal-clear waters and pristine white sand. It's an ideal spot for sunbathing, swimming, and snorkelling, offering a tranquil and picturesque setting away from the more crowded tourist areas of Phuket. Peace Blue Resort offers a free shuttle service to and from the beach.
For those seeking adventure, there are opportunities for kayaking, paddle boarding, and even taking long-tail boat trips to nearby islands like Coral Island or Racha Island. If you're interested in exploring the underwater world, diving and snorkelling excursions can be arranged to discover the vibrant marine life and coral reefs that thrive in the Andaman Sea.
Last but not least, Peace Blue Resort also organises regular boat trips to secluded islands where you'll get the chance to skinny dip or sunbathe naked on deserted beaches.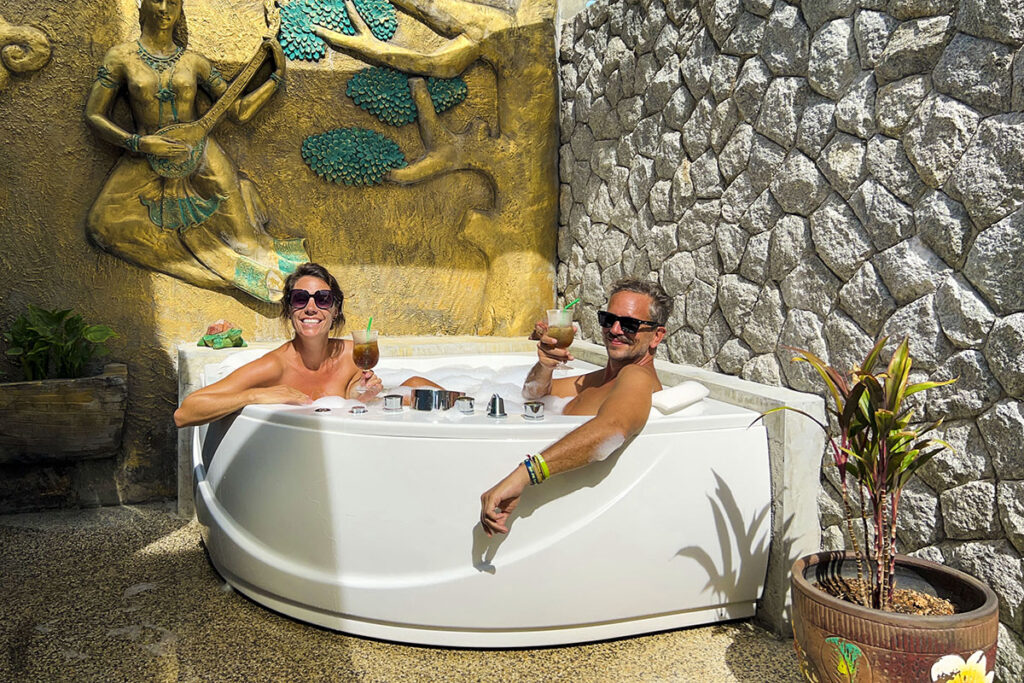 Staff & Guests of Peace Blue Naiharn
As we mentioned in the introduction, Patty and Golf have put their personal stamp on the resort and are highly praised by previous guests. But they are not alone in this. We found every single one of the staff members super friendly and helpful and all went out of their way to make sure that we had everything we needed. And more.
Most of the guests we met at Peace Blue were looking for a combination of culture, nightlife, nature, and naturism. And they all agreed that this is an ideal place for this. Some of the best that Phuket has to offer is right around the corner, so it's perfectly possible to have a tour in the morning and relax next to the pool in the afternoon. Or vice versa. Or no tour and just relax. The choice is yours.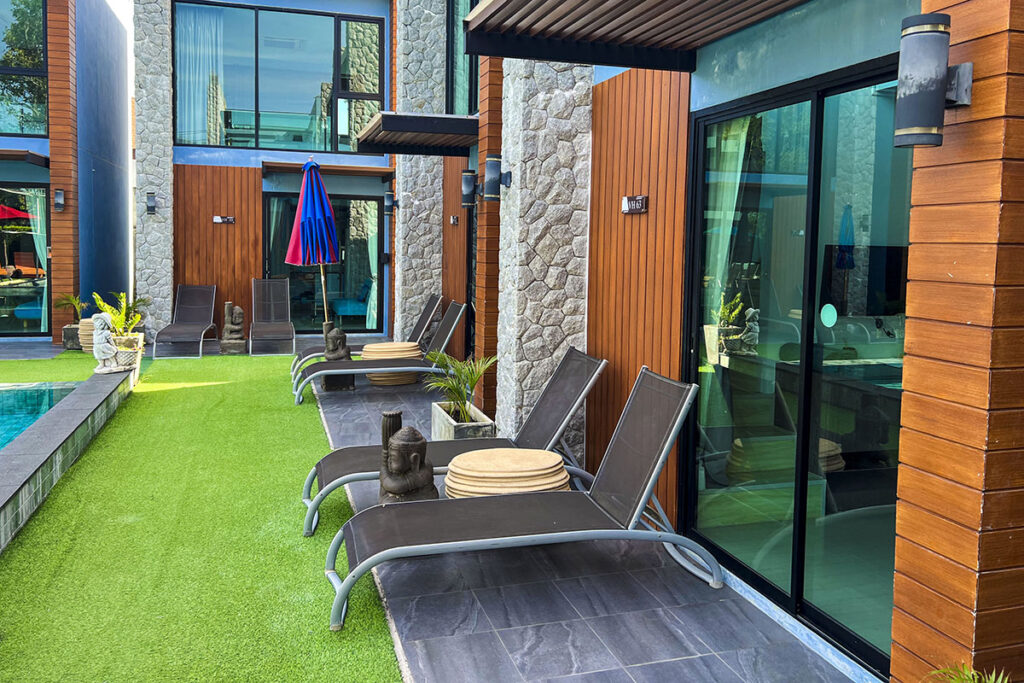 Book at Peace Blue Naiharn
The best ways to book at Peace Blue Naiharn are:
English and Thai are fluently spoken.
Summary
The list of naturist resorts in Thailand is growing fast, and yet they all are very unique. If you're looking for a tropical naturist vacation in one of the most lively parts of Thailand, make sure to put Peace Blue Naiharn on your list!
---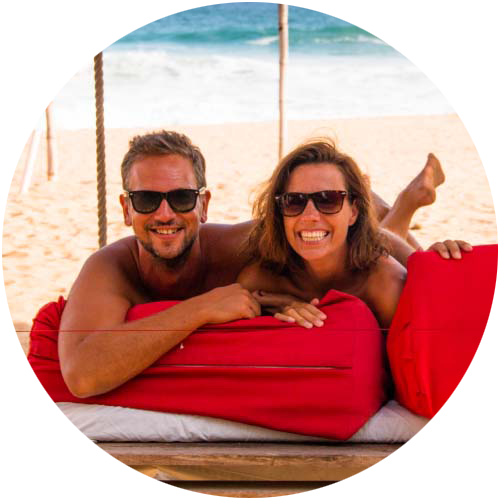 Support Naked Wanderings
Do you like what we do for naturism and naturists? Did we make you laugh or cry? Did we help you find the information you were looking for? Then definitely join our Patreon community!
---