The Mexican Maya Riviera is currently in the Top 10 of the world's most popular vacation destinations and it's easy to see why. White beaches, the emerald-colored Caribbean sea and year-round warm weather explain why flights from all over the world are often fully packed. If the name "Riviera Maya" doesn't ring a bell, the name of its capital definitely must: Cancun. For long, this was the only tourist hotspot of the region, but more and more visitors are finding their way to the more relaxed destinations further south of the coast.
Tulum, for example. About two decades ago, Tulum was a sleepy hippy village that mainly attracted low-budget backpackers trying to escape busy Cancun. Today, Tulum is fast becoming the most hip destination of the Maya coastline. Backpacker hostels are still plenty in Tulum but the variety of options has increased to rental apartments, beach bungalows and all-inclusive resorts. No matter what your favorite vacation looks like, you'll find it in Tulum. For those like ourselves who prefer to spend their days with the least of clothes on, there's is Intima Resort.
How to get to Intima Resort
The international airport of Cancun is the second largest of the country (after Mexico City) and receives direct flights from more than 100 destinations in North and Latin America and Europe. Making it a very convenient place to get to. To make your trip even more comfortable, the local tourism industry has made it super easy to get from the airport straight to Tulum by the means of local buses, shuttles, private drivers and rental cars.
The fastest and easiest way is by hiring a private driver. Once you arrive in Cancun, lots of drivers will be waiting for you and would be more than happy to drop you off in front of the doors of Intima. Do expect to pay a "gringo-tax" when you hire one of these drivers though. A much better way is to
book your transportation upfront
. Prices start at $100 USD per vehicle one way and $175 USD for a return trip.
Another option is to take a shared airport shuttle which carries up to 12 passengers. Lots of offices near the baggage claim of Cancun airport will provide this service. Important to know is that all passengers need to be dropped off at their hotels, which can make these rides much longer than private transport. And only slightly cheaper. If you're traveling as a couple, it's only about $10 more to
book a private roundtrip
.
One of the cheapest and most comfortable options might be to rent a car at Cancun airport. Because of the huge competition, car rentals tend to be crazy cheap. Especially if you're planning to visit the surroundings of Tulum, this option is very much recommended. Check out our
Resources page
for the best car rental deals and
read here some great tips for renting a car
.
Probably the cheapest option, especially if you aren't in a hurry, is taking the public ADO bus to the center of Tulum. The bus ride from the airport to Tulum takes little over two hours and costs less than $15 USD per person. You can find the schedules on the
ADO Website
. From the bus station in Tulum to Intima Resort, a taxi shouldn't cost more than $3 USD.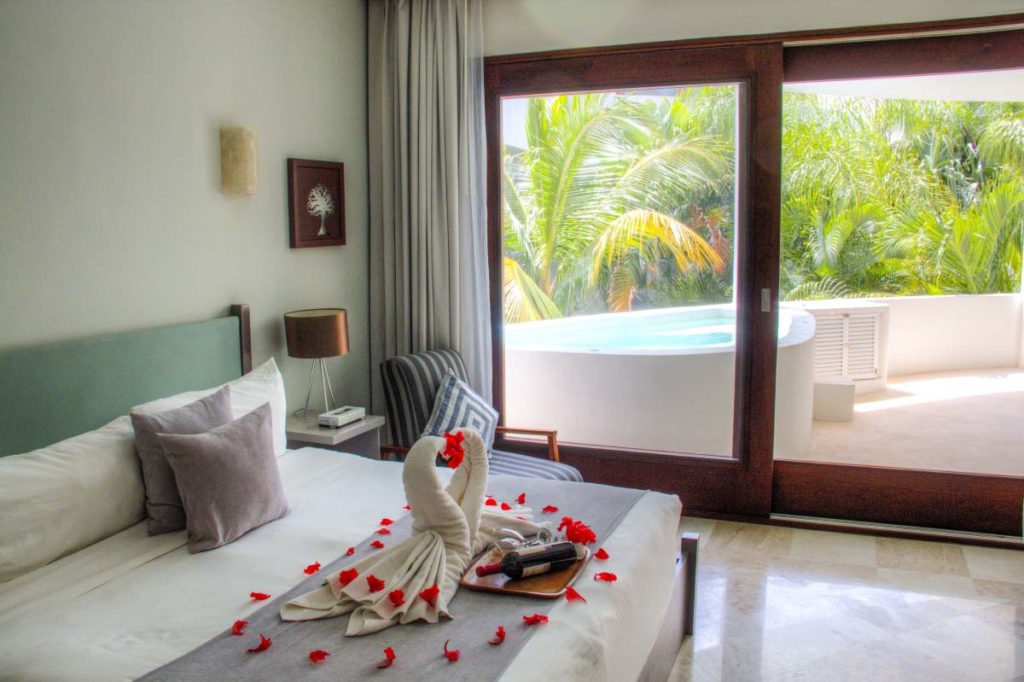 Where to stay at Intima Resort
Now that you know how to get to Intima Resort comes a much more fun part. Let's have a look at where you will spend your nights (and probably also some of your days). The resort has four different styles of condominiums, or apartments if you will: the Studio Suite, the Junior Villa, the One Bedroom Master Villa and the Two Bedroom Master Villa.
The Studio Suite comes with a bathroom and kitchenette while the villas also have a living room and full kitchen.
Now here comes some great news. All condominiums have a private terrace and direct access to water. The Junior Villa can be chosen with a swim-up option to the main pool only. For the others, there is a choice of swim-up, private outdoor jacuzzi or the penthouse version with a private heated pool.
We stayed in a One Bedroom Master Villa on the second floor of building A. Number A202, if you really want to know. We especially enjoyed the large living room with comfortable couches, perfect for watching some TV before bedtime. The huge windows made sure that we knew that it was going to be another wonderful day as soon as we opened our eyes in the morning. And of course we loved the jacuzzi on our terrace. The surrounding greenery cut off the view from the surrounding apartments which gave us perfect privacy.
What we also appreciated a lot was that the products in our shower were all natural and from the region. Lins' shampoo bar had just finished the day before and she was more than happy that she could continue using excellent quality.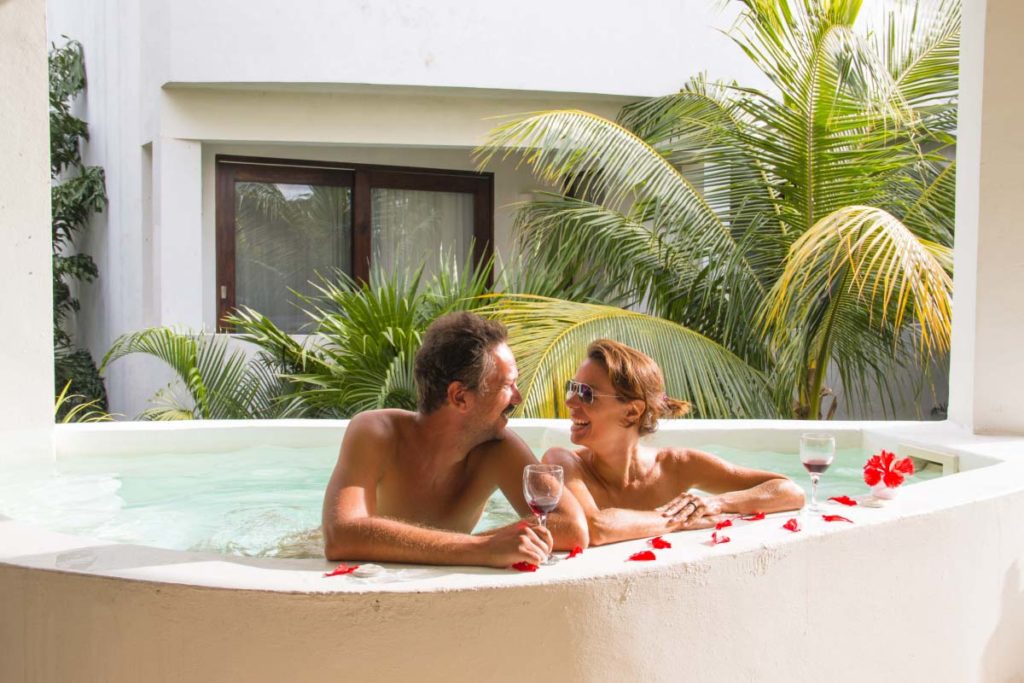 What to do at Intima Resort
Especially during the high season, Tulum tends to become busy, noisy and dusty. As soon as you walk through the doors of Intima Resort, this all magically disappears and makes place for an oasis of rest, greenery and tranquility. Something impossible to imagine when you're still on the street.
The bartender will give you a friendly smile and enquire about whether you'd like a cocktail right now or rather wait until you've checked into your room. A couple of nude bodies around the swimming pool might lift their heads and give you a friendly nod. Or maybe they're just fast asleep under the warm Mexican afternoon sun. This is the point where your vacation really begins and this is the kind of atmosphere that you'll find at the resort for the rest of your stay.
What we liked the most about Intima Resort was the option that it provided us. Being located right in downtown Tulum, at only a short bicycle or taxi ride from the restaurants, bars, shops, beach or the main tourist highlights. But also giving us the opportunity to escape from all that. To laze around in the sun. Spending the day sipping cocktails instead of exploring ruins. To drink our morning coffee in our private jacuzzi as if we were the only people in the world. Even the main swimming pool, which is the largest one in downtown Tulum by the way, stretches to areas covered in green where you can be away from the other guests.
Because Intima is a rather small resort, there is also excellent personal care. We were not number A202, we were Nick and Lins. Whatever wish we may have had, there would always someone ready to please us. Massage in the afternoon? Sure! Food and drinks delivered to our room instead of at the restaurant? Absolutely!
Talking about food, Tulum has a variety of excellent restaurants but there is only one where you can have great food without having to put any clothes on. Exactly, the Passions restaurant inside Intima Resort.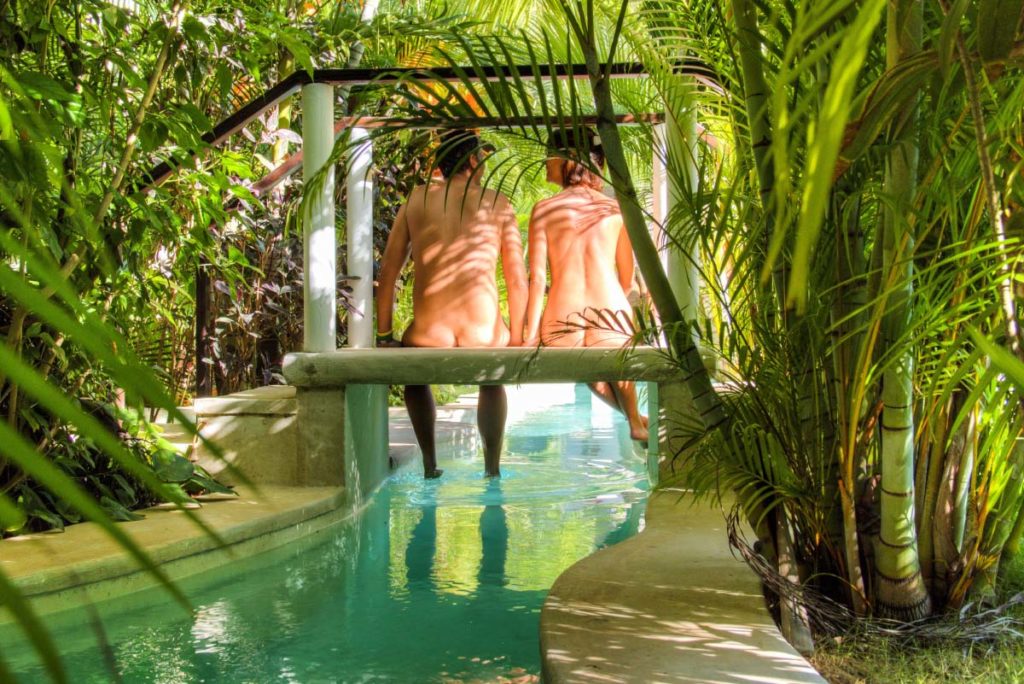 Around Intima Resort
We have to admit, during our stay at Intima Resort we barely left the property. We just couldn't get bothered. But of course, we had been to Tulum and the Riviera Maya before and had already visited most of the tourist highlights. Also if you are looking for a more active vacation, you are certainly up for a real treat!
You can't really visit Mexico without going to one of the many Maya ruins. Even if you're not an enthusiast of culture or history, these majestic buildings will blow your mind. The most popular ones in the region are the ruins of Chichen Itza, at about a 2.5-hour drive from Tulum. Less touristy and definitely also worth a visit are the ruins of Coba (1 hour) and the ruins of Tulum (0.5-hour bicycle ride!).
Unique in the Riviera Maya and also a must-visit are the many cenotes. Spectacular subterranean lagoons that you can swim in, snorkel or even dive. Some of the best cenotes to visit near Tulum are Dos Ojos, Nicte-Ha, Calavera and Aktun Ha.
Then there is, of course, Tulum beach. The beach that has made Tulum great several years ago, is now unfortunately being built up with huge resorts, claiming pieces of the beach as their private property. Yet the old bohemian atmosphere can still be found when chilling in a hammock at one of the beach bars.
If you're looking for more pristine white beaches, you want to get south to the Sian Ka'an Biosphere Reserve. Because of the large emptiness, it's perfectly possible to go on a skinny dip at the beaches of the biosphere. Just stay a bit away from other visitors as this is of course not an official nude beach.
Really, there is something for everyone near Tulum. For colonial architecture, you go to Merida or Valladolid. For adrenaline, you go ziplining in Xpor Park. Swimming with turtles, visit Akumal. Watching Flamingos, go to Rio Lagartos. We can go on and on like this.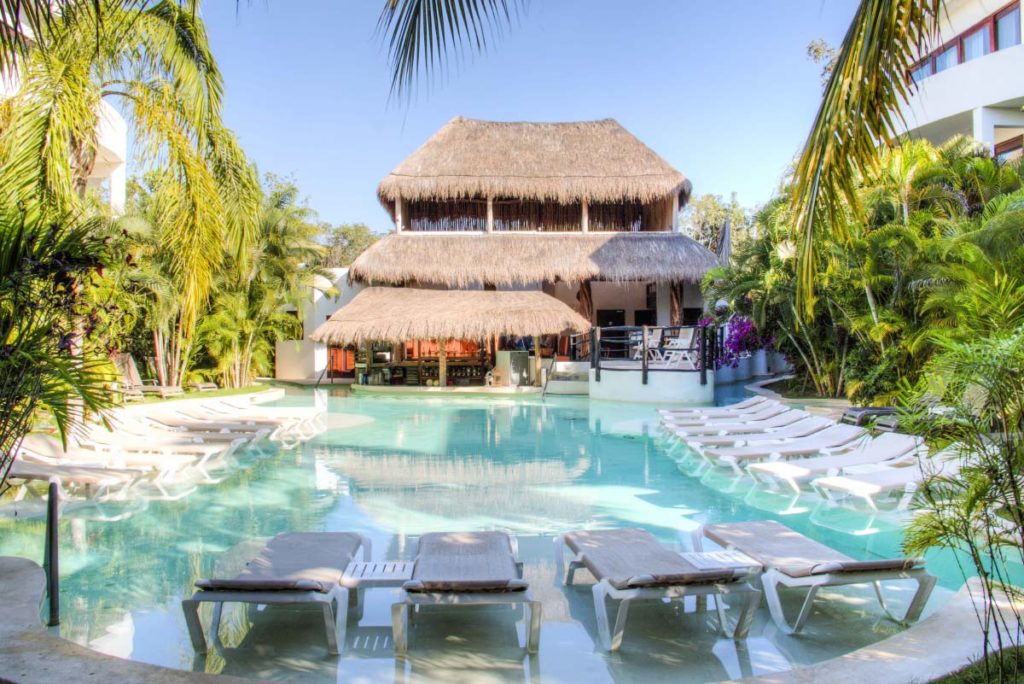 Staff of Intima Resort
But this is not a blog post about the wonders of the Maya Riviera, so let's take our clothes off again and get back to Intima Resort. The first persons you are likely to get in contact with are Betsy, Jessy or one of the other receptionists. Other than writing down your name and bringing you to your condo, they are there to answer all your questions about the resort and the surroundings. Whatever you want or wherever you want to go, they will help you out.
Nestor and Jorge, on the other hand, are the ones we were in contact with the most. You guessed it, they are the bartenders. They made sure that our morning coffee was hot and strong and that our margaritas were cold and full of tequila. And then there are a number of other staff whose names we never got but who kept our room, the pool and the rest of the resort spotless. They made sure that our food arrived on our table and most importantly, they treated us and the other guests with the uttermost respect.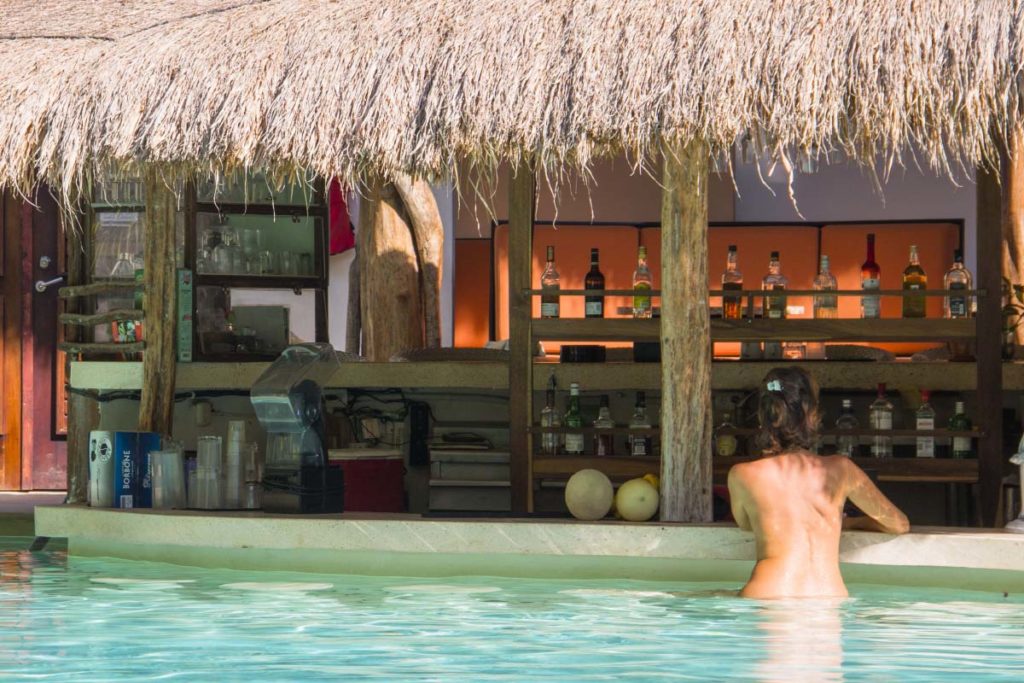 Guests at Intima Resort
While we were at Intima resort, most of the other guests we spoke with were from the United States. Due to the short distance, the Riviera Maya is of course a popular destination for Americans. Some barely ever left the hotel if it wasn't for a night out in town, while others were rarely ever seen inside the hotel. As mentioned before, this is exactly what Intima delivers: the option.
Intima Resort maintains a perfect clothing-optional policy in the sense that nudity is always allowed but never obligatory. One nudist-textile couple told us that this is one of the very few places where they had found such a balance that worked perfectly for both. We wouldn't know, we were nude all the time.
Lately, Intima is attracting more and more local visitors from Mexico as well as from other Latin American countries and from Europe. Because it's an adult-only resort, it wasn't much of a surprise that the majority of other guests were couples.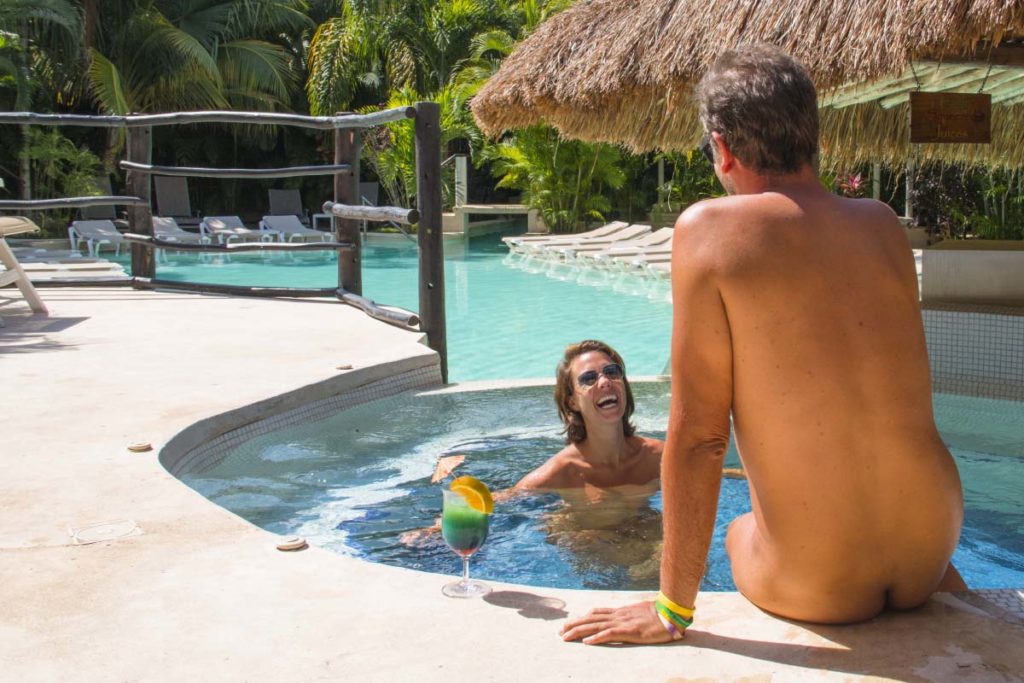 Reservations & Contact
Reservations at Intima Resort are preferably made via their website
www.intimaresort.com
but are also possible via popular booking websites such as
Booking.com
.
Important to mention is that guests who book directly through the website receive complimentary breakfast and bicycle use.
If you happen to be in Tulum already and are not sure yet about extending your trip with a stay at Intima Resort, you can go over for the day to check out the place before making your reservation. (But trust us, you will).
Intima Resort is open year-round, although it might close in September 2020 for renovations.
Summary
Intima Resort provides the perfect combination of a peaceful clothing optional oasis in the midst of the tourist highlights that the Riviera Maya has to offer. In this region, the resorts like to call your stay an "experience". In the case of Intima Resort, we'd prefer to extend that term to "Personal Experience".
See more photos of Intima Resort in our Naked Wanderings Facebook Album.
Naked Wanderings' Ultimate Guide for Nudism in Mexico ebook

Are you looking for great nudist and clothing-optional resorts in Mexico?
Are you looking for the best tips for a nude vacation in Mexico?
Then our ebook will be the perfect resource for you!

Learn More
Need help with planning your trip? Check out our Resources Page for an overview of the best companies we use during our travels
Disclaimer: We have been invited as guests of Intima Resort, but of course all opinions are our own. We are super confident you will love this place as much as we did!
---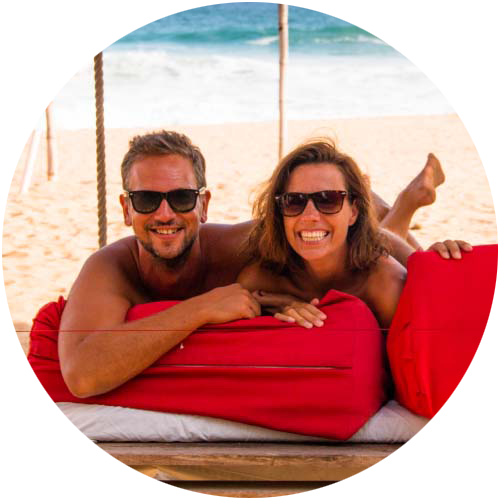 Support Naked Wanderings
Do you like what we do for naturism and naturists? Did we make you laugh or cry? Did we help you find the information you were looking for? Then definitely join our Patreon community!
---