We had huge plans, a couple of months ago. We were going to explore what the Caribbean islands had to offer to the naturist traveler. We would visit the white Caribbean nude beaches and splendid clothing-optional resorts. Then a virus came along. We were so close. We had already landed in Cuba. But we never made it to our first Caribbean nude beach or resort. Instead, we had to spend most of our time in Cuba figuring out how to get back to the mainland before the island would close its borders.
Months later, life decided to give us a treat. We would get a Caribbean experience after all. Not near the Gulf of Mexico, however, but in the Mediterranean Sea instead. A bright white nude beach, warm clear waters, high-class accommodation, and excellent seafood. When we think about it, is any resort in the Caribbean located on a 5-kilometer long nude beach? We don't think so, but naturist resort Bagheera definitely is. That's where we found our piece of the Caribbean on the French island Corsica.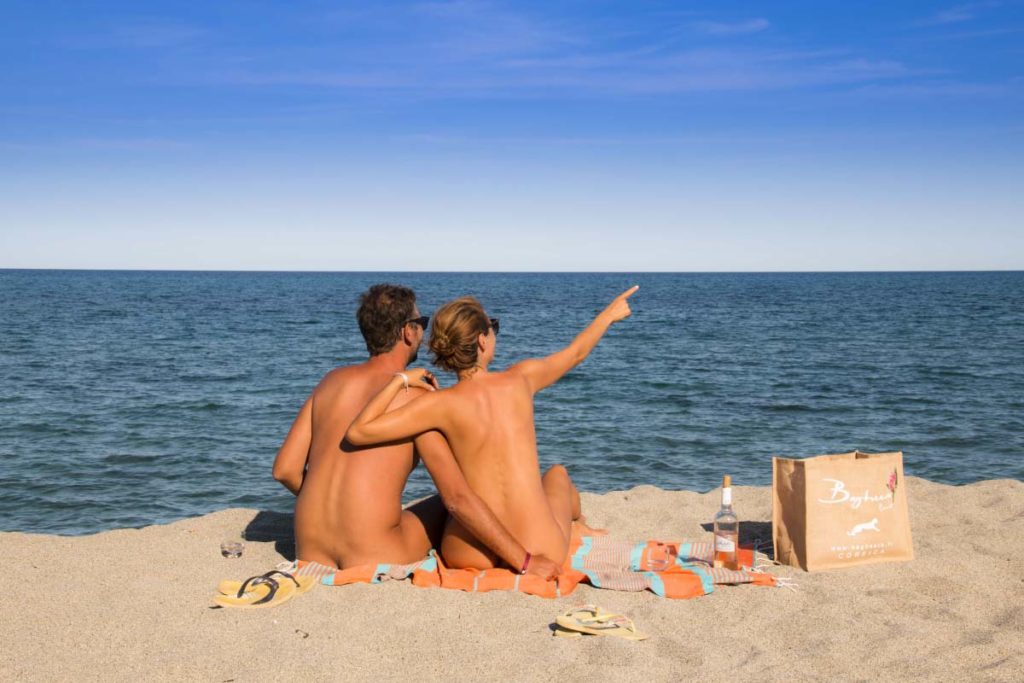 How to get to Bagheera
Most Western European visitors to Corsica decide to drive all the way to the Mediterranean coast and then board one of the many ferries that bring you to the island. The main ferry ports on the European mainland are Marseille, Toulon, and Nice in France and Genua, Livorno, Piombino, and Savona in Italy. From northern Italy and Nice, the ferry ride doesn't take more than a couple of hours. If you're traveling from Marseille, you're looking at a full day or night on the water.
On the Corsican side, you will arrive in either Ajaccio, Bastia, Ile Rousse, Porto-Vecchio, or Calvi. Bastia and Porto-Vecchio are the closest to Bagheera, but since the island isn't very large, the drive from the other ports won't take much more than 1.5 – 2 hours either. And we have to say, a ride through central Corsica is nothing less than spectacular.
If you like to explore the island during your stay, traveling by ferry with your own transportation is definitely recommended. Another option is a fly and drive. Corsica has 4 airports, located in Ajaccio, Bastia, Calvi, and Figari. The one in Ajaccio serves most airlines. On arrival, you can easily rent a car and continue your trip to Bagheera.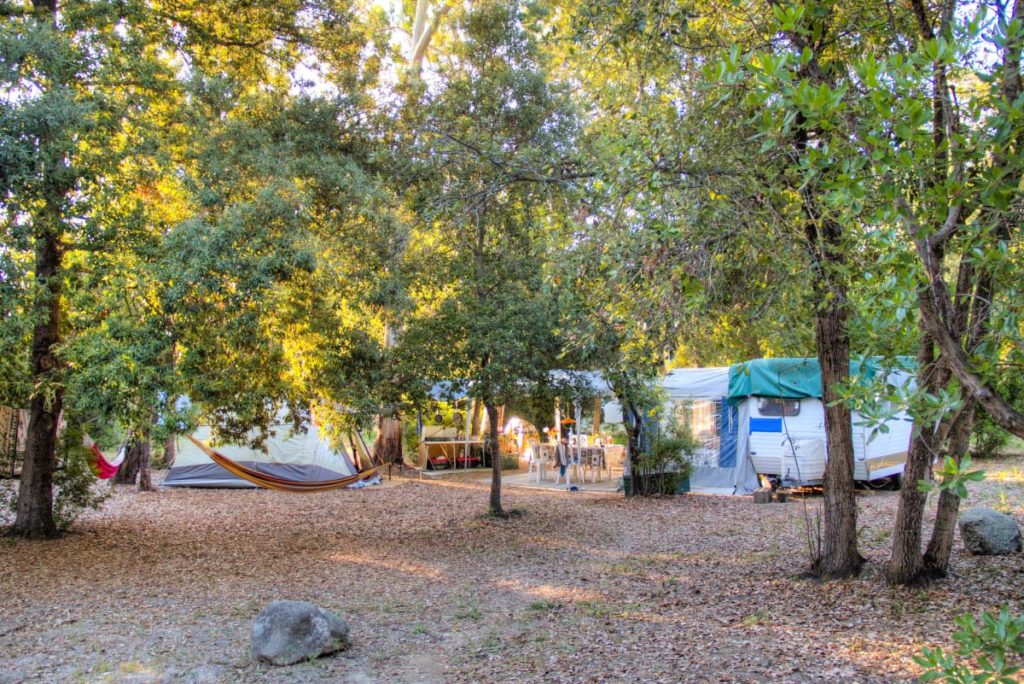 Where to stay at Bagheera
The accommodation part of the 100 hectares large Bagheera resort is largely separated into two sections. The camping section located in dense eucalyptus forest contains about 250 large and shady pitches to set up your camp. The pitches directly near the beach are the most popular ones and this zone does get crowded in summer. The pitches located further away provide more peace and quiet.
The other section is where about 100 rental accommodations can be found. There is a variety of mobile homes and chalets to choose from, but what made Bagheera really stand out were their rental villas. Real stone houses providing lots of space and comfort. This is one reason why Bagheera is a destination for everyone. No matter whether you like to stay in a two-person igloo tent, in a luxury villa, or anything in between, the option is right there.
We've made our bed in one of the villas during our stay at Bagheera and other than space and luxury, we very much enjoyed the peace and tranquility. All villas are quite distant from each other, often making us feel like we were alone in this forest. Sitting on our large terrace, sipping wine, and listening to the birds, this was our own private paradise. Knowing that the nude beach was just a couple of steps away, made our stay completely perfect.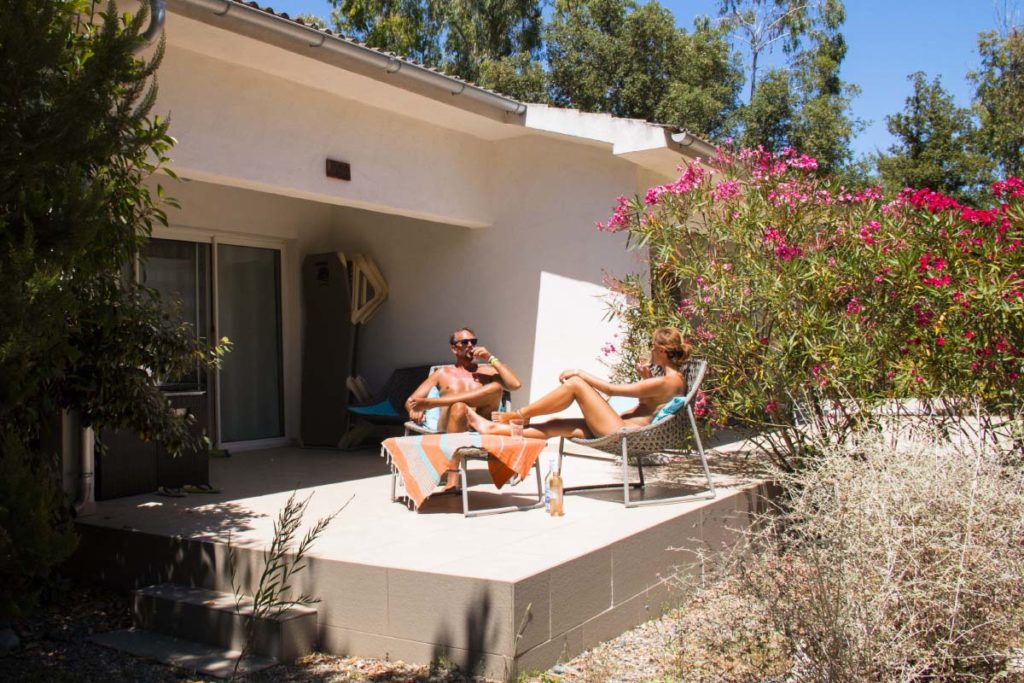 What to do at Bagheera
The main attraction at Bagheera is of course before mentioned huge nude beach. Wide and white, soft sands and warm waters. Because of its size, even in the heat of the high season, there's still plenty of space for everyone. This is where many of Bagheera's visitors spend the majority of their vacation days. The forest in which Bagheera is located is so well maintained that you can barely see from the beach that you're next to a campsite. At some moments, it felt like a nude cruise got stranded on a deserted island. Other times, when we walked to the far end of the beach to watch the sunset, the distant peaks gave us flashbacks of Rio de Janeiro.
If you're not a beach person or not all the time, there are plenty of other activities to keep yourself busy. Some can be found on the daily schedule, like aqua gym in the sea or yoga. Others, you can just do by yourself. Pingpong, tennis, and a variety of water sports are just some of the many options.
Also very much recommended is horse riding, but you will have to wear some pants if you'd still like to sit comfortably by dinner. The horse riding trips take you to the near surroundings of Bagheera, through almond groves, forest paths, and lagoons. At the end of the trip, you follow the coastline of the nude beach all the way back to Bagheera. Have you ever ridden a horse on a nude beach? We have now.
Bagheera has two spots to satisfy hunger and thirst: the restaurant and the beach bar. Unfortunately, due to COVID-19, the latter remained closed during our stay because the management would not be able to maintain social distancing. Now that's what we call a true pity. Because if there's one thing we love, it's beach bars. And if there's one thing lacking on most nude beaches, it's…indeed… beach bars. But health is more important than burgers and beers on the beach, there's no question about that.
The restaurant fits perfectly in the quality and luxury of Bagheera and is yet another reason why we sometimes imagined ourselves being in the Caribbean. The wonderful setting next to the sea, the large green garden, the lovely staff, and the amazing local cuisine all fit perfectly in the picture.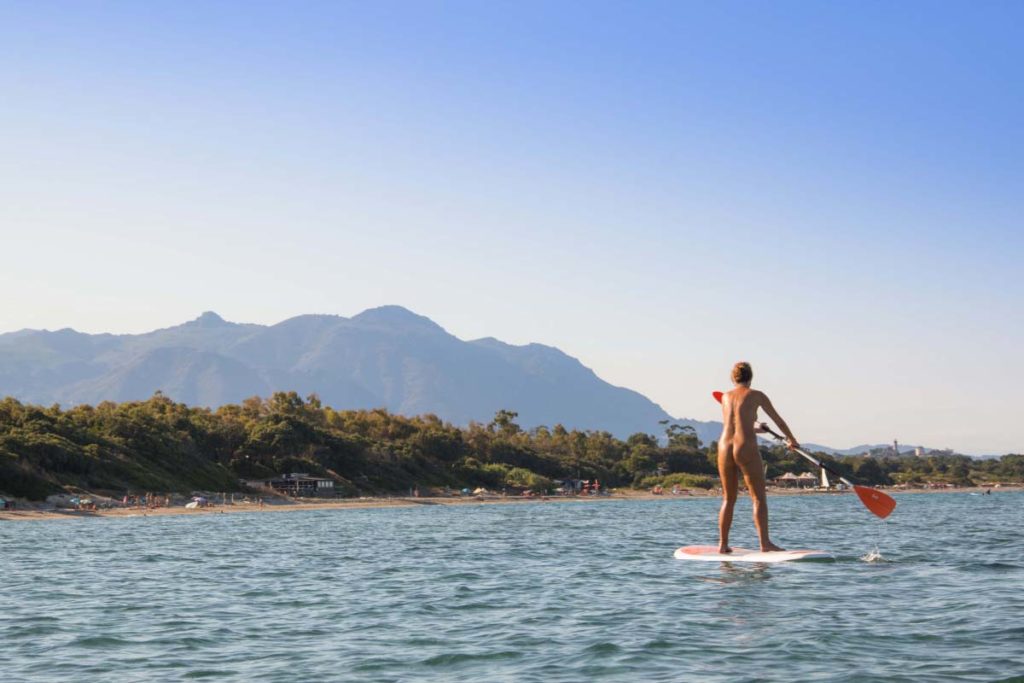 Around Bagheera
Also right outside of Bagheera, the beach remains a popular attraction. Unlike most other European naturist beach resorts (or the Caribbean, by the way), the nude beach doesn't stop at the boundaries of the campsite. In fact, the 5 kilometers long Plage Linguizzetta is one of Europe's largest nude beaches. We definitely recommend a nude stroll towards the very end, along the way you'll find plenty of bars where you can have a snack or refreshment. Our friend The Meandering Naturist recently told us that at the sign that indicates the end of the nude beach, you can often find a lady who yells at the naturists. When we were there, she was probably on vacation too.
Corsica is also a great place for adventure lovers or people who just like a more active vacation. There are lots of hiking and cycling trails, you can go paragliding or skydiving, watch the marine life on boat trips or with a canoe. The options are endless.
If history and culture are your things, Corsica has great importance because it is the birthplace of Napoleon Bonaparte. One of Europe's greatest leaders or worst dictators, depending on who you ask. The house where Napoleon was born is now a museum, the Maison Bonaparte in Ajaccio, and is filled with furniture from the period and the family's personal possessions.
The many towns and cities of the island will give you an insight into the typical architecture of Corsica and more importantly (at least to us), the many bars and restaurants will give you an insight into the local delicacies. Corsica is famous for its fresh fish, cheeses, and "charcuterie", a meat platter. Different fruits and oils can be bought from small roadside shops and the many wineries will let you try some of their best wines. Corsica is not just an island that you visit, it's one that you taste as well.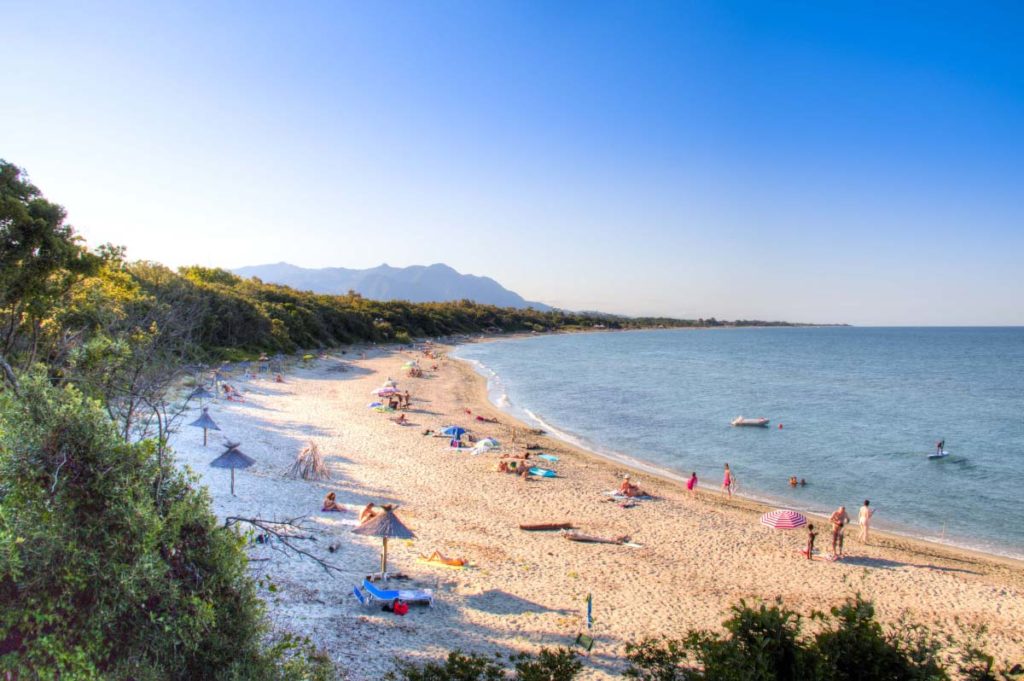 Staff of Bagheera
The reception of Bagheera will give you a first grasp of what you can expect for the next days (or weeks, months, we don't know how long you're planning to stay). This is not the typical small campsite reception. A large white building with lots of windows, information brochures, and several friendly smiles behind the counter. When we arrived, Marie (the owner) and Davia were doing the check-in. If you run into someone else, we're sure that they will be equally inviting.
"Inviting" really is the right word. The building is breathing a high quality of service and creates high expectations. Luckily, those expectations are easily exceeded by the professionalism of the staff. From the ladies at the reception to the people who run the bar and restaurant to the many others that make sure that your stay at Bagheera is the most comfortable one.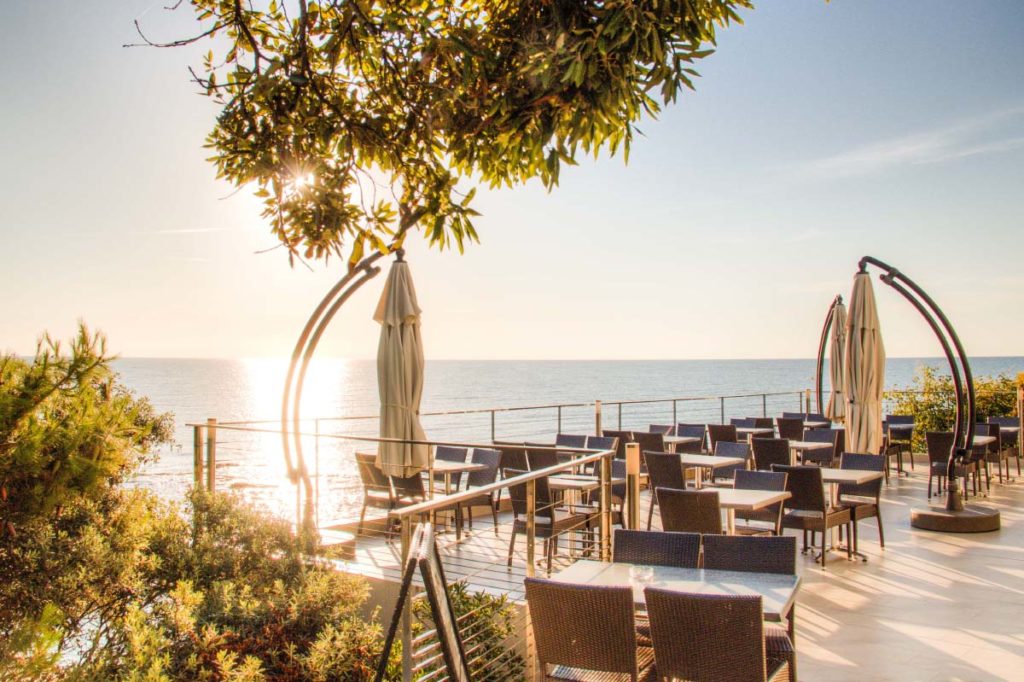 Guests at Bagheera
Bagheera yearly receives visitors from around the world, but given its location, the majority are obviously Europeans. During our stay, many of the other guests were German, Dutch, and French and we also spotted several Belgian, Italian, and Swiss license plates. Of course, we were there during COVID-times, so nothing is really as it should be.
As Bagheera is a naturist resort, your birthday suit is the preferred dress code. When we asked Marie, the owner, how she manages this practically, she told us that she doesn't want to create an atmosphere with lots of rules. In the end, this is a vacation destination. Where the most important value is that the guests feel comfortable. So they prefer a relaxed atmosphere. No stress, if you want to wear a sarong or pareo from time to time, it's no big deal. If you prefer to be nude all the time, it's perfectly fine too.
The only place where covering up is a requirement is the restaurant because it's also often visited by people who don't stay in the resort. No fancy dress code, no long pants or nice shirt, a sarong is basically enough.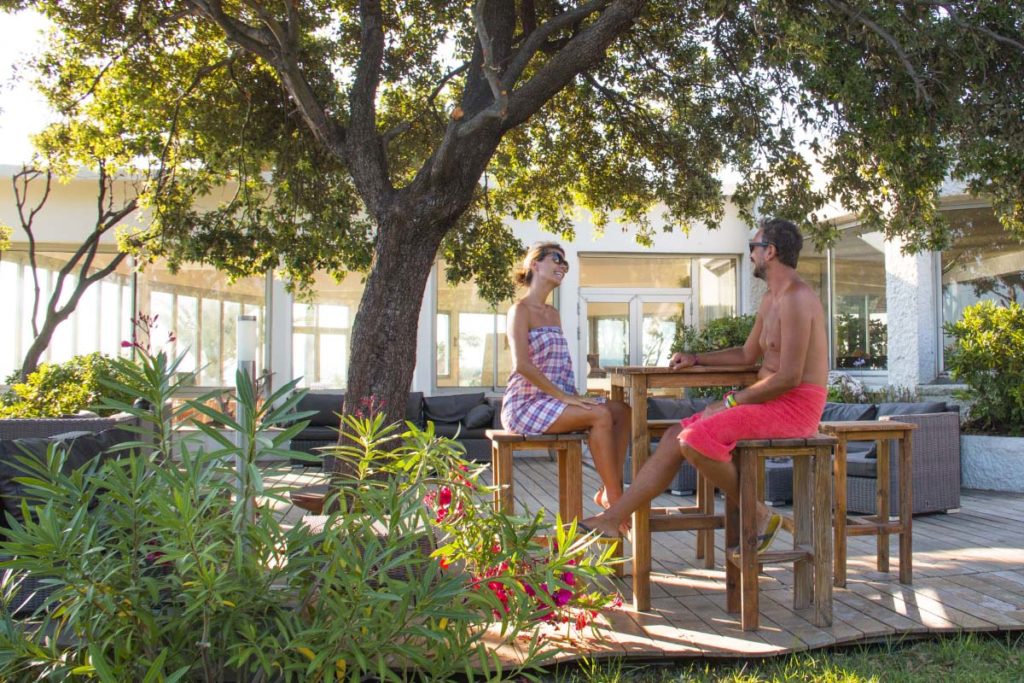 Reservations & Contact
Reservations are definitely recommended during the high season for rental accommodations and popular pitches (for example the ones near the beach).
This can be done via:
✅ Their Website: https://www.bagheera.fr
✅ Phone: +33 4 95 38 80 30 / +33 4 95 38 83 20
✅ E-mail: [email protected]
It's possible to communicate in French, English, and German.
Summary
Even when writing this review, visions of the Caribbean popped back into our minds when we thought about the wonderful nude beach, our nice villa, and the excellent service at Bagheera. It's called a campsite, because people are able to camp at the resort. But Bagheera so much more than that.
Disclaimer: We have been invited as guests of Bagheera, but of course all opinions are our own. We are super confident you will love this place as much as we did!
---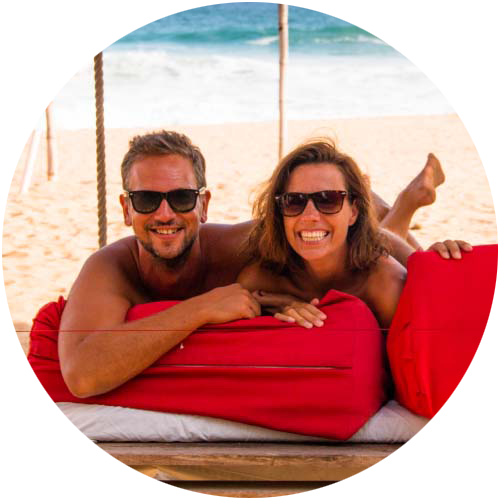 Support Naked Wanderings
Do you like what we do for naturism and naturists? Did we make you laugh or cry? Did we help you find the information you were looking for? Then definitely join our Patreon community!
---