We had never really considered the Canary Islands as a decent naturist destination. Especially because, if you look at the
map of naturist resorts
, there don't seem to be all that many. If a region that has decent naturist weather pretty much year-round does not have an abundance of naturist opportunities, there's probably something wrong. This was our easy conclusion. As many times before, our simple logic would prove to be quite unreliable. Something we would soon find out.
Our Canary camping trip
We were traveling on the Spanish Mediterranean coast for the second winter in a row, visiting one naturist destination after the other. As fun as this is, we felt like our travels could use a bit of spicing up. It was time for something new. Something different. Influenced by the many "van life" youtube channels that we are following, renting a van would be an excellent next step in our travels. It would add another dimension and could bring us to places that we might not be able to visit when we relied on buses and trains.
The initial plan was to rent a van in Malaga and spend a month traveling around Andalucia. Visit the many nude beaches, awe at the historical cities, and eat the delicious seafood. The plan was as good as fixed and we had almost signed a rental contract when we stumbled upon an issue. It was still winter, and although the temperatures during the day were quite agreeable, at night time they tended to drop and there was quite some chance that we would be spending most evenings under a thick blanket inside our van after 6 PM or so.
That was not how we imagined our first van experience. We started looking for alternatives, and that's when our eyes fell on the Canary islands. They definitely have the best wintertime weather in all of Europe, even in the mornings and evenings, and there were options to rent a van. Just like that, our plan had changed.
An itinerary full of tips
As there was quite a lot to arrange, we didn't really take the time to research a lot. We roughly had enough time to explore Lanzarote and Fuerteventura, and would just figure things out once we were traveling around. In the end, we would be traveling in a van, so we could easily move around and stay wherever we wanted to stay.
Then something interesting happened. When we posted on
Instagram
that we would be going to the Canary Islands, we were overflown with tips. Apparently, many of our followers had already spent some time without clothes on the islands and were very happy to share all their favorite places. This quickly became our number one resource of information for the next weeks. We would just post where we currently were and minutes later we would hear about the best places to visit. And today, we are going to share that information with you as well.
Because of some organizational issues (you can hear everything about that in
our first video about the islands
), we went to Lanzarote first, then to Fuerteventura, and then back to Lanzarote. For the sake of convenience, we will just list our favorite places per island instead of in chronological order.
Nude beaches in Lanzarote
✅ Famara beach: This long sandy beach is very popular among surfers. When we got there, we could easily understand why. The winds almost blew us out of our clothes immediately. In fact, it was a bit too cold to get naked for us, but we imagine that on days with less wind it's an excellent nude beach. The surfers don't care about your nudity, but if you don't feel comfortable, just walk towards the ends for lots of empty space.
✅ Playa de Janubio: This is one of the black sand beaches of Lanzarote and lies right in between a salt grove and the ocean. It's not the most beautiful beach, but the views are spectacular and it rarely gets crowded.
✅ Papagayo beaches: These are the most popular nude beaches on the island. It's a national park (entrance fee = 3 euros) that consists of 5 main beaches and a number of small coves. Nudity is very common on all beaches except for the one that's actually called Playa Papagayo. Because of the beach bars, this beach attracts the most textile visitors.
✅ Playa de las Conchas: This beach is not on Lanzarote island but on the smaller La Graciosa island in the north. Getting there requires quite some effort, but you'll be rewarded with a beach that looks as if it was stolen from the Caribbean.
Nude beaches in Fuerteventura
✅ El Cotillo: Located in the very north of Fuerteventura, El Cotillo was our first destination on the island. The nude beaches are located north of El Cotillo town, close to the lighthouse. You'll find several shallow coves and lots of naturists.
✅ Playa Esmeralda: This beach probably surprised us the most, due to its proximity to many all-inclusive hotels. This is just not the kind of place where one would expect a nude beach. Yet, it was always very crowded with naturists and one of the most popular nude beaches we've found on the islands. During low tide, you can just walk naked endlessly towards Playa de Sotavento.
✅ Playa Cofete: This is our favorite nude beach on the islands and one of the most beautiful beaches we've ever seen. Getting there takes a lot of time (20 kilometers on a dirt road), but what you're rewarded with is an 8-kilometer long pristine beach that will just blow your mind.
Charco del Palo
When we traveled from Lanzarote to Fuerteventura, we got a lot of concerned messages. YOU FORGOT TO GO TO CHARCO DEL PALO! But we hadn't forgotten. We mentioned earlier that there are not many naturist resorts on the Canary Islands, but
Charco del Palo
is definitely an iconic place and one that we did not want to miss. We had just kept it for the last part of our trip.
Charco del Palo is one of the few real naturist villages in the world, in the sense that it's an actual village and that you are allowed to be naked everywhere in town. As there aren't really decent camping spots, we figured that this was the perfect opportunity to get an apartment for a couple of days and enjoy reliable wifi and hot showers. And soak up the experience of staying in a town where clothes are nothing but an option, of course.
Naturism on the Canary islands
The beaches we've listed in this blog post are just the ones that are known to be visited by naturists. But we've camped on several other beaches on the islands and spent a lot of time naked around our van without receiving even the smallest frown. This made us conclude that naturism is very accepted in Lanzarote and Fuerteventura.
But if these islands are so naturist friendly, then why aren't there more naturist resorts? This question got stuck in our heads and we still don't have all the answers. One reason we see is that many naturists save up their vacation days for the summer. During July and August, very strong winds are common on the Canary Islands, which actually makes them less agreeable than many other naturist destinations on the European mainland. The Canary Islands are mostly for winter travelers, and these are fewer than summer travelers.
Another reason must be that there are so many public places to enjoy in the nude, that there isn't really a need for many private options as well. We had no idea how naturist-friendly the Canaries really are, so we'll definitely go back one day to explore the other islands. And we'll probably do so with a van again.
---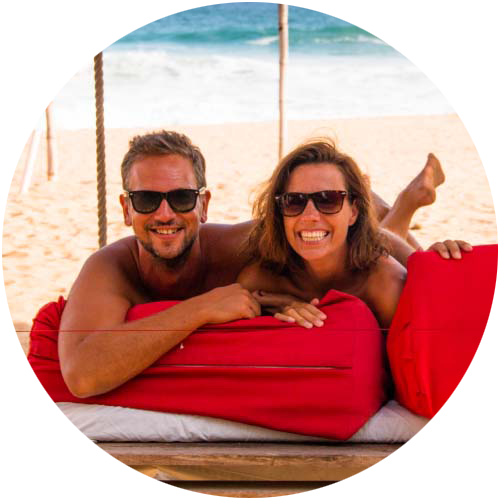 Support Naked Wanderings
Do you like what we do for naturism and naturists? Did we make you laugh or cry? Did we help you find the information you were looking for? Then definitely join our Patreon community!
---