Naked hiking is becoming increasingly popular these days. We can think of a variety of reasons why this is happening, but the most important one is probably that being nude adds an additional dimension to enjoying nature. Hiking is known to be one of the best ways to deeply connect with your surroundings, and once you get rid of that last artificial layer (called clothes) there is absolutely nothing between you and the world around you.
Another reason is the growing urge for naturists to break out. To get past the high fences of the resort or the large signs of the nude beach. In a way, we could say that we are going back to traditional naturism. Back to where our forefathers started our way of living. Back into the wild.
EDIT: This blog post is getting some very interesting comments about naked hiking in specific parts of the world. We highly recommend you read the comments section as well (after reading the post, of course)
View this post on Instagram
The pros and cons of naked hiking
We already mentioned the most important pro in the first paragraph of this blog post: Connecting with nature. There is just no better way to do this than without clothes. Another big advantage is that you give your body the chance to optimally regulate its own temperature through perspiration. Something which is definitely harder when pieces of fabric soak up your sweat. And then there is this feeling of freedom or liberation that so many naturists experience when they shed off their clothes. This only increases when you're out into the woods.
Most of the cons of naked hiking are rather annoyances. By exposing all of our skin to nature, we're also exposing it to bugs like mosquitoes. The sun rays we enjoy so much on our naked body can have a tendency to roast our skin and have us end up with a red butt if we didn't use sunscreen carefully. There are also the thorny plants that tend to leave bloody marks on our lower legs, or anywhere else on our bodies, depending on how deep we decide to dive in. In the end, clothes were invented to protect us from nature, and in certain cases, this was quite justified.
View this post on Instagram
Is it legal to hike naked?
Probably the most annoying thing about naked hiking is figuring out where you can do this without running into problems. Here comes the bad news. In most countries, public nudity is considered indecent behavior and is forbidden by law. How bad this is, depends from place to place. We imagine that if the authorities catch you hiking naked in Western Europe and you explain what you're doing, they'll probably just ask you to put some clothes on. In the Middle East, it's much more likely that you'll be facing jail time.
We definitely recommend you check out the local laws before going on a nude hike, but sometimes these can be a bit complicated. Spain, for example, has no law against public nudity, which makes it legal by default. Nevertheless, we've heard of several cases where the authorities did ask the hiker to get dressed. In the Netherlands, public nudity is forbidden except at designated places, but it's also legal in "natural places" like forests.
The laws in the USA are probably the most difficult to understand, especially for a foreigner. There are many different laws on many different levels like county, state, etc. How we understood it, is that on most county and state grounds, public nudity is a big no. But on federal land, there's no law against being naked, which technically makes naked hiking legal on those parts of the country.
View this post on Instagram
Legal vs possible
If a tree falls in a forest and no one is around to hear it, does it make a sound? Or rather, if a naked person walks in the forest and no one is around to see it, is it still illegal? This is the attitude that most naked hikers go by. They search for natural places and hiking trails where it's not really common to encounter others to limit their chances to run into trouble. In the end, the goal is to connect to the surrounding nature and with fewer loud humans around, this works a lot better.
Even when there are others around, if nobody complains about it, is it still a problem? We have two examples to illustrate this question. One time, we went on a naked hike in California on a part of the Pacific Crest Trail. This is a hiking trail that goes all the way from the Mexican border to the Canadian one and is considered one of the toughest hikes in the world. We met a number of other hikers along the way and were always greeted with pleasant curiosity about our nudity.
Another time, we went on a naked hike in the green outskirts around Paris. A place where many Parisian families like to escape to on sunny weekends. Whenever we saw such a family getting near, we felt the need to cover up. Just in case. This is, of course, because the mentality of a regular Parisian family on their Sunday walk is quite different than that of a hiker on the PCT who probably has already spent days in a row on the trail. So the question isn't just whether you'll encounter other people, but who you will encounter.
View this post on Instagram
When to hike naked
If you want to give naked hiking a try, we would recommend you to avoid busy periods like weekend days or the high season. Just to limit the possibility to encounter other people. It's also a good idea to go as a couple or in a group, as this is rather perceived by others as unharmful or creepy than if you're just by yourself.
All these different laws and attitudes might feel a bit scary, so you might want to give naked hiking a try inside or in the near proximity of a naturist resort. With the growing popularity of naked hiking, many large resorts are creating hiking trails for their guests. Especially in France and in the USA, you can find resorts that have trails where you can be sure that you can hike nude without any problems.
Cool things are always better when shared. If you're looking for companions for your naked hike, you want to put the 21st of June on your agenda. This is the (unofficial) Nude Hiking Day and many naturist associations around the world will organize activities on this day.
Let us know in the comments what your experiences of naked hiking are. Did you ever run into trouble? What are the laws and rules in your country? What tips can you give to aspiring naked hikers?
---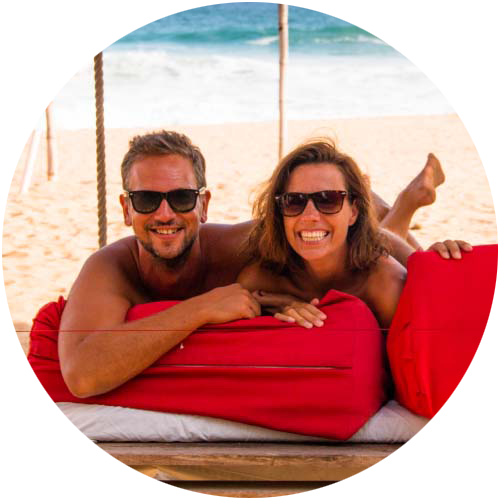 Support Naked Wanderings
Do you like what we do for naturism and naturists? Did we make you laugh or cry? Did we help you find the information you were looking for? Then definitely join our Patreon community!
---