Exactly one year ago, we published a blog post called
Goodbye to the Lost Year, welcome 2021!
It was our typical new year's blog post, just like the one you just started reading now. We had no idea yet that the next 5 months we would be staying within not more than a 30-kilometer radius. We had no idea yet that traveling would prove to be as hard as in 2020. But neither did we imagine that our concept of Naked Wanderings would change very much. For the better, if you ask us.
During the last week, we've received many Christmas cards saying "let's quickly forget 2021 and move on to 2022". But the thing is, we don't want to forget 2021. The year has been nothing like we imagined it would be, but nevertheless, we're looking back at a great year. A year full of new experiences, a year when we learned a lot, and a year that may have shaped the future of Naked Wanderings.
Patreon to the rescue!
We'll be honest with you, the future of Naked Wanderings was hanging on a thin thread at the beginning of 2021. We had lost some important projects in the previous year and with travel restrictions being enforced once again, we didn't know if our savings accounts could take another big hit.
And then something interesting happened. A couple of months before, we had launched a
Patreon Page
. If you're not familiar with the concept, Patreon is basically a platform where you can financially support content creators, artists, basically anyone you would like to support. And in return, you receive some perks. In our case, that's mostly early content and behind-the-scenes stories, photos, and videos.
During our first months on Patreon, we saw slow growth, but in early 2021, it suddenly started booming and many new "patrons" joined our page. This didn't just give us some financial breathing space, but it also gave us such a great feeling of appreciation that boosted our energy levels and encouraged us to do whatever it takes to make Naked Wanderings successful.
Boredom to the rescue!
Nevertheless, we were still stuck. Stuck in Spain, mind you, and we very well realized that there could be many worse places to hang around for a couple of months. We had nowhere to go and not much to do. Every day started looking like the previous one. After watching pretty much everything available on Netflix, we decided that we could better spend our time doing something interesting.
We started taking online courses. Making videos grabbed our attention in particular. It looked like the perfect next step for Naked Wanderings. We were already writing blog posts and taking photos. With video, we would have yet another medium to promote naturism. So we followed a bunch of online courses and started filming the neighborhood. Our first video was about
Raco de Conill
, the nude beach around the corner. Then we made a video about
Benidorm
, and then we started traveling to other nearby towns that had nude beaches, like
Villajoyosa
,
Altea
, and
Benissa
.
And then we got a call from Italy
Around that time, our friends who own a naturist resort in Italy gave us a call. Several resort owners were sticking their heads together to put Italy more on the naturist map. They asked if we could do something for them. We had traveled through Italy only 2 years before and had
extensively blogged about it
, so creating another series of Italy blogs seemed out of the question. But now we had video! With the support of the
Italian Naturist Federation FENAIT
, we put together
an epic naturist road trip
that we would completely document in vlog style.
As soon as the travel restrictions were lifted in late May, we took a plane to Rome. This was a unique experience in itself because we were literally among the first visitors that were allowed into the country again. We saw an empty Rome, we wandered around the Colosseum with only a handful of other people. We had the Trevi fountain all for ourselves. For us, Rome will never be the same again.
Nor will Italy, by the way. We had totally underestimated the workload that comes with creating videos. We found ourselves filming during the day, socializing in the mornings and evenings, and editing during the night. It was exhausting, but oh so rewarding. Video had opened up a new world for us, a world with seemingly endless opportunities.
Video throughout Europe
Additional to the excitement of doing something new and riding up the learning curve, video had another big advantage for us. It is monetizable. For years, we have been struggling to earn money with our content because none of the advertising firms that put ads on websites wanted to have anything to do with us. Because of the nudity, obviously.
On YouTube, we found a way to make this work, but it came at a cost. We had to blur every single bit of "unaccepted nudity", including butts. We absolutely agree that the blurring looks ugly in our videos and we try to avoid it as much as possible. But we are well aware that this is the price we have to pay if we want to get advertising revenue. And whether we like it or not, this revenue is an important key to financial independence and the future of Naked Wanderings.
Winter is coming (Yes, we also watched all 8 seasons of Game of Thrones)
After France, in late September, we returned once again to Belgium because Lins' mom was moving to a new place and could use a helping hand. And meanwhile, we started making our winter plans. In non-COVID years, we loved this planning phase because it was all about researching faraway tropical destinations. This year, however, just like the previous year, we were mostly considering risk factors. What if we get sick? What if we get stuck? What if yet another COVID wave forces us into lockdown? Where do we want to be when that happens?
We decided to pick up the project that we didn't succeed at the winter before. A trip along the coast of southern Spain, visiting nude beaches, naturist resorts, and all kinds of other beautiful places along the way. And document our experiences in blog posts, photos, and videos. From here, all options are open.
Keeping an eye out for opportunities
If there is one thing we've learned in 2021, it's that waiting for good things to happen isn't going to take us anywhere. It's ridiculous to think about the things you don't have. Instead, we need to look at what we have and how we can make the best out of that. Opportunities are everywhere, but you need to keep your eyes and your mind open to see them.
And that is what we wish to you for 2022. An open mind and open eyes. And the courage to follow your dreams, how distant and unreachable they may seem at the moment. We hope that you find the support you need and that you will support others in their endeavors. Because that is where the route to success will be found. Without you, there would be no Naked Wanderings. If nobody reads our blogs, watches our videos, or supports us in any other way, we would… well… we don't really want to think about where we would be then.
So here's one more life lesson we will share with you. "What if" has never helped anyone either. Take life as it comes and enjoy it to the fullest.
Have an amazing 2022!
Lots of love,
Nick & Lins
---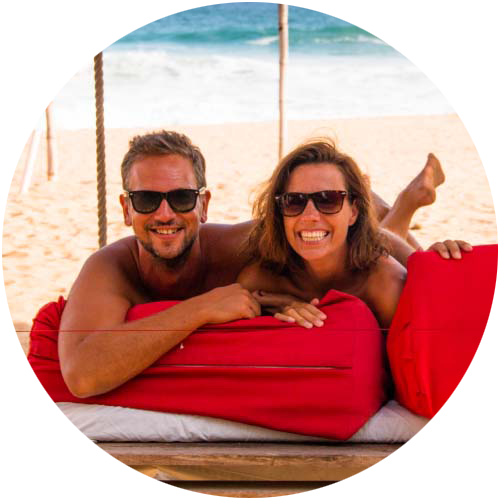 Support Naked Wanderings
Do you like what we do for naturism and naturists? Did we make you laugh or cry? Did we help you find the information you were looking for? Then definitely join our Patreon community!
---