A big misunderstanding about naturism is that it's just about lazy naked people hanging out next to the pool. With more and more younger people joining the naturist community, there is an increasing need for activities. Naked hiking seems to become a very popular pastime.
Obviously, you don't need a naturist resort to hike naked. Depending on your local laws, you can either do this everywhere or at designated areas, or if you're very unlucky, you may have to find yourself a natural spot where no others go. We like the convenience of starting from a resort though, where we can just leave our clothes and belongings. Here are some of our favourite places in Europe to do this.
With more than 40 hectares of private domain of which more than 25 are forest, Domaine de L'Eglantière is an excellent resort for being naked in nature. The owners are very passionate about the local fauna and flora and created around 10 kilometres of hiking trails on their domain where you can become one with nature. You can go for a hike on your own, or you can choose a group hike in which Xavier, one of the owners, will take you around and explain everything (and more!) about the wonders of southern France.
The mountain lakes of the Gorges du Verdon are world-famous and attract thousands if not millions of tourists every year. If you visit during the summer months, chances are very small that you'll be on your own. Let alone that you'll have a chance to hike in the nude. Except at campsite Verdon Provence. This is the only naturist campsite inside the national park which has direct access to one of the lakes and several wonderful hiking trails where it's perfectly fine, even encouraged, to walk around naked.
U Furu (Corsica, France)
When we arrived at campsite U Furu, we didn't really understand why people were making such a fuss about this place. It's a nice campsite, tucked away in nature, but not something that much more spectacular than other places that we had visited in France. Well, that was before we discovered their hiking trails. On the domain lays a mountain river that could perfectly have been stolen from a magazine. With natural baths and waterfalls and the whole shabam. You can hike/climb for several hours around this river and soak up the beautiful landscape of southern Corsica. If you're into a bit of adventure, this one is definitely a MUST!
There are different varieties of hiking. Some like to be surrounded by lush green the whole time and others prefer the adventure aspect. Some like to be close to water for a skinny dip or a riverside picnic along the way and others are just more up for a nice stroll. If you're in the last group, you definitely want to have a look at Bagheera which is located right at Europe's largest nude beach Linguizzeta. A walk from one side of the nude beach to the other will take more than an hour, which makes this one of the best and most popular nude beach walks in Europe.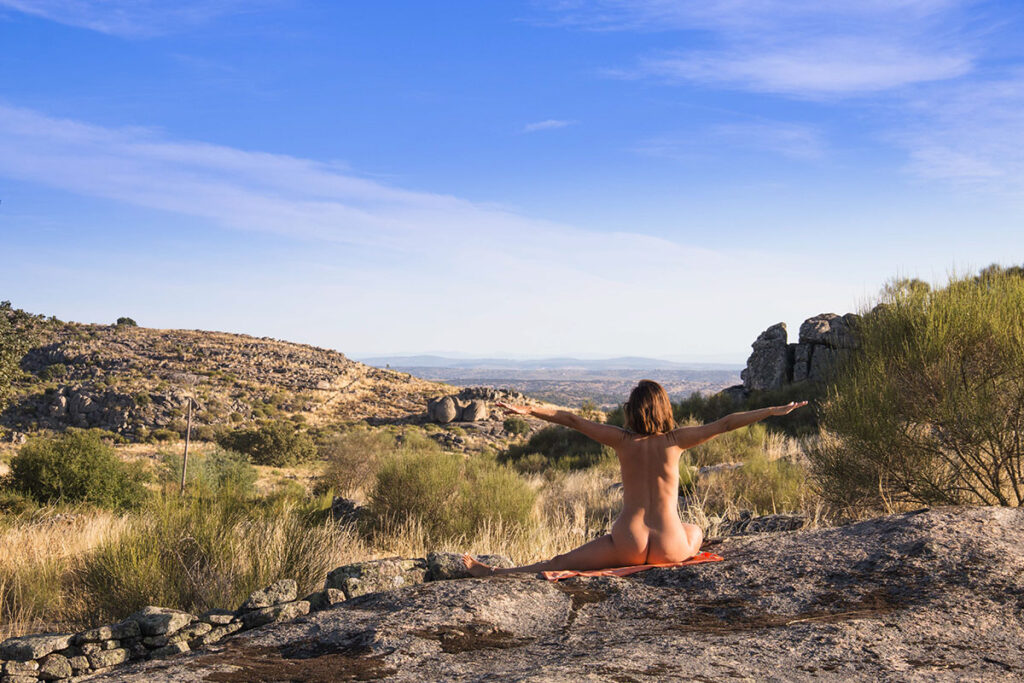 Portugal has no specific laws against public nudity, so theoretically, it's allowed to hike naked everywhere in the country. But we all know that a lot will depend on the people you encounter. If you don't want to take the risk to end up in an awkward situation, campsite Quinta do Maral is definitely a great base to completely soak up the mountain landscape of central Portugal. And then we're not even mentioning the amazing views yet that you will get along the way.
Koversada is one of Europe's largest naturist resorts and a walk around the domain could definitely be considered a decent hike. You'll find yourself strolling along the seaside, past several beaches, past the resort harbour and even crossing the bridge to Koversada Island. But if that's not enough for you, the resort is located on the Istria peninsula, which is one of the hot spots of European naturism. While we don't think that Croatia has laws in favour of public nudity, in this part of the country it's definitely not uncommon to take off your clothes on one of the many hiking trails along the coast.
We covered forest walks, mountain walks, coastal and beach walks. How about a naked walk through town? Yes, that is possible too. Vera Playa is one of the few naturist towns in Europe, where it's normal to walk around naked on the streets. During warm summer days, you'll definitely not be the only person who does so. There are quite some bars in town where it's also perfectly fine to place your nude butt down on the terrace. On a towel, of course. There's also a long nude beach, which is great for a nude evening stroll.
Another naturist town in Europe is Charco del Palo on Lanzarote island. It's one of those white villages that are so typical for the Canary island and the dress code is no dress (or code) at all. When it comes to bars and restaurants, there's much less to do than in Very Playa. But an advantage of Chardo del Palo is that it's surrounded by splendid nature where it's also fine to hike without putting on clothes.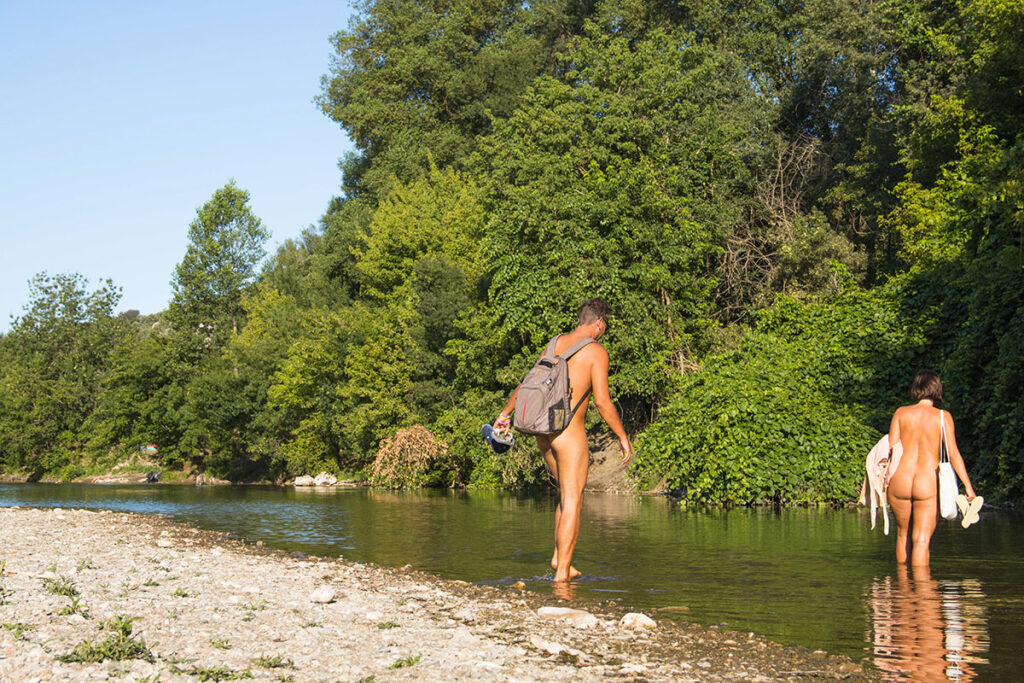 The laws about public nudity are a lot more strict in France than they are in Spain. In the sense that it's not allowed at all. But did the fallen tree make a sound if nobody was around to hear it? Or in this case, will the naked hiker get in trouble if the valley is full of naturists? There are 3 naturist resorts in the Cèze Valley, and other than that, there are few other people. This makes it an excellent area to discover in the nude without risking any trouble. Domaine de la Sablière is the perfect base for such a hike.
One of the most spectacular naturist campsites we've ever visited in France is La Plage des Templiers. It's inaccessible by motorised vehicles, so campers need to hike down while their luggage is being transported with a cable lift. Once down, you're right next to the Ardèche River and surrounded by nothing but nature. The campsite on itself is not that large, but you can easily hike through the valley without encountering a single soul. Except for maybe some kayakers, but by the time they realised that you're naked, they are already much further down the river.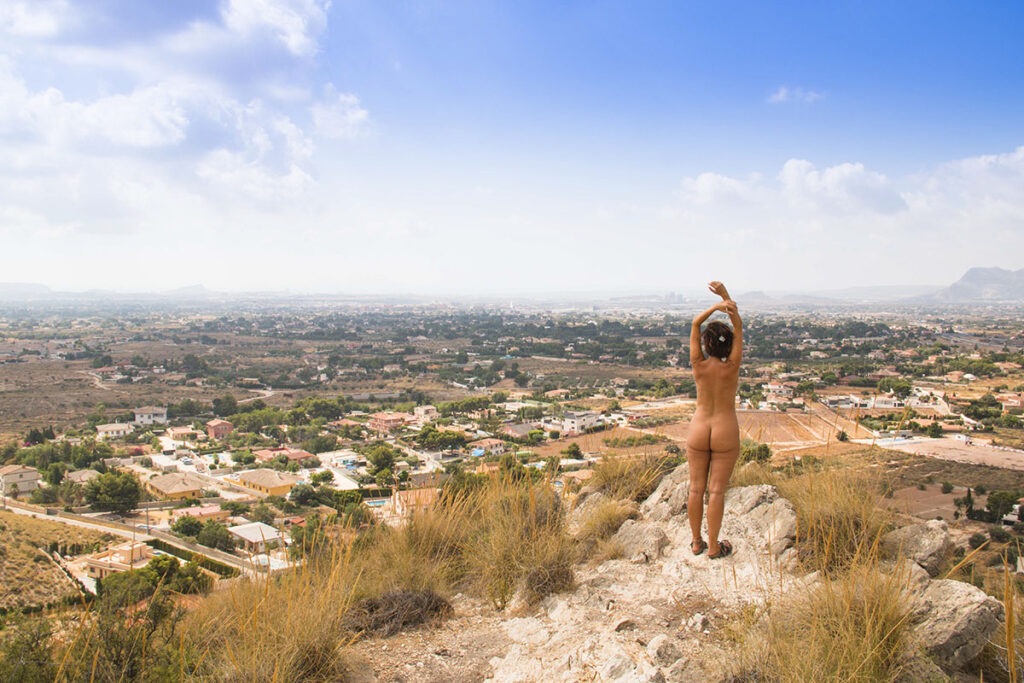 A small naturist guesthouse in the hills outside of Alicante may seem like an awkward element in this list. It won't take much more than 10 minutes to walk from one side of the resort to the other (and back if you're a fast walker). But once through the back gate, you'll get to a huge empty mountain area where few people ever come. A naked hike up the mountain is definitely a recommendation because you'll get some amazing views over the sea and the city. Once you're up, you can continue exploring the dry landscape with nothing but the warm sun on your skin.
One last place that is definitely worth a mention is campsite El Portus in Spain's Murcia province. Also here, it's not the campsite that provides naked hiking opportunities but the surrounding nature. All around El Portus is a large national park, with an abundance of hiking trails along the Mediterranean coast. If you're willing to put on your clothes for a little while, there are also a number of beautiful nude beaches to be discovered in the area.
What is your favourite place for a naked hike?
---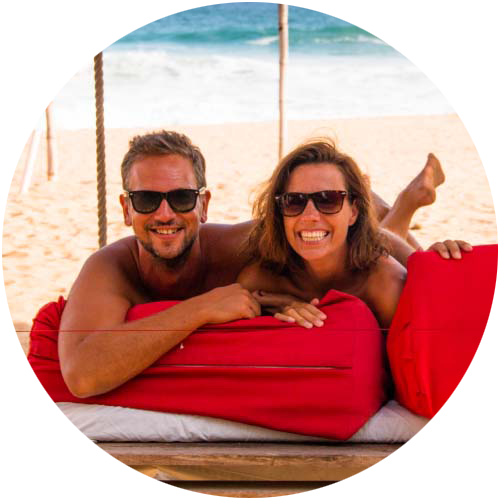 Support Naked Wanderings
Do you like what we do for naturism and naturists? Did we make you laugh or cry? Did we help you find the information you were looking for? Then definitely join our Patreon community!
---