We remember a time when, if we wanted information about something, we had to jump on our bicycles and ride to the library. Where we had to scan through the books, looking for one that may answer our questions. We had to make sure to pick the right books because the limit was 4 at a time. And we also had to reserve time for reading, because after 3 weeks the books needed to be returned. The library was the only source of "free" information. If we wanted to keep the information for a longer time, we needed to pay for copies or pay for the book or magazine itself.
The internet totally changed that concept. Suddenly, all information was free and within easy reach. Especially when the smartphone came, most of the world's knowledge is now just in our pockets. And yet, we mostly use our phones to post memes or look at cat videos, right?
Several years ago, the paywall for content made its entrance into our lives.
Patreon
and OnlyFans gave content creators a chance to earn money from their photos, blog posts, and videos. A true blessing, because before the paywall, we had to rely on advertising money. And we can tell you, finding advertisers for naturist content is all but easy.
View this post on Instagram
Subscriptions on the rise
More and more vloggers started promoting their Patreon accounts in their videos and
YouTube
quickly realised that they were missing out on something. So they started their own subscription model, called Channel Memberships. As a YouTuber, you can publish paid content next to your "free" content, which your members can access for a monthly fee.
Recently,
Twitter
also jumped on this track and allows its users to provide content behind a paywall. If… you have the blue check. We have to admit that it's quite a genius idea from Elon Musk. With the blue check, your free content will have a wider reach than that of those who don't have this check mark. But the check comes at a cost, so by providing the subscription option, content creators can earn their investment back, and even earn much more. Which will encourage them to actually use the subscription model in combination with the blue check.
View this post on Instagram
Is the paywall the future?
During the last week, three naturist accounts that we follow(ed) on YouTube disappeared.
Caro and Angy
got kicked off the platform, and so was
Slightly Crazy Vegan
, and the account of
Lavinia Naturist Resort
. All gone because apparently, they provided "sexually gratifying content". There are probably several more that we didn't hear about.
We all know that there's no sexual intent behind naturism, but we imagine that the people at YouTube believe that sexuality is in the eye of the beholder. Yes, them. YouTube is pretty much the only social medium where creators can make money from advertising. When that becomes impossible for naturist vloggers due to the ongoing witch hunt, many will be driven to platforms with paid subscriptions like Patreon and Vimeo.
View this post on Instagram
The paid content controversy
We set up a
Patreon account
at the beginning of the COVID pandemic. Our whole "business model" was based on the fact that we could travel from one place to another and when that suddenly became impossible, our financial future turned a very dark shade of red. Today, we can say with all certainty that if it weren't for the support we got on Patreon, Naked Wanderings would not exist anymore. Or maybe it still would but as a small side project next to another job.
We could have never imagined the amount of support we received via Patreon, especially given the uncertain times. But this isn't the case for every creator on a subscription platform. We've seen so many Patreon accounts that hardly get any subscribers, even though they deliver much more paid content than we do.
The reason why
our Patreon
was successful was thanks to the years before when we created free content. We managed to build a community that values our content and that wants to support us for what we do. If we had started a Patreon several years earlier, let's say a year after we started Naked Wanderings, we definitely wouldn't have gotten the support that we get today.
View this post on Instagram
Free is never free
There is this popular quote from the Netflix series The Social Dilemma that says: "If you're not paying for the product, you are the product!". While the big social media companies have beautiful slogans like "bringing the world together" or "connecting people", they really don't care about you following your friend's wedding live from the other side of the world or tracing back that long lost schoolmate. What they care about is your data, which they can sell to advertising companies for big money.
The question you want to ask yourself is: Do you want to pay with money that goes directly to the creator? Or do you prefer to pay with personal data that is being turned into money by companies that are already making billions? For us, the answer is clear… But who are we to say?
View this post on Instagram
The 100% free internet is history
As we mentioned earlier, we don't think that free content will ever go away. For the simple fact that beginning creators will need to produce free content in order to create a community that is willing to financially support them and/or buy their paid content. And also because creators like ourselves will always keep looking for an as wide as possible audience, and the only way to do so is by providing free content.
But we also believe that the internet where everything is free is history. And that this is a good thing. In the end, money is time. Subscription models allow content creators to earn money, which buys them time to create more and better content. It allows content creators to grow. And eventually, this will benefit all content on the internet, both paid and free.
---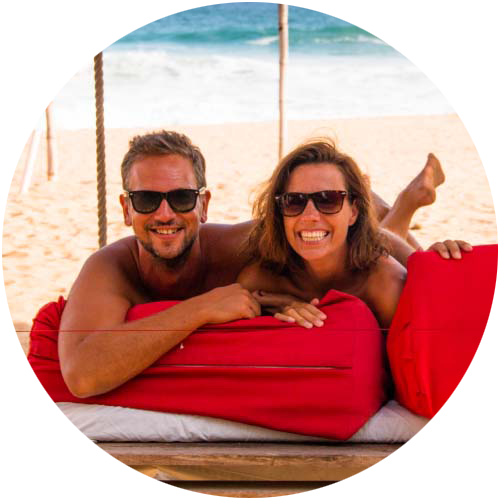 Support Naked Wanderings
Do you like what we do for naturism and naturists? Did we make you laugh or cry? Did we help you find the information you were looking for? Then definitely join our Patreon community!
---