Let's start with getting the elephant out of the room. There are some rumors going around lately that naturist campsite La Sablière will soon turn textile. Of course, if there's smoke there must be something burning. The reason for these rumors is a recent take-over of the campsite by the company Capfun. An owner who turned not al that long ago a naturist campsite into a textile one. Nevertheless, we have many reasons to believe that the same thing is not going to happen to La Sablière any time soon.
First of all, there's the monetary aspect. Nude tourism in Europe and especially in France is growing fast. Also, La Sablière feels this growth. So it wouldn't make much sense to change a business with a bright future. Then there is the location. One of the highlights of La Sablière is its river, which is shared with two other nearby naturist campsites. Nude people all around. Something that wouldn't be very much appreciated by a clothed public. And then there's the size. La Sablière has about 600 spots, which is a lot. That's a huge amount of naked customers that could be gone and somehow have to be replaced by clothed ones. A process that would take many years.
So our advice: Don't be afraid to book your next nude holiday at La Sablière, we're quite convinced that they are not going to suddenly ask you to put some clothes on.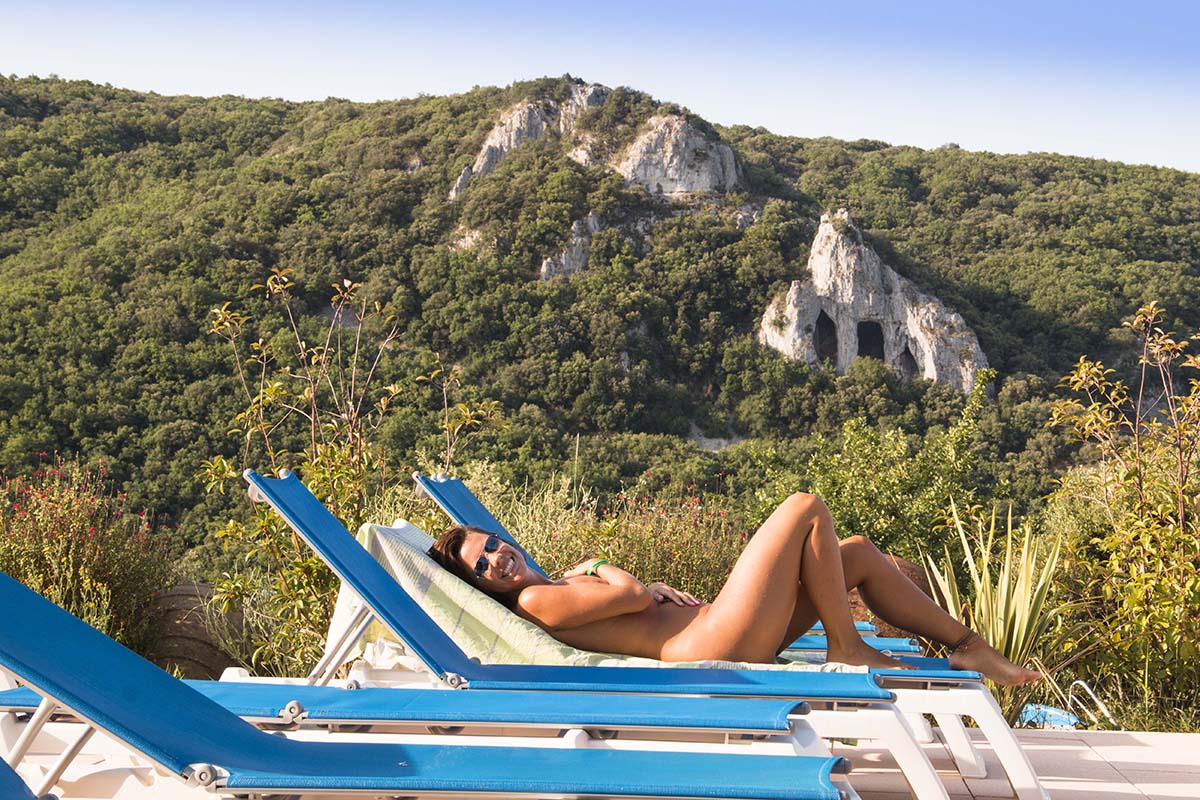 How to get to La Sablière
Although the southern French Gard region is a popular tourist destination, this is mostly by visitors who come with their own transportation. The region's capital, Nîmes, does have some great transportation options, but it pretty much stops there. If you really want to visit La Sablière by public transport you can take the TGV (high-speed train) to Avignon and from there bus number 15 to Barjac. But beware, this bus only runs twice a day so plan carefully.
From Barjac it's still a 6km walk, hitchhike, or taxi ride to La Sablière.
If you intend to fly in, the airports of Marseille Provence and Montpellier Méditerranée are definitely your best options. Coming from the UK you could also take the weekly Flybe flight from Birmingham or Southampton to Avignon. As mentioned before, it's possible to continue your trip by train and bus but we would not recommend it. To visit La Sablière and its beautiful surroundings, having a (rental) car is quite a must.
From direction Montpellier, you want to take the A9 to Nîmes from where you follow Alès and then Barjac. Coming from Marseille you take the A7 all the way to Mondagon, from where you start following direction Barjac. From anywhere in the north of France you want to get on the "route du soleil", the road of the sun (A6/A7), and get off at Bollène. Continuing your way to Barjac via the N86.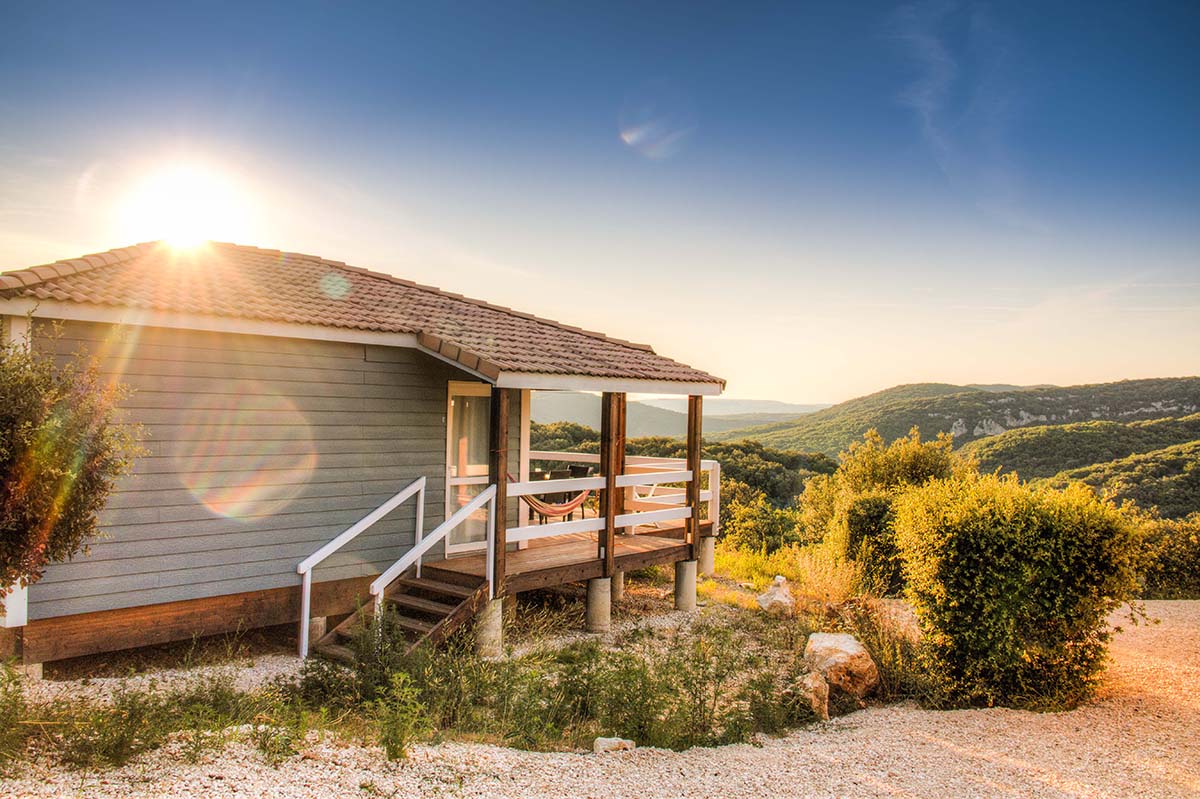 Where to stay at La Sablière
La Sablière is a hillside campground that starts all the way at the top and moves via winding roads down towards the banks of the Cèze river. If you've ever been to this type of campsite, we don't have to tell you that there's a huge variety in pitches and rentals. If you like to wake up with impressive views over the valley and the surrounding hills, the top of the campground is where you want to be. If the first thing you want to do in the morning is a refreshing skinny dip in the Cèze river, get yourself a spot at the very bottom of the campsite. And if long steep walks aren't really your thing, make sure to place yourself somewhere in the middle, where most of the facilities are.
Camping pitches are spread around the huge property of La Sablière and also if you prefer not to bring your own accommodation, the options are huge. There are 5 different types of chalets, 7 types of mobile homes, and another 5 types of rental tents. All of these differ in both size as location, so make sure to do your homework before deciding on your perfect nude holiday spot.
The Bellevue chalet in which we stayed is definitely one of the top class rental accommodations at La Sablière. Although the cheesy interior was not exactly our style, we couldn't be bothered less because we never spent any time inside except for sleeping. Our huge terrace complete with couches and sunbeds and the most impressive views was our preferred place to be.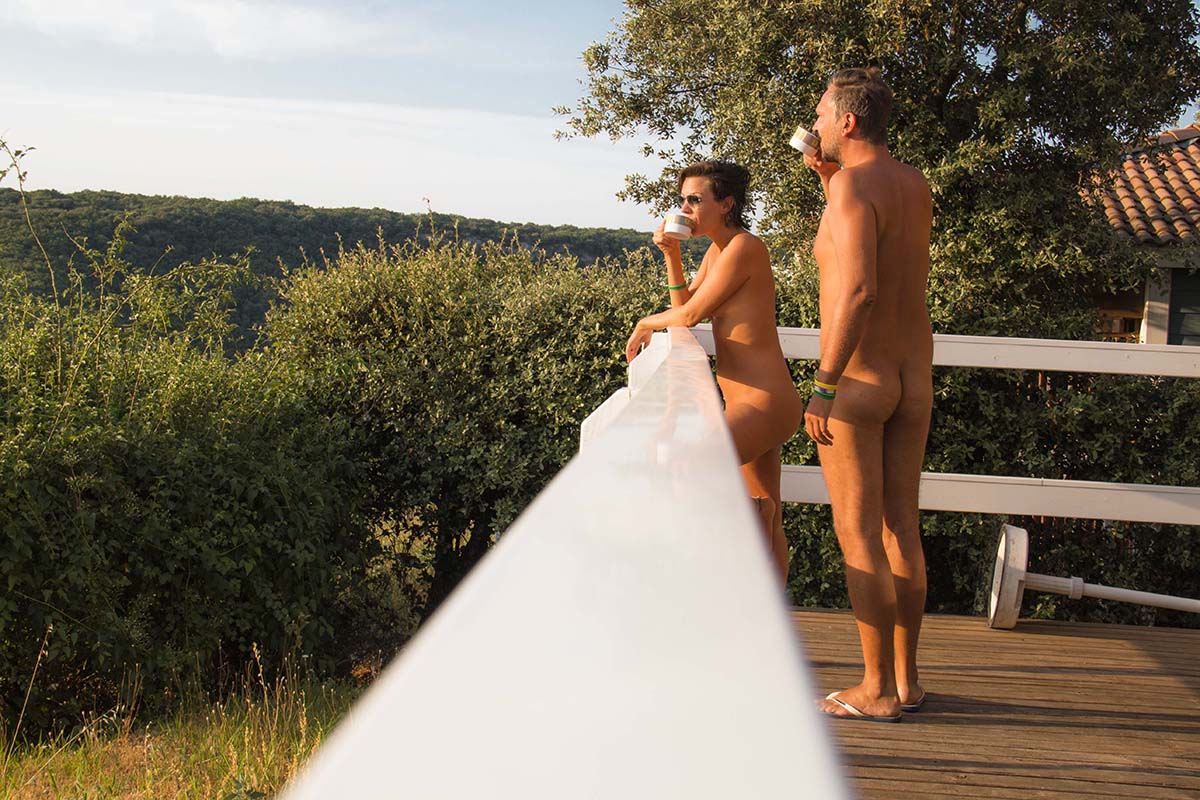 What to do at La Sablière
The advantage of staying at a large campsite like La Sablière is that it has all the facilities to keep every type of naturist busy for quite some time. Pretty much the only thing that's missing would be a beach, but then again there's a river next to which you can sunbathe and in which you can enjoy a refreshing skinny dip. Without having the burden of sand and salt on your skin afterward.
An advantage of staying at La Sablière is that it never really feels like a very large campsite. Because it's on the slope of a hill it never seems overcrowded. It rarely seems crowded at all because of all the greenery that's blocking the sight of all kinds of tents and mobile homes. The only moments when you do get a feel about the number of other visitors would be in the restaurant or the pool. But even that is only relatively speaking because there are actually three pools and three restaurants.
The pools are, other than the river, definitely a highlight of your stay at La Sablière as well. More specifically, we're talking about the infinity pool from which you have an amazing view over the whole valley and the surrounding hills. And then there are many other activities like tennis and minigolf, the shop, the pottery club, and the kids club. We're not going to write down the whole list here, we're sure that you can find out these things yourself.
In fact, the only moment when we did realize the actual size of La Sablière was when we wandered up and down the steep hill from one facility to another.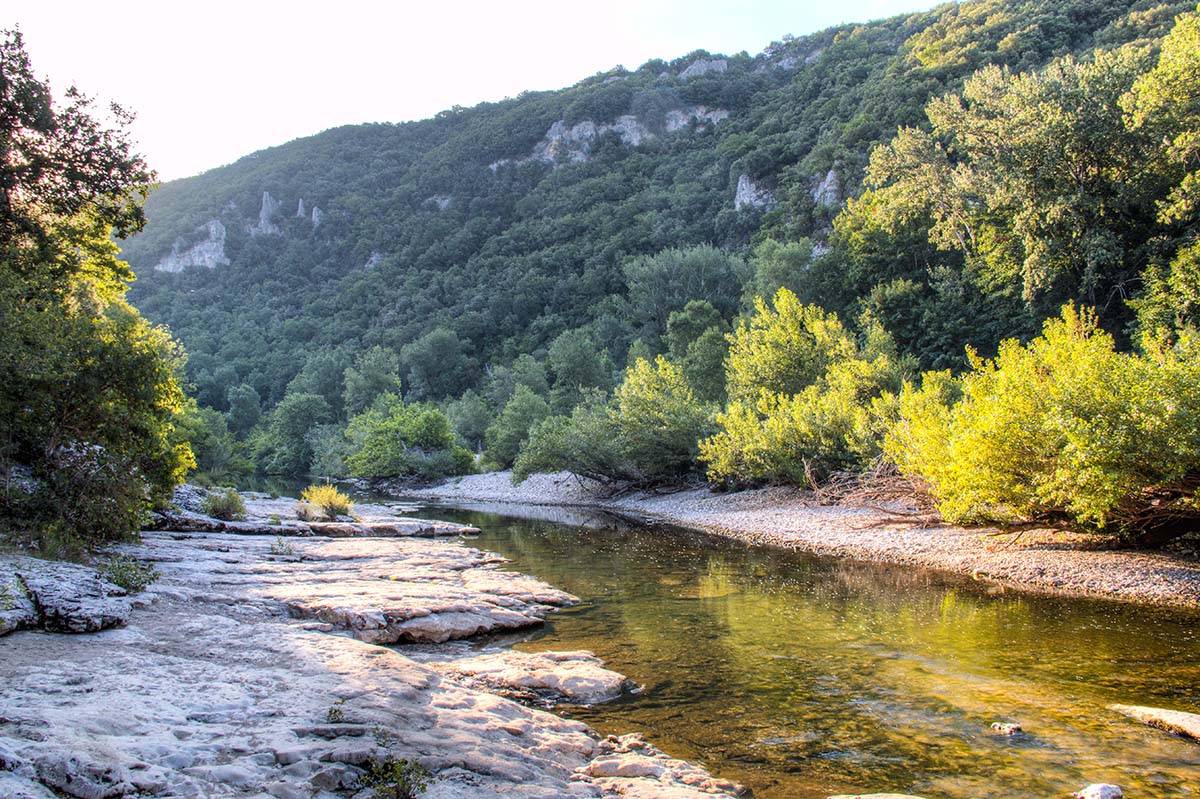 Around La Sablière
Everything that's to do at La Sablière can definitely keep you busy for a couple of days, if not weeks. But if you're a nature lover, you're up for a real treat in the region as well. Long hikes can be done in the valley of the Cèze river, you can probably do them nude as well because the chances of encountering someone are little to none. And if it would happen, it's probably a naturist as well.
Another highlight of this region is the many caves. The Grotte de la Cocalière might be the most impressive one, but the Salamander cave can be visited nude at certain dates. So do check with the reception if a naked cave visit is on your bucket list.
A river always asks for active sports and thus the options for kayaking, canoeing, and other water sports are plenty in the region. It's even possible to kayak nearby the huge Pond d'Arc, the famous ancient bridge. Other great day trips include a list of museums and churches in the nearby villages, exploring all the beauty that Cévennes has to offer, and of course the famous cities Avignon, Nîmes, Orange, or Montpellier.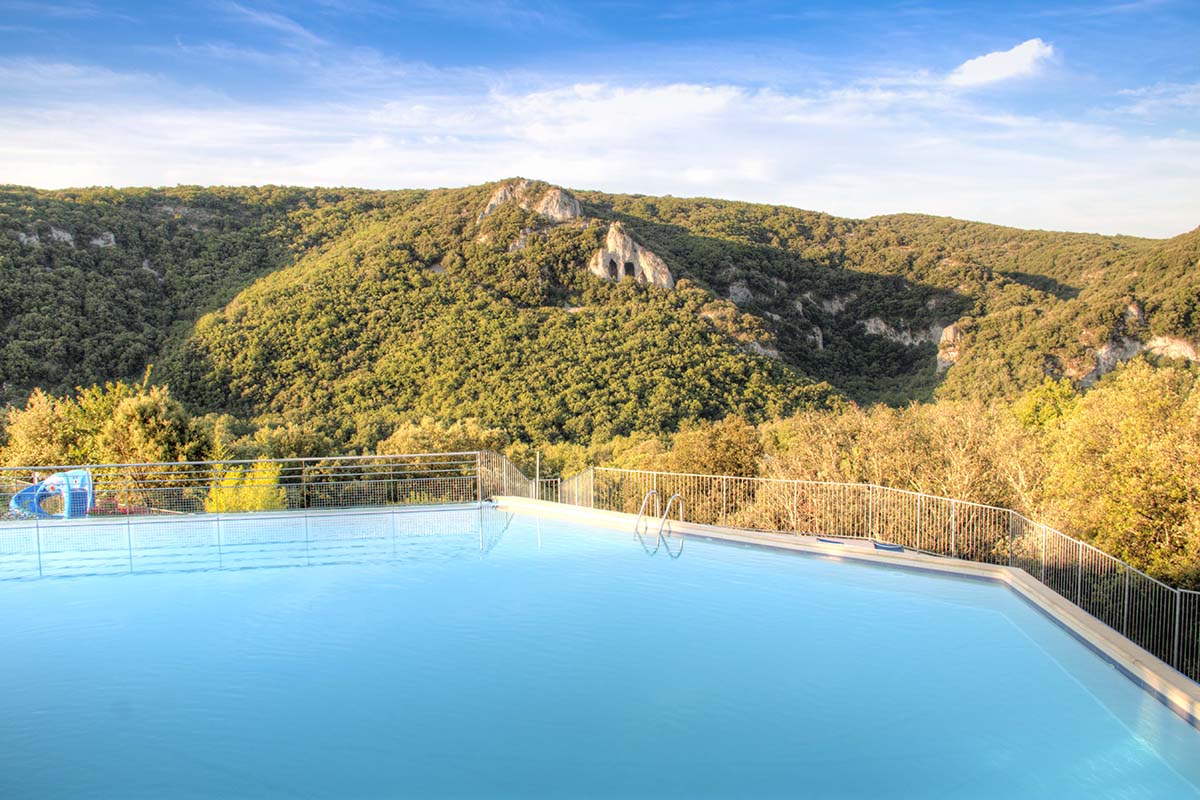 Staff of La Sablière
It would be an impossible task for us to remember the names of all the staff members running around La Sablière and making sure that all the guests have an amazing vacation. There are animators, cleaning people, waiters, chefs, security, receptionists, and who knows who else is working behind the scenes. Professional as they are, you'll only see them show up when you actually need them.
Someone who you'll often find wandering around the campsite is Gaby Cespédès, the founder, previous owner, and current manager of La Sablière. She's an important person in French naturism and an even more important one for her naturist campsite. We doubt that there's much going on which she doesn't know about.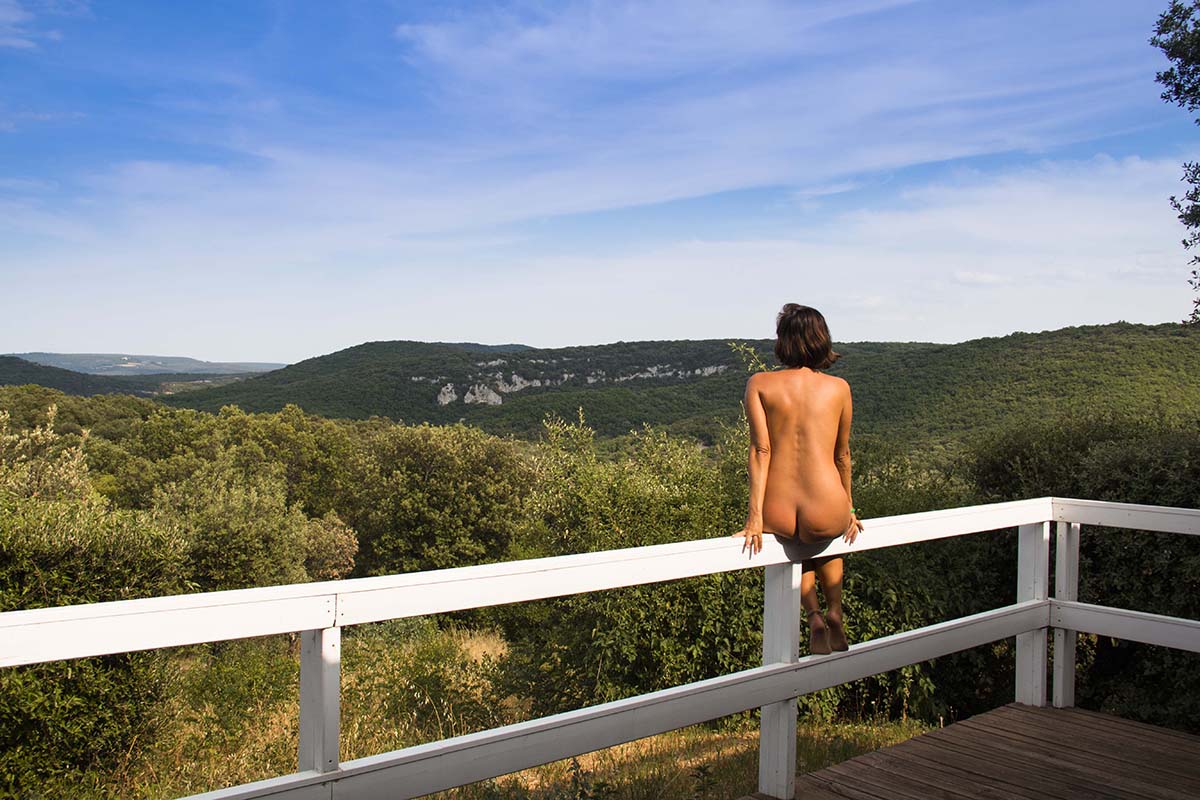 Guests at La Sablière
As in pretty much every naturist campsite in France, the majority of the visitors are either French, Dutch, or Germans who are looking for a place in the middle of nature to spend their naturist holiday. Interestingly, once Albert (one of the receptionists) started talking about nationalities some popped up which we hadn't immediately expected. The La Sablière guest book meanwhile also counts Bulgarians, Ukrainians, and Japanese. Pretty impressive!
The reasons why naturists like to visit La Sablière are mostly because of its natural location. The hills, the river, and the huge amount of green are a great source of fresh air and refresh not only the body but also the mind. Then of course are the many events and activities which typically attract families. And the romantic setting in the woods or on top of the Bellevue hill where we were staying are perfect for couples who enjoy a late-night dinner with the sunset or under the stars.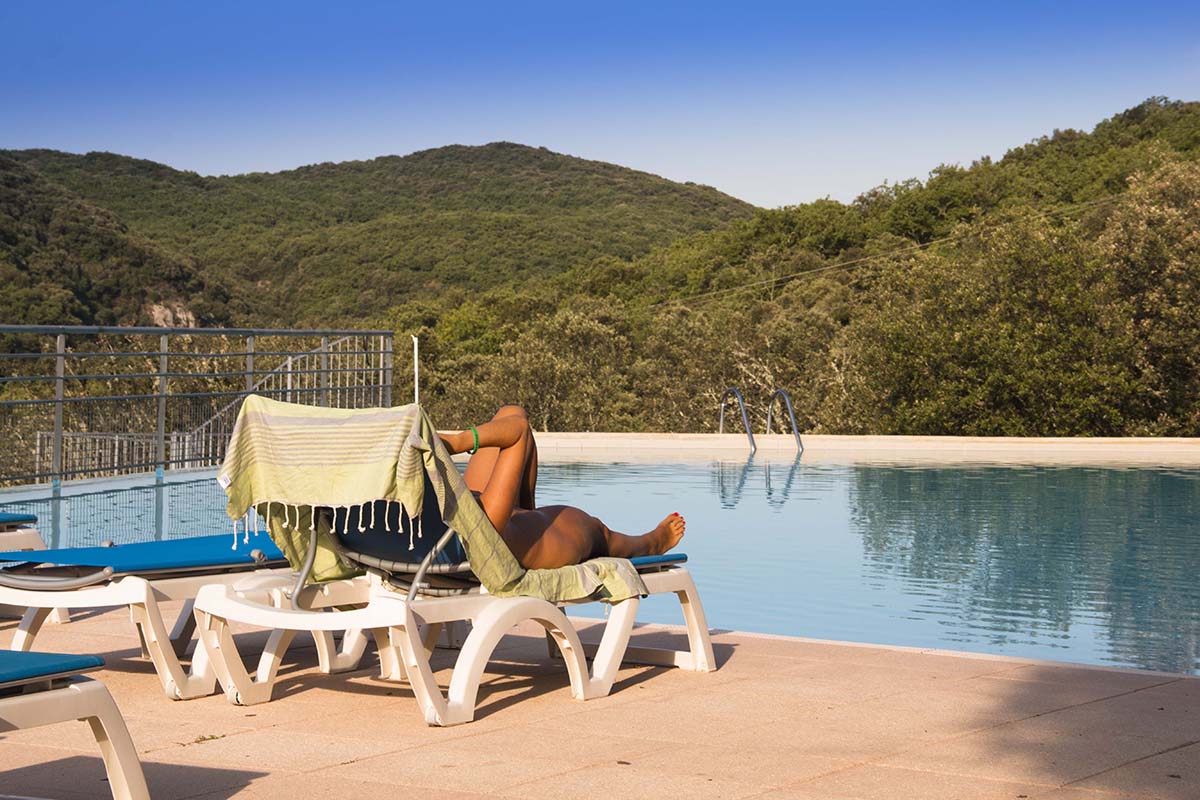 Reservations & Contact
Reservations at La Sablière are preferably made via:
✅ Website: https://www.villagesabliere.com
✅ E-mail: [email protected]
✅ Phone: +33 (0)4 66 24 51 16
It's definitely possible to communicate in French, Dutch, English, German, and even in some Spanish or Italian.
La Sablière is open from the end of March until early October.
Summary
La Sablière is a place you visit for the splendid nature, that much is sure. From the very bottom where the river meets the campsite to the top where the views are some of the most impressive of the area. Even if the many facilities would bore you after a while, we're sure that the landscape never will.
Naked Wanderings' Ultimate Guide for Naturism in France: Occitanie ebook

Are you looking for great nudist resorts and nude beaches in Occitanie?
Are you looking for the best tips for a nude vacation in Occitanie?
Then our ebook will be the perfect resource for you!

Learn More
Need help with planning your trip? Check out our Resources Page for an overview of the best companies we use during our travels
Disclaimer: We have been invited as guests of La Sablière, but of course all opinions are our own. We are super confident you will love this place as much as we did!
---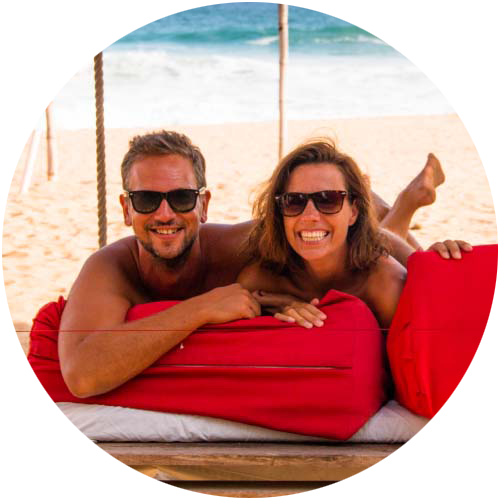 Support Naked Wanderings
Do you like what we do for naturism and naturists? Did we make you laugh or cry? Did we help you find the information you were looking for? Then definitely join our Patreon community!
---