We've lost track of how much time we have been spending in Spain during the last few years. The country has become our preferred getaway during COVID times. Especially in winter, when the temperatures in most parts of Europe drop to zero and below, the Spanish coast tends to remain very pleasant.
During our many months in Spain, we got the chance to visit plenty of nude beaches and several naturist resorts, but we recently realized that we hadn't ever visited a naturist campsite in Spain yet. That needed to change, right now. So we made our way down the coast towards Cartagena, where we would have our first experience of a Spanish naturist campsite at El Portús.
How to get to El Portús
If you're coming with your own transportation, there are three main directions to arrive from. From the north, you best take the A-7 coastal highway towards Alicante, where you switch to the AP-7 south. You'll need to get off the highway west of Cartagena and follow the directions to Canteras. As soon as you arrive in Canteras, you'll see road signs towards El Portús.
Coming from the south, you also want to be on the A-7 until Vera, where you switch to the AP-7 and get off just before you arrive in Cartagena. Also here, you want to follow the signs towards Canteras and then those to El Portús. Coming from central Spain, you can take the A-4, AP-36, A-31, and A30 from Madrid to Cartagena. Once you reach Cartagena, follow the instructions as mentioned above.
If you're arriving by air, the nearest airport to El Portús is Murcia (RMU) which has several connections to airports in Europe. A much more frequented airport is Alicante Airport (ALC) which connects to many national and international destinations. If you're arriving from outside of Europe, you'll probably have a layover in Madrid.
From Madrid, there is a direct train going to Cartagena. If you want to take public transport from a coastal city, it's probably better to take a bus. There is a bus stop right outside of El Portús, but we are not sure if it's still used or how frequently there are local buses. We would advise you to take a taxi for the last lap from Cartagena or to rent a car so you can explore some of the beautiful surroundings.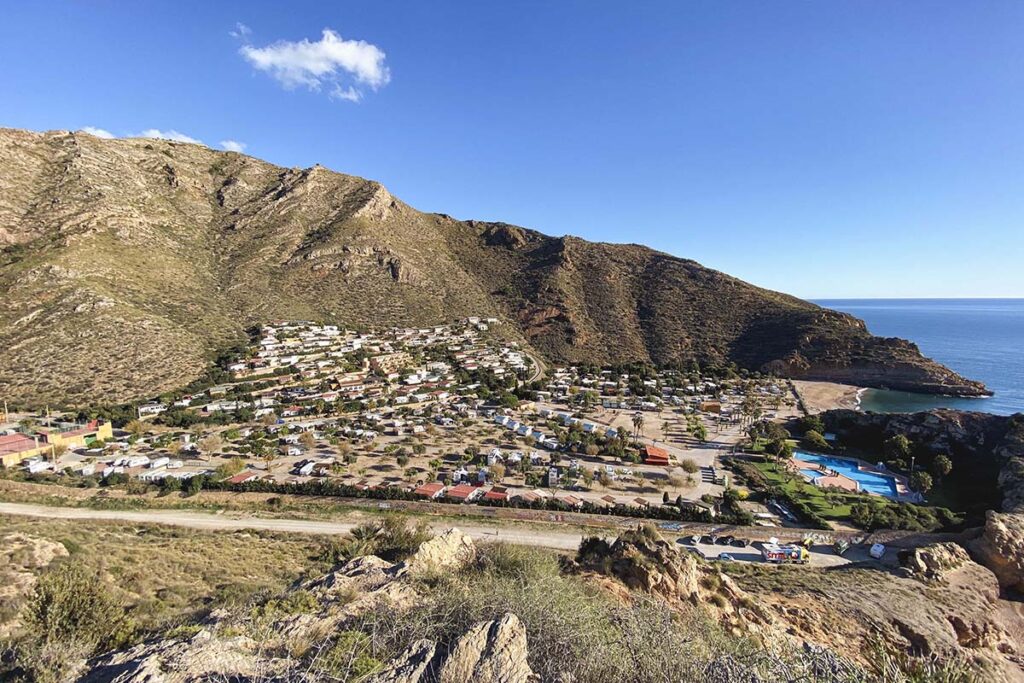 Where to stay at El Portús
To be honest, we weren't absolutely sure if we should visit El Portús at this moment. It was late December, mind you. Although we were planning to stay in a rental studio in the "Hacienda Montalvo", the resort is still mainly a campsite and we feared that we might end up in a pretty desolate place. Luckily, we did decide to go, because El Portús appeared to be all but desolate.
We were surprised about how full the campsite was, even though it was winter and travel was still not what it was before the pandemic. We soon learned that El Portús is actually a popular winter camping destination in Spain. Much of this has to do with the fact that the resort is located in a bay surrounded by mountains, so there is a kind of microclimate created by the sunshine and the lack of wind.
You can basically divide El Portús into two parts. The flat part at the coast is the camping part where you can also find a number of rental bungalows. On the hillside terraces are the mobile homes of which some are for rent and others are privately owned. Right in the center of the hillside is the prominent Hacienda Montalvo that has 15 rental studios.
We stayed in one of the studios of the Hacienda, which had a large bed, a living room, a fully equipped kitchen, and a private bathroom. The part we probably liked the most about our studio was the large terrace that had sunshine from as soon as the sun rose over the mountains in the morning until the moment when the sunset again. All this time, we would have amazing views over the campsite and the bay. We spent a lot of time (and several bottles of wine) on this terrace, we can tell you that.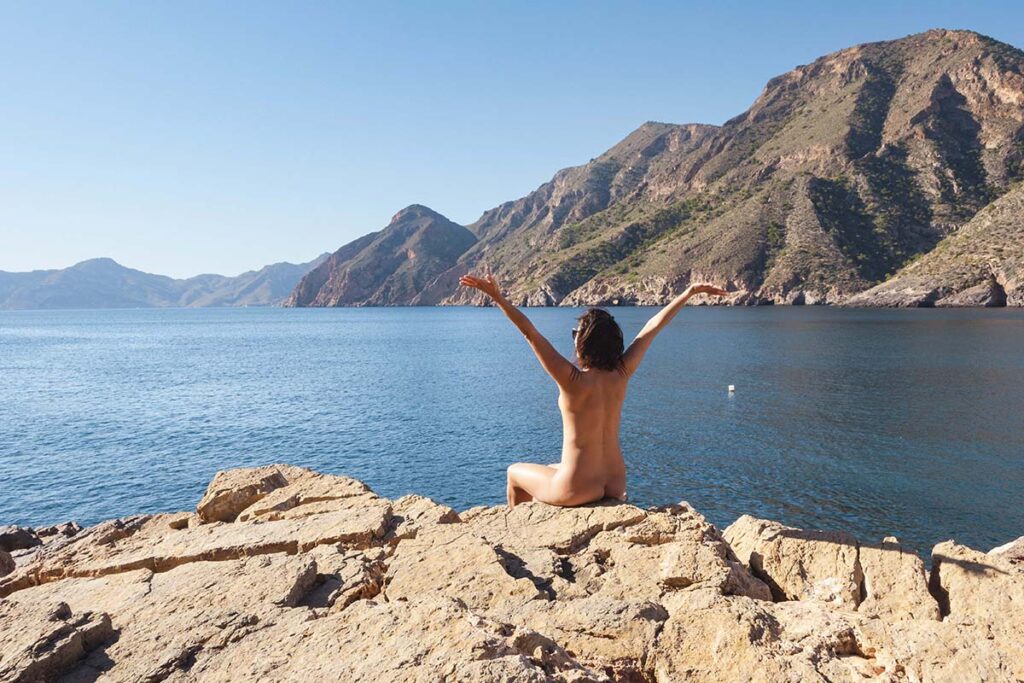 What to do at El Portús
The main highlight of El Portús is of course its nude beach which is partly pebbles and partly sand. During the warm afternoons, this is where we got a grasp of how many people were actually staying at the campsite. The beach is ideal for sunbathing and socializing. The water of the Mediterranean was a bit chilly, but that didn't stop many people to have an occasional skinny dip. We imagine that the sea is really the place to be in the hot summer months.
If you don't like the salty seawater, there are two swimming pools that open seasonally. From June to September, you can enjoy the large outdoor pool and during the other months, there is the indoor pool. So there will always be an option for you to swim or refresh. For a more intense water experience, the spa center will be your place to be.
Other facilities include petanque, tennis, and paddle courts, a restaurant, and a shop. What we liked very much is that (except for the outdoor pool), all facilities remain open year-round. So no matter when you visit El Portús, you'll always have the chance to do some sports, have dinner, and do your groceries without having to leave the domain (read: without having to put on clothes).
Video Tour
Around El Portús
El Portús is located inside the Sierra de la Muela natural park, so there's nature all around. Something very refreshing after driving along the overbuilt Spanish coast. Obviously, this is a paradise if you like hiking and cycling. There are many trails nearby that will bring you past coastal nature, ruins, and viewing points.
If you're more into architecture, culture, or cuisine, downtown Cartagena is just a 15-minute drive away. Here you'll find a mixture of historical and contemporary architecture and several museums that will take you through the history of the region.
A day trip to the Playas de Calblanque is also worth a spot on your itinerary. Calblanque is a large coastal natural park with salt lakes and wonderful sandy beaches. The main beach of Calblanque is naturist, but we imagine that it's perfectly possible to get naked on all the other beaches as well.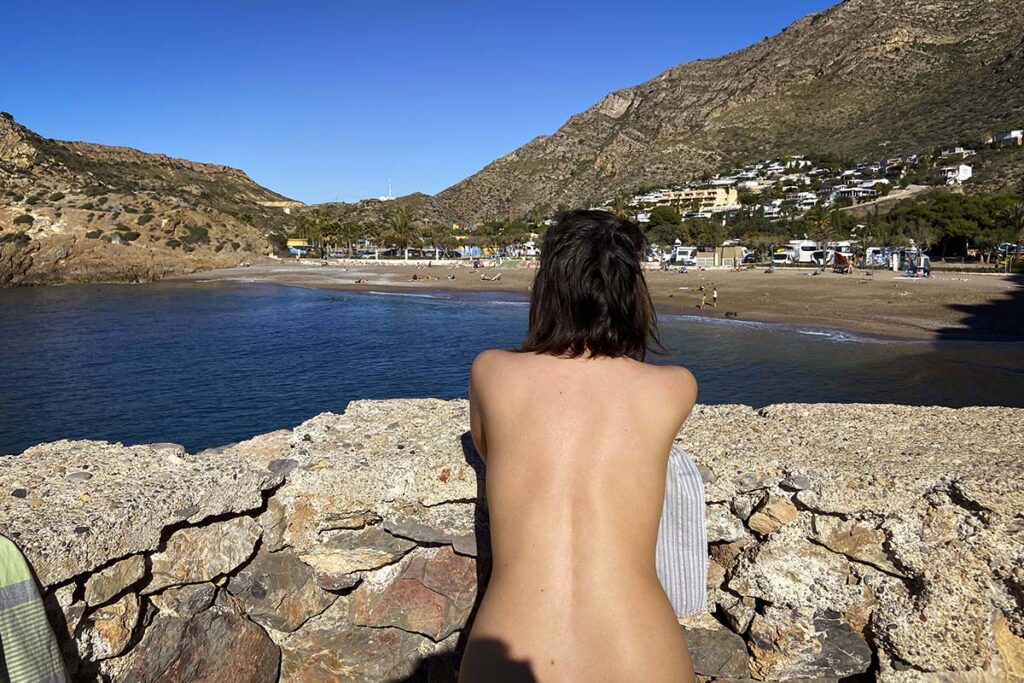 Staff of El Portús
As the resort is open year-round, there are always a number of staff members at work. We didn't have many social interactions with them, so we can't tell you all that much about the staff except that they always greeted us with a smile and a "hola" whenever we ran into them.
Guests at El Portús
Because we visited El Portús during the winter, most of the other visitors were snowbirds escaping the cold in their home country. Especially the Dutch, Germans, and Belgians seemed to be well represented.
During the weekend, several Spanish couples and families joined this already diverse group for a naked weekend getaway.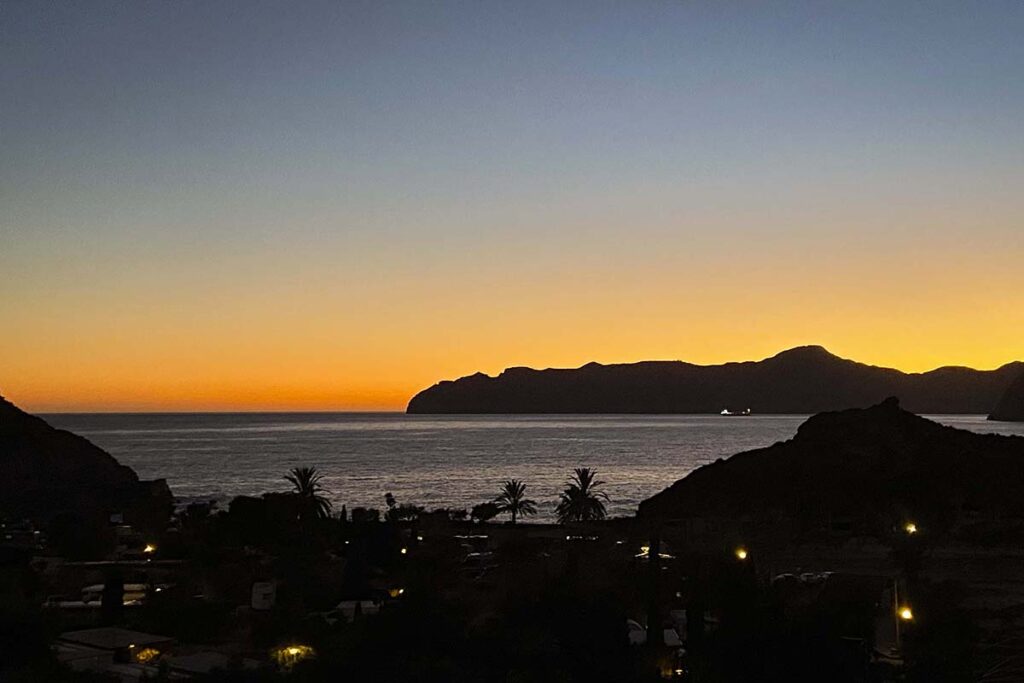 Reservations & Contact
We recommend making a reservation if you want to camp during the high season, and all year round if you prefer to stay in rental accommodation.
You can do this via:
Languages: English and Spanish are fluently spoken.
Summary
El Portús proved to be the perfect choice for our first Spanish naturist campsite experience. Even in the middle of the winter, we found a great atmosphere, great facilities, and most of all, great weather.
---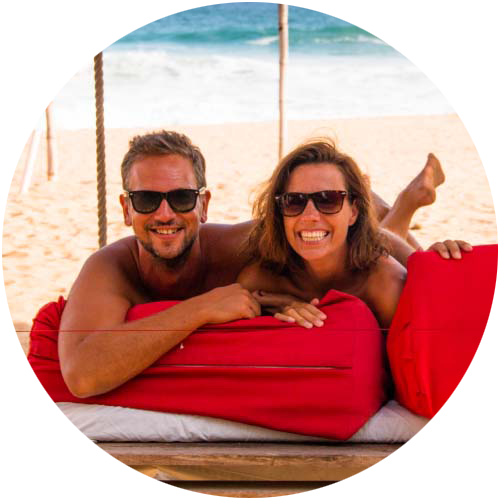 Support Naked Wanderings
Do you like what we do for naturism and naturists? Did we make you laugh or cry? Did we help you find the information you were looking for? Then definitely join our Patreon community!
---