The term "naturist village" is being used quite loosely and most often it refers to a resort rather than to an actual village. It's not a patented term and there are no prerequisites to meet. If you want to call your back garden a naturist village, you are free to do so. But there are few places that are actual villages where one can just be nude. The ones that do exist are often fenced-off parts of a town or recently built urbanization.
Charco del Palo is one of the few places that come close to a "real" naturist village. It is, of course, mostly a vacation destination, but it doesn't feel as if you're walking inside a hotel. The architecture and amenities make it seem as if you're in any of the other coastal towns of Lanzarote, except that in this one you can walk the streets without clothes.
How to get to Charco del Palo
In case you're not familiar with the Canary Islands, this island group is a part of Spain but is located somewhere halfway up the Atlantic coastline of Morocco. So it goes without saying that the easiest way to reach the islands is via the air. Lanzarote has an international airport that connects to numerous cities on the European mainland. There are several low-cost airlines serving the airport, which makes flying also the cheapest option.
In case you prefer not to fly, there is also the option to come by ferry. At the time of writing, there are two weekly ferries from Spain to Lanzarote, one leaving from Cadiz and the other one from Huelva. Keep in mind that this trip takes about 30 hours and is very expensive.
There is a local bus network on Lanzarote, but since most of the nicest spots to visit on the island are often not near a bus stop, most visitors prefer to rent a car. There are plenty of car rental offices at the airport, competing in prices and often offering very good deals. Also important to mention is that Lanzarote is a tax-free island, so the prices of gas are much cheaper than on the European mainland.
To get from the airport to Charco del Palo, you follow the main LZ-1 road north. Get off at the Cepsa gas station and follow the signs towards the Jardin de Cactus. Take a right just before the center of Mala. Road signs will then lead the way into Charco del Palo village.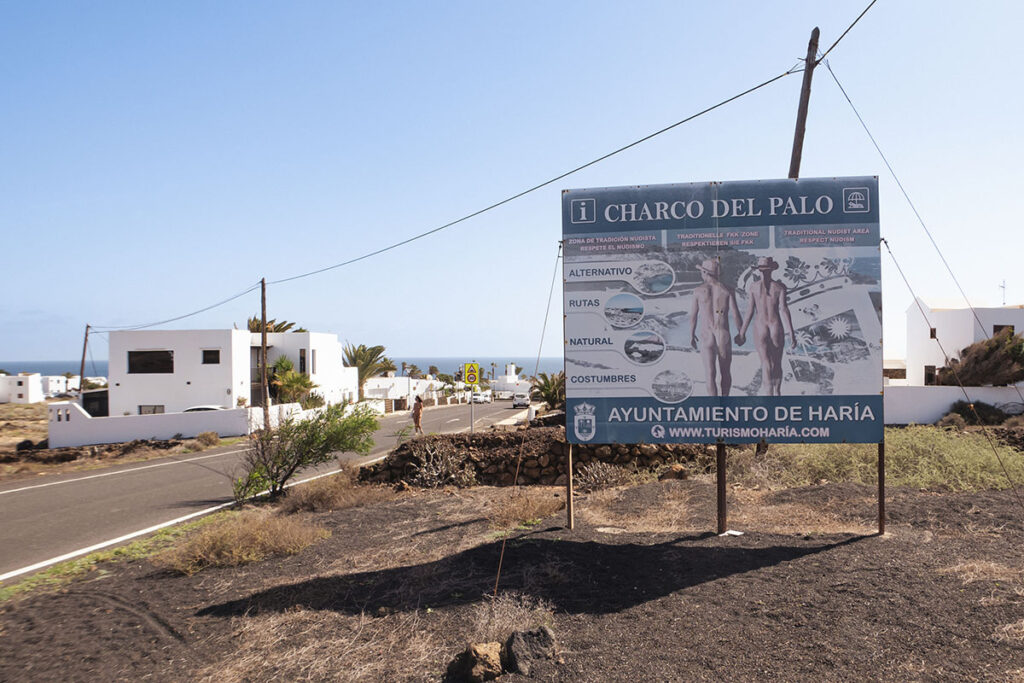 Where to stay at Charco del Palo
Charco del Palo is divided into several urbanizations, which are all under different management. Several of the living units are privately owned and often privately rented out. So it can get tricky to make sure that you found a decent place.
A good option, and the one we chose, is to go with a trusted company. That's how we ended up in the Las Piteras urbanization, where the apartments and studios are all owned by the same company and are rented out to tourists. You'll find several different types of apartments and studios at Las Piteras, we had one of the seafront studios which are literally right on the beach.
Our studio came with a bedroom slash living room, a fully equipped kitchen, and a large bathroom. More than what we needed for just a couple of days. But the best part is of course the seafront terrace from where we spent endless hours just watching over the calm Atlantic Ocean.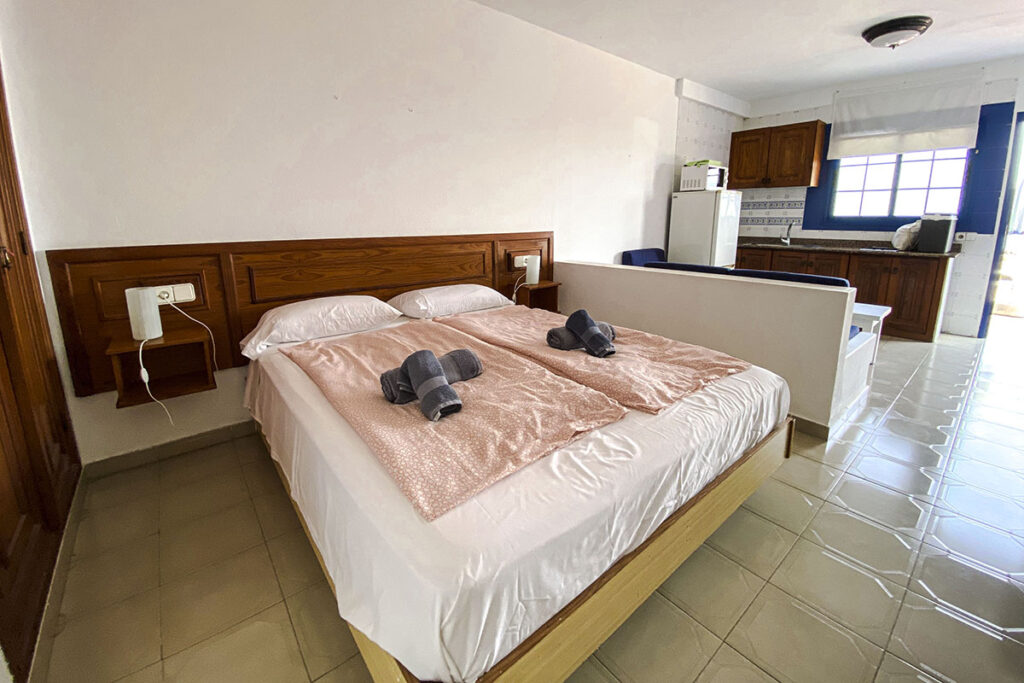 What to do at Charco del Palo
Our friends Paulo and Linde who run
a naturist campsite in Italy
during the summer months have been spending their winters in Charco del Palo for the last several years. They tell us that this is just the perfect place to shift a couple of gears back from everyday life. A place where you sleep as long as you want, have breakfast until noon and spend hours reading a book at the coast. We totally get it. The warm climate of Lanzarote invites you to do just that.
The biggest attraction of Charco del Palo is its Atlantic coastline. We don't want to say "beach" because it's not a sandy beach unlike most other beaches on the island. Instead, it's a rocky coast with several natural pools and swimming holes. The Las Piteras urbanization also has a swimming pool and a petanque court, we're not sure if this is the case as well for other urbanization.
There are two restaurants in town as well as a bar and a commercial center with a shop. The shop and the restaurants do require you to put clothes on (clothes in a shop in a naturist village? We know… We don't have an explanation either. But a sarong does the trick though). Since everything is right there, there's technically no need to ever leave Charco del Palo. But we do recommend you do so because the surroundings are stunning!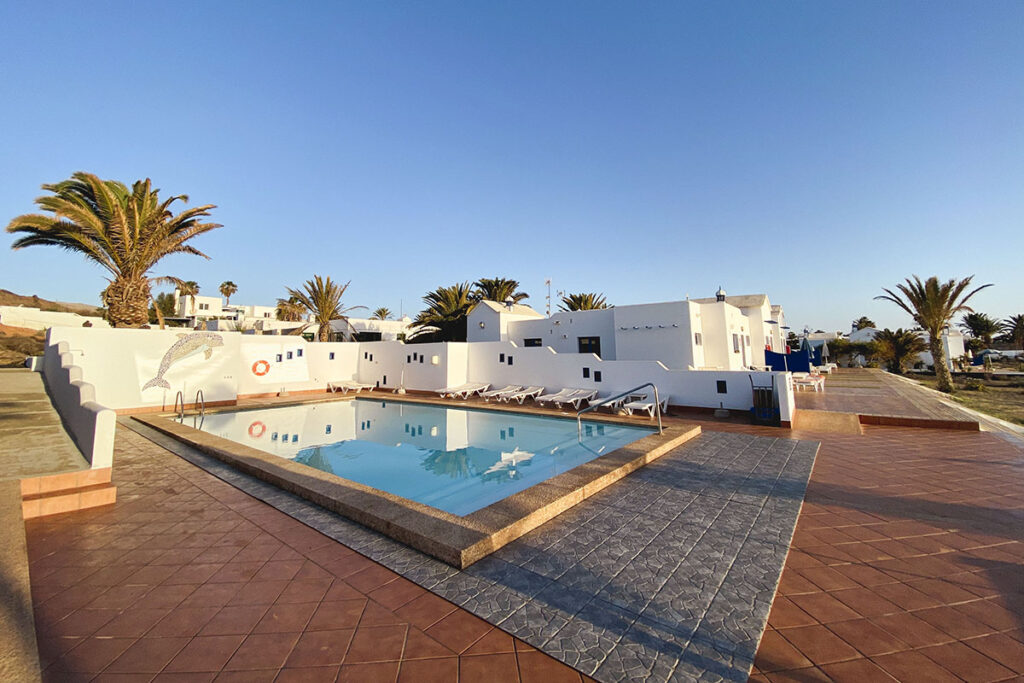 Around Charco del Palo
Lanzarote is a volcanic island, so don't expect to see a lot of greenery. In fact, in several parts, you might feel as if you're on Mars instead of on earth. But that doesn't mean that there isn't much to do. Among the highlights of the island are the beaches. Unlike at Charco del Palo, there are quite a lot of long, sandy beaches to be found. It's legal to be naked on every beach in Lanzarote, but Famara beach, Janubio beach, and the Papagayo beaches are specifically known to be popular among naturists.
Another highlight is the Timanfaya national park, where you can have endless hikes among the volcanoes and where you'll find mountains in pretty spectacular colors. Just south of the park is a town called El Golfo, known for its lagoon. What is quite spectacular too is that Lanzarote has a wine region. Apparently, the volcanic ground works pretty well to cultivate grapes and the walls that are built to protect the plants from the winds are once again a unique sight. And, of course, there are several bodegas where you can taste the wines.
There are so many things to do on Lanzarote, so we're sticking to our personal favorites here. The last thing we want to mention is La Graciosa island. It's a small island just north of Lanzarote, that you can visit via a 30-minute ferry ride from Órzola. You are not allowed to take motorized transportation to La Graciosa, so once you're there you'll either have to rent a bicycle or explore the island on foot. We definitely recommend getting to the other side of the island, to Playa de las Conchas, which is a spectacular nude beach.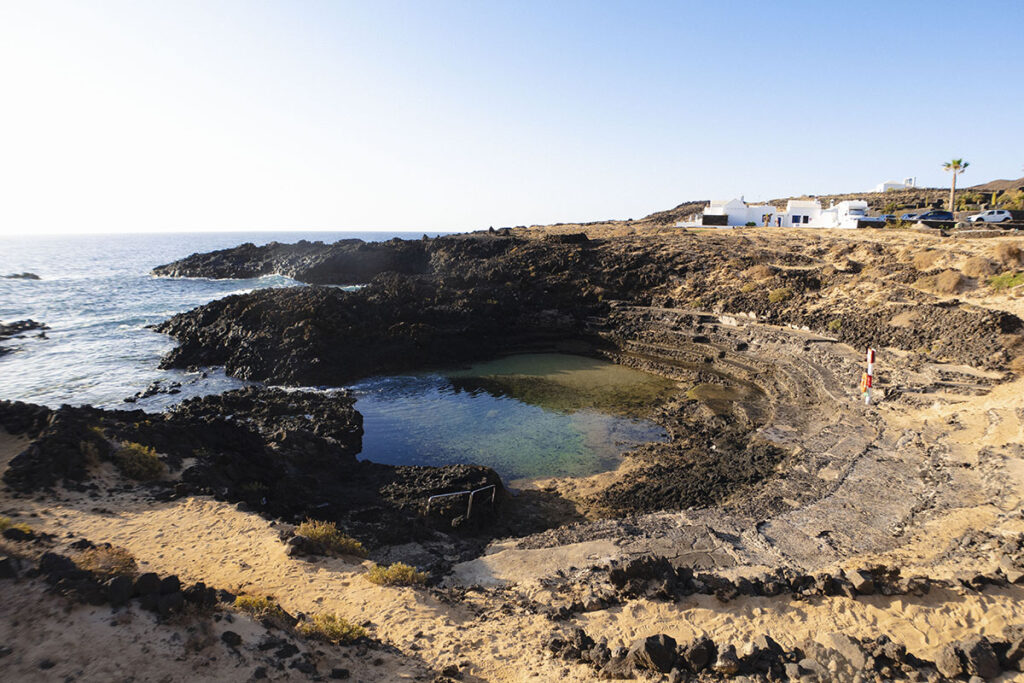 Staff & Guests of Charco del Palo
We decided to put the "Guests" and "Staff" parts of this review together because we didn't have all that many encounters with staff members. When we arrived in Charco del Palo, there was the friendly lady from Las Piteras who showed us the apartment and gave us a bunch of information about the town. And then there was the shop owner with whom we regularly exchanged some friendly hellos and goodbyes, but that was about it.
When it comes to the guests, it appeared to us that many were staying at Charco del Palo for longer periods. Often several months. We can't blame them, if you're looking for nice naturist weather during the winter months, this is definitely one of Europe's best options. There was also quite a mix of nationalities. Our neighbors were fellow Belgians, and we heard a lot of British, Dutch, and German as well.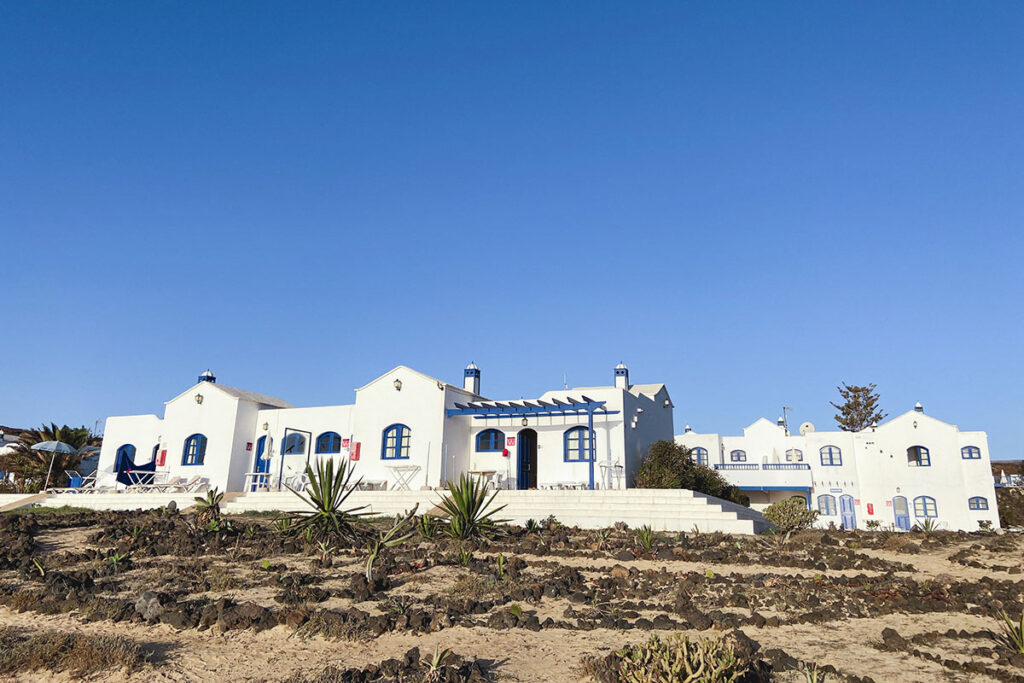 Book at Las Piteras
Apartments and studios at Las Piteras can be booked directly via
Summary
There are quite some reasons why you should consider a naturist vacation at Charco del Palo. Having a great winter escape is certainly one of them. But also to relax, enjoy the sun, and explore the wonderful island. And, of course, to have the experience of being in a real naturist village.
---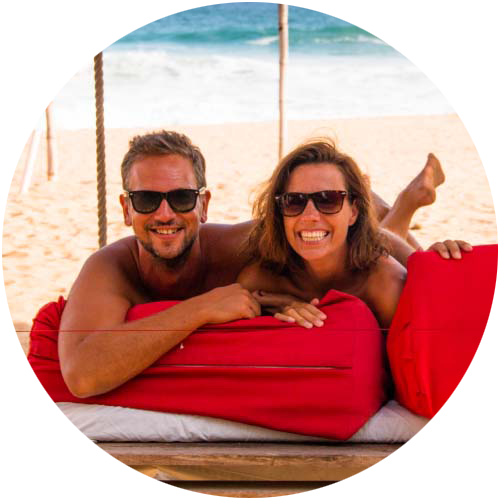 Support Naked Wanderings
Do you like what we do for naturism and naturists? Did we make you laugh or cry? Did we help you find the information you were looking for? Then definitely join our Patreon community!
---