Naturism in Spain has known its ups and downs over the years. Quite honestly, we had our doubts when we were planning this
Big Nude European Trip
. Which region should we pick? Which type of accommodation should we aim for? Should we go to Spain at all? The news that a new naturist place, Lavinia Naturist Resort, would soon be opening in the Alicante area drew us over the line. Their first photos looked very promising and we just had to see this with our own eyes. Are we glad that we decided to go!
How to get to Lavinia Naturist Resort
A big advantage of traveling to the Alicante region is that it's such an easy place to get to. The local airport is the fifth busiest one in Spain and has connections to all over Europe and to many national airports as well. There's a variety in car rental offices at the airport or if you're planning to spend most of your time inside Lavinia Naturist Resort, you could definitely take advantage of their airport shuttle service as well.
The local train station (RENFE) is a good option if you're coming from within the country. There are several regional connections to Valencia and Murcia for example. As well as long-distance trains to Madrid and Barcelona.
Both from the train station as the airport it's about a 20-minute drive to Lavinia Naturist Resort.
If you're coming by car, Alicante is the destination you want to follow for most of your trip. Once on the A70 in Alicante, you want to switch to the A77 and soon after take exit Vicent del Raspeig.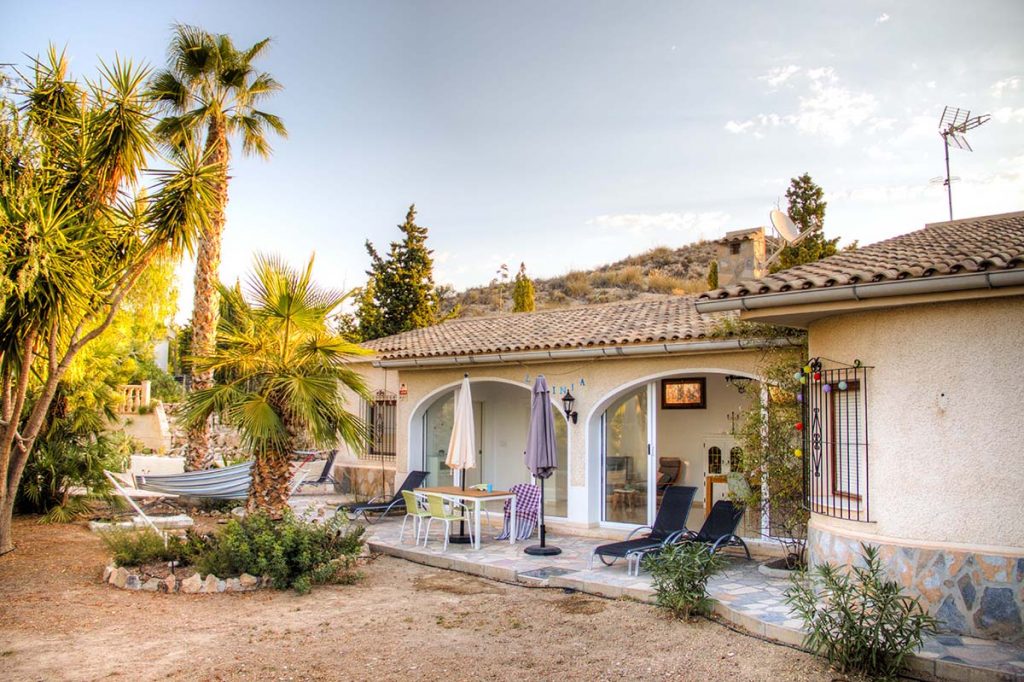 Where to stay at Lavinia Naturist Resort
When the blueprint of Lavinia was drawn, the owners decided to move away from the main idea of the general naturist businesses. Their concept was going to be better. Or rather, they were going to take the best of everything. The result is a complex of four fully equipped private villas, but with the personal care of a bed and breakfast. Add the community feeling of a naturist club to the recipe and you get an idea of how things run at Lavinia.
Of course, the choice is yours. And you can pick from the offer whatever you find important for your naturist vacation. Comfort-wise, you're definitely in for a treat. All villas are large and spacious and (important for those traveling in high season) have great air conditioning. The kitchen is fully equipped and your personal terrace provides you with the necessary privacy. What we liked very much about the villas is that they are completely in authentic style but do have many modern accents.
What definitely also improved our comfort quite a lot was that 14 days before our arrival we received an e-mail with lots of important information. Check-in times, the best way to get there, an overview of the services, and a shopping list. Indeed, a shopping list. We didn't have to think about stopping at a supermarket on our way from the airport to Lavinia. We didn't have to worry about whether they would have a decently filled bar (which they do, by the way). When we arrived there was a cold bottle of wine, a cold bottle of water, and some cold cokes in our fridge. Just like we ordered.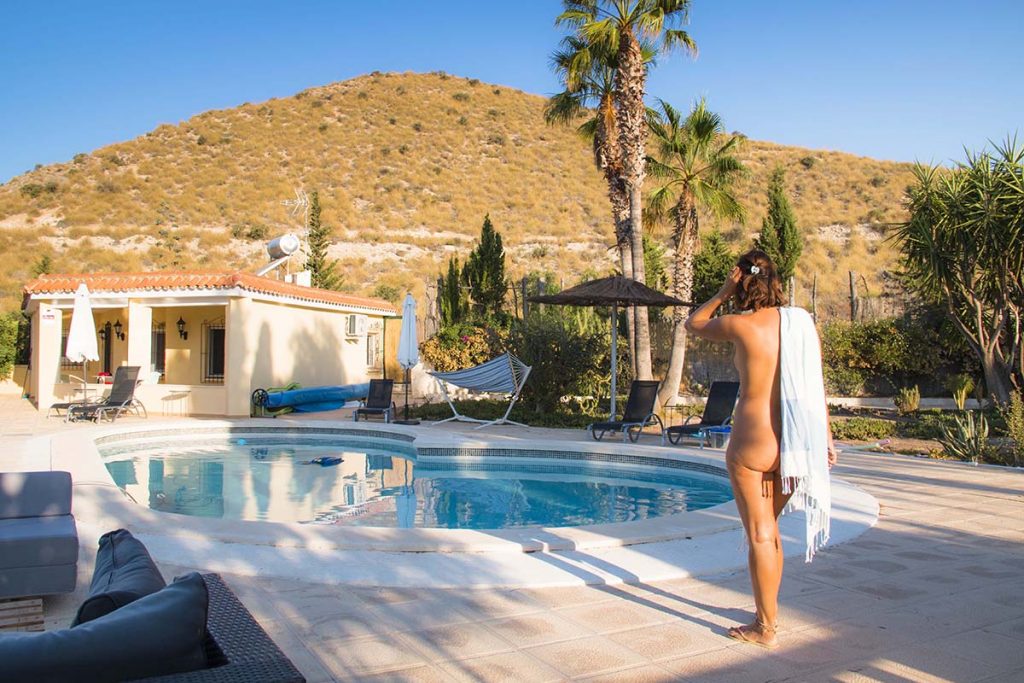 What to do at Lavinia Naturist Resort
This is where the "naturist club feeling" comes into play. Even though you have a large amount of privacy, there are also lots of opportunities to meet other guests. Every other day or so there's something going on. We're pretty sure that the "live cooking" sessions will become legendary anytime soon. Those are communal dinners that are cooked on the spot. Of course with a local touch. Barbecue, tapas nights or paella… The things Spain is famous for.
One thing we leave out of this review on purpose is the history of Lavinia Naturist Resort, but we only do so because we want Annemie and Wim (the owners of Lavinia) to tell the story themselves. Which they do now and then, complete with a fun photo presentation and a welcome drink. It's a wonderful story, we can tell you that.
Other than bringing people together and creating a foundation for discussions until way after bedtime, Annemie and Wim provide all the necessary facilities for a great naturist vacation in Spain. Two swimming pools for example. That's one pool for every two villas. An open-air cinema for the hot summer nights and a sauna for the chilly winter nights. An honesty bar where you can easily get your refills. Ice cream while you're baking next to the pool. The personal care we mentioned earlier is never far away.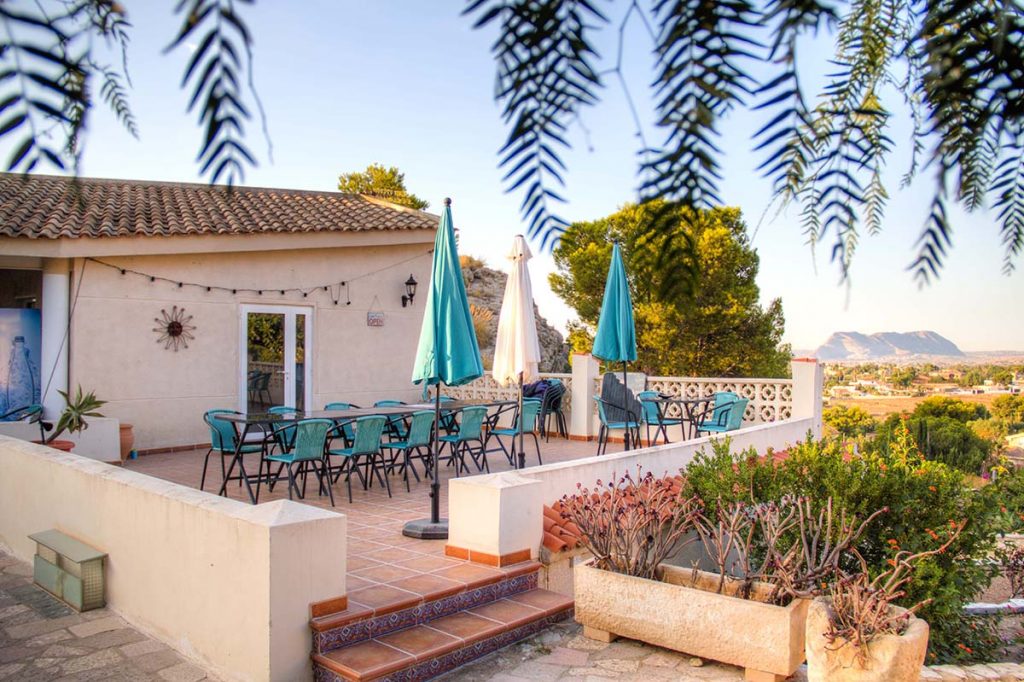 Around Lavinia Naturist Resort
For many tourists, Alicante airport just rings one bell. It's the gateway to the beach town Benidorm. Luckily, you'll be one of the lucky few who go in another direction once you arrive. This is very personal of course and we do advise you to spend one afternoon in Benidorm when you're at Lavinia. By the time you return you'll be soooooo happy that you're a naturist!
Anyway, other than Benidorm, the Alicante region is actually quite a nice place to visit. Villa Jojosa for example is also worth another afternoon of your time. When it comes to Alicante itself, some love it and some think that there's not much to do. It's a rather new city but there's some great shopping and walking on the boulevard.
The main highlight of your visit to this region should definitely be the beaches. And more specifically, the nude beaches. Which are plenty. Since there's no law in Spain against public nudity, technically you're allowed to be naked at all beaches. Until someone complains. But we would recommend you to only get naked at the nude beaches. At least at the unofficial ones. During our stay at Lavinia, we visited Platja Barranc d'Aigües ( a pebble beach ), Cala de Cantelars (huge flat rocks, great during the day time but we hear about indecent behavior after 6 pm), and Los Saladares. This last one is a huge sandy beach with lots of visitors but has an airplane flying over every 5 minutes or so.
Very close to Lavinia you'll find lots of options for mountain biking and hiking. Especially the hill just behind the resort is perfect for a naked walk. Remember that public nudity is not an offense in Spain? This counts everywhere. Because the chances of encountering (and offending) anyone are so low, you can have great nude hikes with beautiful views just outside of Lavinia Naturist Resort's gate.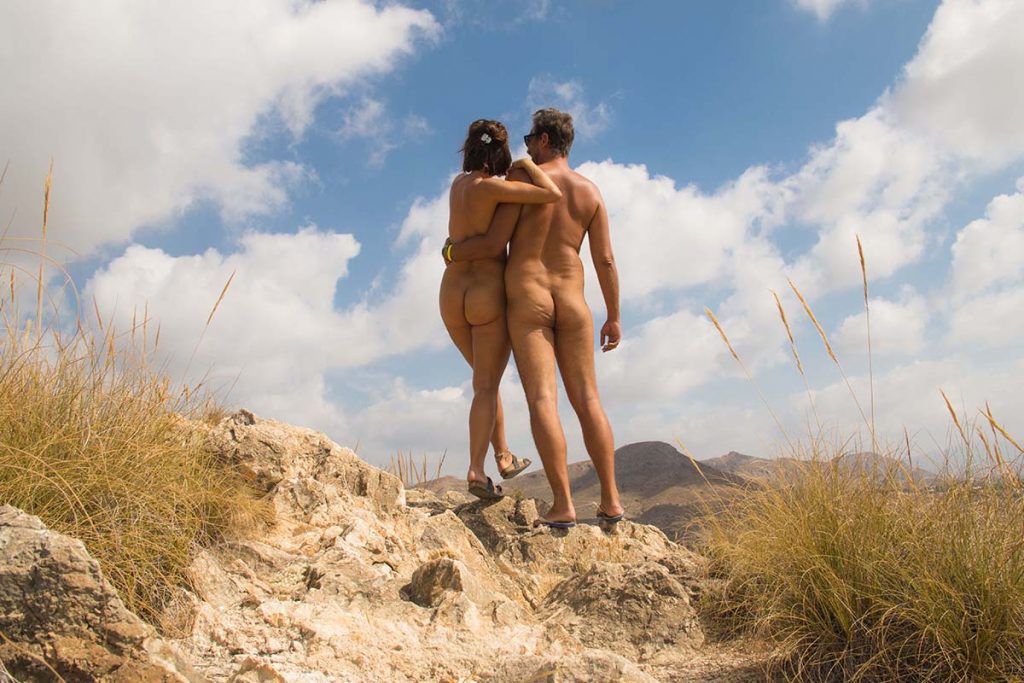 Staff of Lavinia Naturist Resort
Here comes another highlight of Lavinia. Annemie and Wim. And we're not just saying this because they are fellow Belgians. Even though they had just opened Lavinia Naturist Resorts a couple of months before our visit and they had no previous experience in the naturist travel business, it felt like they had been doing this for many years. All the details were taken care of (like the grocery list we mentioned before). The timing was perfect (letting us unpack before explaining the whole coming and going of the place). And their hospitality is legendary.
So is their story, by the way, but we've mentioned before that it's not ours to tell. What we can give away is that they have a natural feel for how to treat people well, how to understand people's needs, how to feel when people need company, and equally when they want to be left alone. They can be your perfect hosts or your new best friends. Whatever you prefer.
Guests at Lavinia Naturist Resort
While we were at Lavinia, the other three villas were occupied by two Dutch couples and a French couple. But that's a very momentary view of course. Professionals as we are, we asked for the numbers. Of course, as Belgian hosts, they do attract quite a large number of Belgians and Dutch. But also the English, French, and Germans are frequent visitors.
What's typical for smaller naturist places is that they tend to attract a public that reflects the personality of the hosts. In the case of Lavinia, these are warm people, who are looking for a great nude vacation with lots of comfort and with a genuine naturist spirit. At Lavinia, it doesn't matter who you are, what your job is, where you come from or which political party you vote for. What matters is that respect is your highest value. For yourself, for others, and for the environment.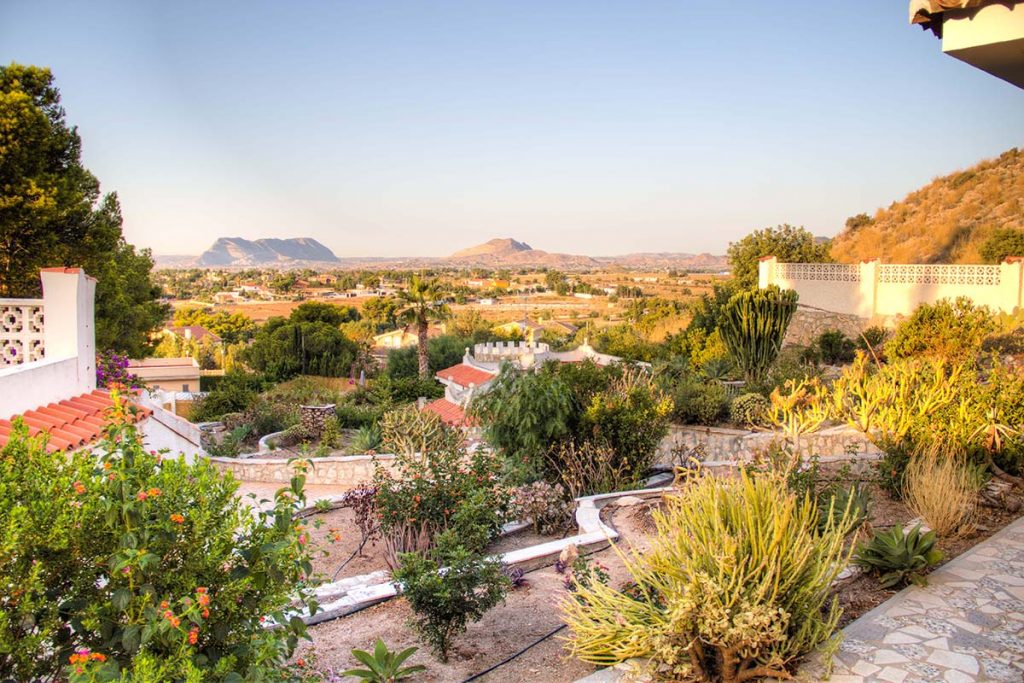 Reservations & Contact
Since Lavinia Naturist Resort is quite a small place, it tends to run full during high season. If that's your preferred time to travel, make sure to book upfront!
Reservations are preferably made via:
✅ Website: https://lavinianaturistresort.com
✅ E-mail: [email protected]
✅ Phone: +34 645 609 430 / +34 688 700 098
It's possible to communicate in English, Spanish, Dutch, German, and French.
Lavinia Naturist Resort is open all year. Because of the mild winters and the indoor facilities, Lavinia is definitely a place you can also enjoy outside of the high season.
It's also possible to rent the complete resort which can accommodate about 14 people.
Summary
A stay at Lavinia Naturist Resort means comfort, service, and a very social scene. Because of the huge privacy, your stay at Lavinia could also be a romantic getaway. Or a holiday with naturist friends. Or whatever you want it to be.
Naked Wanderings' Ultimate Guide for Naturism in Spain ebook

Are you looking for great nudist resorts and nude beaches in Spain?
Are you looking for the best tips for a nude vacation in Spain?
Then our ebook will be the perfect resource for you!

Learn More
Need help with planning your trip? Check out our Resources Page for an overview of the best companies we use during our travels
Disclaimer: We have been invited as guests of Lavinia Naturist Resort, but of course all opinions are our own. We are super confident you will love this place as much as we did!
---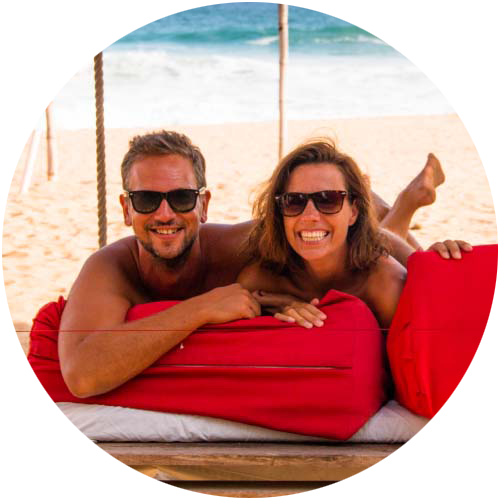 Support Naked Wanderings
Do you like what we do for naturism and naturists? Did we make you laugh or cry? Did we help you find the information you were looking for? Then definitely join our Patreon community!
---