Naturists play petanque. It's probably the biggest cliché there is about naturist resorts, and just like every other cliché, it does have a lot of truth in it. We don't think that we ever visited a naturist resort that did not have a petanque court. Heck, we've never visited one that had only one court, the minimum must be at least two.
So what do naturists do when they're not playing petanque? They just laze around the pool. And there you have the second biggest cliché. No wonder young people are often not really attracted to the idea of visiting a naturist resort. Unless their idea of a perfect vacation is to do less than nothing except for throwing a couple of balls at a smaller ball around 5 PM. We have to admit, this is what some of our days look like as well and we can absolutely enjoy this. But just not for days in a row.
If you're one of those people who think that this is what a naturist vacation looks like? Beware, we're about to blow your mind!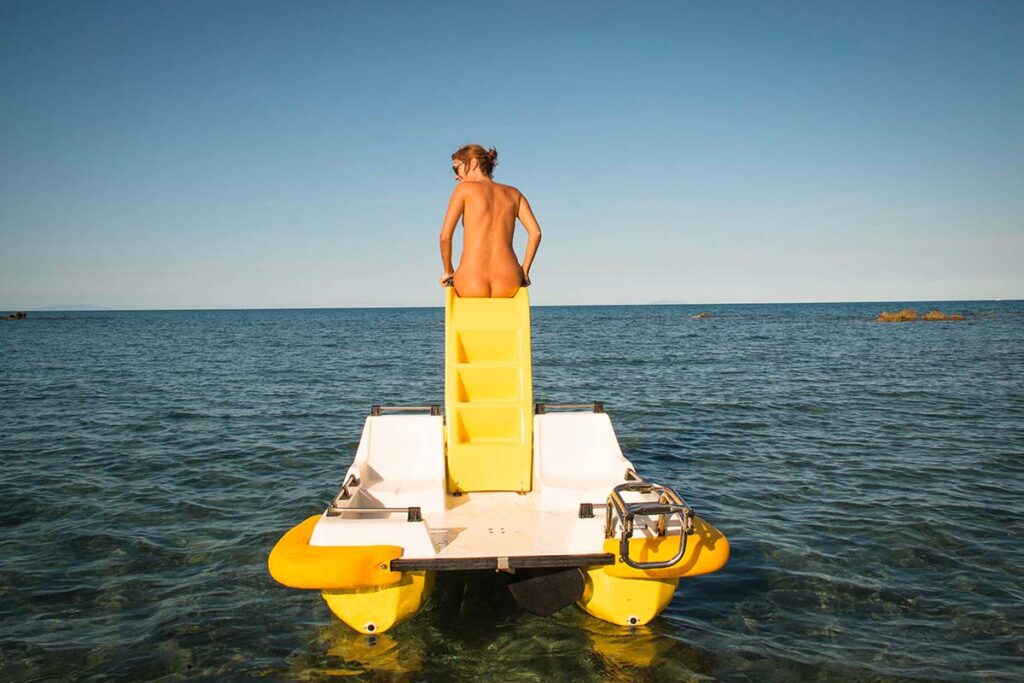 Beach and water sports
We're writing this blog post from a seaside camping pitch at
Bagheera Naturist Resort
in Corsica. In direct line of sight, we can see a couple frisbeeing, another couple playing with a ball, a guy on a kayak, and at least three people on paddle boards (although one of them is more off the board than on it, that's not the point we want to make). This is the advantage of resorts that are located at a nude beach. You can literally play every game or practice every sport that people do on textile beaches, but with one huge advantage: You don't need those sticky (did we mean stinky?) bathing suits.
Do you think that paddleboarding is still not active enough for you? Just pick another sea or ocean then. At the campsites on the French Atlantic coast like
Euronat
or
CHM Montalivet
you can do naked surfing. And probably some other sports that you need waves for. By the way, if you really think that paddleboarding is lame, we suggest you give it a try. It requires much more energy than it looks. We speak from experience. We know what the guy who's spending most of the time in the water is going through.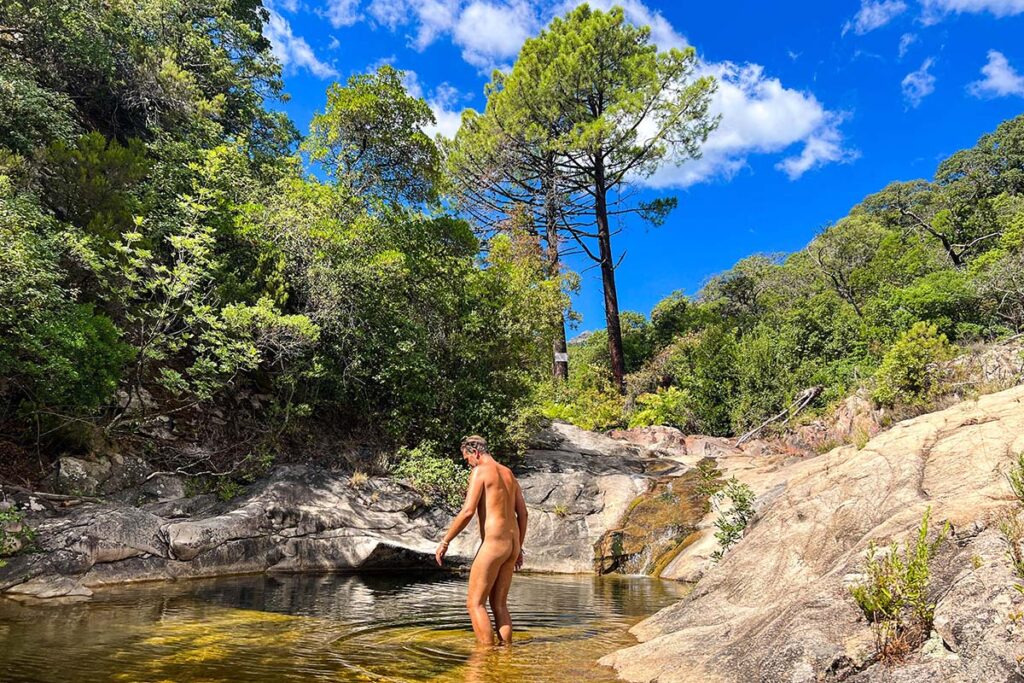 Naked hiking
The very best way to completely indulge yourself in nature is by removing every artificial boundary, every single piece of textile between yourself and your surroundings, we can all agree on this, right? Except for shoes in some cases. Shoes can protect your toes from serious harm (again, experience). Sleeping in a tent in a forest or bathing in a river are definitely great ways to soak up nature, but an even better way is to walk around. To hear the different sounds, smell the different smells, and feel the beats and the energy of nature. But there's a problem. Naked hiking is illegal in most places.
Luckily, there are lots of naturist resorts that are located on huge domains. Part of that is a campsite or holiday village, but often they have lots of natural space for you to enjoy as well. With naked hiking gaining popularity, several resort owners started creating natural hiking trails. As they are on private property, there's no need to fear that a local police officer will jump from behind a tree and give you a fine for exhibitionism. Campsite
L'Eglantière
, for example, has currently 6 kilometres of hiking trail and is planning to expand to 10 kilometres.
Some of the coolest naked hikes we've ever done were at
Olive Dell Ranch
and
Deanza Springs
in California, where you can hike through the magnificent scenery of the desert. The scorpions and rattlesnakes add an additional level of adventure. In these cases, shoes really aren't optional. And also where we are now, at
Bagheera
, you can walk for several kilometres on the nude beach (and several back). This is exactly what we're going to do once we finish this blog post.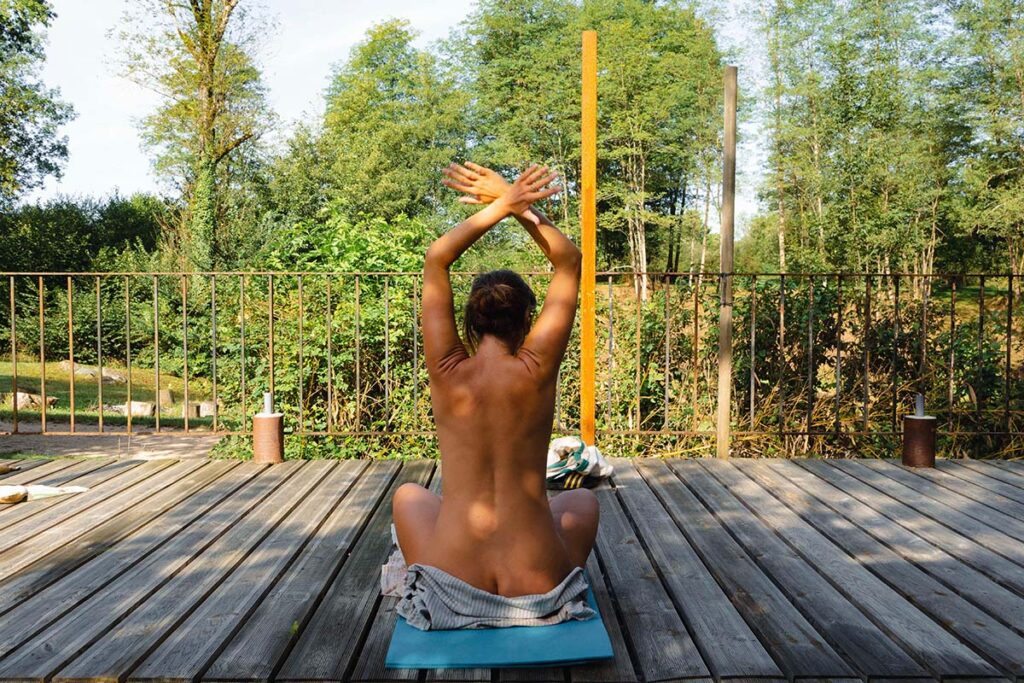 campsite sports
We know, we've been picking our examples carefully and definitely not every naturist resort has access to a nude beach or a very large forest. But the majority has more things for you to do than
play petanque
. Volleyball is another all-time favourite. In France, for some reason that we still don't fully understand, you can do archery at pretty much every resort. On the other side of the Atlantic, the Americas, we don't think that a week goes by without a naked 5K run being organised at this or that resort.
And then there are the workouts. We've seen (but hardly ever used except for taking Instagram pictures) workout machines on plenty of naturist campsites. Lots of places also organise classes like Yoga, Pilates, Tai Chi, Wake Up Your Body, Aerobics, Aquaerobics, and whatever else there is to energise your body and your mind. The choice is pretty huge, we can tell you.
By the way, to get back to the more specific resorts,
La Jenny
in France has an actual golf course. How cool is that? Not that learning to play golf has ever been on our bucket list, and probably never will be, but the fact that we could do it naked was enough to draw us over the line and
take some classes
. Just so we could tell every golfer we ever meet that we believe that it's better played naked. The current count is at two, we don't meet that many golfers apparently.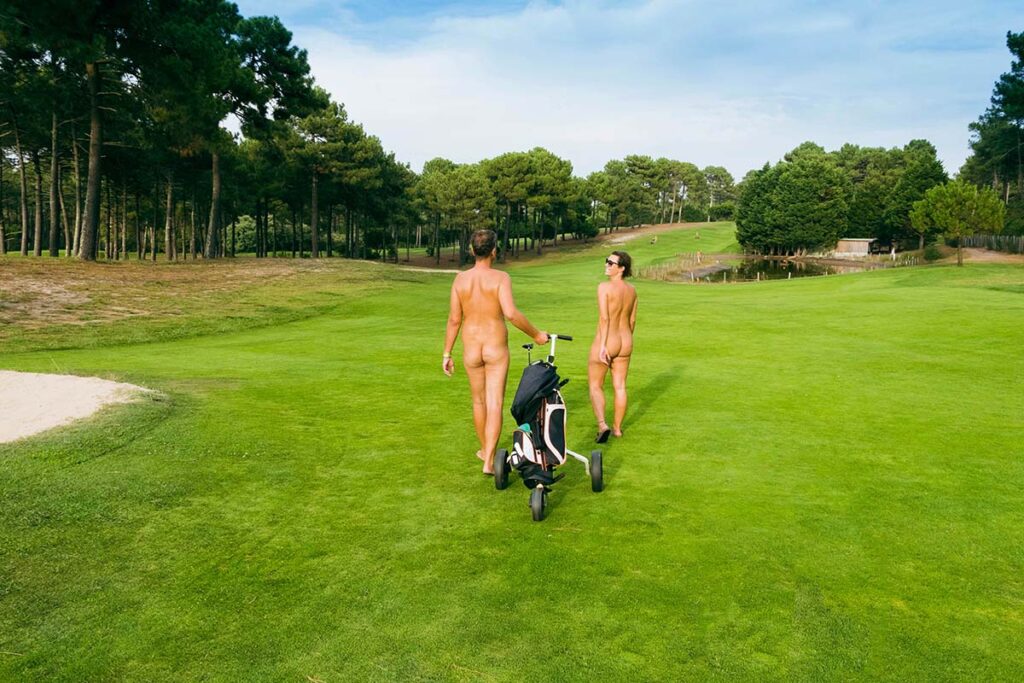 Are sports really better without clothes?
We hope that meanwhile you're convinced that a vacation at a naturist resort can be just about chilling and playing petanque, but definitely doesn't have to be. A question we regularly get is "why on earth would you like to do sports naked?". There's little doubt about the joys of swimming naked (which we didn't specifically mention earlier because it's just too obvious that you can do this at a naturist resort), but we all have body parts that tend to go in many different directions from the moment we get up to get another drink at the bar. What will it feel like if we're playing volleyball or doing jumping jacks? What will the others think of the sight of that?
Well, what the others think is completely their own business. If they don't like what they see, there are plenty of other directions that they can look at. How does it feel, you asked? We can tell you (once again, completely out of personal experience) that it feels wonderful. Just like starting with naturism, it's a barrier that you'll need to break through. But once you did, a whole new world of unrestricted body moves is opening up for you. You'll be amazed at what your body is capable of when it's not held back by clothes. Remember that the obligatory dress code for sports in ancient Greece was no clothes at all. Those Greeks knew what they were doing.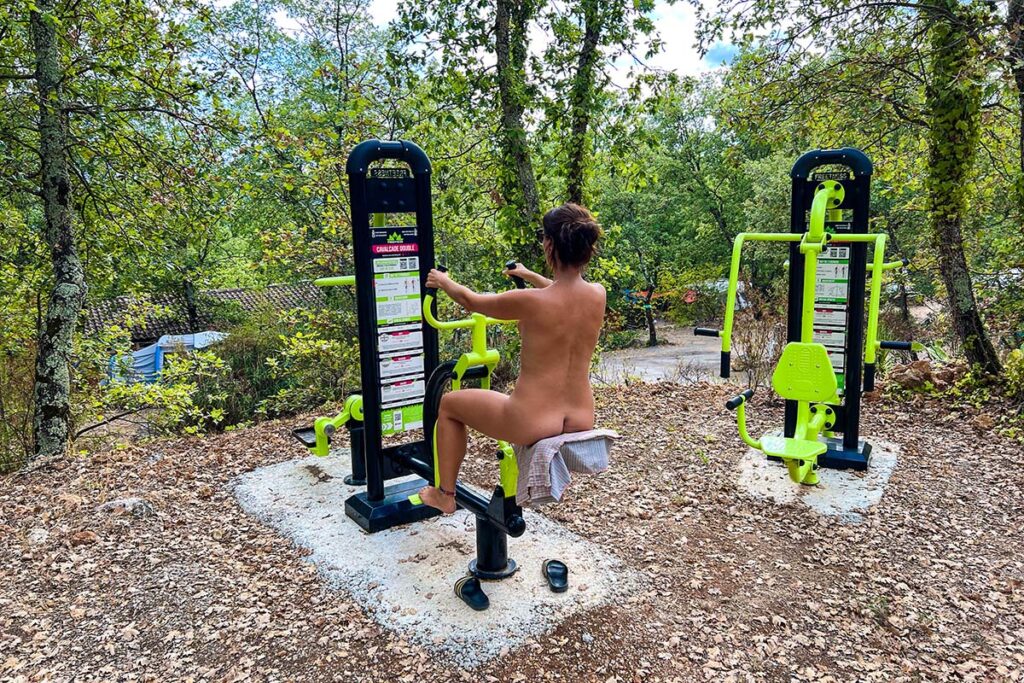 Why you should go naked to the gym
Talking about the Greeks, one of the many words we've adopted from their culture is "gymnasium", which literally translates to "school for naked exercise". For cultural and religious reasons, people throughout history chose to ignore the word "naked", but still, we like to believe that if you're wearing clothes at the gym, you're doing it wrong.
Are you ready to practise all possible sports without clothes the next time you visit a naturist resort? That's great to hear! Are you not? That's perfectly fine too! We don't really care. The goal of this blog post is not to inspire you to become the first naked person who wins Olympic gold. That wouldn't be possible anyway, because for a long time all the participants of the Olympics were nude, so many naked athletes got on the podium before you. We just wanted to break the myth that all naturists are lazy and only like to play with their balls (pun intended).
Nevertheless, the next time you get the chance, maybe join a volleyball game or go on a naked hike. You don't know what you're missing out on.
---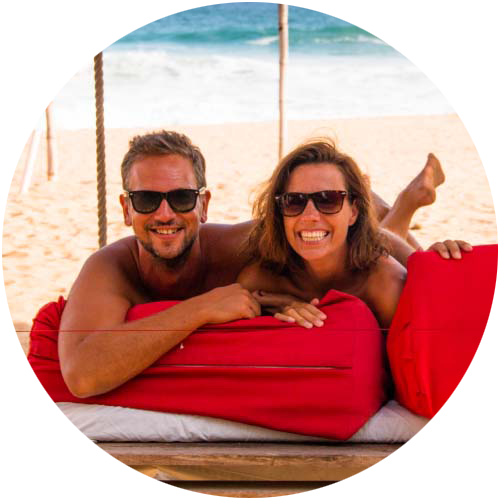 Support Naked Wanderings
Do you like what we do for naturism and naturists? Did we make you laugh or cry? Did we help you find the information you were looking for? Then definitely join our Patreon community!
---