A large part of our job as naturist travel bloggers is researching, often much more than the average naked traveler. One of the advantages of this is that now and then we stumble upon some of the most magnificent spots. Wonderful nude beaches away from the crowds. Or well-hidden pearls of naturist campsites that suddenly appear on our radar. Like naturist campsite Verdon Provence for example. Tucked away in the Gorges du Verdon, one of southern France's most wonderful natural parks. Yes, you've read it well. A naturist campground in a natural park. And we're taking you there right now.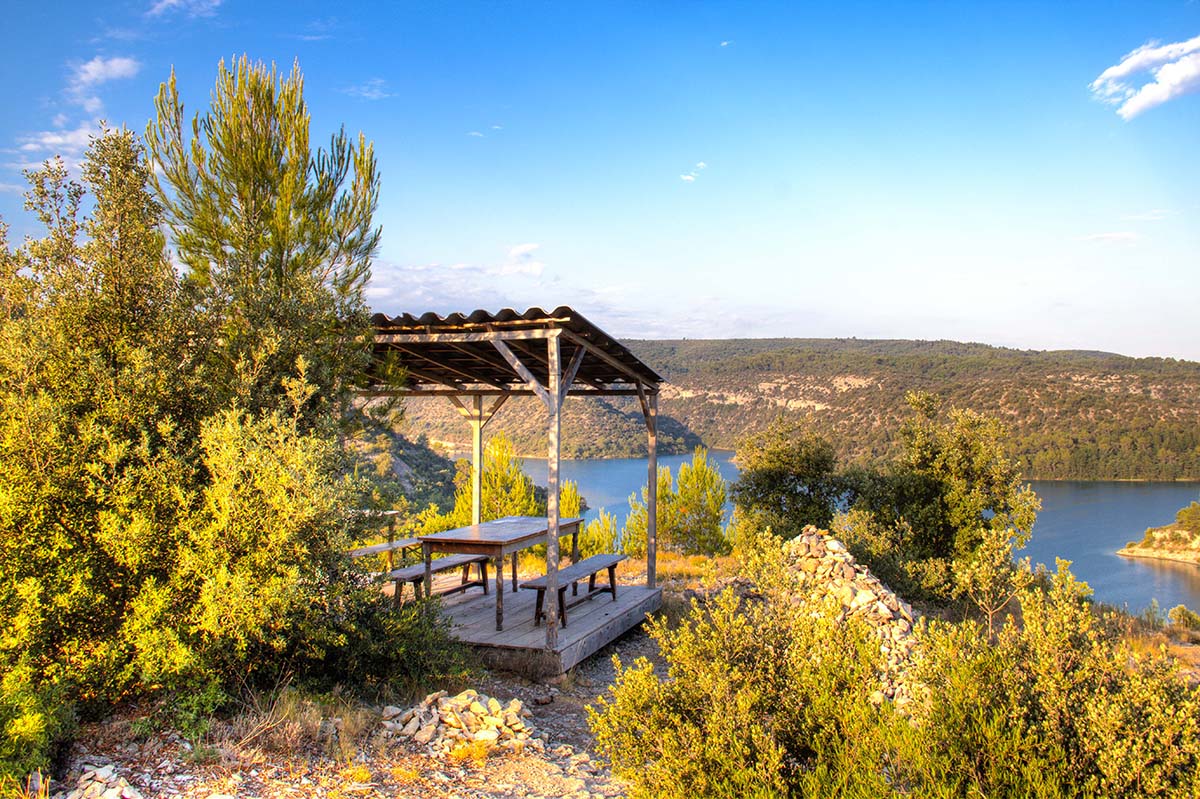 How to get to Camping Naturiste Verdon Provence
To get to the Verdon region in the south of France, you want to take direction Marseille. Coming from the north of France or the northern European countries, follow the A6 and A7 highways all the way to Aix-en-Provence. Coming from the south-west you take the A9 towards Aix-en-Provence. There you switch to the local A51 road and at the Centre de Cadarache, you go to the even more local D952. Past Gréoux-les-Bains you take the D351 and soon after you'll see signs to the campground. This last part of the road is part of the Gorges du Verdon and will provide some beautiful views.
Coming from the Cote d'Azur or Italy you can take the A8 highway from Nice and just past Frejus you'll have to switch to several local roads. Follow the directions Salernes, Esparron-de-Verdon, and Gréoux-les-Bains and make sure to see the campground sign at a turnoff halfway between Esparron and Gréoux.
The nearest major airport is the one of Marseille-Provence, which connects to pretty much everywhere in Europe and several intercontinental destinations. Both Marseille and Aix-en-Provence are also connected to the TGV (high-speed train) network. It's quite impossible to get to camping Verdon Provence without your own transportation and even if it was possible you wouldn't want to do so. The surroundings are amazing and you definitely need a car to explore them.
If you don't bring your own car, we recommend renting one at the airport or the train station.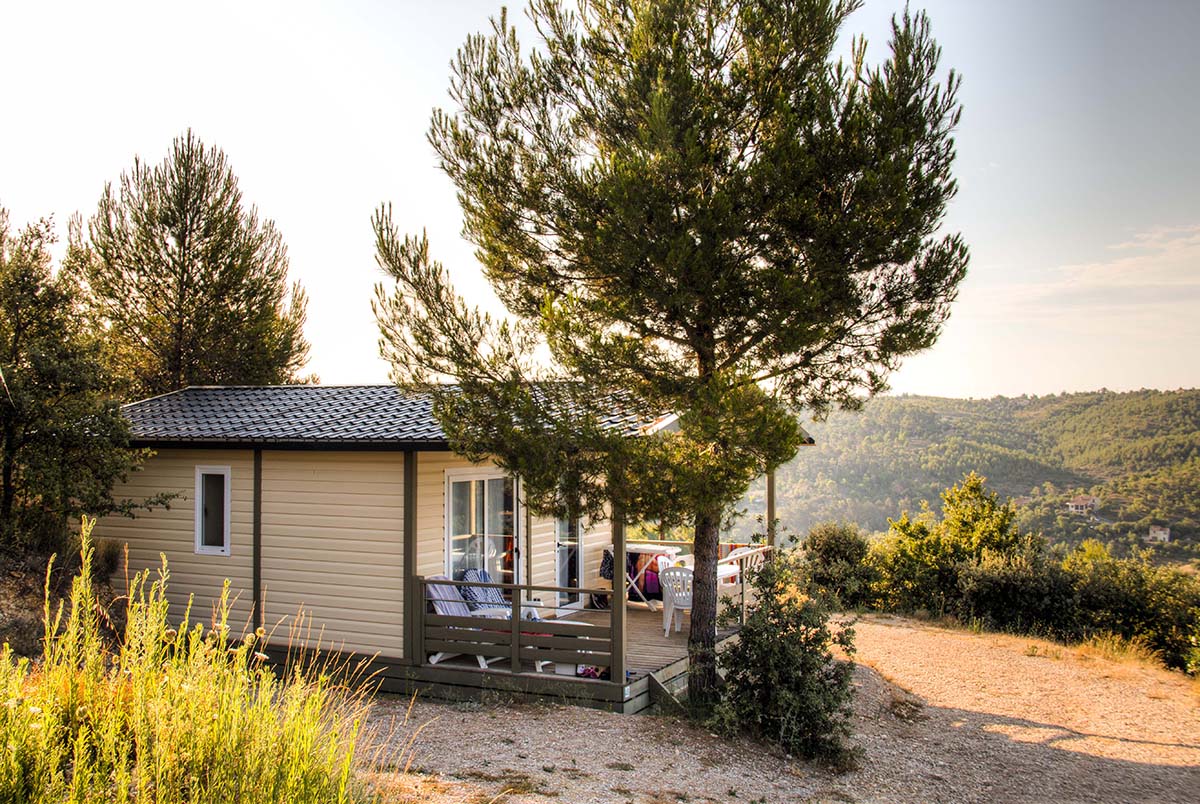 Where to stay at Camping Naturiste Verdon Provence
With only 72 camping places, Verdon Provence is considered a small campsite in France. But that's a relative thing to say, especially when you know that the campground area is about 5 hectares. And even more when you know that the campground area covers little more than ten percent of the whole domain. 33 hectares of naturist space is not exactly what you'd call small, right? It definitely isn't to our standards.
More about all that space later, let's focus on the campsite first. The camping pitches are divided into two categories. There are those for campers and caravans which are located near the entrance and the main area and which are easily accessible. Then there are those for the tents, which you'll find in a much more natural zone on platforms near the slope of the valley. Because the whole campground lays on top of the hill, we can tell you that the views are absolutely magnificent.
Rental accommodations come in the form of safari tents, chalets, and cabins (halfway between a tent and a chalet). We've stayed in one of the "lake view" chalets, which name is immediately also the explanation why we've spent a huge amount of time on our terrace. Most travelers in the region visit the Gorges du Verdon in one day. Some come back a second one. We woke up every morning at camping Verdon Provence with the sight of this beautiful canyon.
We've seen the first sun rays of the day over the lake. We've seen the lake change color during our first, second and third coffee. We've looked at the surrounding hills while sipping from our afternoon wine. Sometimes we had a nap in the afternoon just to be able to wake up with this view once more. Does this sound like we're extremely excited? If it doesn't, please let us know because then we need to add even more strong words to this paragraph.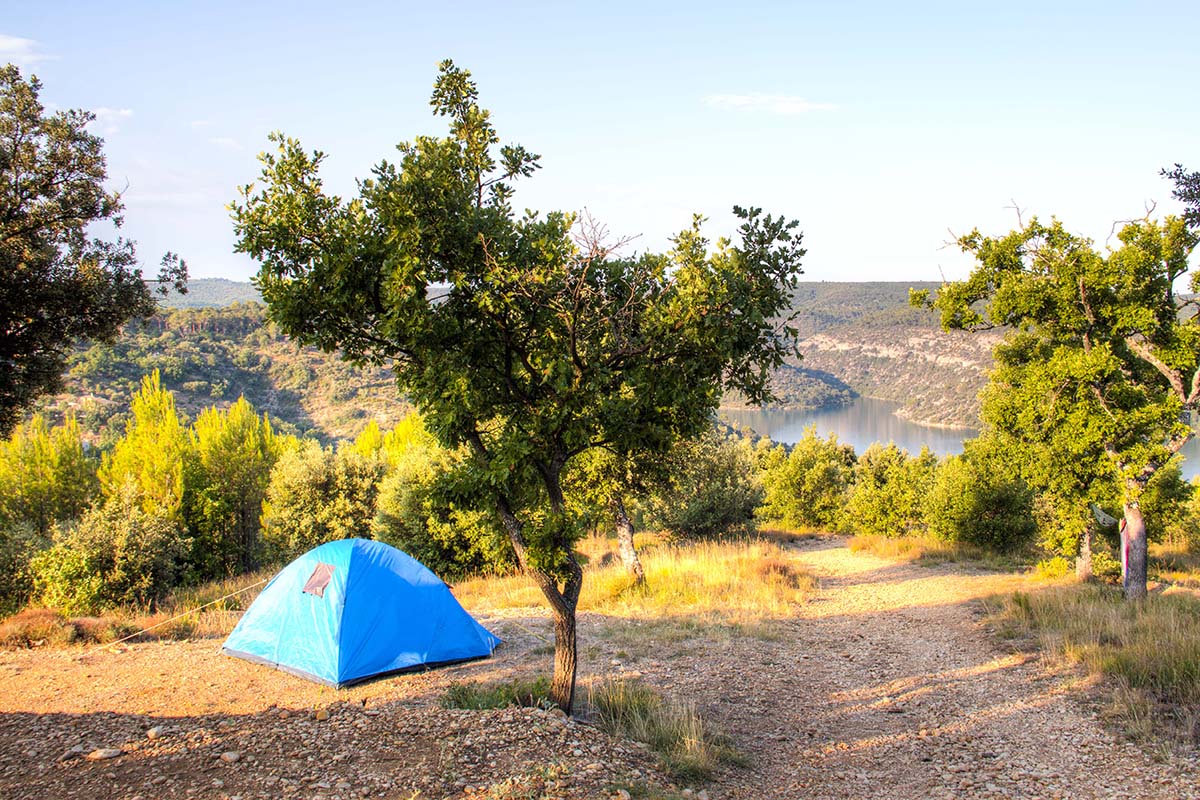 What to do at Camping Naturiste Verdon Provence
In case the previous part wasn't clear or you've just skipped it, we'll tell you again. The main highlight of camping Verdon Provence is (at least to us) that it's located right in the Gorges du Verdon. The views we've just described are not the only thing you get to enjoy on the campsite though. Remember that we've mentioned that about 90% of the domain is not campground. It's wonderful wild nature!
We'll try to draw you a mental image here. Naturist camping Verdon Provence is on top of a hill in the Gorges du Verdon and from the campsite, you get a view over the valley and the lake down below. Now here's some amazing news we received when we checked in: The whole region between the campsite and the lake is part of the domain as well. Meaning: it's 100% nudity allowed. And also, it's perfectly possible to walk down to the lake for a skinny dip. There are two beaches where the rocks are flat enough to sunbathe in between those skinny-dips. And there are several hiking trails which not only connect the campsite to the beaches but also take you on beautiful
naked walks
.
It feels like we could keep going on and on about the canyon and the lake, but there are definitely other things we'd love to mention as well. If the hike to the lake would be too much for you or you prefer to be close to the bar, there's a large swimming pool where you can have your skinny-dips as well. There are a restaurant and a bar for lunches, snacks, dinners, and refreshments. There's a small shop and there are several activities organized, mostly in the mornings and evenings.
And then there's one important thing which we've found at so few other naturist campsites in France: A breeze. A constant breeze. Even though the temperatures during the high season easily rise into the mid-thirties (Celsius), there's always that breeze that makes everything much more agreeable.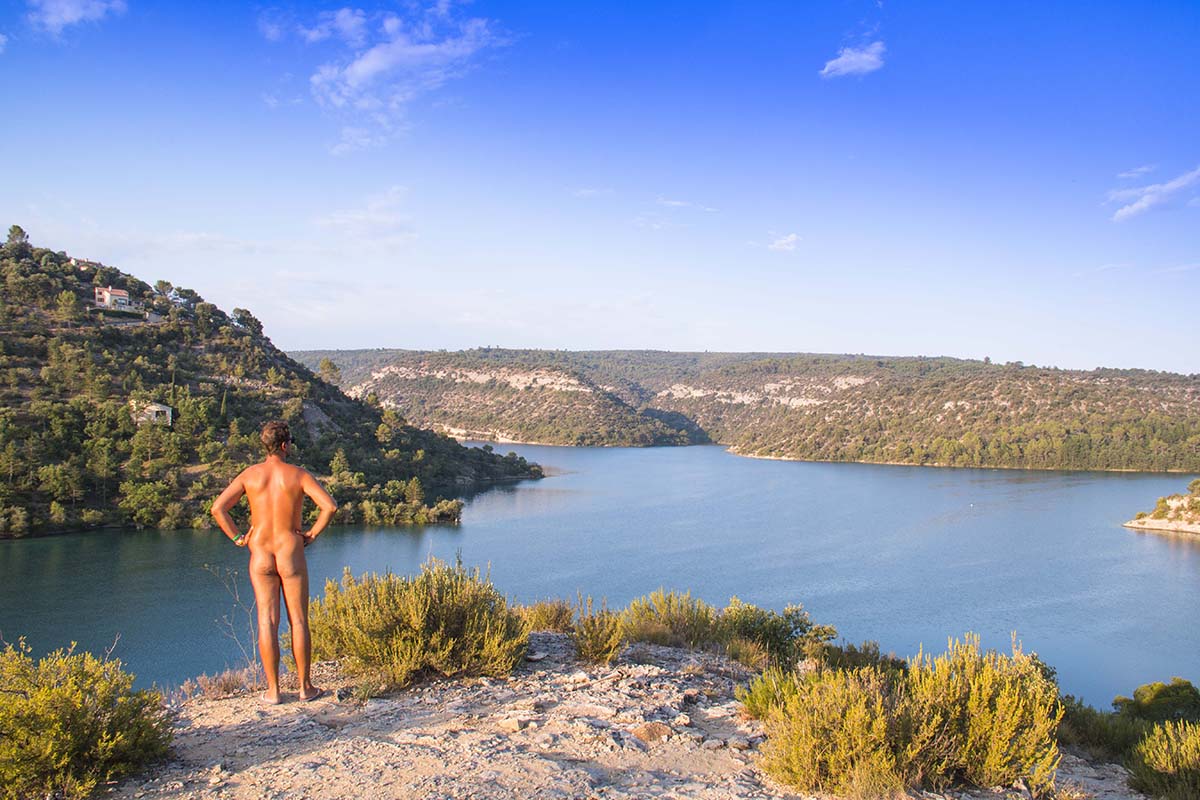 Around Camping Naturiste Verdon Provence
We don't like to repeat ourselves, but we're going to talk once again about why we love camping Verdon Provence so much. If you like lots and lots of magnificent nature, the area around the campground will soon become one of your most beloved spots in the world. The amazing views over the hills and the lake which you get at the campsite already give you a sneak peek. But we can tell you, there's much more of that!
The Gorges du Verdon is France's deepest gorge, carved by the Verdon river. It's "only" about 25 kilometers long, but because of the winding roads and the many sights, it will easily take a full day to explore the whole canyon. If you have the time, better split that trip in two days. Along the way, you'll have magnificent sights of Mother Nature's most splendid beauty. You'll pass by cozy towns, monasteries, and castles. The region is also perfect for those who like it more active, mountain biking is amazing here and so is hiking and kayaking. The steep cliffs also attract many rock climbers.
Coming out of the Verdon gorge you can immediately dive into some more natural beauty at the Luberon regional park. Here you can find some of the most amazing rock formations which end up at the famous Mont Ventoux.
Other interesting day trips include wine tastings in some of the many wineries in the region and visits to the cities Avignon, Carpentras, or Marseille. There's great shopping to be done in Aix-en-Provence and other than that you can just drive around for hours and hours looking at the amazing scenery.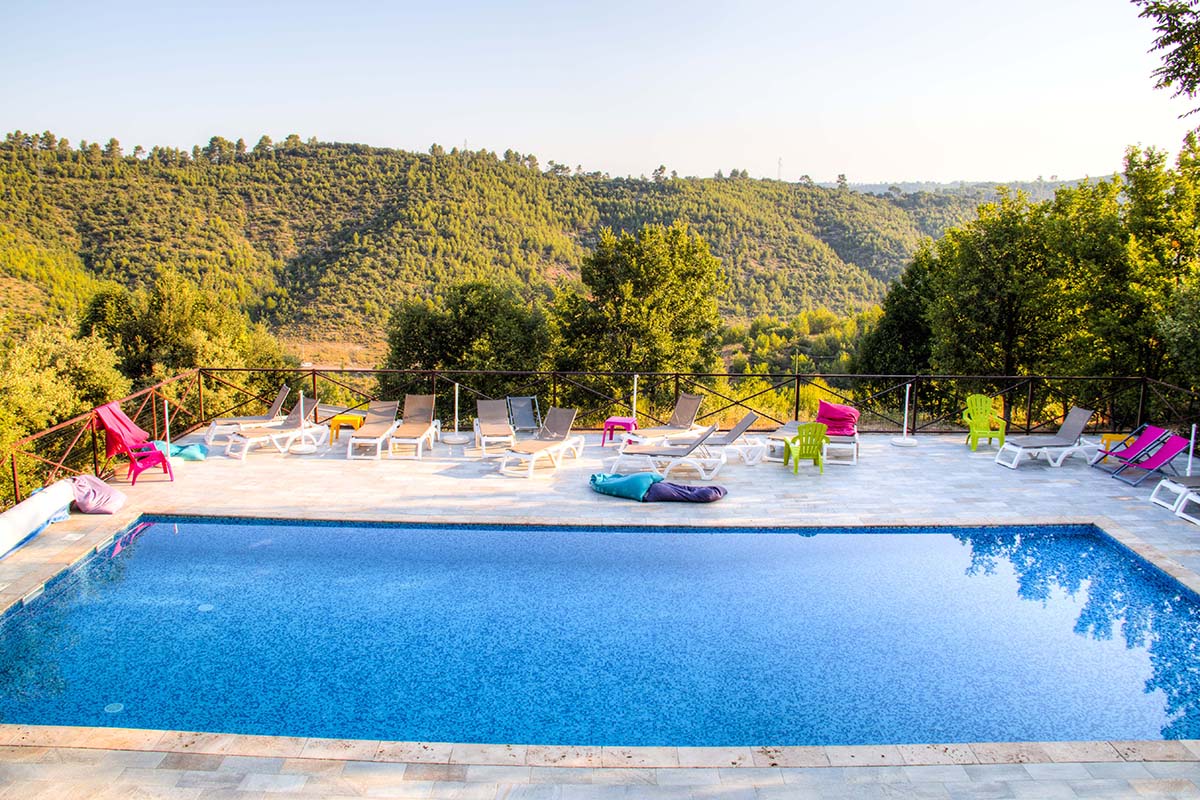 Staff of Camping Naturiste Verdon Provence
The story of Melanie, the owner, could easily be the plot of the next
JP Riley movie
(JP, we expect an invitation to the release party!). Mom and dad have a textile campsite in the region and notice that naturist camping Verdon Provence is for sale. They decide to buy it for their 21-year young daughter Melanie. The story may seem predictable. Melanie learns from her parents, but of course, a naturist campsite is not exactly the same as a textile one. Add to that the staff who's suddenly bossed around by a young girl and can't always handle that. It's the source of a good story.
But there's more. Melanie wasn't a naturist. There's the first season and the second. Comments rise about her as manager of a naturist campsite being dressed all the time. Clothing jokes are being made, you know how these things tend to go. Then there are the hot summers in the Provence region. Heatwaves of 40 °C and no way that she could refresh in her own swimming pool. Bathing suits prohibited of course.
Melanie takes the step. Drops her clothes. Becomes a naturist. And enjoys her newfound lifestyle. The only thing left to make this movie complete is a love story. That's where Anthony comes into the picture. We're no tattletales, so we're just going to tell you that team Melanie-Anthony, together with a motivated crew are working on constant improvement of this wonderful naturist campsite.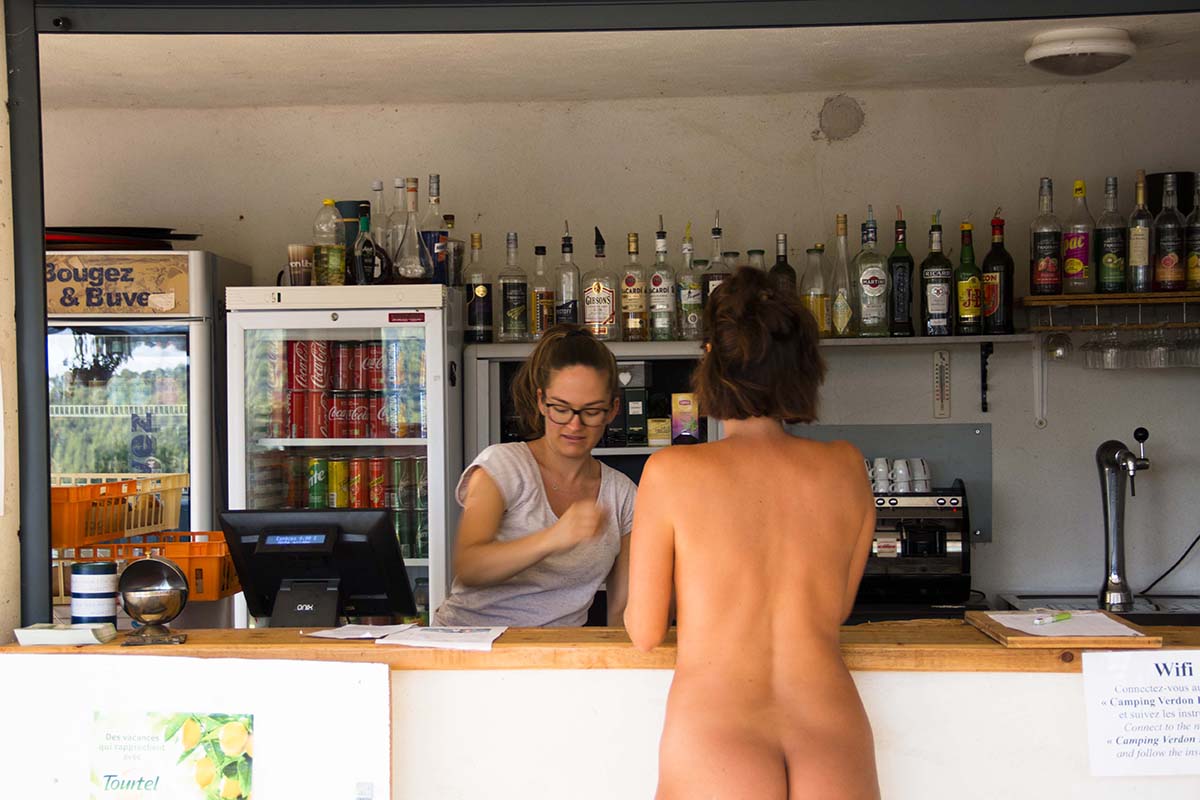 Guests at Camping Naturiste Verdon Provence
This change in the life of Melanie also has an interesting side-effect. Now that she experienced the joy of naturism she can't wait to spread the word. When we asked her which kind of visitors she would love to attract, she replied "non-naturists who become naturists". We don't only think that this is a beautiful ideology, but also that Verdon Provence would be a great place for aspiring naturists.
Because there's so much nature it's perfectly possible to take small steps into the lifestyle. To get a first skinny dip from a secluded rock near the lake. To feel that first gust of wind passing your body. To feel how only being naked can make you become one with nature. And eventually to take the first steps into social nudity. And to never turn back.
Of course, Verdon Provence is not just a place to learn about naturism. We're the best proof, we've been going from one naturist place to another for quite some time and yet this campsite still blew our minds. We couldn't keep but wondering why it's still such an undiscovered paradise. During the high season, 80% of the visitors are locally from France. We wondered whether we should keep this secret for ourselves. But we just can't do that. The world needs to know about the existence of camping Verdon Provence!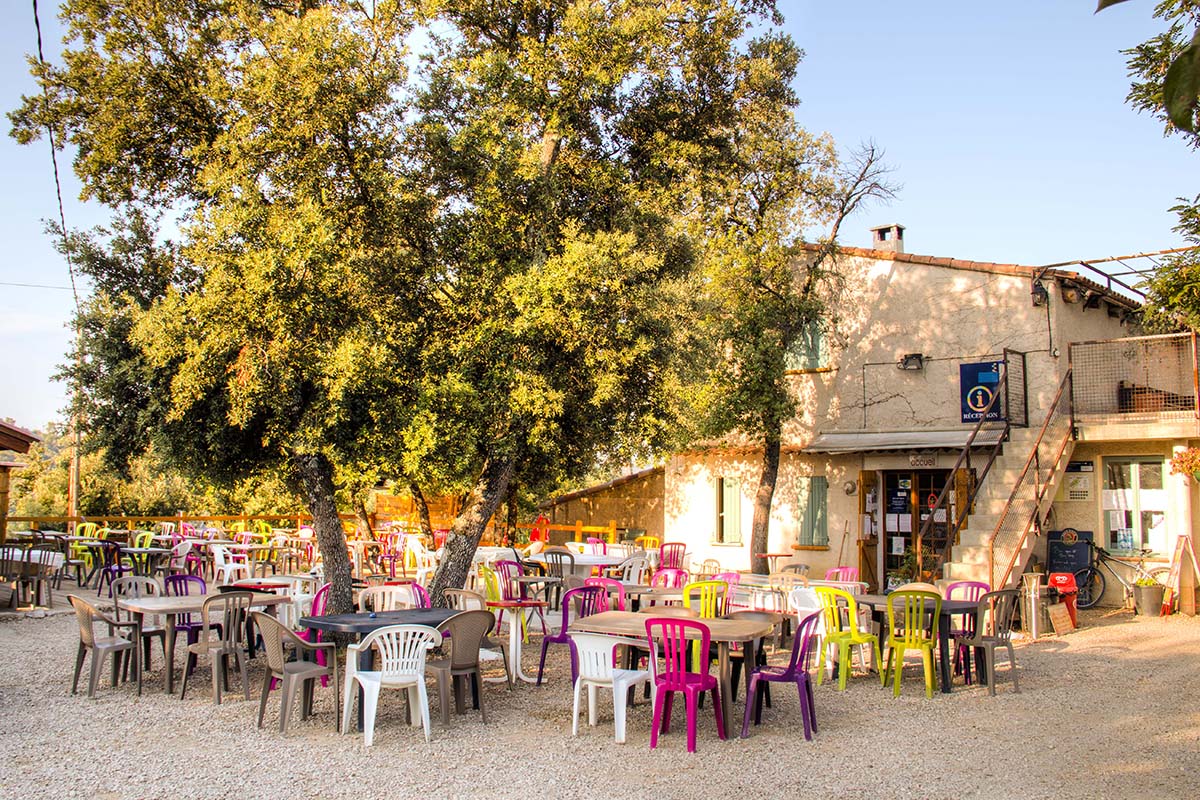 Reservations & Contact
Reservations at Verdon Provence are preferably made via:
✅ Website: https://www.camping-verdon-provence.fr
✅ Phone: +33 4 92 78 23 29
✅ E-mail: [email protected]
It's possible to communicate in French and English.
Camping Naturiste Verdon Provence is open from the end of April until the end of September.
Day visits are also possible at Verdon Provence, which is perfect for those who want to try naturism for the first time. If you want to come with your family, children can spend the day for free.
Summary
Naturism and nature, they'll always be linked together. In some places more than in others and in naturist camping Verdon Provence more than in most others. Follow our footsteps and get naked in the wonderful Gorges du Verdon. We can promise you that you won't regret it!
Disclaimer: We have been invited as guests of Camping Naturiste Verdon Provence, but of course all opinions are our own. We are super confident you will love this place as much as we did!
---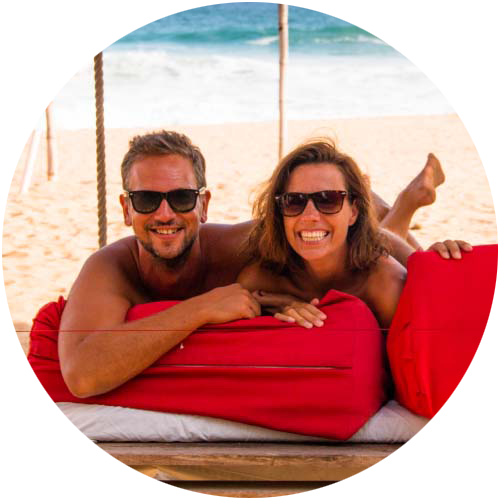 Support Naked Wanderings
Do you like what we do for naturism and naturists? Did we make you laugh or cry? Did we help you find the information you were looking for? Then definitely join our Patreon community!
---