The term "family naturist campsite" can be interpreted in several different ways. Sometimes it's meant that the campground management does a lot for visiting families. Other times it's about the owners, who are running the campground with the whole family. And we've even seen cases where the whole staff just considers each other as a family and thus calls themselves a family naturist campsite.
On some rare occasions though, we find a place where all three meanings come together. A family-run campsite where the staff is treated like family and which does a lot to attract naturist families. A place like naturist domain l'Eglantière for example. A beautiful naturist getaway in the very south of France.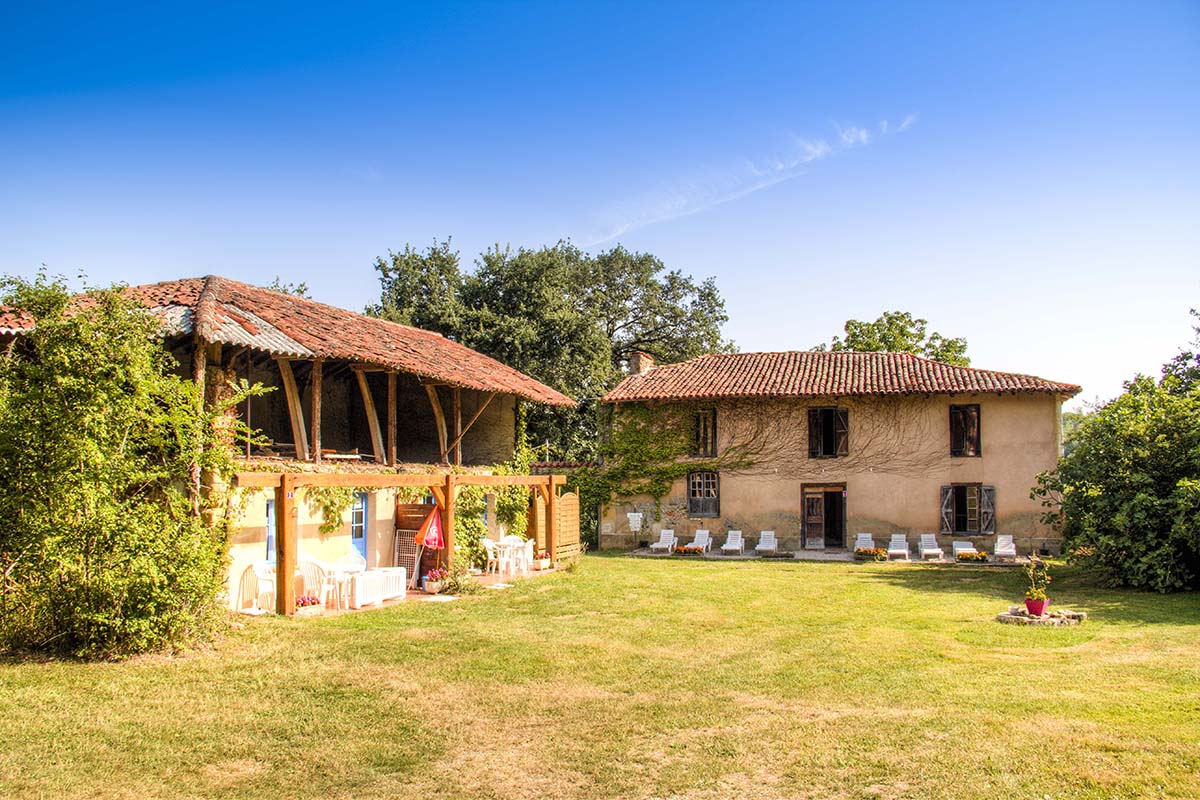 How to get to l'Eglantière
With "very south" we do actually mean very south. Domaine l'Eglantière is located about halfway between Toulouse and the Spanish border, right at the foot of the Pyrenees mountains.
Coming from anywhere in France or the more north-eastern European countries, Toulouse is the direction you want to follow. Once in Toulouse, you're taking the N124 direction Auch and in L'Isle-Jourdain you get on the D634 and D632. In Castelnau, you switch on the D929 and soon you should see signs for l'Eglantière appear.
Coming from Spain, you could either follow the E-9 to Foix and switch to the D117 from there. Or you could follow the A2 and A22 into France. Trust us, it's easier than it sounds. But a decent GPS is certainly a recommendation.
If you're planning to visit l'Eglantière by train, it's possible to get from pretty much everywhere in France to Toulouse and from there you can take a local train to Montrejeau Gourdan Polignan. This is the nearest train station to l'Eglantière. Keep in mind that this station doesn't have any car rental offices and that you'll be looking at an 80-100 euro taxi ride for the last 40km. A better solution would be to rent a car in Toulouse instead.
Also for those arriving by air, Toulouse-Blagnac airport is the place to be. There are connections to pretty much every other European country as well as several destinations within France.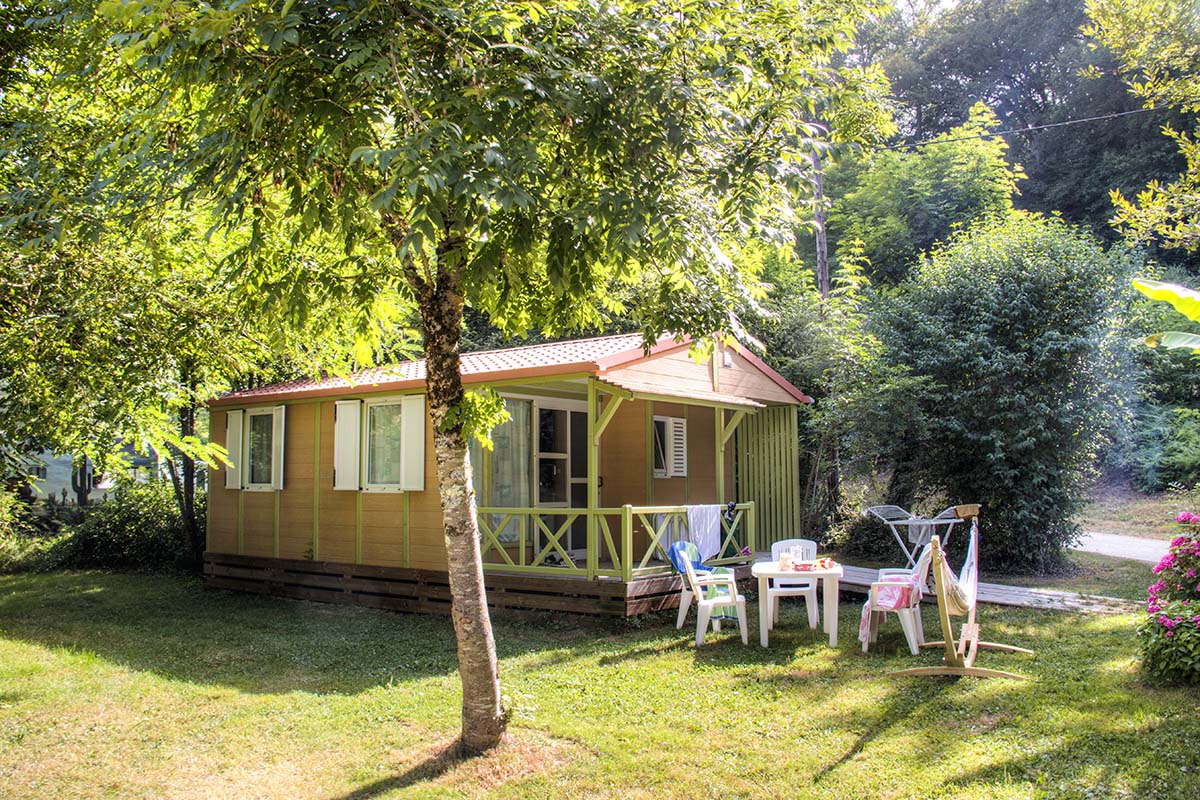 Where to stay at l'Eglantière
With only 120 places, l'Eglantière could easily be categorized as a rather small campsite. At least to French standards. Then again, the whole domain is no less than 50 hectares, which does make it one of the larger naturist domains. We couldn't describe it any better than a small naturist campsite which just provides you lots of space. Nature is one of the most important aspects of l'Eglantière and that's something you also notice when you see the campsite pitches. Not only are they large and spacious but the hedges in between are real bushes. Not some small shrubs.
About ten percent of those camping spots are reserved for rental accommodations which come in several different forms. There are the cool looking Coco Menthe tents, several types of mobile homes, two gîtes in the historical house, and several chalets. Our home away from home during our stay at l'Eglantière was one of the chalets. It's fully furnished with two bedrooms, a living room, kitchen, bathroom, and toilet and with a nice terrace which gives views over the river.
What we particularly enjoyed (but that's really a personal thing) is that our chalet came with a hammock. We just love hammocks.
Important to mention is that since recently a long term renovation project is going on at l'Eglantière. But there's no need at all to worry about this. The only thing you might notice is that one morning you'll wander into the shower block and find a whole new self. Your good night rest could have something to do with that, but probably also the newly placed mirror.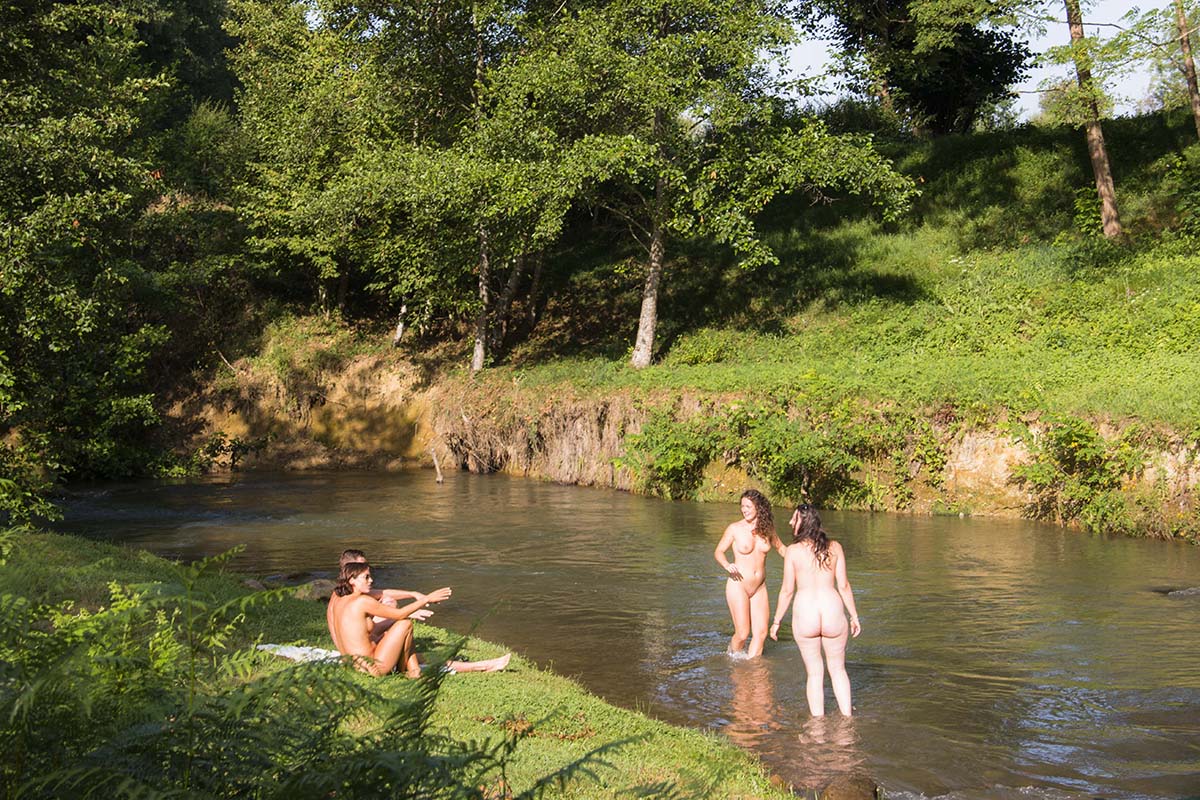 What to do at l'Eglantière
After reading the previous paragraphs, you may already have noticed that l'Eglantière is a place where things come together. Families meet families and become new families. Mostly in a metaphorical way, although we did have the chance to meet the freshly born daughter of the owner's son Remi and a previous staff member. l'Eglantière is also both large and small. It's where France meets Spain. And it's where nature meets entertainment.
With that last sentence, we've just mentioned the two most important features of l'Eglantière. On one hand, there's the nature aspect. The source of all that greenery is a river coming from the Pyrenees and running straight through the campground. Although the water is a bit colder than the one in the swimming pool, we noticed that many guests enjoyed the river. If it wasn't to be in it, then definitely to hang around it, to relax, read a book or have a nap on its banks.
More nature can be found in the surrounding forests of the campground. Being part of the domain, these are perfect for nude walks. Several of the trails are signposted and you can easily follow them on your own. If there's one thing we really like to recommend though, it's the guided walk on Mondays. Xavier, the owner, will not only take you on a tour of his domain but also on a trip through history, culture, and natural curiosities. You have no idea about how much we'd love to give away some of the knowledge he shares during these trips, but we could never explain it better than himself.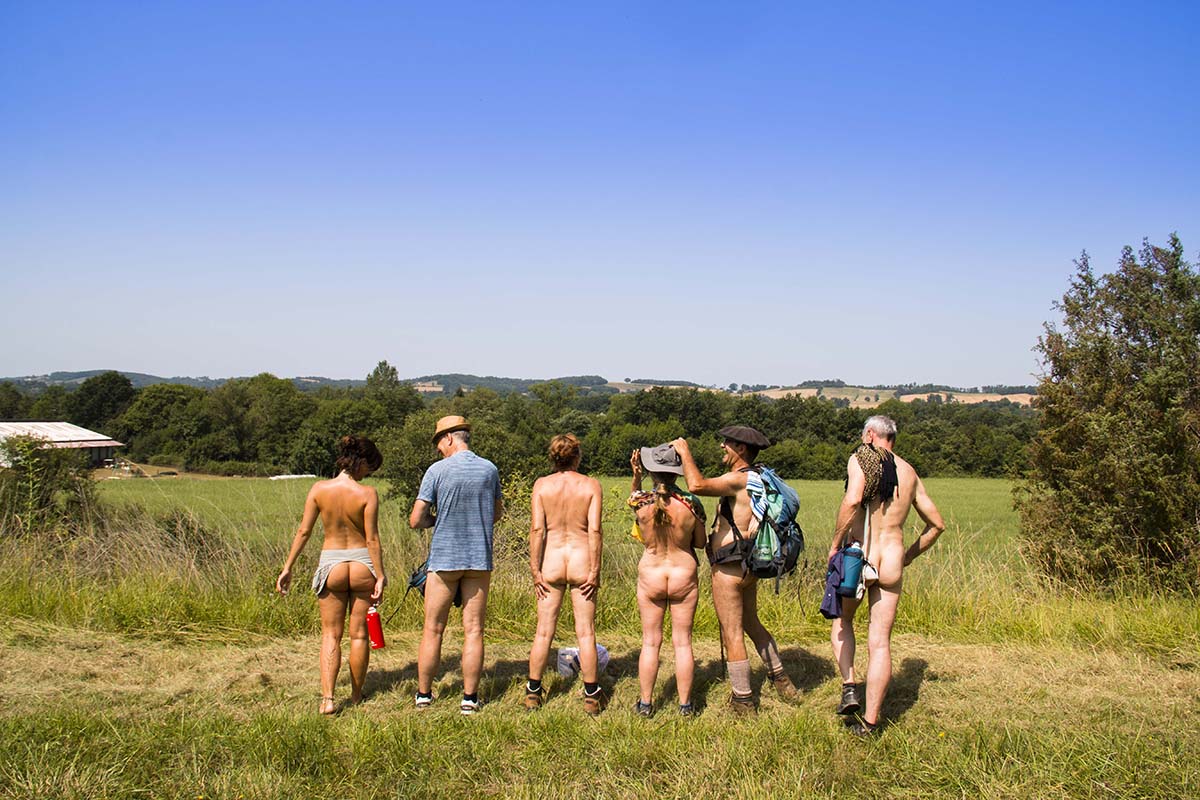 Not only the actual nature is important at l'Eglantière, but also the ecological aspect. Xavier and Isabelle are the fourth generation owning the domain. During his welcome speech, Xavier likes to tell you about how 30 years ago the family farm turned, thanks to naturism, towards tourism. But the farm didn't stop there. They keep expanding, breeding their own animals, and growing their own vegetables. Which all find their way to the restaurant's kitchen. So we'd like to take the statement one step further. Thanks to naturism, tourism and agriculture are becoming one at l'Eglantière.
This can also be seen in some of the activities like fishing (and afterward eating the fish) and how youth entertainment often takes place in or around the river. The youth are not the only ones who get entertained a lot at l'Eglantière, by the way. The calendar of workshops and activities is full every day and contains things we had never seen before at naturist places (or anywhere else). Ever wanted to learn how to line dance? It's good fun. Aqua tonic? Wake up your body? It's all on the menu.
The really fun part of the planning happens in the evenings. And we're not the only ones who enjoyed the evening entertainment at l'Eglantière. The large terrace was often packed. The theme dinners and dance nights are definitely something you have to experience. We also had the chance to experience a concert on Tibetan scales and to see a Frances Cabrel cover band. Never heard about Frances Cabrel? Don't worry, we hadn't either. But we can tell you that those guys are great! A very welcome change to the local sing-along bands we've often seen at other campsites.
We've written such a lot about the nature and the entertainment at l'Eglantière that there's little place left for the other amenities. So we'll make it quick. Bar, restaurant, swimming pool, shop, sauna, volleyball, ping pong, and probably some other things we don't remember just now. There you go.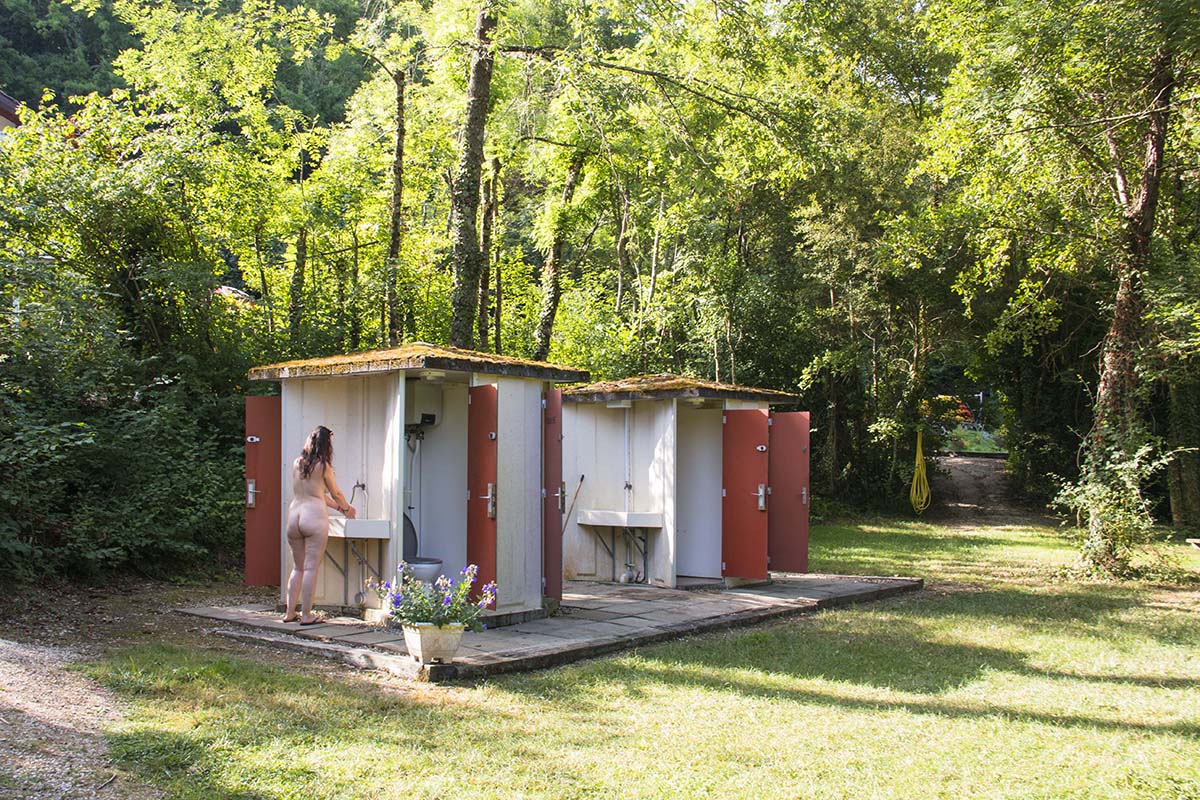 Around l'Eglantière
Truth to be said, everything we'll tell you in the following paragraphs is stolen from the presentation Xavier gave at the welcome drink. During our stay at l'Eglantière we actually never left the property. The official reason: heatwave. Unofficial reason: we were just too busy having fun. So in case, you happen to miss the welcome drink, here's a short overview of things to do in the region.
The main highlight of Hautes-Pyrénées is already in the name: The Pyrenees mountains, a range of high peaks and deep valleys which creates the natural border between France and Spain. Some great Pyrenees day trips from l'Eglantière include the Pic du midi, the Gavernie waterfalls, and the ski resort town Cauterets.
On the Spanish side of the mountain range, there is the wonderful Vallee d'Aragon and the historical walled town Ainsa which is filled with monuments that take you back to the Middle Ages. l'Eglantière is the perfect gateway to visit all this natural and historical beauty and hikes and trips can be organized from the campsite.
Religious history can be found in Lourdes, a major pilgrimage destination for Catholic Christians. The Virgin Mary is said to have appeared here almost two centuries ago and until today pilgrims are drinking the healing water from the spring.
Other than that, the region of l'Eglantière is filled with cathedrals and abbeys which can be visited and also provide a welcome shelter from the heat.
It's probably unnecessary to add that everyone can find something enjoyable around l'Eglantière, whether it's pure nature, adventure, culture, or history.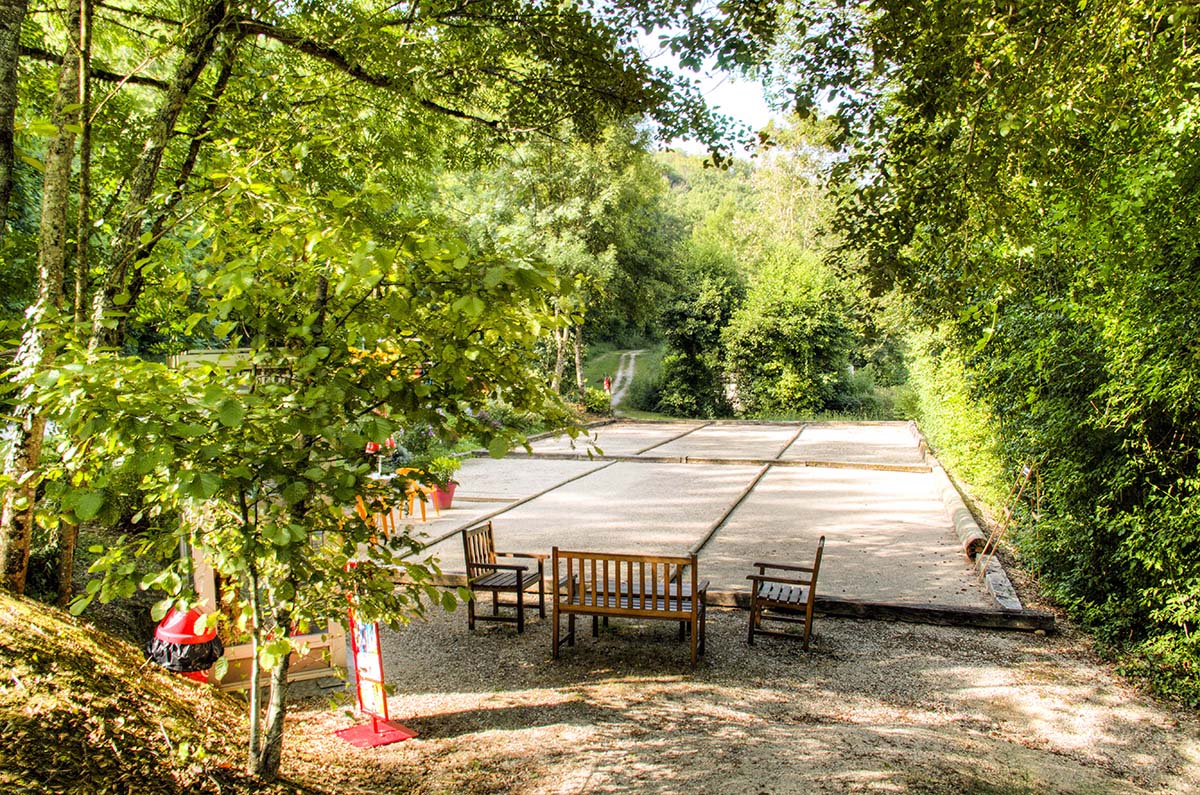 Staff of l'Eglantière
What struck us from the first moment we set foot on the l'Eglantière domain was the accessibility of the staff. It didn't take long before many of them were introduced to us and we should definitely know most of their names by now if we weren't so bad at remembering them. But we did manage to remember several.
Let's start with Isabelle and Xavier, the owners, and the driving force behind the family business. Although we're sure that for them it's much more than just a business. It's a heritage. It's four generations of work which they took over and do everything in their power to maintain and improve. Xavier is an overload of information about l'Eglantière, the domain, the history, and the region. Isabelle is always helping a hand somewhere. In the limited time when we were at the campsite we think we've seen her do every possible job. Always with a smile.
The rest of the "family" stands out in their function with their personality. Kevin is the active one and helps you shake the sleep away with Wake Up Your Body. Basically a party at 10 in the morning. Josephine is good with kids and you'll see her running around with a bunch of children during the activities. Lulu is the quiet one and takes care of the garden and the pool. Mathieu is the funny one who stumbles into the bar around noon and gets more and more in his element when the sun starts going down. And Suzy is the daughter of her mother Isabelle. Always around doing whatever has to be done.
There's Morgane helping out in the kitchen, there's the cook, the maintenance guy, the reception ladies, and many others behind and before the scene who make sure that the campsite runs smooth, that the guests feel at home, and most of all that you feel welcome. At l'Eglantière it's written in the trees that you're welcome. Literally. Once you've been there, you know what that means.
As the singer of the Francis Cabrel tribute band said so beautifully: At l'Eglantière you're handled with "coeur et sourisses". With heart and smiles.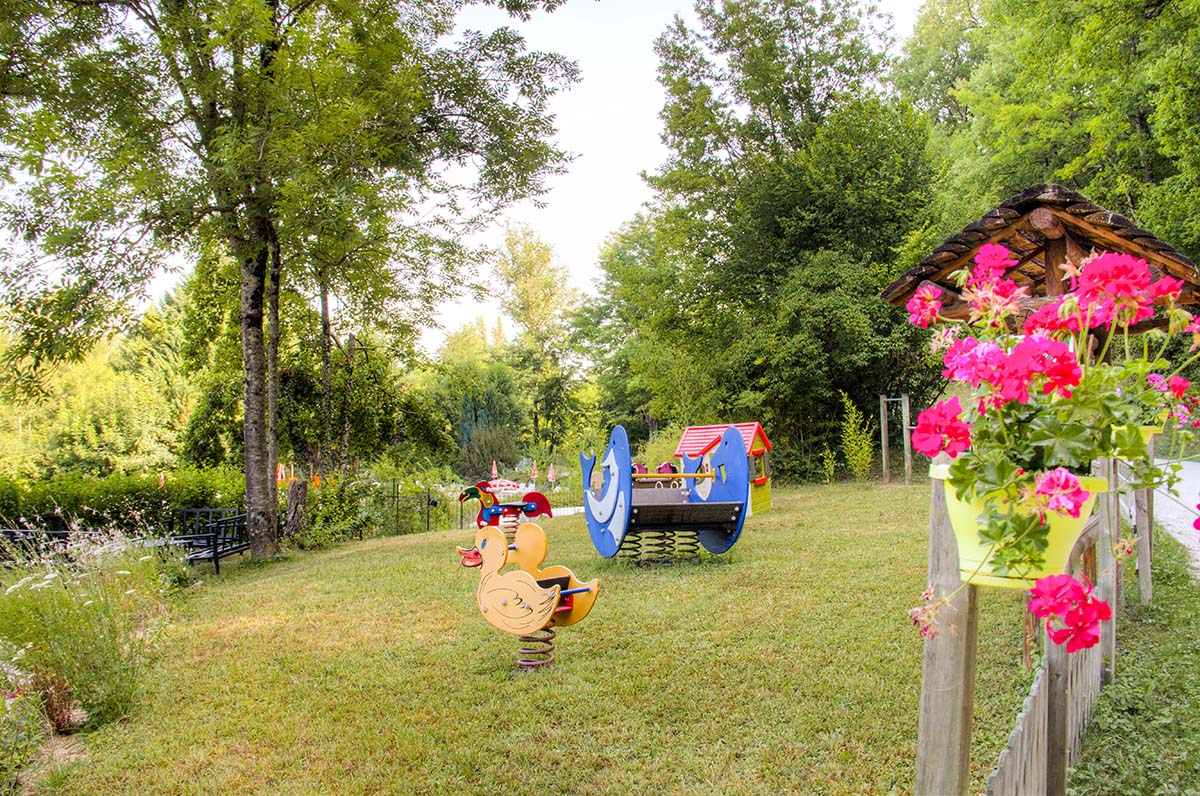 Guests at l'Eglantière
Campsites like l'Eglantière generally attract naturists who prefer to seek rest in a natural environment. Reading a book, sunbathing and skinny dipping all belong to the options while the kids are enjoying the day time activities. The evening entertainment then again brings everyone together in a relaxed atmosphere.
While we were at l'Eglantière the majority of the other visitors came from France or The Netherlands, but also the Belgians, Germans, and British were represented. We even met Brian and Kate, a couple from New Zealand who own a naturist campsite in their home country but prefer to spend the (their) cold months under the French sun at l'Eglantière. They've been doing this for so long that meanwhile they're often confused as staff by the returning visitors.
The tranquility and privacy that comes with such a large naturist domain also make it a great destination for beginning naturists. If that's you, make sure to mention this at the check-in and you'll receive a lot of information which will make your first steps much more comfortable.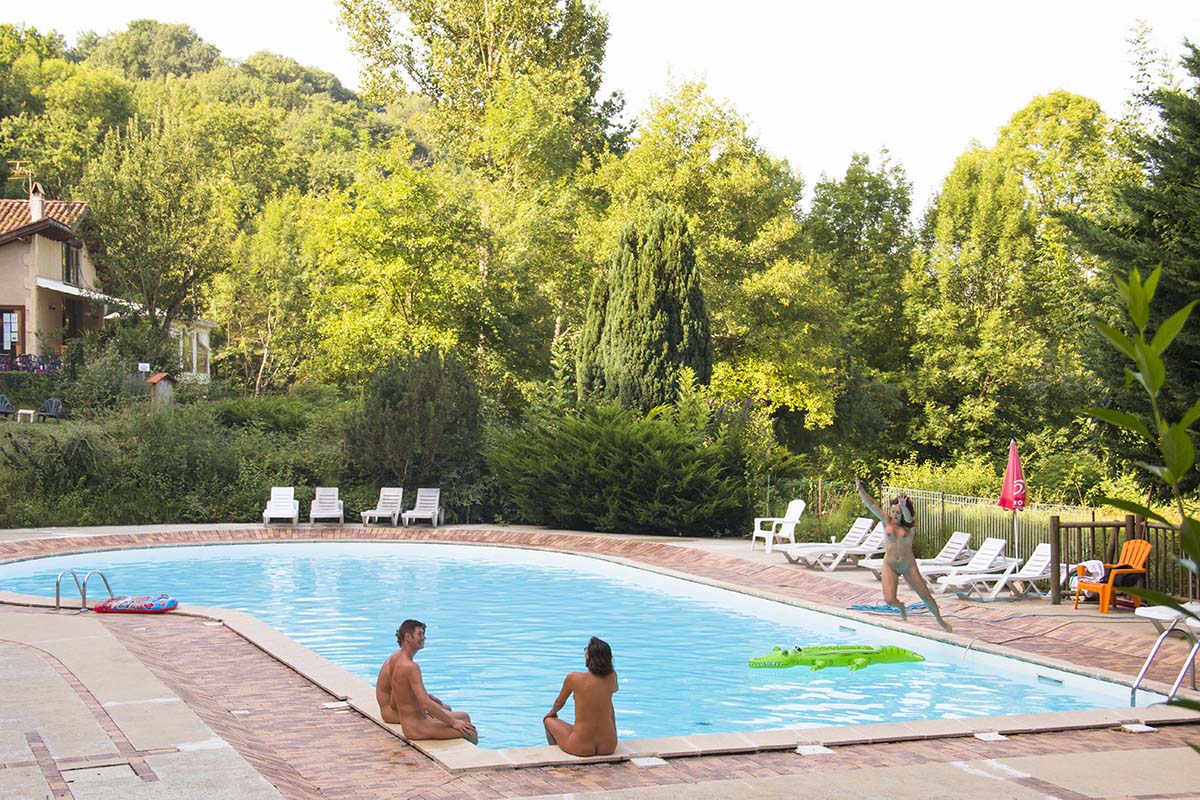 Reservations & Contact
Reservations at l'Eglantière are preferably made via:
✅ Website: https://www.leglantiere.com
✅ Phone: +33 (0)5 62 39 88 00
✅ E-mail: [email protected]
It's definitely possible to communicate in French, Dutch, English, German, and Spanish.
l'Eglantière is open from the end of April until early October.
Summary
It's hard to summarise all the aspects that make l'Eglantière the wonderful naturist campsite it appears to be. It's mostly the combination of all different aspects that prove to be a great mix for a great naturist vacation.
Disclaimer: We have been invited as guests of l'Eglantière, but of course all opinions are our own. We are super confident you will love this place as much as we did!
Watch the video
Naked Wanderings' Ultimate Guide for Naturism in France: Occitanie ebook

Are you looking for great nudist resorts and nude beaches in Occitanie?
Are you looking for the best tips for a nude vacation in Occitanie?
Then our ebook will be the perfect resource for you!

Learn More
Need help with planning your trip? Check out our Resources Page for an overview of the best companies we use during our travels
---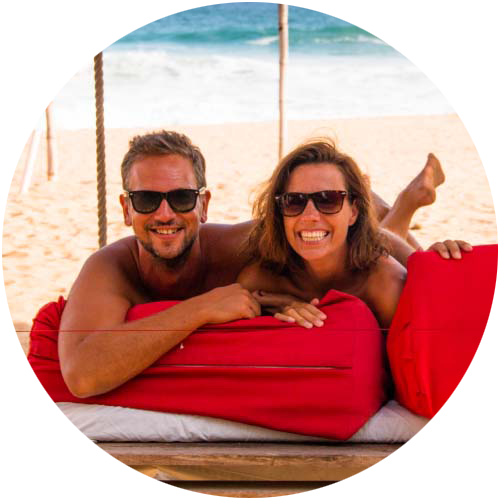 Support Naked Wanderings
Do you like what we do for naturism and naturists? Did we make you laugh or cry? Did we help you find the information you were looking for? Then definitely join our Patreon community!
---