Croatia is often considered to be the origin of commercial naturism. The earliest mentions of the country in naturist articles date from the very beginning of the 20th century and by the 1960s more than 100 000 naturists spent their vacations at the Croatian coast year after year.
Just off the coast of the town Vrsar on the Istria peninsula lays a small island called Koversada that used to be particularly popular among naturists. In 1961, this island became Croatia's first naturist resort. Back in the day, you still had to take a boat from the mainland to the island. Today, there's a long bridge and the resort expanded to large parts of the coastline, providing 85 hectares of naturist space that attracts up to 6000 visitors per day during the high season.
Needless to say that Koversada is an icon in European naturism and its historical value can hardly be overestimated. Reason enough for us to get our naked butts towards the north of Croatia to personally experience the resort.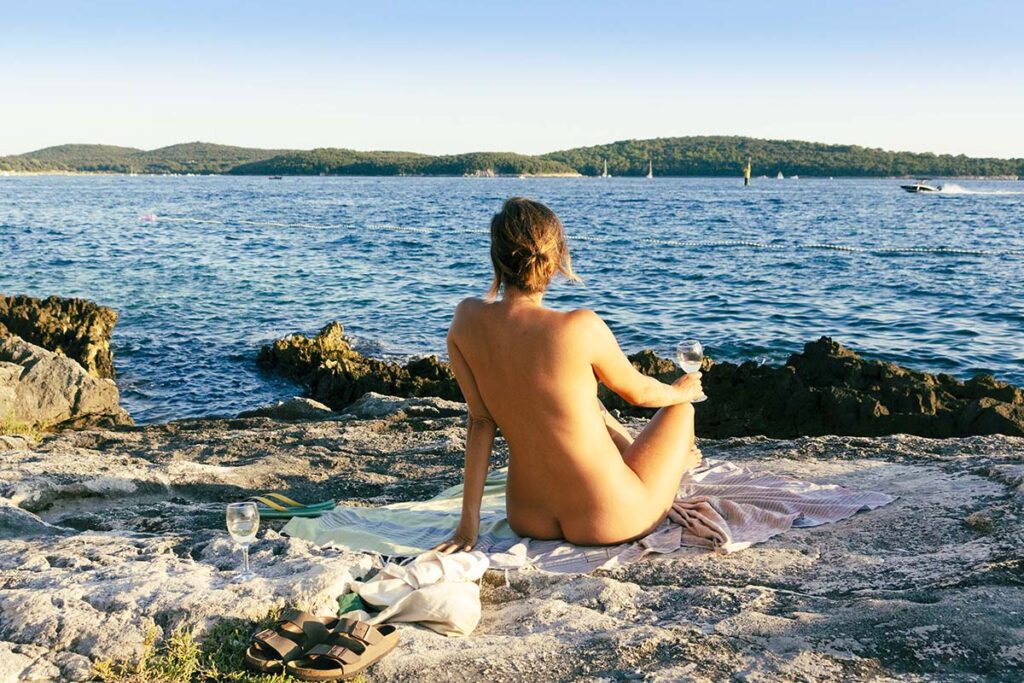 How to get to Koversada Naturist Park
Istria is probably Croatia's most popular tourist destination and due to its proximity to the northern European countries, many visitors arrive with their own transportation. It's pretty straightforward. If you're coming from the north or west of Europe, you want to follow the direction Trieste (Italy), briefly cross through Slovenia, and then take the E751 highway south. Get off in Medaki and follow direction Vrsar and soon you'll see the signs towards Koversada appear.
From eastern Europe, you want to take the direction of Zagreb from where you continue on the E65 highway towards Rijeka. In Rijeka, you switch to the E61 and quickly after to the E751 that will bring you to Medaki. From here, just follow the direction of Vrsar and look out for the Koversada signs.
Coming by air, the nearest international airport is Pula, just an hour away from Koversada. Rijeka also serves a number of international flights and for the most options, you better look towards Trieste, Italy. It's easy to arrange private transportation from any of those airports and the staff of Koversada can help you with that.
There are regular bus services from anywhere in Croatia to Pula, Rovinj, and Porec from where you can take a taxi for the last part to Koversada. Buses are pretty slow in Croatia and tend to stop every other minute, so keep that in mind.
Uber does exist in the region but only seems to work half of the time. More often than not, there weren't any drivers available when we tried to get an Uber ride. Taxis are plenty and the prices depend a lot on your negotiation skills.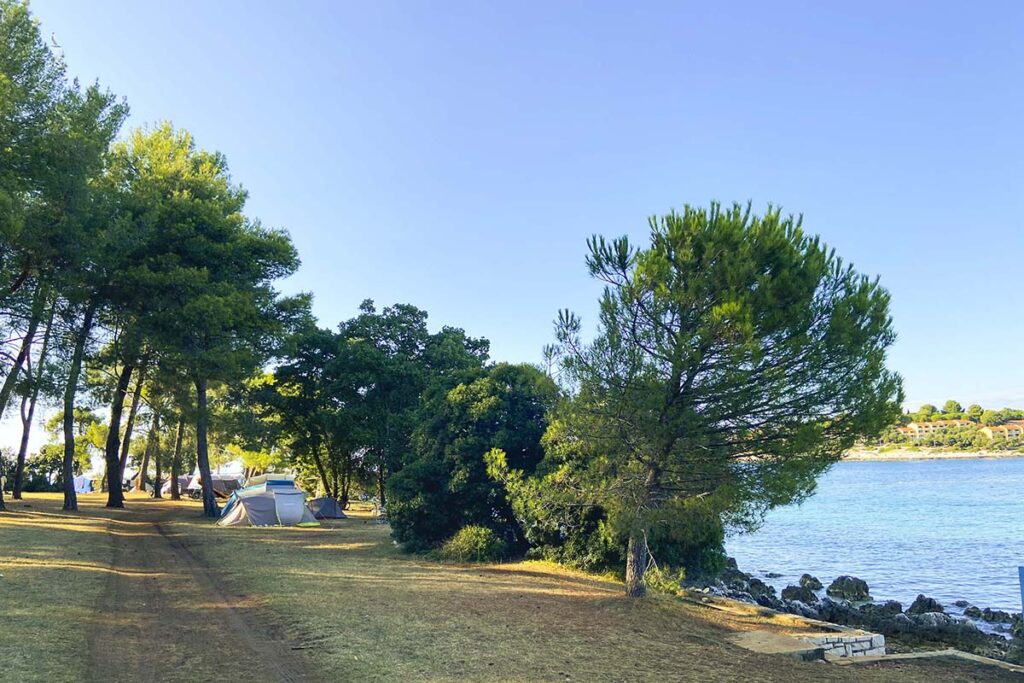 Where to stay at Koversada Naturist Park
Just like with most naturist campsites around the world, accommodation options can roughly be divided between camping and rentals. The interesting thing at Koversada is that both have different reception desks. If you're staying in a rental, just tell this to the person at the entrance and he or she will direct you towards the rental reception. A great idea, if you ask us, as this very much speeds up the check-in procedure.
Rentals can again be divided into different types: Safari tents, apartments, rooms, mobile home classic, and mobile home superior. We had a reservation for a mobile home, although that's not really our most favorite kind of accommodation. Here's the thing with mobile homes, they can often feel so cramped. It's as if they tried to recreate a whole house in one small space. All those different tiny rooms can feel suffocating from time to time.
You can imagine our joy when we walked into our Mobilhome Superior. Not only was it brand new – we understood that they only have this type since this year – but they had also taken all those unnecessary walls away. It was as if they had taken a hotel room, with a separate bathroom and a small kitchenette in the corner, and put it down in the middle of the forest. Just steps away from the Adriatic Sea. It's like staying in a hotel room without the rest of the hotel. We loved that!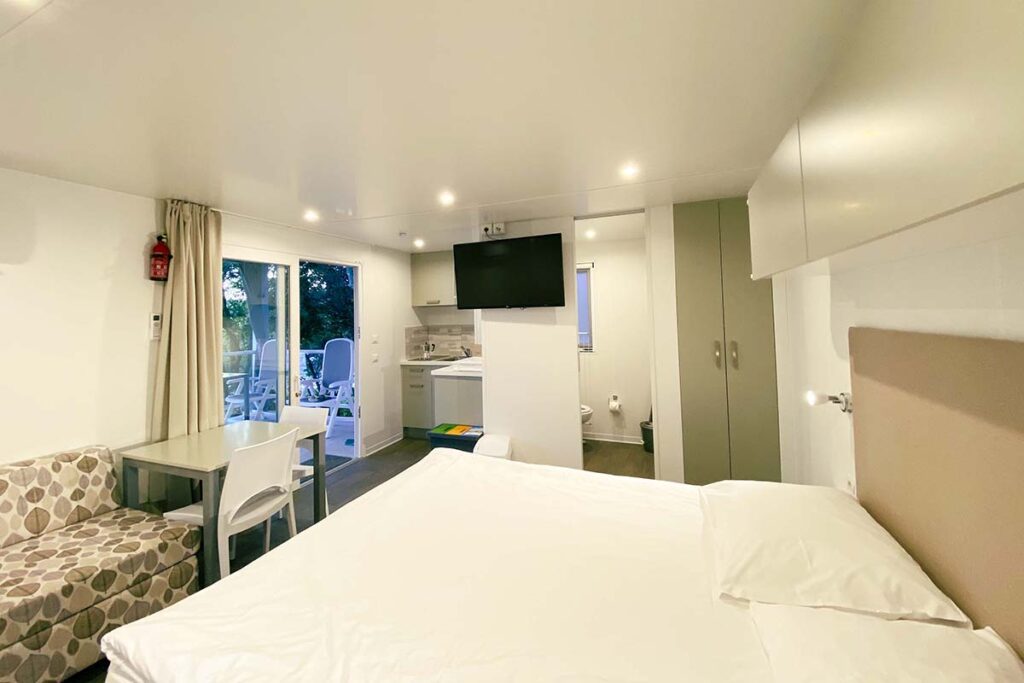 What to do at Koversada Naturist Park
The main attraction of Koversada is, of course, the warm waters of the Adriatic. The resort has about 4 kilometers of coastline, so even when it gets crowded in the summer, it's never hard to find your own spot on the beach. Typical for Croatia, most part of the coastline is rocky. But two artificial sand beaches provide space for those who prefer a softer underground while sunbathing.
The heart of the resort is still Koversada island, the place where it all started more than 60 years ago. An oasis of green with a number of camping pitches (TIP: If we would be camping, we would definitely want to stay here) and lots of shade to escape the hot summer sun. Most of all, we enjoyed the walk from our mobile home to the island. All along the wonderful coast, over the bridge looking straight into the emerald blue water, and then further in the shade of the pine trees on the island.
Being at the sea, water sports are very popular. There's the option to rent paddleboards, jet skis, and some other stuff to keep you busy in the water. The resort even has its own harbor in case you're bringing a boat (something that happens more often than one would expect). And, of course, the common facilities for a naturist resort are present as well. Petanque, volleyball, tennis, table tennis, mini-golf,… It's all there.
There are two supermarkets that we know of. Maybe there are more, we only discovered the second one after several days at the resort. There are also four restaurants to choose from. Amorfa is a buffet-style restaurant that is included in the price if you choose the half-board option. The Batana fish restaurant on Koversada island is the place where you want to get fresh seafood platters which we definitely recommend. For more Italian-style food, there's the Balun Pizzeria. And lastly, there's the Medula Grill if you're more into meat.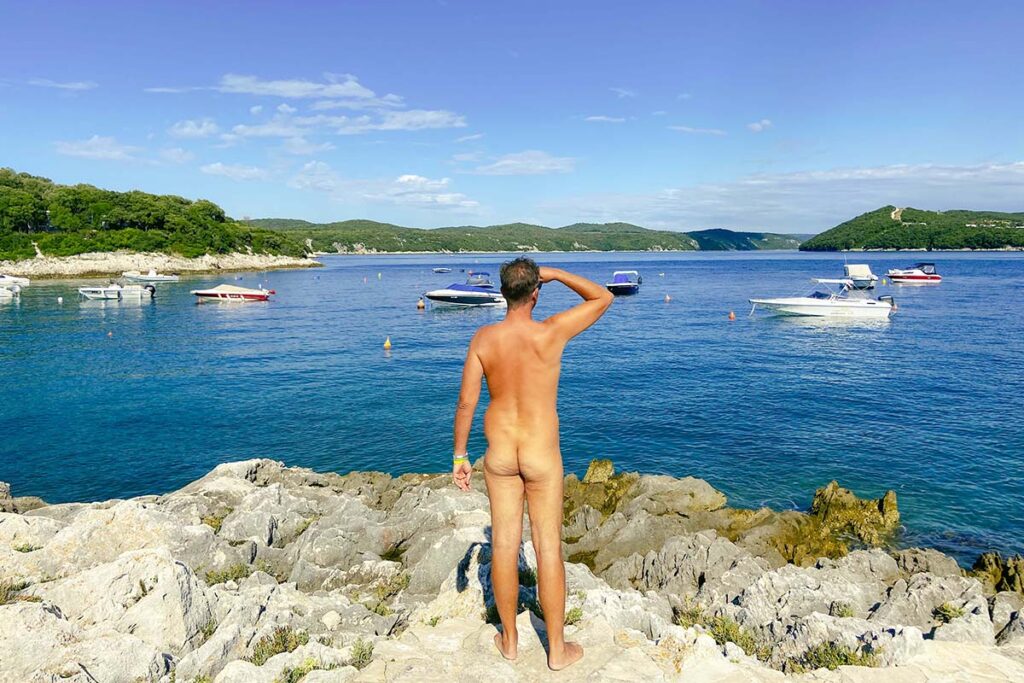 Around Koversada Naturist Park
We'll be honest with you, during our stay at Koversada we never left the park. We were only there for a few days and preferred to enjoy the resort to the fullest rather than dragging ourselves into towns and villages. Also because we had been in the region before and have already seen lots of it.
If you do want to get out, the town of Rovinj is definitely a recommendation. It's one of the most beautiful towns in Croatia and also very popular for its beachside cocktail bars. Another recommendation is Pula, about an hour south of Koversada. The city on itself isn't all that spectacular, but it's home to one of the largest Roman amphitheaters in the world and the best-preserved one.
The Istra peninsula is dotted with villages, that only get more picturesque once you travel inland towards the hilly countryside. The nearest village to Koversada is Vrsar, which can be reached with a tourist train passing by the resort.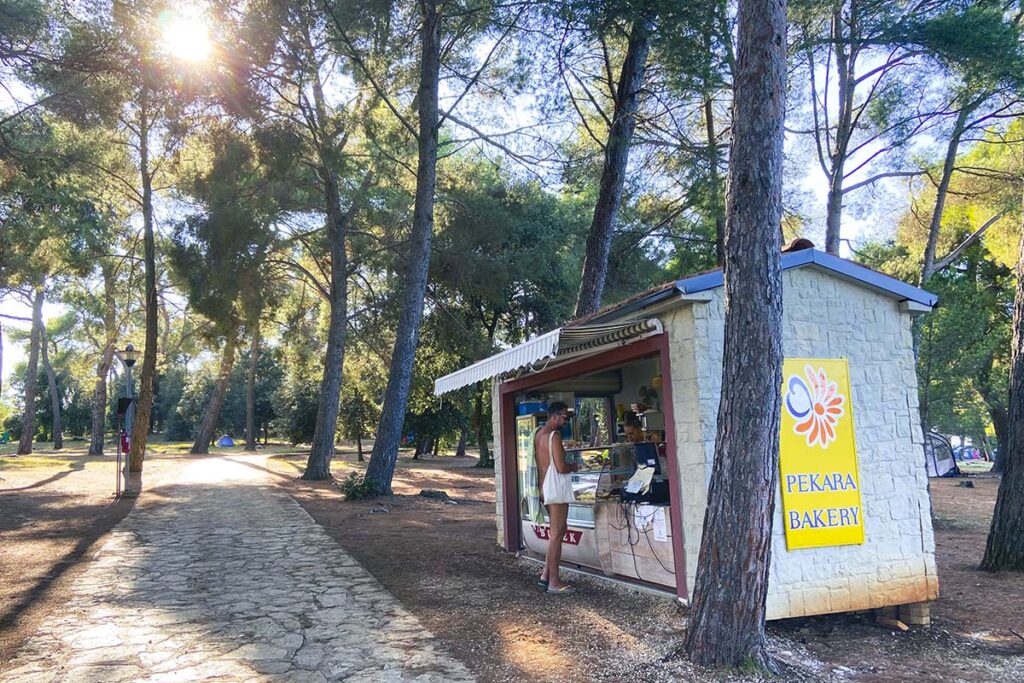 Staff of Koversada Naturist Park
In a resort like this, the staff is plenty, and it's hard to picture a general image because we didn't really have many encounters with them. Except for the friendly ladies at the reception desk who were very helpful with their information about the resort and to get us a taxi back to the textile world once our visit was over.
Guests at Koversada Naturist Park
For decades, Croatia has been a popular destination for German naturists. Today, this isn't any different and the majority of the license plates that we saw at the resort were German. The other neighboring countries like Austria, Italy, and Slovenia were very present as well, and so were the Dutch and the Belgians.
Important to mention is that while other large naturist resorts seem to be suffering from an increasing number of textiles, this didn't appear to be the case at Koversada. "Suns out, buns out" was the generally adopted philosophy.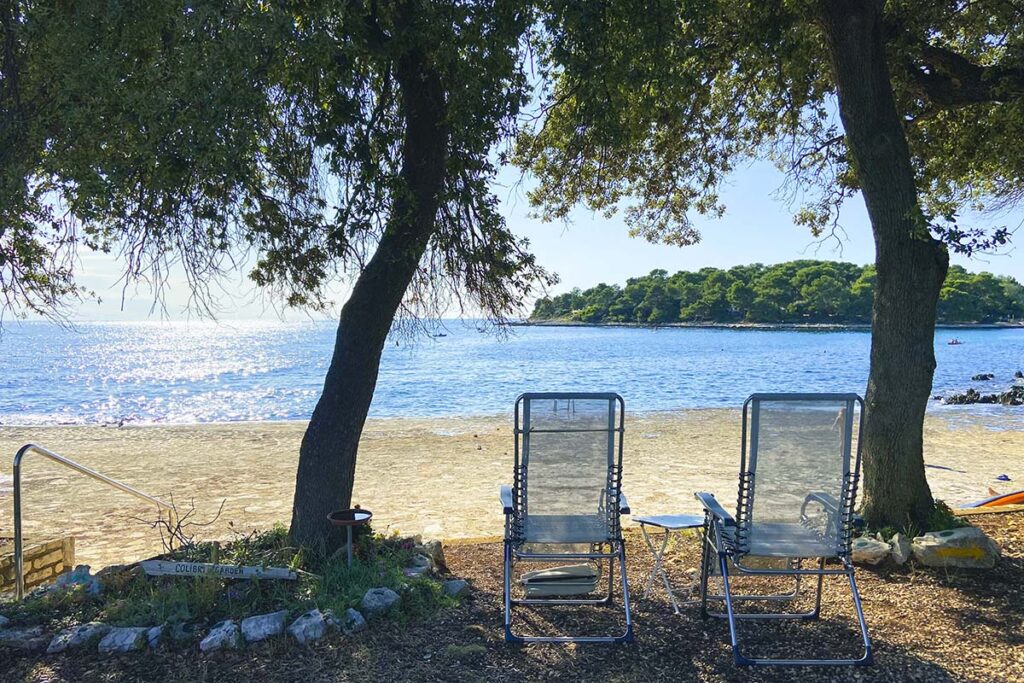 Reservations & Contact
Finding your way through the different options can be a bit tricky, so we'll list them down for you:
Languages: Croatian, English, and German are commonly spoken by the staff. Some speak other languages as well.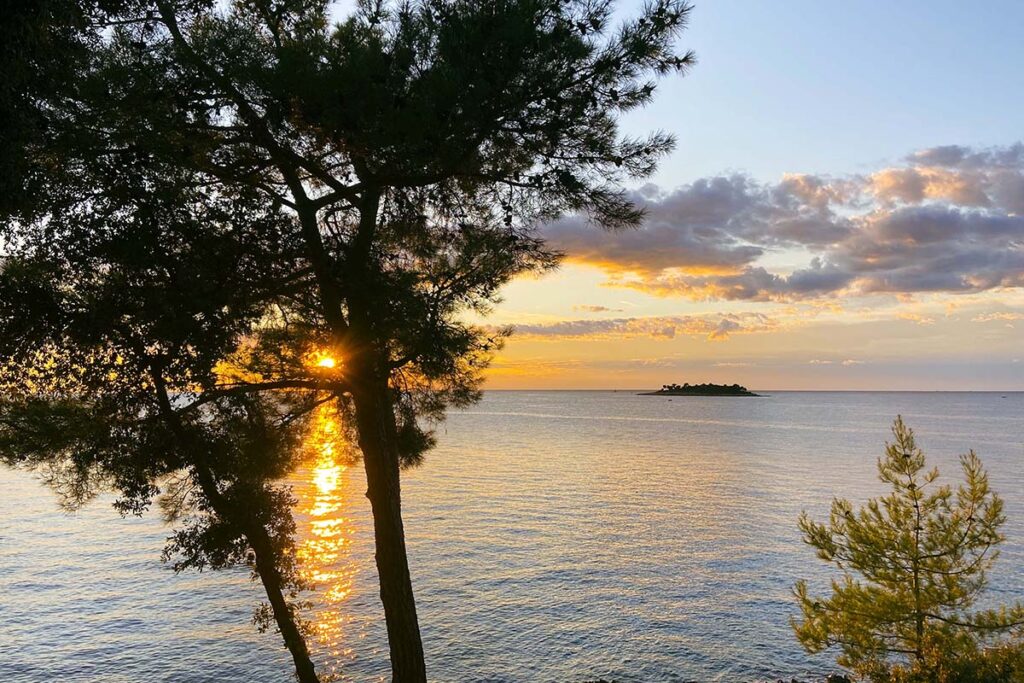 Summary
We had high expectations when we went to Koversada, and that's not always a good thing because it might lead to disappointments. But we're happy to let you know that this was definitely not the case. Koversada was everything we'd hoped that it would be. Even better.
Watch the video
---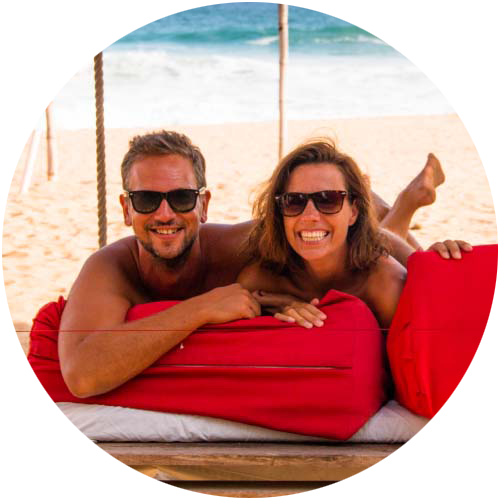 Support Naked Wanderings
Do you like what we do for naturism and naturists? Did we make you laugh or cry? Did we help you find the information you were looking for? Then definitely join our Patreon community!
---