Vera Playa has been on our to-go list for as long as we can remember. It's Spain's most popular naturist destination, and probably also the largest one, receiving thousands of visitors per day in the summer months. We just had to see with our own eyes what all the fuss was about. The original plan was to go to Vera Playa in late autumn of 2020, but COVID completely messed up that plan. As we were intending to go back to Spain for the winter of 2021-2022, we figured that this was our chance. So off we went, off to Vera Playa.
Please note that this will not be the typical review like the ones you're used from us. There are two main reasons for this. One is that Vera Playa is so different from a typical naturist resort that it would be hard to write a review in our existing format. The other reason is that we visited Vera Playa in the middle of the winter so that our experiences will be completely different from those of you who go in summer.
Before we got to Vera Playa
Booking at a naturist resort is fairly easy. You go to their website and fill out a booking form. Or you visit the contact page so you can send them an email or give them a call. At Vera Playa, it doesn't work like this. Of course, there is the
official website of the Vera Playa Club Hotel
. But this hotel is just one of the many options available. To be more specific, the hotel has 281 rooms. But the whole naturist part of Vera Playa has about 2500 rental accommodations.
You read it right, we said "naturist part", because Vera Playa also has an (even larger) non-naturist part. We found numerous options on
Booking.com
and
Airbnb
, and then there were even more websites of urbanizations, and individual people renting out their own apartments or studios. The over choice made it hard to make a decision. We had no idea what Vera Playa really looked like. What if we arrive there only to notice that we rented the crappiest apartment in the whole town? What if we would accidentally pick an apartment that is not in the naturist zone? Oh, the horror!
Luckily, we have an advantage that most naturist travelers don't have. We have a large audience and we knew that some of them had already been to Vera Playa. In fact, we knew that some of them actually live in Vera Playa. So we did a big shout-out on social media, to notify that we were coming and to ask for help to find accommodation. We received a lot of tips and eventually, we chose the
Enerjjoy apartment
in the Parque Vera 1 urbanization. Mostly based on recommendations and because it met our requirements of being spacious, having some outdoor space, and having cable wifi.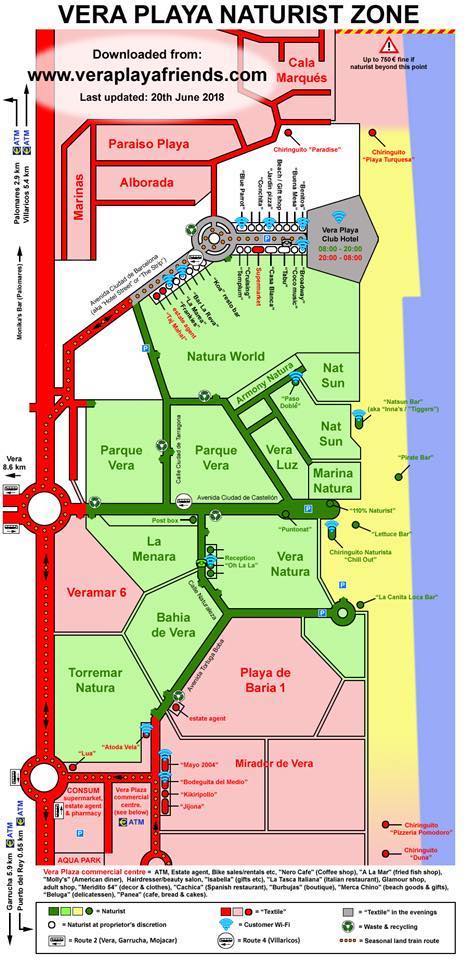 How you should choose a place in Vera Playa
Of course, maybe you don't have access to all that knowledge about Vera Playa, so we'll share all the wisdom that we gained during the month that we stayed in the naturist town. First of all, have a good look at the above map. It shows you exactly which urbanizations are in the naturist zone and which ones are naturist (don't automatically expect that an urbanization in the naturist zone is actually naturist).
Another advantage of this map is that it shows you how far you're from the busy main road (the one with the roundabouts, how far you're from the beach, how far you're from the commercial center (the roundabout at the bottom), and how far you're from "Hotel Street" (the gray zone at the top) where many bars, clubs, and restaurants are. If you find a good deal, always double-check whether it's actually in a naturist urbanization. We've heard stories of tenants who list their property as naturist while it's actually not.
You can save yourself all this hassle by just booking a room in the hotel. But this too comes with a side note: The hotel only allows nudity from 8 AM to 8 PM. So if your plan is to be naked 24/7, this might not be a good idea. Also note that the hotel is closed during the winter months.
Nudity at Vera Playa
One of the reasons why so many people love to visit Vera Playa is because it's a so-called
naturist village
. This means that you're not just allowed to be naked on the beach and within your own accommodation or urbanization, but also on the streets. Which are real public roads, not just resort roads. As you can see on the map, there are several roads where it's totally fine to be naked, some roads where you are required to cover up, and Hotel Street where you're not supposed to be naked in the evenings. If you're staying in a naturist urbanization, you can always get to the beach or the bar without having to put on clothes.
It's also fine to be naked in several bars and restaurants, once again we refer to the map to know exactly which ones (this map is gold, we know!). Basically, the most famous beach bars NatSun, Chiri Naturista, and El Pirata allow you to be naked as well as most other bars in the naturist zone. Hotel Street is again the exception, and it's best to ask before you order.
What we found quite a pity is that there isn't a single shop in the naturist zone. The huge Consum supermarket in the commercial center will have everything you could probably need, but you do have to put clothes on to enter. This means that unless you're going out for every single meal, you will eventually need to get dressed to get groceries.
The Vera Playa nude beach
The place where nudity is definitely allowed and also expected is of course at the beach. Which is also the main highlight at Vera Playa. It's wide, long, sandy, and completely naturist. It's definitely one of the better nude beaches that you'll find on the Spanish Mediterranean coast. On the northern side of the beach is a huge sign saying that you reached the end of the naturist part. In the south, there's no sign but the common accepter border is the small river (although when it's dry, you may not notice it).
What we liked the most about the beach in Vera Playa is that it has the feel of an urban beach. Not the kind of small cove that's hidden for the rest of the world, but a beach surrounded by buildings, with beach bars and a parking lot. Walking around naked on this beach really gives you the feeling that this place is where the naturists rule.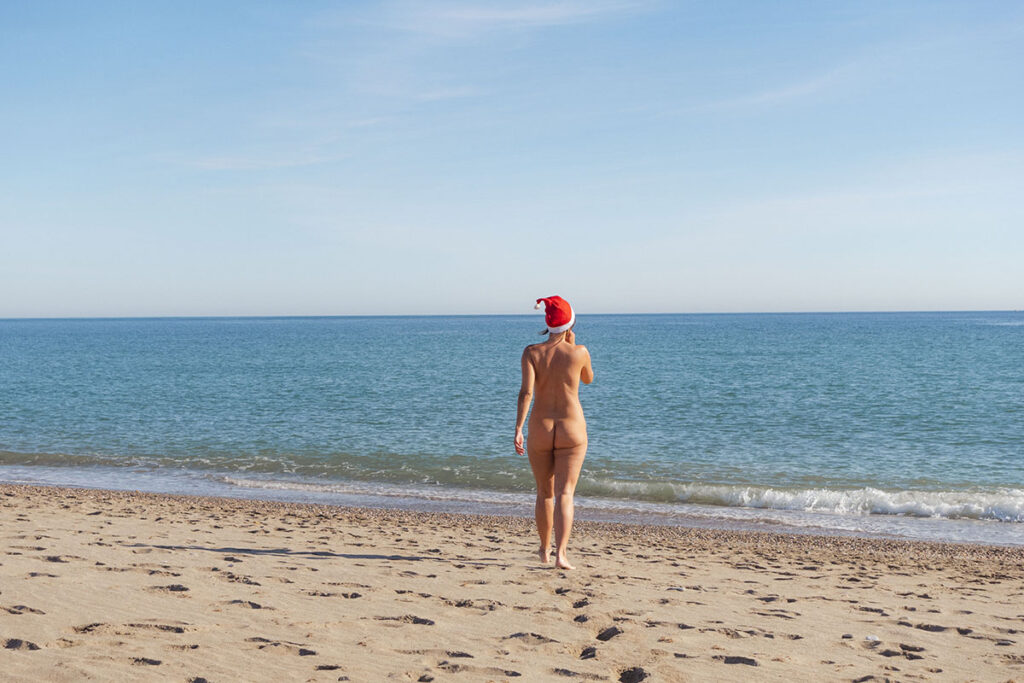 The atmosphere at Vera Playa
This is the part where the seasons make all the difference. A year ago, we had seen the video about the
Naked Ghost Town
by White Witch in a Van. She had visited Vera Playa at the time when we (and most other people from around the world) could not get there. So it was no wonder that it seemed like a ghost town. But when we visited Vera Playa this winter, it didn't seem all that different.
Of course, the bars and restaurants were open, and there were some people around, but the town often felt quite desolate. This is, of course, because Vera Playa is mostly a summer destination and is just too large for the couple of hundreds of people who are there during the winter months. The people we met during our stay either lived at Vera Playa or were just spending a significant number of months there. A little naturist community waiting for the sun to get out to take their clothes off.
We hear that the summers are completely different when the town is full of tourists and the streets are full of naked people. When you need to search for a spot on the beach and wait for a table at one of the bars or restaurants.
Is Vera Playa worth your visit?
This is the million-dollar question. We stayed at Vera Playa for one month, and at the end, we were happy that we could continue our journey. But then again, we were there in the slow months and we have nomadic blood in our veins. What we were personally missing the most was some culture. All of Vera Playa has a very artificial feel and you won't find a theatre or old church or impressive architecture. You basically won't find a building that's older than 40 years or so.
Nevertheless, we would like to return in summer one day. To see the difference, to feel the different vibe. And maybe we'll decide then that we actually do prefer a winter vacation in Vera Playa. Or maybe not. Whenever that happens, we'll make sure to let you know.
---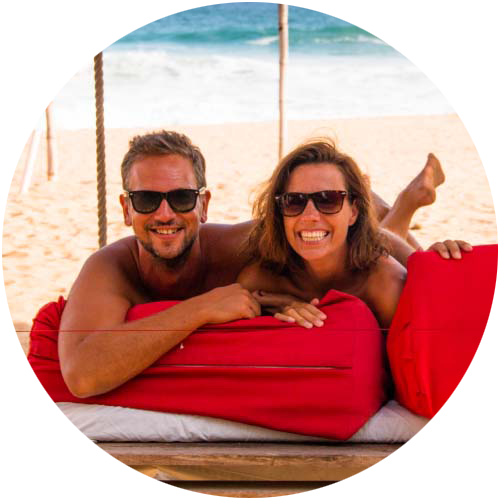 Support Naked Wanderings
Do you like what we do for naturism and naturists? Did we make you laugh or cry? Did we help you find the information you were looking for? Then definitely join our Patreon community!
---