What does your preferred naturist destination look like? Which feature does it need to have for you to consider visiting the place?
We're not just asking you this, it's a question we've been asking many naturists during our travels. The number one answer by far is that there has to be nature. The majority of the naturists we meet prefer greenery over concrete. Which didn't exactly come as a surprise. Within nature, the choices are much better spread. Some like forests, some like rivers, some like naked hiking opportunities and a lot of you like access to a beach. A nude beach preferably.
During the last years, we've visited an abundance of naturist resorts in Europe and several of those do have direct access to a nude beach. Hereby an overview.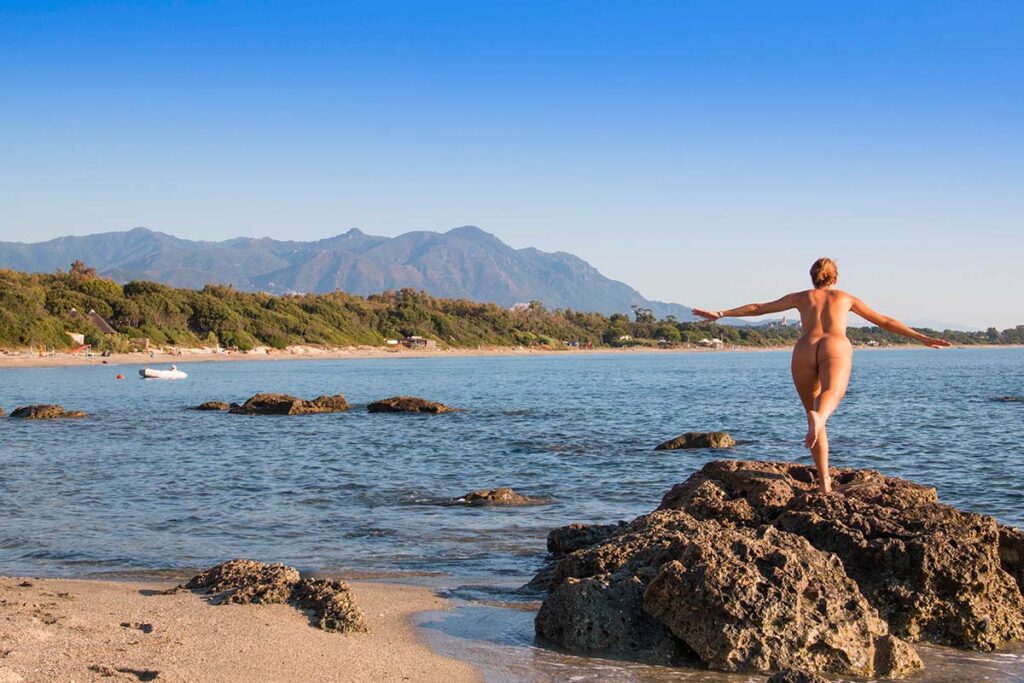 Bagheera in Corsica, France
We'll start with an absolute topper. The largest nude beach in Europe is called Linguizzetta beach and can be found on the French island Corsica. And right at this nude beach is naturist resort Bagheera. While France is known for its huge Atlantic nude beaches (more about those later), the Mediterranean ones tend to be much smaller and often very crowded. Well, Linguizzetta beach is the complete opposite of this. It's a wide, 4-kilometer-long nude beach with several watersports facilities and a handful of beach bars.
Because the Bagheera campsite is tucked away in a dense Eucalyptus forest, you can see the beach from the resort, but once you're at the beach you don't notice that there is a resort right behind you. Instead, it feels as if you're surrounded by nothing but nature. The mountain tops in the backdrop and the warm Mediterranean sea make you feel like you're on a Caribbean island rather than in France.
Riva Bella in Corsica, France
Right around the corner of Bagheera is another wonderful naturist resort called Riva Bella. The beach at Riva Bella is not as long and wide as Linguizzetta beach, but the white sand and warm waters are definitely comparable. One of the things we loved about Riva Bella is that you can camp right on the beach. Also several of their rental accommodations have a front-row sea view.
This is a truly magnificent experience, to wake up in the morning, stick your head outside and see nothing but emerald blue water. Thanks to the warm water temperatures, we hardly ever could stop ourselves from running straight into the sea for a morning skinny dip. Needless to say that the beachfront pitches and rentals are in high demand, so if you want one of those, make sure to book early.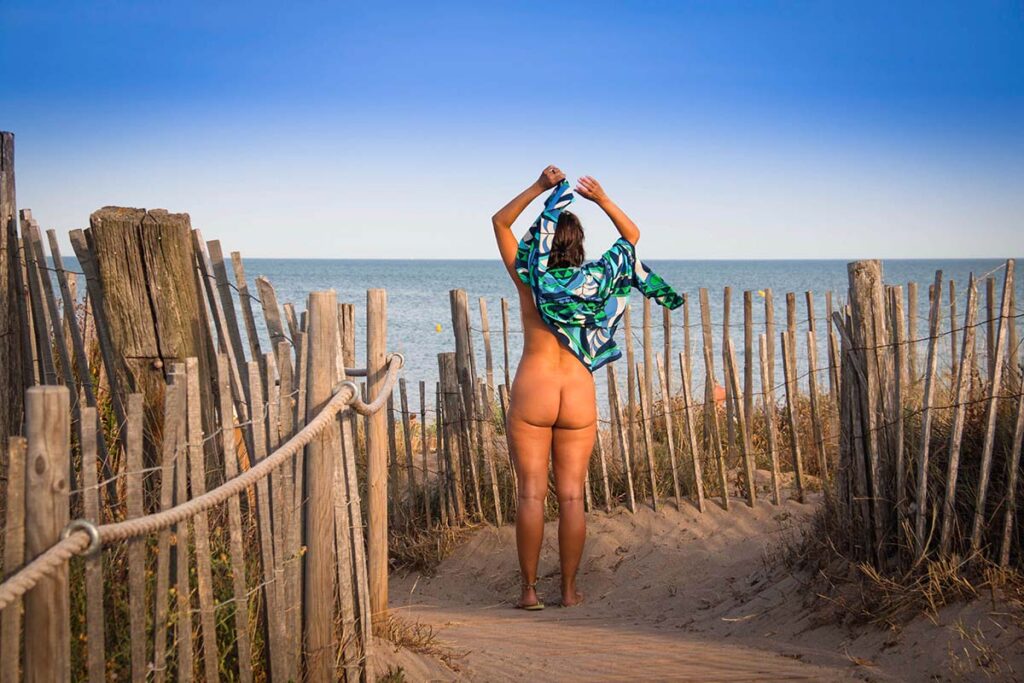 Sérignan Plage Nature in France
We mentioned before that the French Mediterranean nude beaches tend to be small and crowded. Other than in Corsica, we did find another resort on the Mediterranean coast with an excellent nude beach: Sérignan Plage Nature. Also here, you can walk from the campsite directly to the nude beach. So bring enough sunscreen though because there's no shade and the temperatures can go pretty high in the summer months.
Euronat in France
Over to the French Atlantic Coast. This part of the country is not only known for its widest nude beaches, but also for its largest naturist resorts. One of the big ones is Euronat, which receives around 10 000 visitors per day during the high season. But don't worry, the connecting nude beach is so huge that you'll barely notice that there are so many people.
When it comes to natural beauty, these Atlantic beaches are hard to match and are definitely among the most beautiful ones in this overview. One downside is that the weather in this part of France can be quite unpredictable and that the ocean does not have the bathwater temperatures that you'll find in the Mediterranean.
CHM Montalivet in France
Right next door to Euronat, you'll find a very similar resort when it comes to size and beach access. CHM Montalivet is often said to be the birthmat of naturism in Europe because several important organizations were founded here. Today, it's mostly a huge naturist campsite with lots of facilities and an excellent nude beach.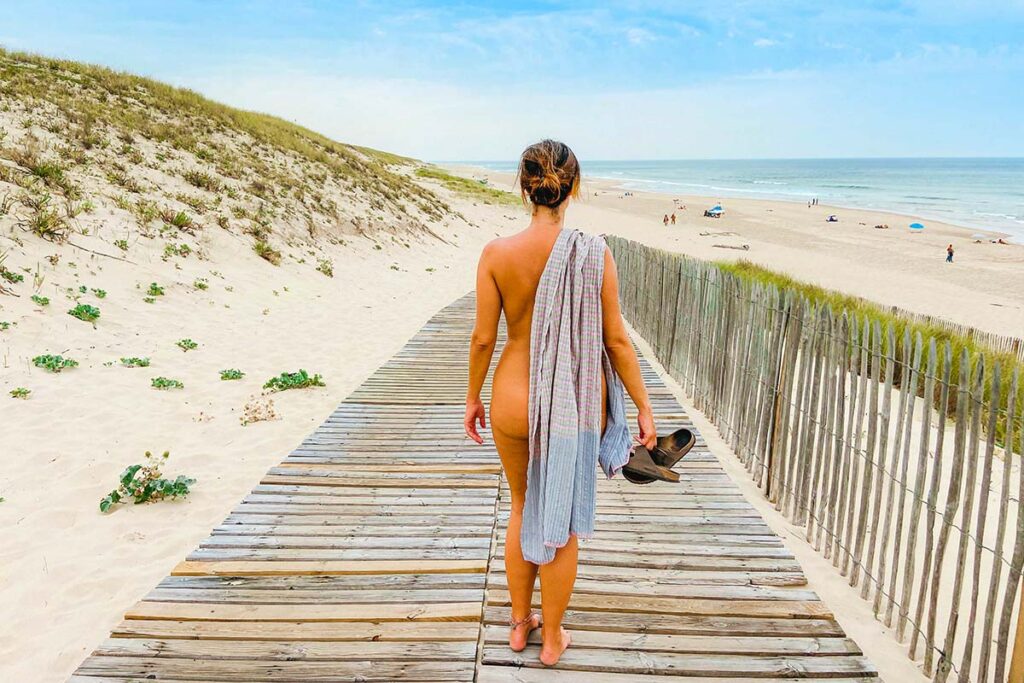 La Jenny in France
A bit further south from the last two resorts, you'll find La Jenny. Technically, this resort doesn't fit on the list, because there's no direct access to the nude beach. Instead, you'll need to walk for about 15 minutes (or cycle for 5 minutes) via a path that is considered a public road. And on French public roads, you technically can't be naked. We keep saying "technically" because when we were at La Jenny nobody cared about this. There is nothing but nature around and the only people you'll encounter are visitors to the resort or the beach.
What makes La Jenny stand out against its northern neighbors is that it's not a campsite. Here, you'll only find rental accommodations which make it more like a naturist holiday village.
Arnaoutchot in France
One more place on the Atlantic Coast is Arnaoutchot. It's also quite comparable to Euronat and CHM, except for the fact that it's quite a lot smaller. At Arna, you will "only" find about 2500 visitors per day during the high season. You will also find an abundance of facilities and nature though, and direct access to another one of those amazing Atlantic nude beaches.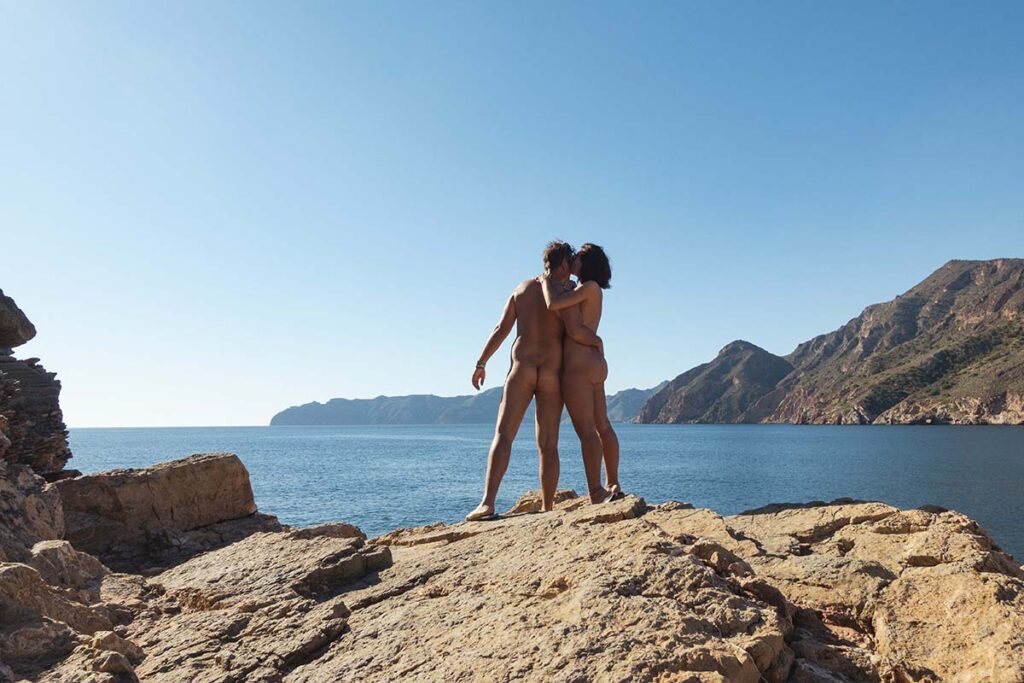 El Portus in Spain
Naturist campsite El Portus is one of the few resorts in Spain where you'll find a nude beach. The beach itself is not all that spectacular when it comes to natural beauty, but since the campsite is in a very secluded area it feels almost as if it's a private nude beach. The area around El Portus is nothing but nature, so if you get bored on the beach you can easily go for a naked hike as well.
What's particularly interesting at El Portus is that its location creates a kind of microclimate. We visited the resort in mid-December, and it wasn't just possible to be naked most of the day, but we could also enjoy a skinny dip in the sea. This is not something you'll be able to do in many places in Europe this time of the year.
Costa Natura in Spain
Well, there is another place where you can enjoy winter skinny dips, and that is at Costa Natura. This naturist resort has only rental accommodations and is beautifully designed like a typical southern Spanish village. The beach is not particularly large, but perfect for sunbathing and/or skinny dipping.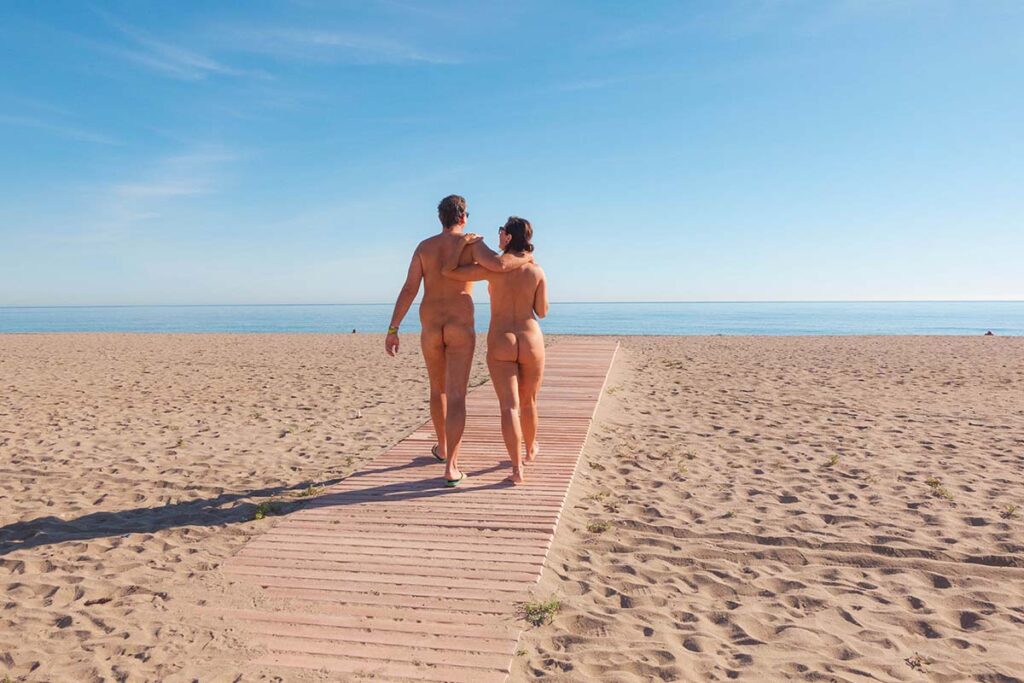 Vera Playa in Spain
Probably the best-known resort in Spain for beach naturism is Vera Playa. This is one of the two real naturist villages on this list, in the sense that it's an actual village with neighborhoods and streets where nudity is the norm. The nude beach at Vera Playa is large and wide and there are several beach bars where you can enjoy a refreshment without having to put your clothes on.
We visited Vera Playa during the winter and the town felt a bit deserted. We could enjoy at least several hours most of the days without clothes though. Of course, this was the very low season and we hear that Vera Playa tends to get really crowded during the summer months. If you want to escape the crowds (and high prices), we would recommend going in the shoulder seasons instead.
Charco del Palo in Lanzarote, Spain
The second true naturist village is Charco del Palo on Lanzarote, one of the Canary Islands. The beach of Charco del Palo is unlike all the previously mentioned because it's not sandy. Instead, it's all rocks with a number of swimming holes. So if you're really the sandy beach type of naturist, this may not be a top choice.
However… Charco definitely has some advantages. Most importantly the excellent winter weather. If you're looking for a winter naturist vacation, this is one of your few options in Europe. Another advantage is that there are some spectacular sandy nude beaches just a short drive away.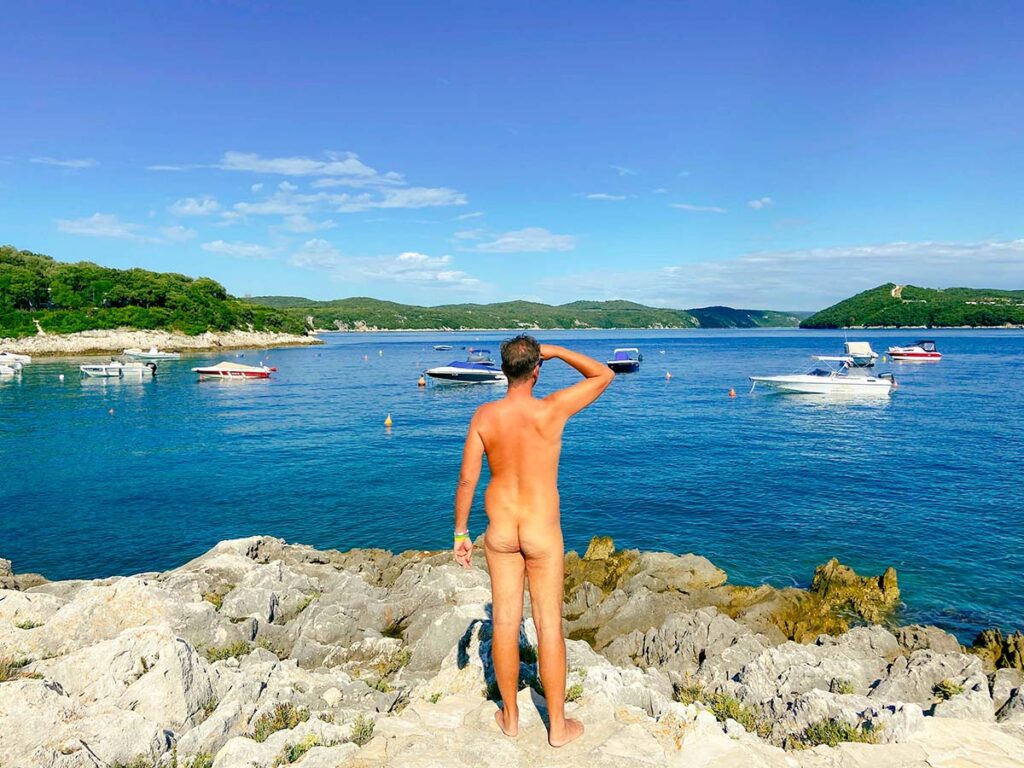 Koversada in Croatia
Last but not least, on the Croatian Adriatic coast, you'll find Koversada Naturist Resort. A big name in Croatian naturism and very popular among German, Austrian, and Italian naturists. The coastline of Koversada is several kilometers long and mostly rocky. Although they did create some artificial sandy beaches here and there. What's really spectacular about Koversada is that it has its own island, only accessible via a bridge.
The list of naturist beach resorts in Europe is probably longer than what you just read because we've only talked about the places that we visited personally. If you know other excellent European naturist resorts with a nude beach, make sure to let us know in the comments!
---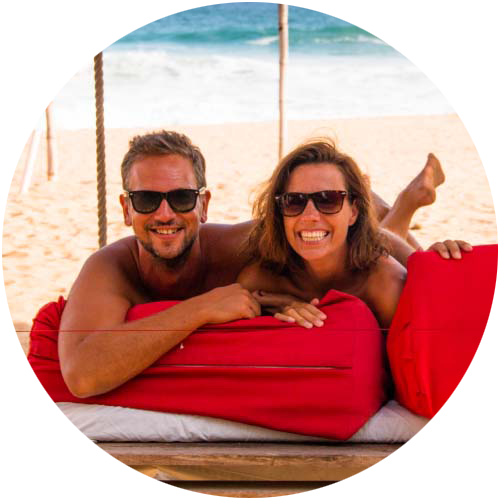 Support Naked Wanderings
Do you like what we do for naturism and naturists? Did we make you laugh or cry? Did we help you find the information you were looking for? Then definitely join our Patreon community!
---