Back in 2018, we went to Asia for the first time. We had been hearing rumours about naturism really getting a foot on the ground in Thailand and we wanted to know what the fuss was all about. What we found were 5 naturist resorts in Thailand and one in Bali that were running very smoothly. It was obvious that this was just the beginning.
A lot has happened since then. The number of resorts in Thailand catapulted to 9 in just a couple of years. But then COVID hit, and some of those brand-new businesses were not ready to cope with huge financial losses. Others managed to sustain through these difficult times, so now we thought that it was time to return to see what's left of naturism in Southeast Asia, and more importantly, to get an idea of what might happen in the years to come.
Yesterday vs Today
Organisation-wise, not that much has changed over the last half-decade. Naturism is mostly organised in the form of private resorts, both in Thailand and Bali. Official nude beaches are still nonexisting in the whole Asian continent. We get the feeling that there are more unofficial nude beaches today than last time, but maybe that's because we just talked to more people. In any case, we don't think that there's a single country in Asia where public nudity (for recreational purposes) is legal.
Thailand still has a very strong
naturist federation
that tries to unite naturists from all over the continent. Their yearly congress
NATCON
attracts more than a hundred naturists from around the world. Taiwan and Malaysia have a federation too, and several other Asian countries have clubs and associations that organise their own events. Some of these are fighting to get visibility, while others prefer to stay under the radar for cultural and religious reasons.
What did surprise us a lot is how the resorts didn't just manage to bounce back so quickly after COVID, but also how the geographics of their visitors changed. In 2018, the very large majority of the resort visitors were Europeans, Americans, or Australians. Today, we met so many more naturists from Asian countries. Especially the number of Thai naturists seems to have increased hugely in the last few years.
The naturist resorts
New naturist resorts appear to shoot up like mushrooms, so it's likely that by the time you're reading this blog post, our information might be incomplete again. But here is the status of June 2023.
Thailand
🏖️ Barefeet Naturist Resort
Barefeet naturist resort was a re-visit for us, and we were happy to see that not much had changed since our last visit. It's still the cosy naturist guesthouse in Bangkok where guests can spend their time naked while just being a short ride away from the centre of the city. Barefeet is also a popular hub for those just arriving or leaving the country and those living in Bangkok and looking for some rest in the nude.
🏖️ Chan Resort
Another very established name in Thai naturism is Chan Resort, the oldest naturist resort in the country. Their big advantage is that they are located in downtown Pattaya, within walking distance from the beach and the city centre. Most of their guests visit for just that. To have a place where they can relax naked in all quietness but with easy access to town.
🏖️ Dragonfly Naturist Village
A new name on the list is Dragonfly Naturist Village in Pattaya, which is the largest naturist resort in Thailand and maybe even in all of Asia. Their list of amenities is huge, but the highlights are definitely the lake and the Onsen Spa Centre. This is the kind of place where you go to really get away from the busy city and get yourself indulged in relaxation and luxury.
🏖️ Oriental Beach Village
Another very unique place is Oriental Beach Village, which as the name suggests, is right on the beach and also allows their guests to be naked on the beach and in the sea. This is something never seen before in Asia. It's a very upscale resort with lots of luxury. If you've been to Thailand in the past, you may recognise some of the staff and the owner, as he previously owned the very successful (but unfortunately closed)
Oriental Village resort
in Chiang Mai.
🏖️ Peace Blue Naiharn
More owners that already earned their stripes in other resorts are Patty and Golf. Previously they managed the (unfortunately closed)
Lemon Tree resort
, now they have their own resort in Phuket. Peace Blue Naiharn is yet another luxury oasis which proves to be the perfect gateway to explore Phuket island.
🏖️ Harmony Resort
Harmony Resort is just around the corner from Peace Blue but provides a very different experience. The focus here is completely on nature. It's a very green resort and the bungalow-style rooms don't just add to that but also create the "holiday in Thailand" feeling. Harmony is also one of the most social resorts we visited, where just half an hour around the pool is enough to make a lot of new friends.
🏖️ Oasis Villa
We can't tell you much about Oasis Villa, because we didn't visit it. The place has a handful of rooms, but when we were in Thailand, it was only naturist if you rent the whole villa.
Bali
🏖️ Gecko Resort
For years, there was only one naturist resort in Bali, but just this year, 2 new ones were added to the list. One of them is Gecko Resort. It's a 4-room guesthouse with a lot of luxury and a very relaxed atmosphere. Their proximity to the airport is a really big advantage, as well as their location in the very south of the island. An area that's not overcrowded with tourists and where you can find lots of cool beaches.
🏖️ Bali Natur
Bali Natur is located on the very north of the island and is the only naturist resort in the world that is run by Balinese people. This reflects in the whole resort, where you can get the real Balinese experience without having to put clothes on. The infinity pool with views over the sea also gives a lot of added value. We particularly enjoy this side of Bali because it's not very touristy, while all the amenities for tourists are available.
🏖️ Au Naturel resort
For the longest time, Au Naturel Resort was the only naturist resort in Bali. We visited them in 2018 and didn't go back this time. But from what we hear, not very much has changed since our last visit. It's still a large naturist resort in a mostly unexplored part of Bali.
Summary
By the end of 2020, there were "only" 6 naturist resorts in Asia. Today, just 2.5 years later, the counter is already on 10. And we dare to bet that this number will go up before the end of the year. Naturist vacations in Southeast Asia are on the rise and this part of the world also has the perfect weather conditions for that.
So we are very much looking forward to seeing what will be happening next. Will naturism expand outside the borders of Thailand and Bali and will new naturist resorts pop up in other Southeast Asian countries? And what will new resorts in Thailand and Bali look like? Maybe there will be the first naturist glamping or camping? Maybe there will be the first mega-resort or… what the heck, let's just dream… the first naturist village. And hopefully, there will finally be some official naturist beaches. The future will tell!
---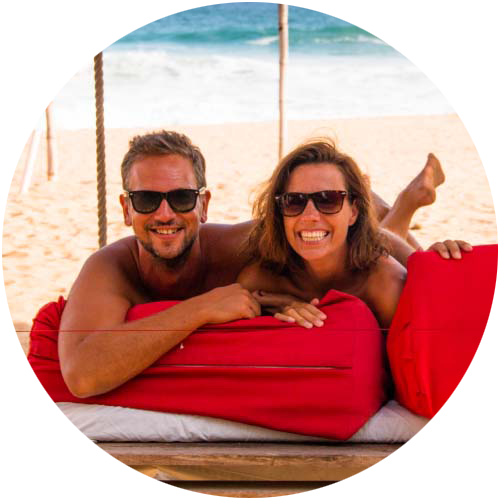 Support Naked Wanderings
Do you like what we do for naturism and naturists? Did we make you laugh or cry? Did we help you find the information you were looking for? Then definitely join our Patreon community!
---