Phuket, despite being not such a big island, is a bustling hub of tourism in Thailand. With about 12 million yearly visitors, it's not hard to imagine that the island can get pretty busy and that concrete is often a more common sight than nature. Yet, there are still some pristine natural places to be found, mostly secluded beaches and national parks, but also in the form of a naturist resort.
When you find yourself daydreaming next to the pool of Harmony Resort, with the songs of the birds in the backdrop and nothing but green surrounding you, it's hard to imagine that you're at walking distance from downtown Rawai, one of the up-and-coming areas on the island. This is why we like naturist vacations (other than the fact that we don't need to wear clothes). Even in touristy places like Phuket, they'll keep providing natural getaways.
How to get to Harmony Resort
Harmony is situated in the southern part of Phuket Island, offering a prime location for your stay. If you're arriving by plane, Phuket International Airport is the nearest airport, providing connections to various destinations in Asia, including major airline hubs like Bangkok, Singapore, Dubai, and Qatar.
To reach the resort from the airport, you have several transportation options. The most budget-friendly choice is to take the airport bus to Rawai Beach, followed by a short taxi ride to the resort. It's worth noting that the distance is less than 2 kilometres, but if you opt to walk, be prepared for an uphill trek. The bus journey typically takes around 2 to 3 hours, so if you prefer a quicker route, it's advisable to explore door-to-door shuttle services or taxis, which can be arranged by the resort.
Alternatively, you have the convenience of renting a car from one of the numerous rental offices at the airport. The fastest route involves heading southeast towards Phuket Town and continuing south towards Rawai. For a more leisurely and picturesque drive, you can take the scenic route along the island's west coast, passing by charming beach towns along the way.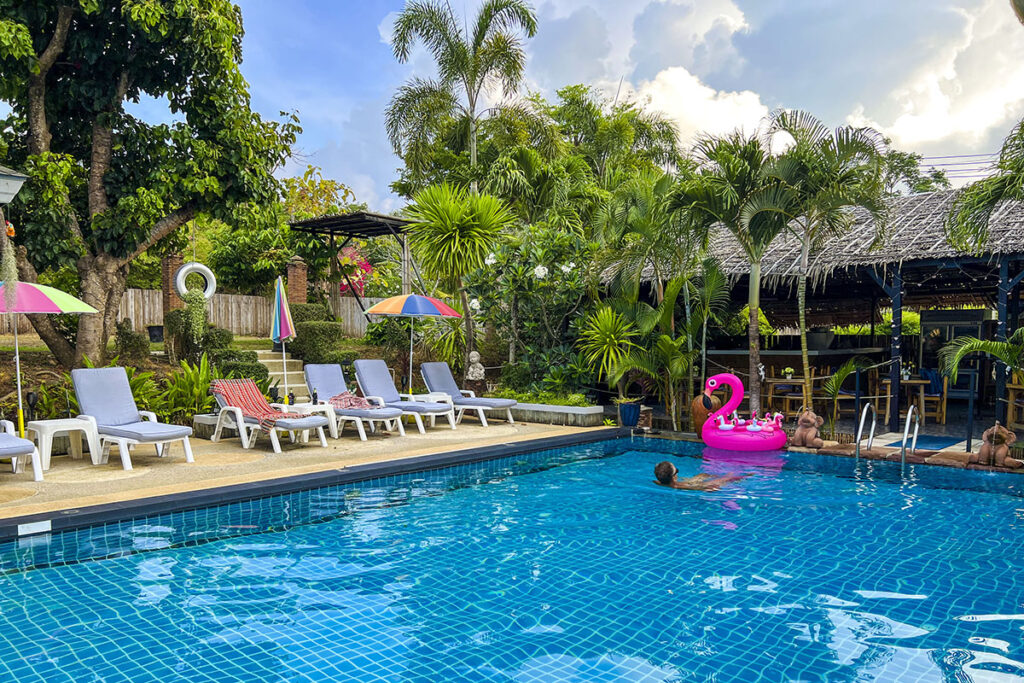 Where to stay at Harmony Resort
Harmony Resort provides two types of accommodations: Rooms and chalets. There's not such a big difference between the two when it comes to size and comfort. Both have a living room, a separate bedroom, an ensuite bathroom, and a terrace. The only big difference is that the chalets are standalone units, which provide a bit more privacy and a real "vacation in Thailand" kind of atmosphere.
We stayed in one of the chalets and really appreciated how spacious it was. When we peeked through the windows of the (not occupied) other chalets, we noticed that every design was slightly different. This creates personality, and it's not a coincidence that returning guests often ask for a specific room or chalet.
All accommodations are just steps away from the pool and the common areas, but still feel tucked away in nature and greenery.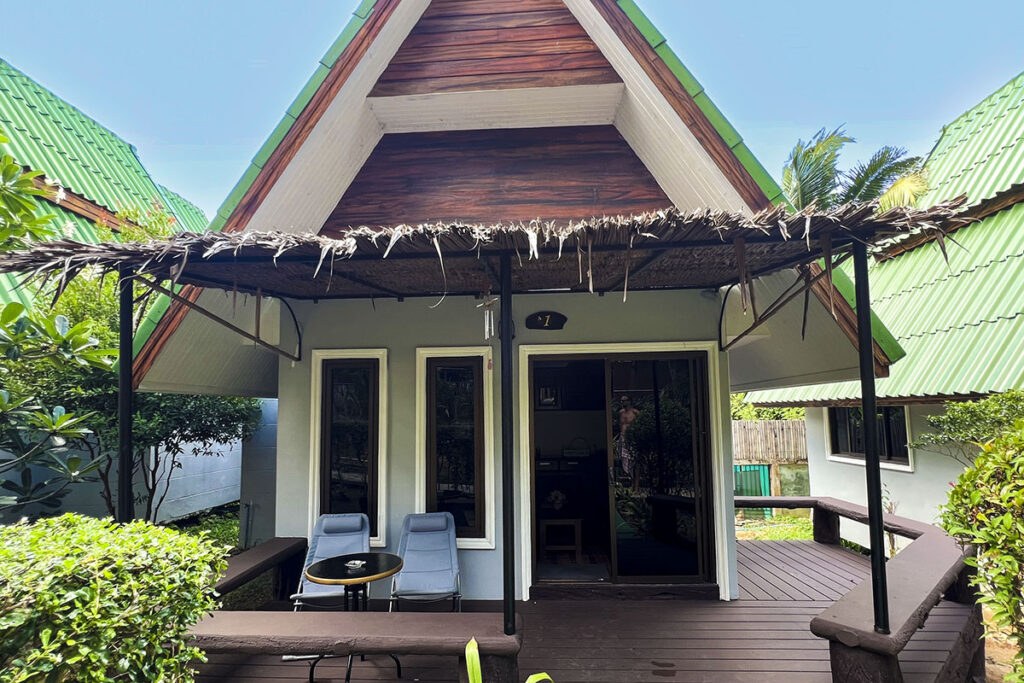 What to do at Harmony Resort
The pool area is where most guests like to hang out during the day when they're not out on excursions. Given the hot Thai weather, that's probably not a surprise, but it's also where the magic of Harmony Resort is happening. This is a very social resort and we often found ourselves going for a swim in the afternoon and end up talking until way after sunset. The proximity of the bar may have had something to do with this as well.
A large area covered by a thatched roof serves as a breakfast area in the morning (breakfast is included in the room price) and as a dining area throughout the rest of the day. The pool table and the board games also make this a kind of social space for those who had enough of hanging around the pool. And, of course, this wouldn't be Thailand if there wasn't a massage spot where you can get your muscles stretched without having to exercise.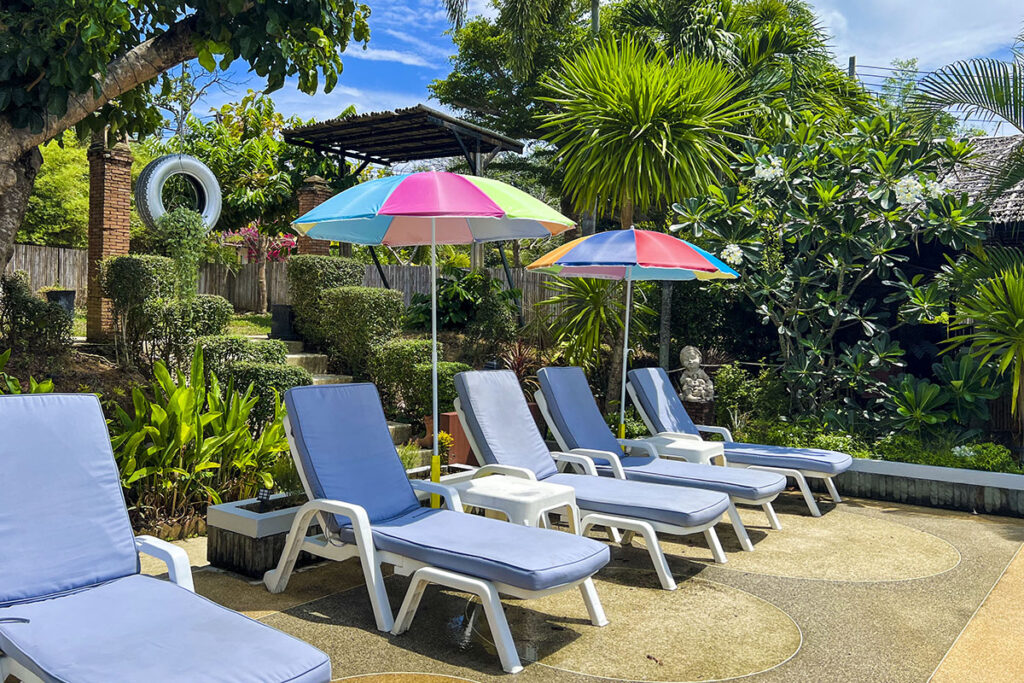 Around Harmony Resort
Phuket, Thailand's most popular destination, has a plethora of activities to offer. Explore the region's rich cultural heritage by visiting the impressive temples and the iconic Big Buddha. Don't miss a chance to experience the vibrant night market in Phuket Town, where you can immerse yourself in the local atmosphere. And for those seeking excitement, a visit to Patong Beach is a must, known for its lively nightlife on Bangla Road.
For a more relaxed experience, look no further than the serene Rawai and Naiharn regions, where Harmony Resort is located. Rawai, a coastal village, captivates visitors with its local charm and breathtaking ocean views. Discover the bustling fish market, where you can witness the daily catch and indulge in the freshest seafood at nearby restaurants. The village also boasts cosy cafes, restaurants, and boutique shops.
Nature enthusiasts will find solace in Naiharn Beach, renowned for its pristine white sands and crystal-clear waters. This tranquil haven is perfect for sunbathing, swimming, and snorkeling, away from the bustling tourist crowds. Adventure-seekers can partake in thrilling activities such as kayaking, paddle boarding, or embarking on a boat trip to nearby islands like Coral Island or Racha Island. Dive enthusiasts can explore the vibrant marine life and coral reefs that flourish in the Andaman Sea on exciting snorkelling and diving excursions.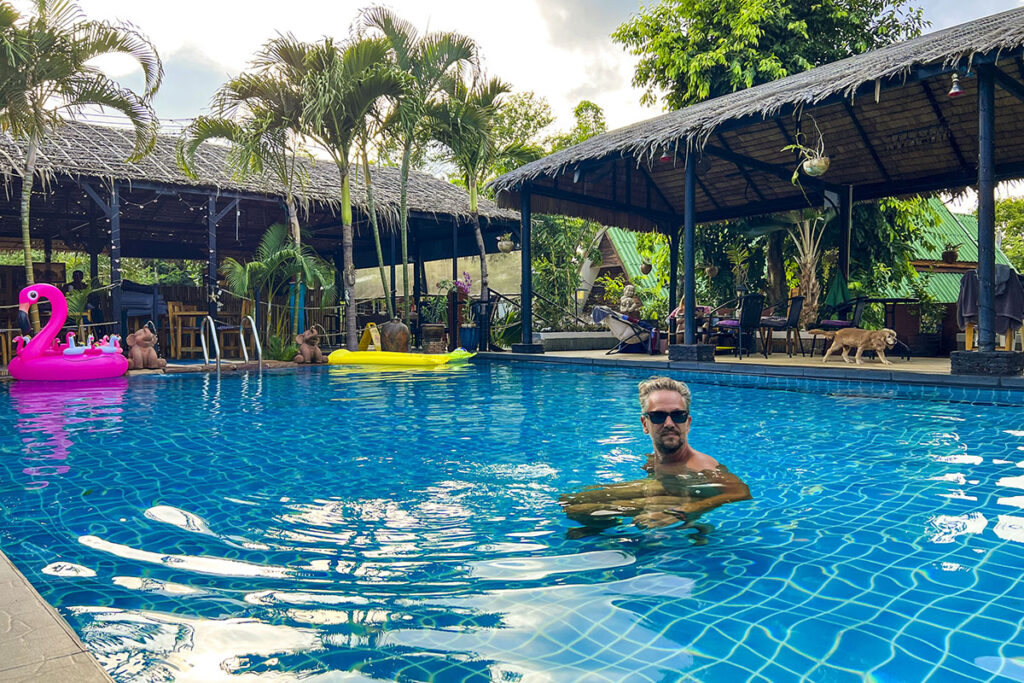 Staff & Guests of Harmony Resort
One of the reasons why the pool area is such a social place is thanks to Tracey and Neil, who own the resort and who can most often be found in their dedicated chairs next to the pool. They're always up for a quick chat or a very long conversation, whatever you prefer. The reason why they can spend a lot of time entertaining their guests is because they have a very good team to rely on.
We met Kenny, who does a lot of the managing and bartending. Mali (if we got that name right) cooks delicious breakfast in the morning and makes sure that your room is spotless. And there were several others whose names, unfortunately, escaped us but who all work together to make sure that a stay at Harmony is unforgettable.
While we were there, we found that the guests too were of the very social kind, and we wondered whether this was because they were being encouraged by Tracey and Neil or whether the social atmosphere was what initially attracted them. We'll probably never know and it doesn't really matter. What matters is that you're likely to leave Harmony Resort with a bunch of great memories and new friends.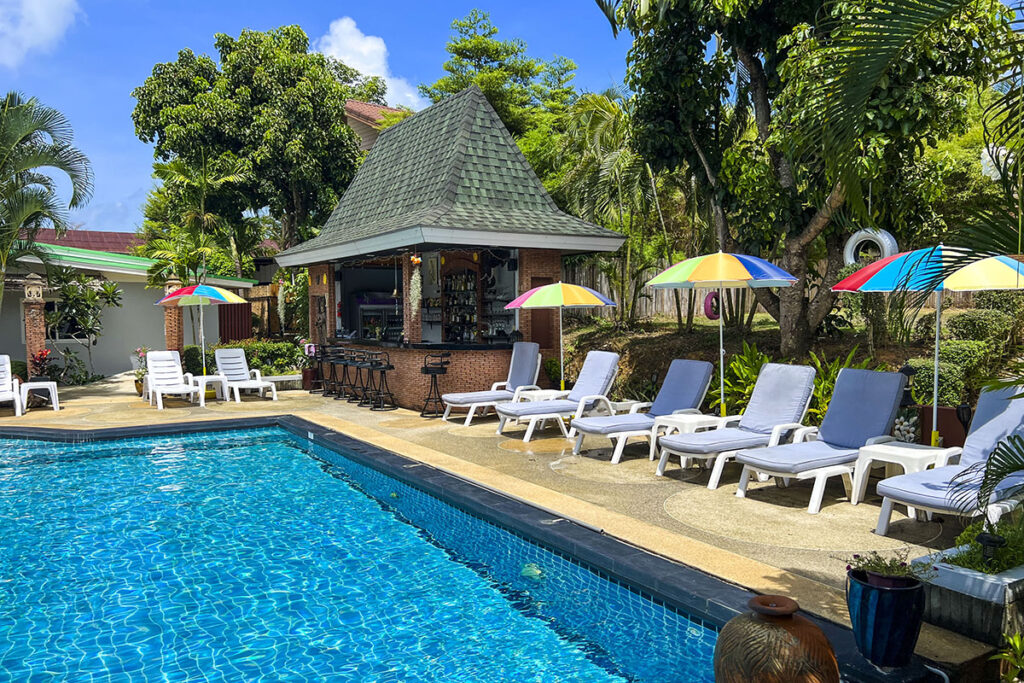 Book at Harmony Resort
The best ways to book at Harmony Resort are:
English and Thai are fluently spoken.
Summary
Harmony is the kind of naturist resort where you can truly escape busy Phuket and retreat to nature, tranquillity, and friendliness. Someone told us that visiting Harmony felt like coming home, and we completely understood what they were saying.
---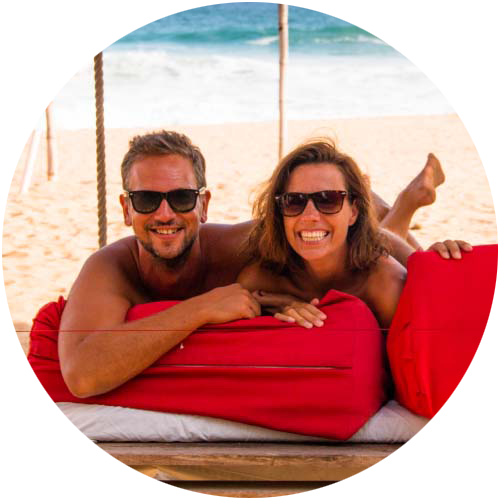 Support Naked Wanderings
Do you like what we do for naturism and naturists? Did we make you laugh or cry? Did we help you find the information you were looking for? Then definitely join our Patreon community!
---