A good decade ago, we heard one story after the other about naturist resorts either closing their doors or turning textile. It appeared like the big wave of naturists that started in the early seventies was coming to an end and resort owners took action to save their businesses. Maybe not the right action, because today, it feels as if the tide has turned again.
More and more people are finding their way to a naked vacation destination and new naturist resorts are popping up in places where there have never been any before. In the north of Bali, we were among the first guests to experience Bali Natur. A former textile resort that turned naturist after the obligatory closure during the COVID pandemic.
How to get to Bali Natur
The international airport in Bali offers direct connections to many countries in Southeast Asia, as well as Hong Kong, China, the Middle East, and several cities in Australia. However, if you're travelling from Europe or the Americas, you'll likely have a layover.
To get from the airport to Bali Natur, the easiest option is to use the resort's pickup service or the
Grab app
(the Uber of Asia). If you plan to visit other places on the island, renting a car from one of the airport offices is also an option. However, be warned that traffic is a problem on the island, and driving can be stressful.
Public transportation is not widely available on the island. If you prefer not to drive, you can hire private drivers or taxis. The owner of Bali Natur can recommend reliable drivers who can also show you some sights on the way. For longer distances, we recommend hiring a private driver, and for shorter trips, renting a scooter can be an enjoyable way to see the sights.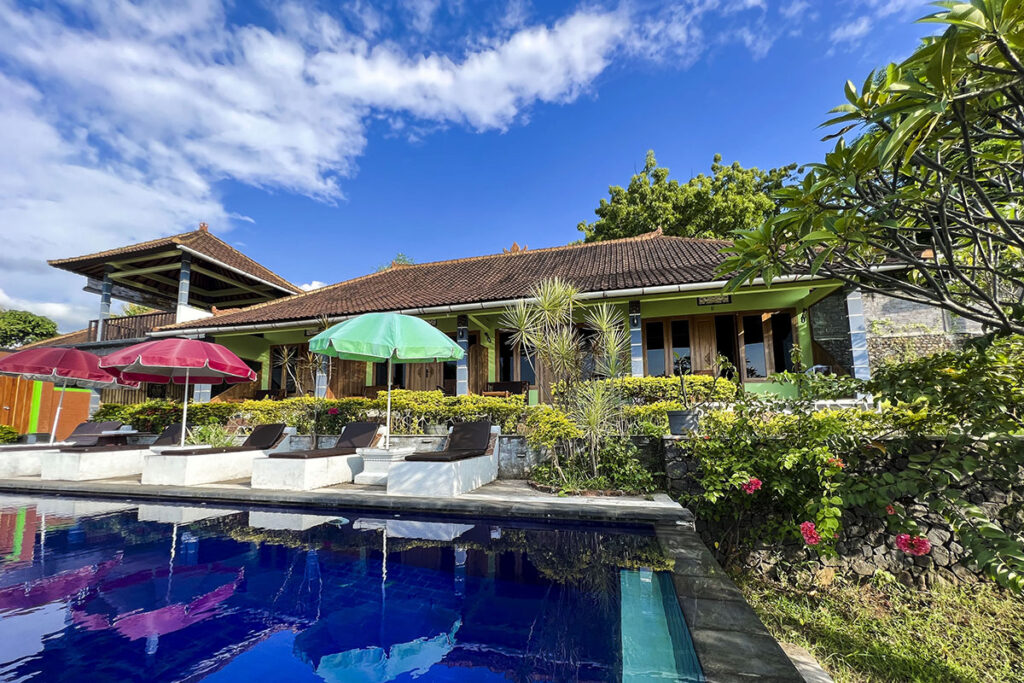 Where to stay at Bali Natur
Bali Natur is the only naturist resort in the world that is uniquely run by Balinese. This is something you'll immediately notice in the style and architecture of the resort. On the first hand, it might seem rather basic. In the Balinese style, there aren't many odds and ends, but rather wide open spaces. Once you look closer though, you'll notice the incredible eye for detail. This is where you recognise the real Bali. Instead of cheap stuff from Amazon or Ikea to fill the room, you'll find handmade carvings that must have taken days to complete.
Bali Natur has 4 rooms. We slept in Room D, but it doesn't really matter which one you pick because they all look pretty identical. They have a large bed, quite a lot of storage space, and an all-in-one bathroom. Yes, this too is very typical Balinese.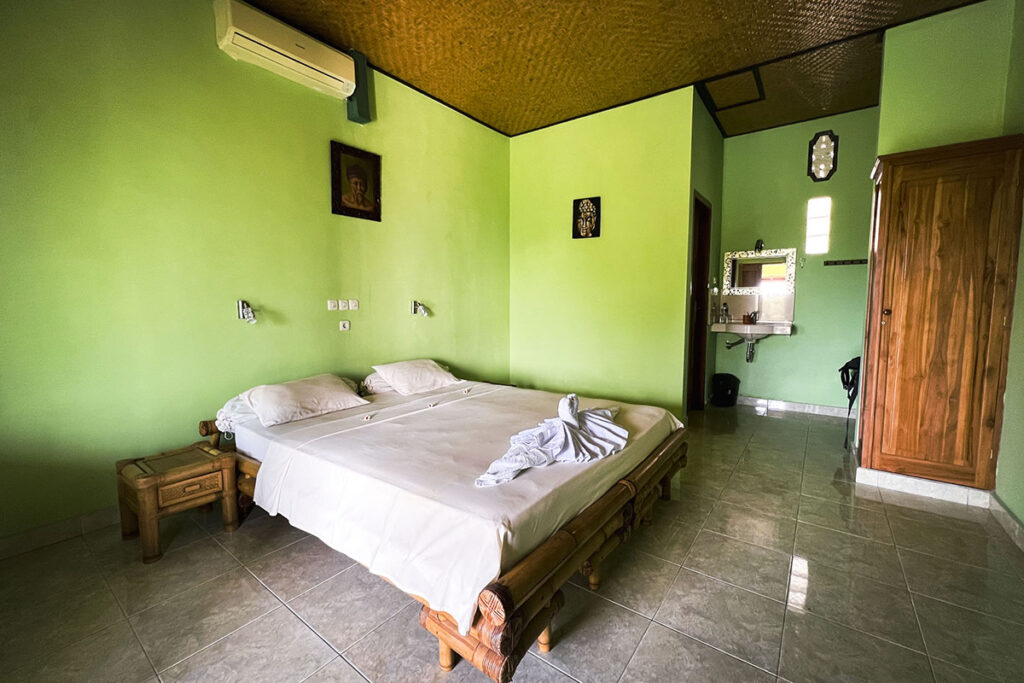 What to do at Bali Natur
Bali Natur is a small resort with a big heart. It may not have the same number of amenities as some of the larger resorts, but it makes up for it with its friendly staff, relaxing atmosphere, and stunning location. The swimming pool is the central hub of the resort, and it's the perfect place to cool off on a hot day. There are plenty of sunbeds to relax in, with a coconut or a beer.
Bali Natur also offers breakfast, lunch, and dinner, as well as typical Balinese massages. Today, the rest of the resort is mostly a colourful garden, but the owner told us about her plans to restructure this with more areas where guests can enjoy time on their own as well as where they can come together for a chat and a drink.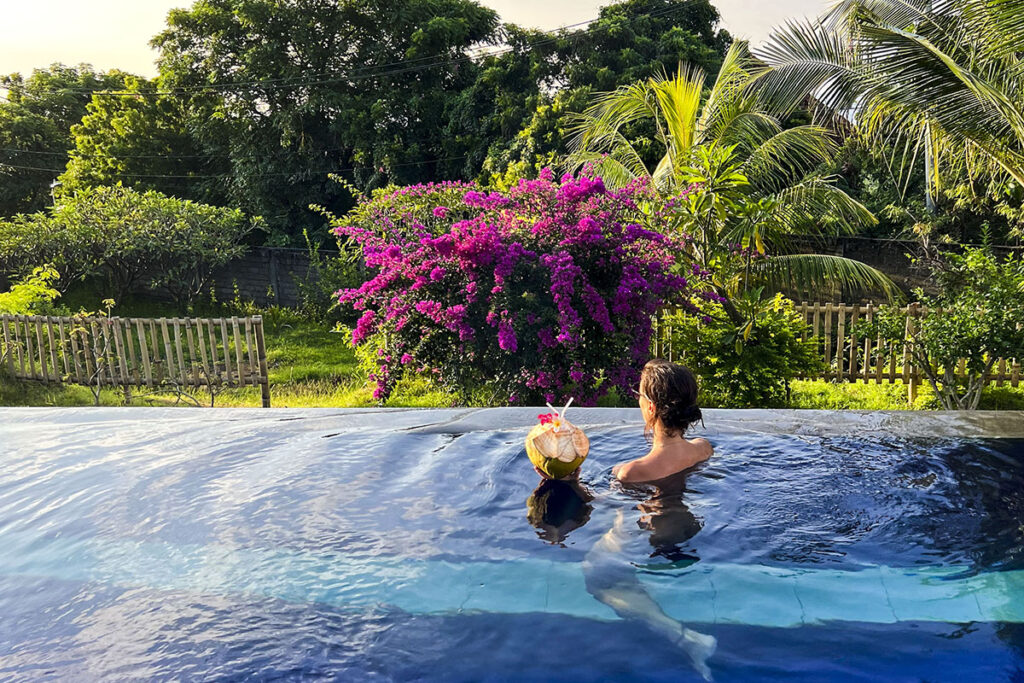 Around Bali Natur
While the south of Bali is mostly visited for its beaches, this part typically attracts the more adventurous visitor. Within a radius of fewer than 50 kilometres from the resort, you'll find some of the most beautiful waterfalls on the island where you can hike, swim, and jump or slide from things. There are many hiking trails in the area, which offer stunning views of the ocean and the surrounding mountains. Some popular hiking trails include the Mount Batur Trail and the Mount Rinjani Trail.
The coastline is popular for diving and snorkelling, and you'll find a variety of coral reefs, fish, and turtles. Another fun activity is dolphin watching and there are plenty of tour agencies that will take you out to the sea to see these beautiful creatures and to even let you swim with them. This comes with a warning though. Not every tour agency is equally environmentally friendly and some are known to chase or feed the dolphins. Ask the staff at Bali Natur to recommend an agency that actually cares about the animals.
The nearest town to Bali Natur is Lovina, just a 10-minute drive away. We really enjoyed this town because the atmosphere is a combination of a traditional fishing village and a hippy hangout. You'll find plenty of beach bars that aren't much more than a wooden shack and a bunch of bean bags and lots of restaurants where you can get fresh seafood. And, oh yeah, the beers over here are the cheapest on the island.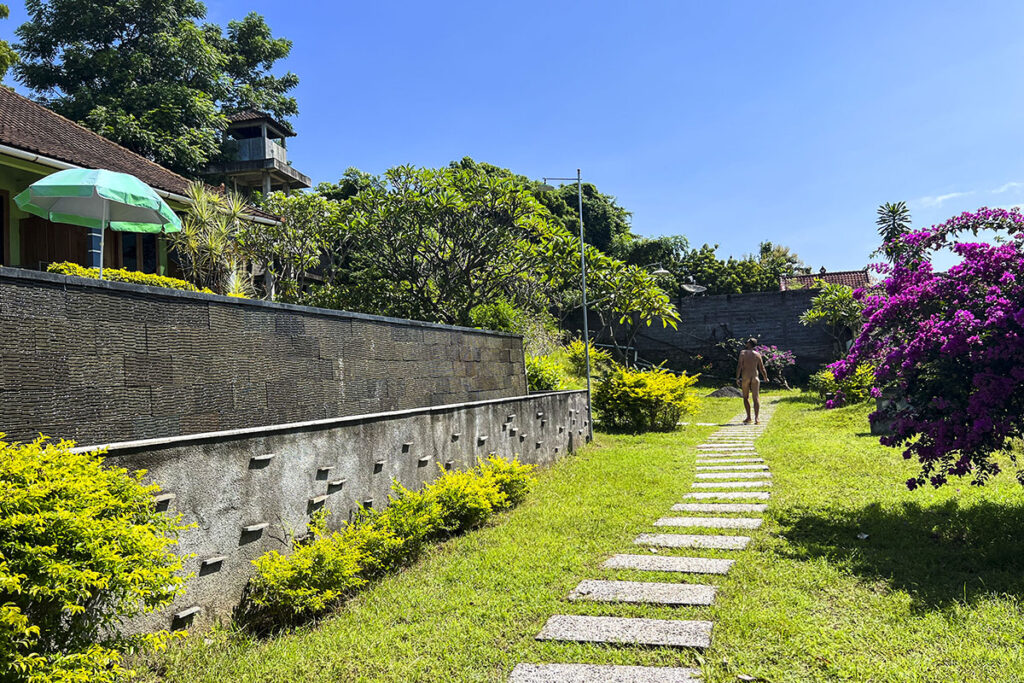 Staff & Guests of Bali Natur
Ker is the kind of person who will become your new friend just minutes after you arrive. She goes out of her way to make your stay the best one you ever had. Her friendliness and hospitality make the resort feel more like a homestay than a hotel and whatever you may need will be delivered into your lap. She is very passionate about making her resort successful, which is partly because she cares a lot about the wellbeing of her guests, as well as because she wants to use some of the profits to support the local community.
As the resort had opened its doors just a couple of weeks before our visit, we were the only guests at the moment. But it wasn't hard to imagine that Bali Natur can cater to a variety of naturists with different needs. If you're looking for a relaxing vacation away from the crowds, or rather for a home base to explore the natural beauty of northern Bali, we're sure that you will find it here.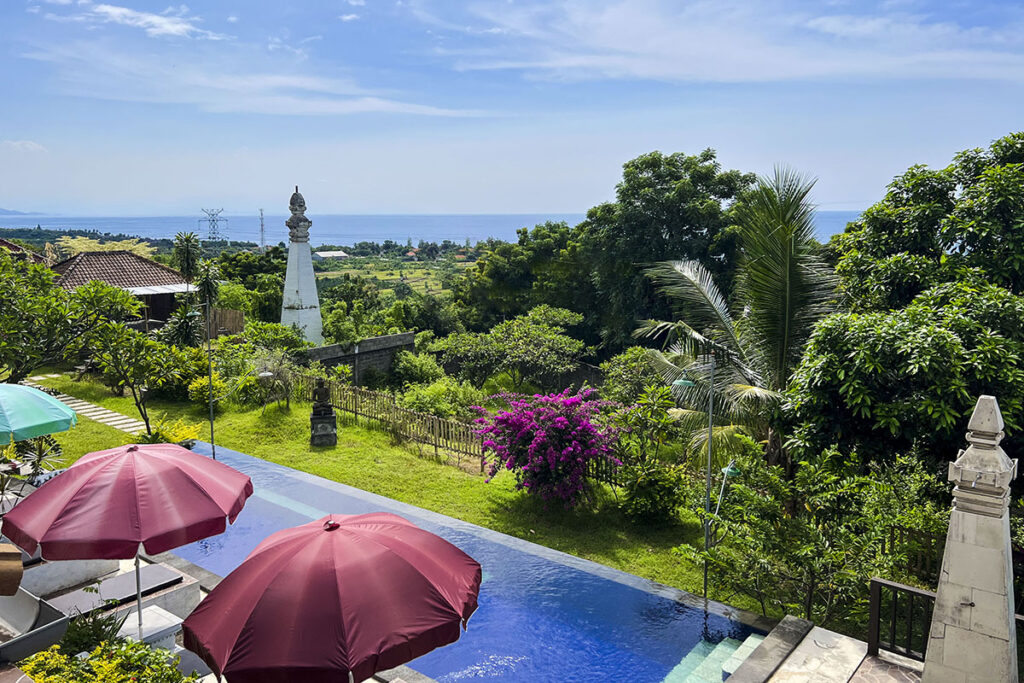 Book at Resort Bali Natur
The best ways to book at Bali Natur are:
English and Indonesian are fluently spoken
Summary
With yet another new addition to the naturist map, Bali is surely paving its way towards becoming a popular naturist destination. If you are looking for an authentic Balinese experience close to some of the most beautiful spots on the island, Bali Natur definitely deserves a place on your bucket list!
---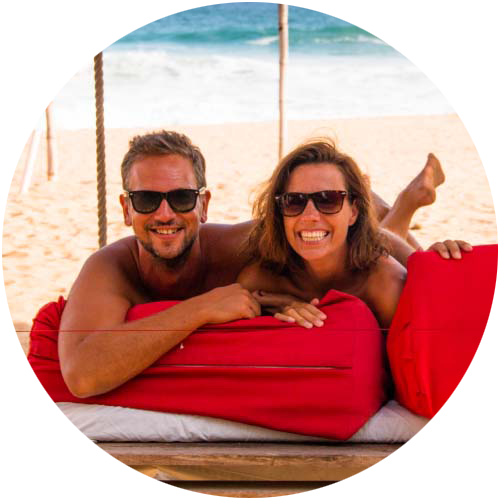 Support Naked Wanderings
Do you like what we do for naturism and naturists? Did we make you laugh or cry? Did we help you find the information you were looking for? Then definitely join our Patreon community!
---