We sometimes refer to the very beginnings of naturism to make a point in one of our blog posts. Most of the time, we'll then tell you about a group of Germans who got tired of all those new factories in their city and wanted to start a more healthy way of living by exposing themselves completely to nature.
Whenever we tell this story, some people will refer to much more ancient times. To the Romans who had a nude public bathing culture or to the Greeks who famously practised sports without clothes. The literal translation of the Greek word "gymnasium", which many other languages adapted, is "school for naked exercise".
View this post on Instagram
The Greeks were not the beginning either
We don't think that you can call the aspect of nudity in the Greek or Roman culture "naturism", for the simple fact that this word wasn't invented yet. The first documented use of the word was in 1778, by a Belgian guy called Jean Baptiste Luc Planchon. Yes, you read that right, naturism was invented in Belgium. You're welcome.
So while Greek and Roman social nudity can't be naturism, there was a link with modern-day naturism in the sense that people got together naked for reasons other than sex. But from that point of view, there were plenty of other periods in history where a form of non-sexual nudity existed. Especially at the very beginning of humanity.
Although there isn't any specific proof, it's commonly understood that clothes exist for the last 100 000 years. Well, clothes… if you know that the sewing needle is only 60 000 years old, we imagine that the first 40 000 years of clothing weren't much more than animal skin and ropes. Since Homo Sapiens already exists for more than 200 000 years, we've spent more than half of our existence clothes-free. If we also take the earlier human-like species into account, our dressed times are nothing but a blink of an eye.
View this post on Instagram
Nude recreation
While most naturist federations around the world chose the term "naturism" or "nudism" to definite their purpose, the American Federation
AANR
picked the term "nude recreation". If they tell us that our references to the beginning of naturism in the 19th or 20th century are wrong, they actually have a good point. Because nude recreation (as in nudity for purposes that are not particularly practical) does date from ancient Greece.
There are only theories about why the Greeks from the past liked to practice sports without clothes. One is for practical reasons, every naturist can tell you that it's easier to play
petanque
or volleyball naked. Another theory is that nudity represented the Greek ideals of democracy. Sports were for everyone, and the lack of clothes made it significantly more difficult to determine an athlete's background.
Yet another theory is that the nudity had a religious purpose. The Olympic Games were dedicated to the god Zeus. It could be that the athletes either tried to represent Zeus by showing off their muscular bodies or chose to appear naked before Zeus as a sign of respect. We'll never know for sure.
View this post on Instagram
The Power of Art
Sports were very important in Greek culture and heavily influenced classical art. It's hard to find a statue dating from ancient Greek times where the subject is wearing clothes. And if you can find one, it's likely that it has been adjusted centuries after its creation on demand of some prudish ruler. The existence of all this nudity in art might make us believe that the Greeks were more naked than clothed. But that isn't true. This concept is called "heroic nudity", an art style in which heroes and gods were typically pictured naked. But don't think that those warriors actually went naked into combat. If that had been the case, the Greek empire would probably never have existed.
In Heroic nudity, nakedness was just a way to picture power. Which is something we personally can appreciate a lot, given the contrast with our current times. Today, with our multi-camera smartphones, we're all afraid to be presented naked to the public. Back in Greek times, this was pretty much the highest goal one could have.
Art is subject to change, and nudity started being used to symbolise other things than just heroism. Slaves were also often pictured nude as a sign of poverty or humiliation. As a symbol of vulnerability, also the defeated, the dying, and the dead were often naked in the arts. We wonder if this sometimes caused confusion back in the day. Whether there was this kid walking around in downtown Athens and asking his mom why all those gods were pulling bricks up on Acropolis Hill.
View this post on Instagram
Ethnic naturism
A very long story very short: Social nudity for non-sexual purposes has existed since the very beginning of humanity for at least several tens of thousands of years, and afterwards did pop up again now and then in different forms and for different reasons. The main reason why humans started wearing clothes in the first place was that they left their cradle in warm and sunny Africa and moved to colder parts of the world where their birthday suit wasn't the most convenient type of dress.
If clothing had never been invented, people would never have populated most parts of Europe and the USA, let alone Iceland, Canada, or Siberia. This is why you can still find cultures around the equator where nudity is still the everyday dress code. Although they are becoming fewer and fewer. We like to believe that the early humans who moved north got so pissed off by the cold and the fact that they need to wear clothes all day, that out of jealousy they went back south to force the rest of the world to start wearing clothes as well. But there might have been other reasons.
Can we call those naked tribes in central Africa or the Amazon rainforest naturists? It is a fact that they meet all the requirements. They practice social nudity, they treat each other with respect (or they get kicked out of the village) and they live closer to nature than any "real" naturist we know. But then again, we don't think that a single one of those tribe members has ever heard the term naturism. We don't even think that there's a translation for naturism in their dictionary.
View this post on Instagram
Modern-day naturism
For us, saying that naturism is thousands of years old is like saying that baseball is thousands of years old. There must have been one person in ancient Greece who once hit a round object with a stick. There may have even been another person around who started running. Probably out of fear of getting hit, but that doesn't really matter. Everyone will agree that this can't be called baseball. Neither do we think that social nudity back in the day can be called naturism. Just because the concept did not yet exist.
What's funny is that we can't even seem to agree on when modern-day naturism actually got started. The term was first used by that Belgian guy back in 1778, but it's unknown whether he ever put it into practice. When the first actual naturist group appeared depends on who you ask. Most Europeans will tell you that it happened somewhere in the late 19th or early 20th century in a forest in Germany. But the British will tell you that just before that time, someone had already started a naturist club in India (which was a British colony back then).
If there's one thing we've learned about all this, it's that the answer to the question of "how old naturism really is" will always depend on who you ask. What we do know is that the concept of naturism has very much evolved during the 250 years since the word was first used. And if we see naturism as something that is subject to evolution, maybe we can say that it actually exists as long as humanity.
---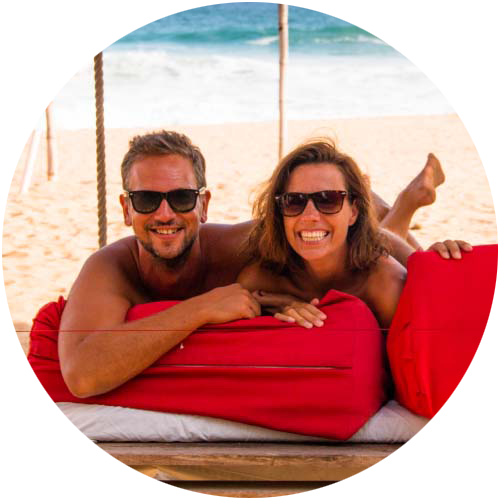 Support Naked Wanderings
Do you like what we do for naturism and naturists? Did we make you laugh or cry? Did we help you find the information you were looking for? Then definitely join our Patreon community!
---