It has been 5 years since we last visited Thailand, almost to date. So we were very much looking forward to seeing what has changed and what we would still recognise. The world turns fast, but one could wonder how much can be different in just half a decade. These are not normal times though.
When we first visited Thailand, naturism in the country was still kinda in its infancy. There were several resorts, but none of them had existed longer than a handful of years. And there had also been COVID, which held the country in its grip and denied foreign tourists for about 2 years. Today, this is part of the sad history chapter, but we were curious to see what we could find. And we started with the same resort as 5 years ago: Barefeet in Bangkok.
How to get to Barefeet Naturist Resort
Obviously, Barefeet was still in the same place as where we left it, in the northeast of Bangkok. Close to the Don Mueang airport. This is an international airport, but only has connections within Asia. If you're coming from another continent, you're likely to arrive at Suvarnabhumi airport, which connects to pretty much everywhere.
From Don Mueang, your best option is to just take a taxi as the airport is less than 30 minutes away from the resort. From Suvarnabhumi, your ride will easily take more than an hour, depending on the traffic. Yet, a taxi is still the most comfortable option and taxis are cheap in Thailand. You probably won't pay more than $15-$20 USD, even in rush hour traffic. Keep in mind that airport taxi drivers love to scam tourists. Before you get into the car, tell the driver that you want the meter on. Otherwise, they'll charge you at least double. If they don't want to, just get another taxi, there are plenty.
If you don't want to take a taxi, there's always the option to rent a car from the airport. Or you can even get to Barefeet by local transport. We recommend checking the website Rome2Rio to see your options.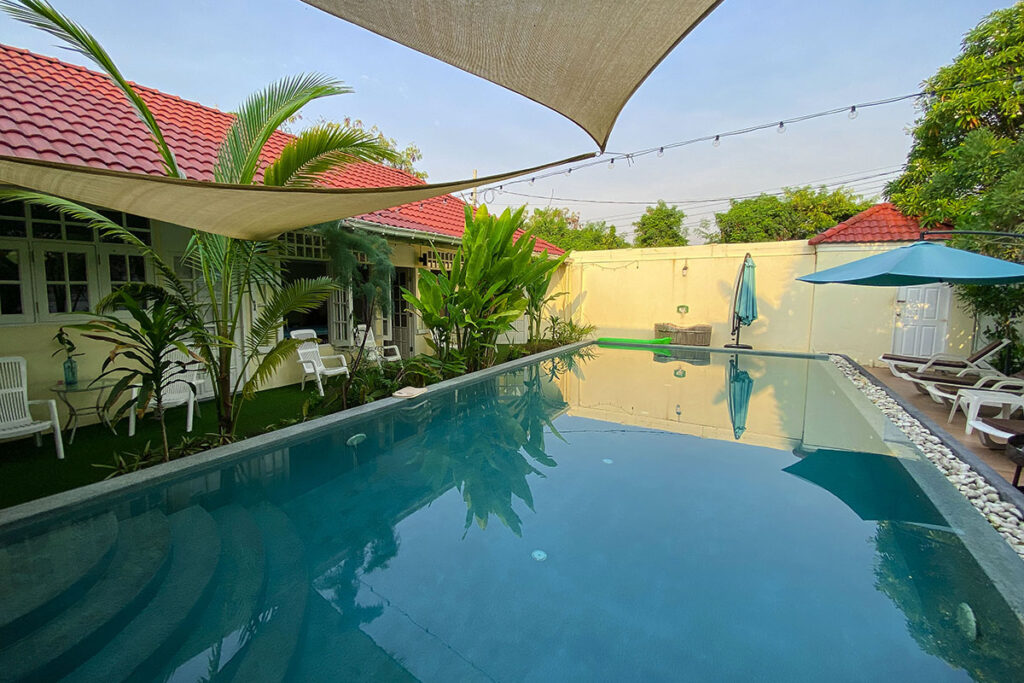 Where to stay at Barefeet Naturist Resort
With just five or six guest rooms, Barefeet is what we, Europeans, would call a guesthouse. The rooms are basic but comfortable with a big bed, a TV, and A/C. All rooms have an ensuite bathroom with a shower, toilet, and sink. Right outside of each room is a sitting area which we appreciated whenever we wanted to get out of the social scene and read a couple of pages from our book or just to relax in silence.
Included in the room price is an American-style breakfast with eggs, bacon, cheese, sausages, coffee, juice, you know, breakfast things.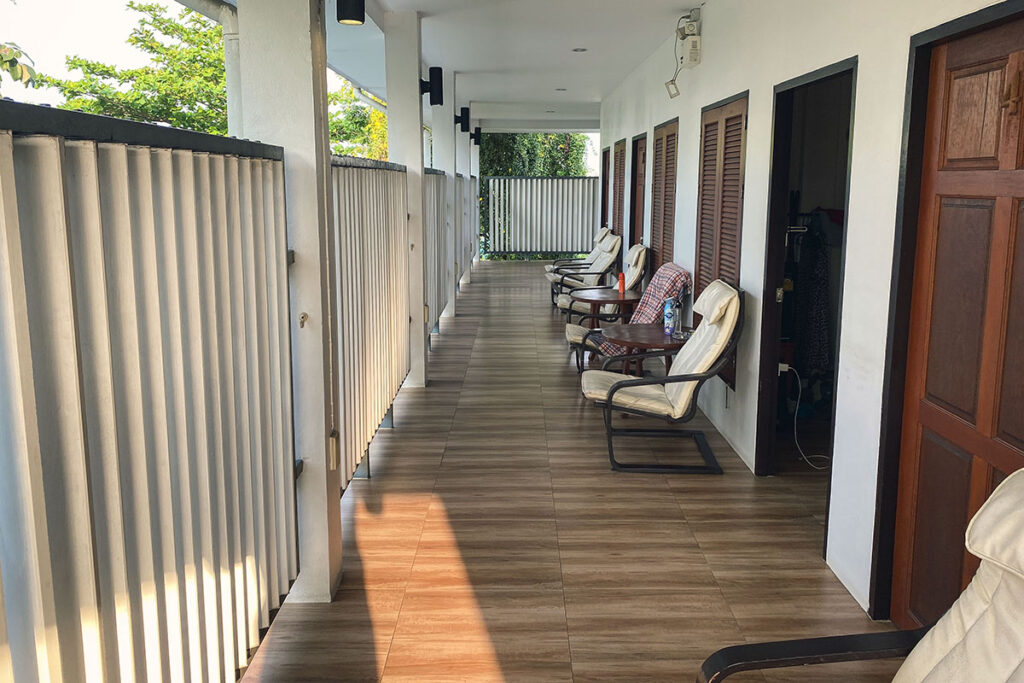 What to do at Barefeet Naturist Resort
When we visited Barefeet the previous time, we had our doubts about the available space. It all looked a bit cramped on the pictures and we remember being happily surprised that it was actually much larger than we expected. This has partially to do with the resort being divided into two parts.
The first part is completely common area, this is where you'll find the bar/restaurant and the main swimming pool. As well as the sauna and massage room. Other than for dinner and a swim, this is the part where we came to socialize with the other guests.
The other part, where the rooms are, has a smaller pool and some lounge chairs. We called this "the quiet side" and found it great to get away from the other guests whenever we wanted to chill or get some work done. For people new to naturism, this is also the side where you can comfortably adjust to the naked environment before mingling with the other guests.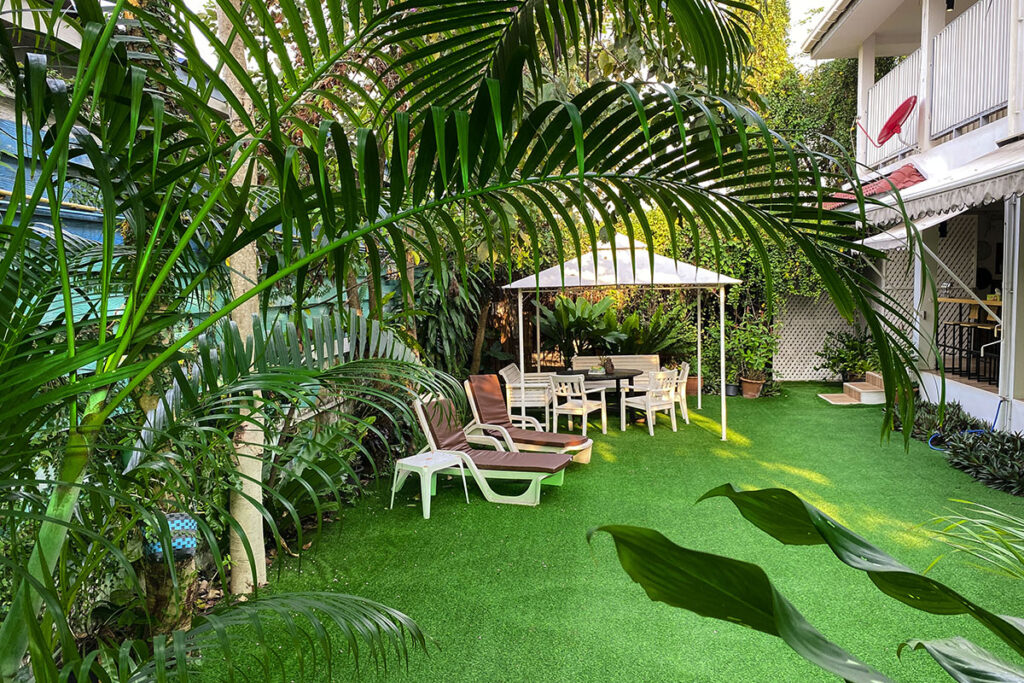 Around Barefeet Naturist Resort
Ah, Bangkok – the city that's known for its dazzling temple complexes, unbeatable shopping scene, and wild nightlife. No wonder so many expats have made it their home base – it's not just because of its convenient location!
But let's talk about the area around this resort – it's a hidden gem that not many tourists know about. Despite being super close to all the amenities you need, it's still pretty off the beaten path. You can easily walk to a couple of banks, grocery stores, a Seven-Eleven, and plenty of street food stands (although the menus might not be in English or have pictures). Plus, there's an upscale bar and restaurant area and a night market that's definitely worth checking out.
Trust us, this is a part of Bangkok that you probably wouldn't even think to visit if you were staying in places like Khao San Road or Nana. But that doesn't mean that it can't be appreciated. Especially if you enjoy seeing more Thai people on the streets than tourists. And you're always just a BTS ride away from downtown Bangkok.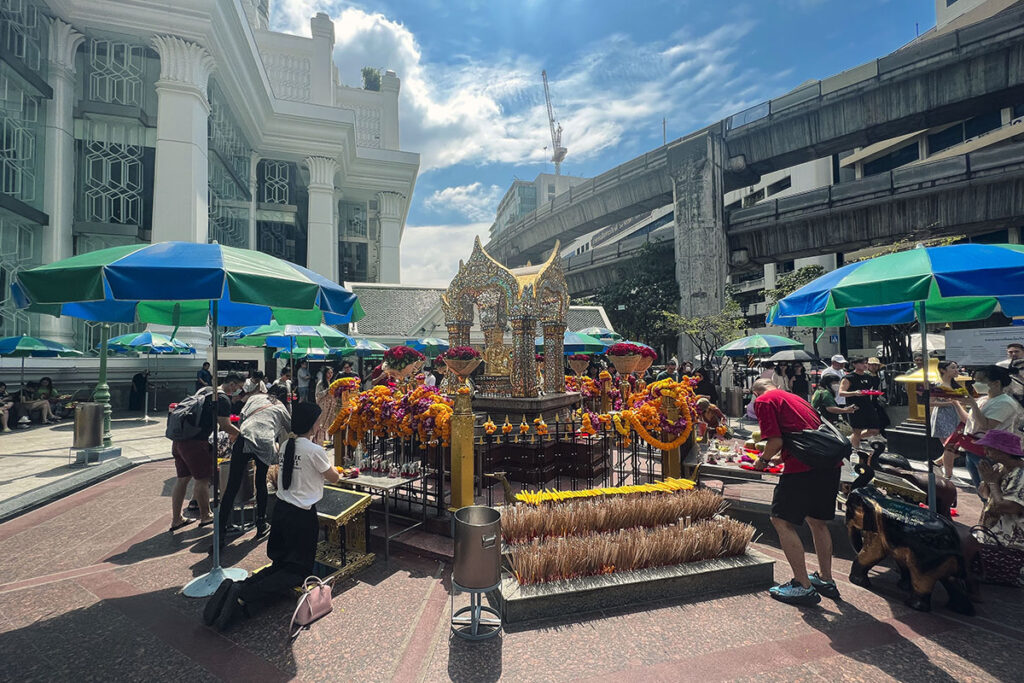 Staff & Guests of Barefeet Naturist Resort
Something that definitely did not change during the last five years was how Barefeet is run. There are Gregers and Dao who own the place and since they also live there, you'll frequently see them around and they're always up for a chat or a game of UNO. And also Am (or Om, we're bad with Thai names) we still remembered from the last time. He's your first point of contact for information as well as for food and drinks.
The last time we were at Barefeet, the vast majority of the guests were white. Mostly tourists from Europe or Down Under, and western expats living in Bangkok. This time, we saw an interesting change. More often than not, the majority of the guests were Asian and specifically Thai. During the COVID years, the resort had to focus on the local public to survive and apparently did this in a successful way. We believe that having a more mixed clientèle isn't just healthy for business but also means that naturism in Asia is growing.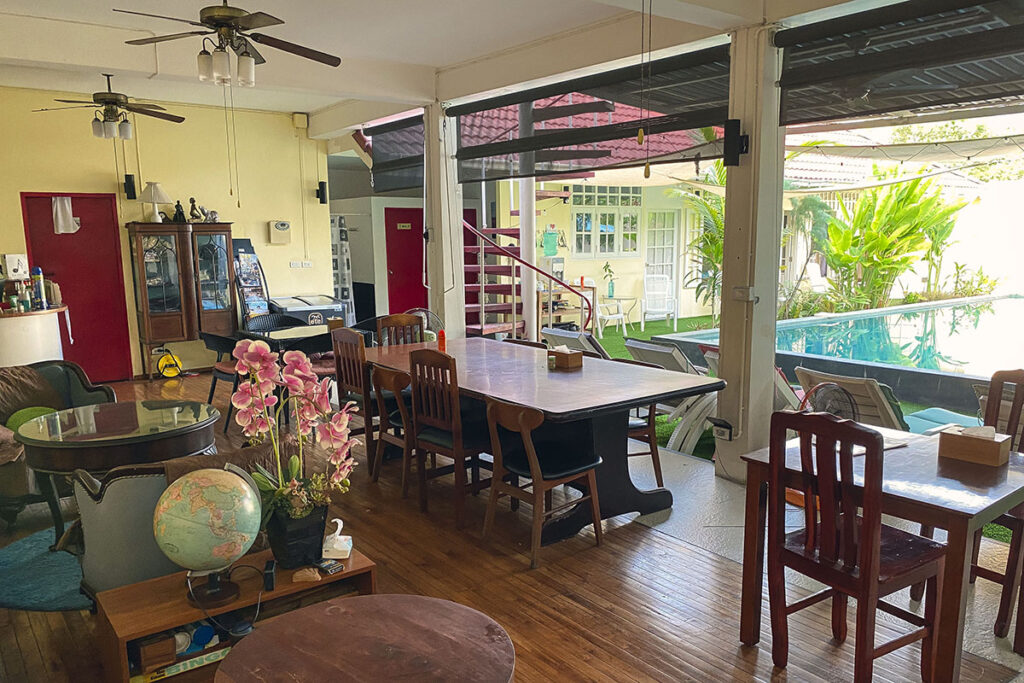 Book at Barefeet Naturist Resort
The best ways to book at Barefeet are:
English, Thai, and Danish are fluently spoken.
Summary
Meanwhile, Barefeet Naturist Resort is a household name in Thai naturism. It's well known among both local naturists and international travellers and its convenient location within the city limits of Bangkok makes it an ideal destination for both a layover and a long city trip.
---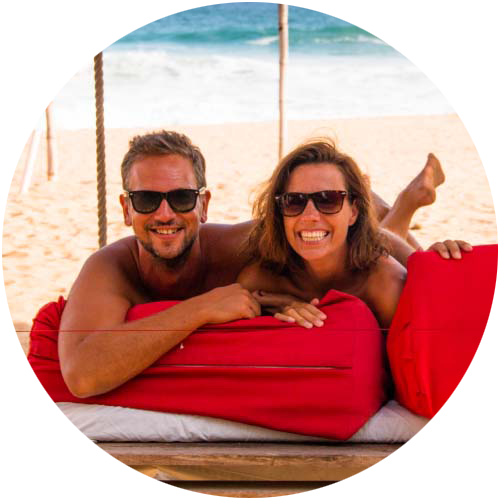 Support Naked Wanderings
Do you like what we do for naturism and naturists? Did we make you laugh or cry? Did we help you find the information you were looking for? Then definitely join our Patreon community!
---