For the longest time, there was
only one naturist resort
in Bali. But since 2023, two more have opened their doors. This was reason enough for us to hop on a plane to Denpasar and go have a look at what's new on the menu for the naturist traveller. Our first stop was Resort Gecko, which is very conveniently located less than 30 minutes from the airport.
How to get to Resort Gecko
The international airport of Bali has direct connections to most countries in Southeast Asia, as well as to Hongkong, China, the Middle East, and several cities in Australia like Perth, Melbourne, Sydney, and Brisbane. If you're coming from Europe or the Americas, you will most likely have a layover.
The easiest way to get from the airport to Resort Gecko is via their pickup service. Or if you're familiar with the
Grab app
(the Uber of Asia), this is also an option. If you're planning to visit more places on the island, you might want to consider renting a car from one of the offices at the airport. But beware: Bali has quite a traffic problem and because of the many traffic jams, driving is most of the time not a lot of fun.
Except in Denpasar, there's pretty much no public transport on the island. If you want to avoid driving, you'll need to move around with private drivers or taxis. Gecko Resort can help you find reliable drivers, who also happily show you some sights along the way. We used a private driver for the long distances, and once at the location, we often rented a scooter to visit the sights.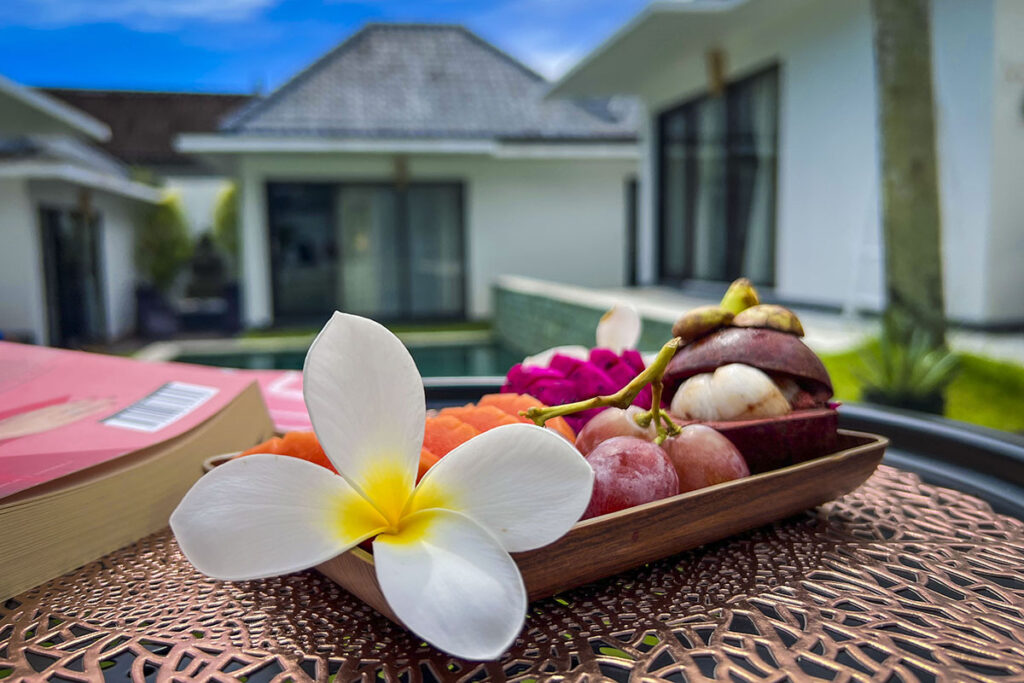 Where to stay at Resort Gecko
Gecko Resort has only 4 rooms, which are pretty much identical and are all named after different animals. So unless you have a favourite animal, it doesn't matter much which room you're in. We stayed in the Dolphin room, and what we appreciated the most was the eye for comfort. It's all in the little things, for example, that we could choose between a thick or a thin pillow and that there are both universal electrical plugs as well as USB plugs (we have lots of electronics to charge).
Something we've never seen before in a resort is that every room has its own dispenser for drinking water. This isn't just really convenient, but also very ecological. Other important features include a TV with Netflix, plenty of storage space, and a bathroom that's large enough to throw a small party. We kept the partying mostly for the common spaces though.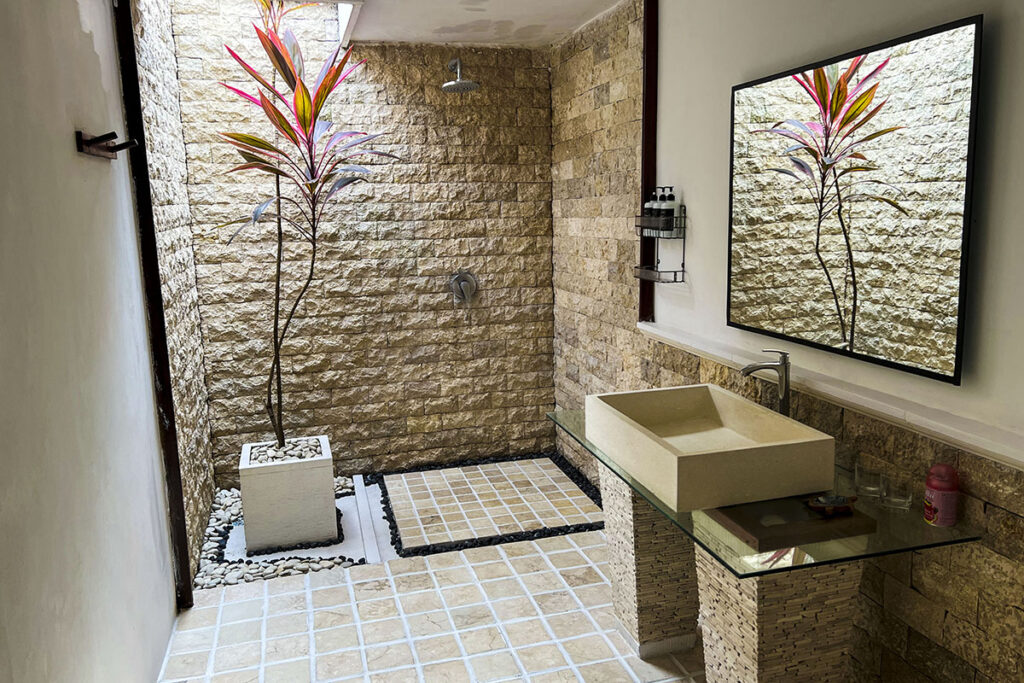 What to do at Resort Gecko
Being a rather small resort, there's not that much to do at Gecko. The central part is obviously the swimming pool, and given the Balinese climate, this is also where we spent most of our time. The other popular place is the bar/restaurant where we could be found most of the evenings. It's designed in a way that invites conversation and social interactions. So don't be surprised if you end up chatting till midnight.
Several choices of breakfast are included in the price, with typical options like fruit, yoghurt, eggs, etc. When the staff prepares lunch, which happens pretty much every day, guests are also invited to join. If you don't want to get dressed for dinner either, there are plenty of delivery options. And if you do prefer to go out, you'll find lots of restaurants nearby.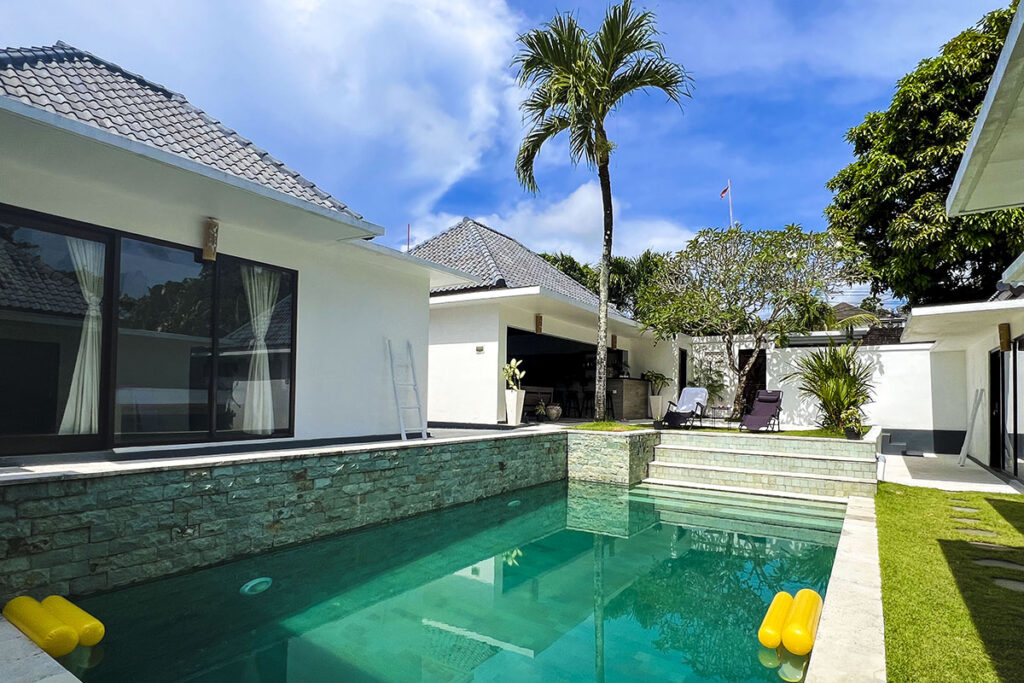 Around Resort Gecko
Resort Gecko is located near the centre of the Bukit Peninsula, in the very south of this island. This is a part of the island that we hadn't visited before, and we found a lot of interesting places during the couple of days when we were in the area.
The Garuda Wisnu Kencana statue, which is one of the largest in the world and can be seen from kilometres away is a cool place to go to, especially because it's located in a park with a number of other sights. The spectacular cliff-side Uluwatu temple is also a must but beware of the monkeys who are notorious for stealing glasses, cameras, phones, etc.
The most important reason why people come to this side of Bali is for the beaches though. There are numerous beaches that all look very different. Some are more laidback and others a bit poshy. Some are great for swimming and others better for surfing. And the beaches in the west are ideal for catching the breathtaking Balinese sunsets. Ask the owners of Gecko Resort for recommendations.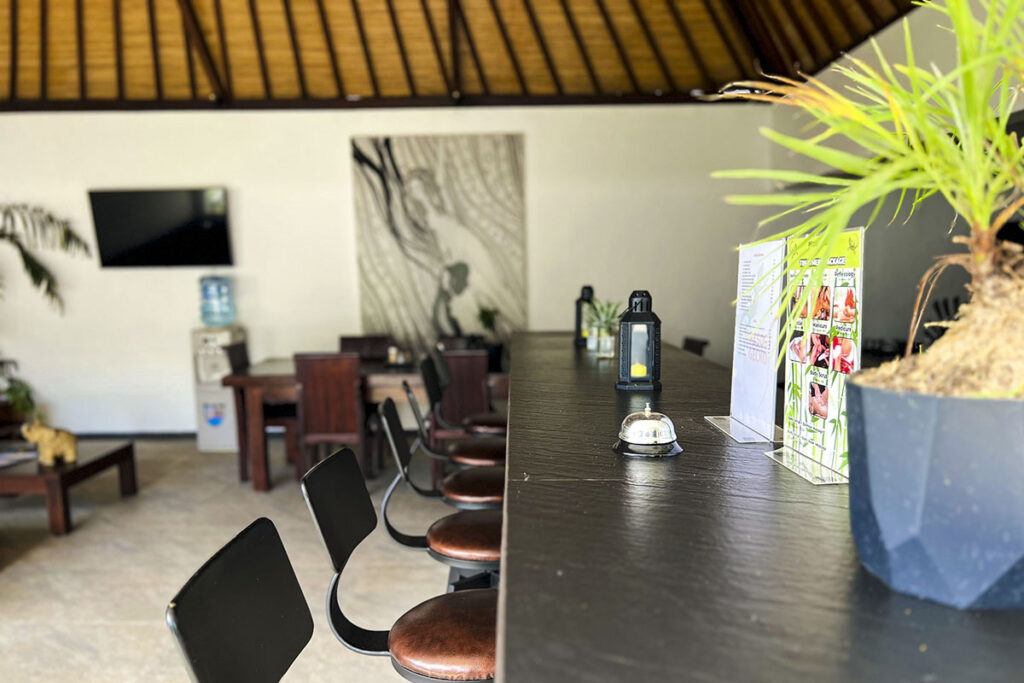 Staff & Guests of Resort Gecko
The resort is owned by a Dutch/Belgian couple. Daan is in Bali pretty much full-time while Alise regularly travels up and down from Belgium. When you're staying at Gecko, you quickly get the feeling that you're visiting friends rather than that you're a guest in a hotel. The social atmosphere definitely adds a lot to that. We think that the owners see their resort mostly as their own place where they can meet like-minded people.
In and around the kitchen, you'll always be met by three smiling faces. We totally forgot their names (this is nothing personal, we're often surprised that we can still remember our own names) but that doesn't really matter. They're always ready to wish you a good morning, make delicious food, and hand over your next drink.
When we were at Gecko, there was only one other couple from Australia. As Bali is a popular destination for tourists from around the world, we're sure that Gecko will soon start getting guests from many different nationalities. We would especially recommend this resort if you're looking for a relaxed and social atmosphere if you enjoy a certain level of comfort, and of course, if you prefer to be naked when the temperatures are over 30°C.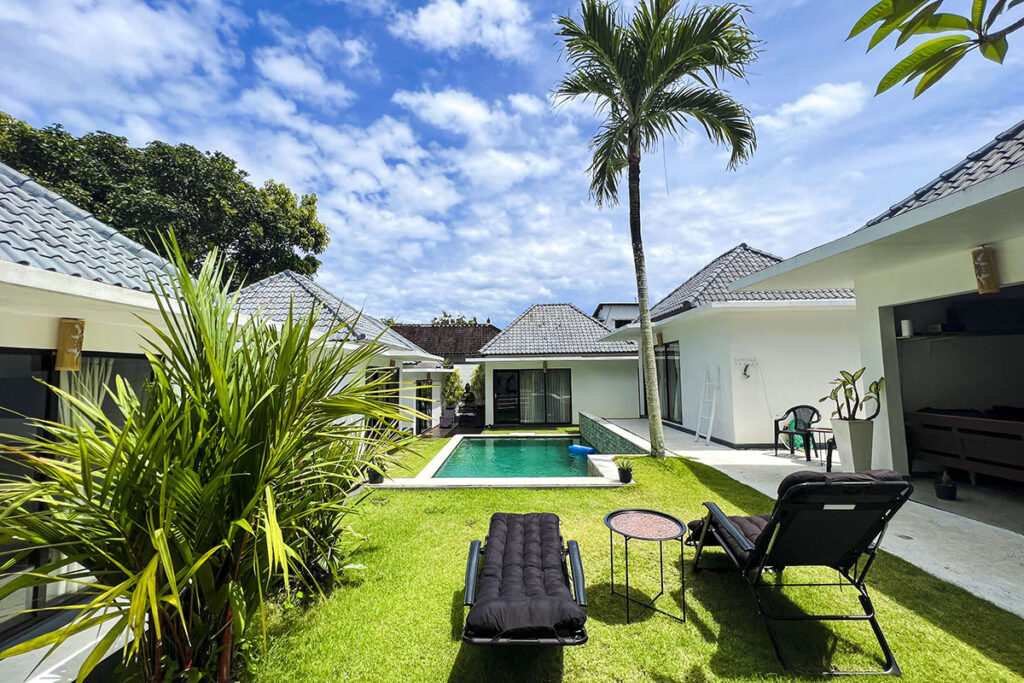 Book at Resort Gecko
The best ways to book at Resort Gecko are:
English and Dutch are fluently spoken.
Summary
We love it when new naturist resorts pop up, especially when this happens in locations where the options are still few. Because Bali has a year-round naturist climate, this is an excellent spot to escape the winter or to just have your summer holiday.
---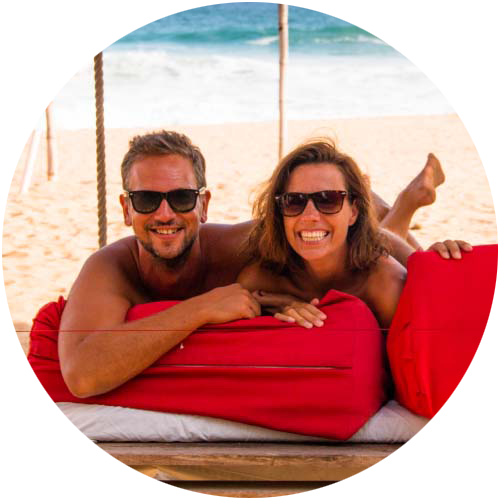 Support Naked Wanderings
Do you like what we do for naturism and naturists? Did we make you laugh or cry? Did we help you find the information you were looking for? Then definitely join our Patreon community!
---