When we walked through the gate of The Oriental Village, the only word that immediately came to mind was: "WOW". What a beautiful place, something we could have never expected when the taxi driver dropped us off in front of the building at the end of the road. Maybe it was the tropical garden that did the trick or maybe it was the nice row of white cottages, but we felt that it was something more. It took a minute to realize what, but then we noticed…
"Where are the walls?"
Exactly, The Oriental Village doesn't have a wall around its property and neither does it have a fence, a hedge, or anything. It's plain open. It's magnificent.
In the next couple of days, we've been watching new visitors arriving because we wanted to see the look on their faces. This is something extraordinary, we can tell you. Especially in Thailand. Next to the resort are just fields and fields and maybe a local farmer working on those fields but he could not care less about your nudity. This is wild Thailand.
IMPORTANT: We are sorry to announce that as of May 2020, the Oriental Village in Chiang Mai will NOT be naturist anymore. You can still find the same atmosphere at the new Oriental Beach Village near Phuket.
Location
In order to be able to build such in place in a country like Thailand, you have to be at least a bit away from the crowds. The Oriental Village is located in a small town called Ban Mae Len, don't worry if you've never heard of it, we doubt that most Thais even have. It's the typical 10 houses, 3 shops, a temple and a lot of fields kind of village.
But, at about 20km away you'll find the famous city Chiang Mai.
Chiang Mai is your best option to get to first when you're planning to visit The Oriental Village. The city has bus connections with everywhere in the country, there's a train connection with Bangkok and even a well-connected airport.
From Chiang Mai, you can either arrange private transport (we recommend Uber or Grab) or you could use the pickup service The Oriental Village offers.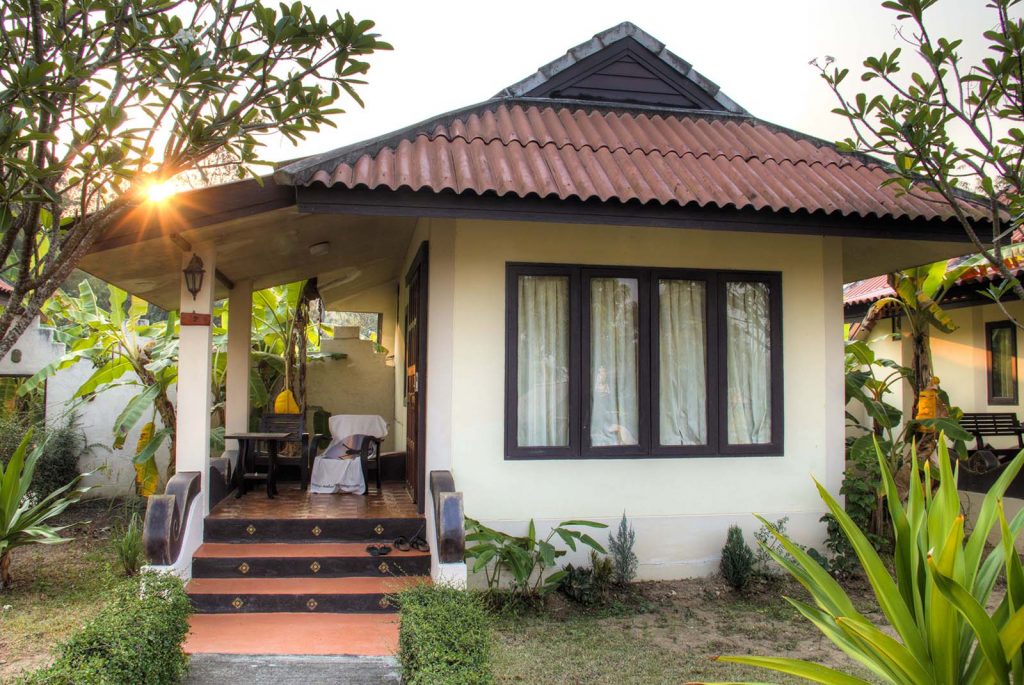 Accommodation
The Oriental Village provides the choice between three types of cottages: Budget, Standard and Superior. All cottages come with air conditioning, a fridge, a TV and an inside and outside shower (here's a tip: if you like outdoor showers as much as we do, shower during the day. In the evenings it often gets too chilly).
The difference between the types of cottages is mostly the size of the cottage, the size of the bed and the size of the TV. The deluxe and superior cottage also comes with a DVD player.
One of the things we liked a lot was that the fridge is refilled daily with water, beer and soda, all at the same prices as at the bar. So if you feel like an afternoon beer you don't have to get your lazy naked ass all the way to the bar but you can just take it from your fridge without fearing to have just blown half of your life savings.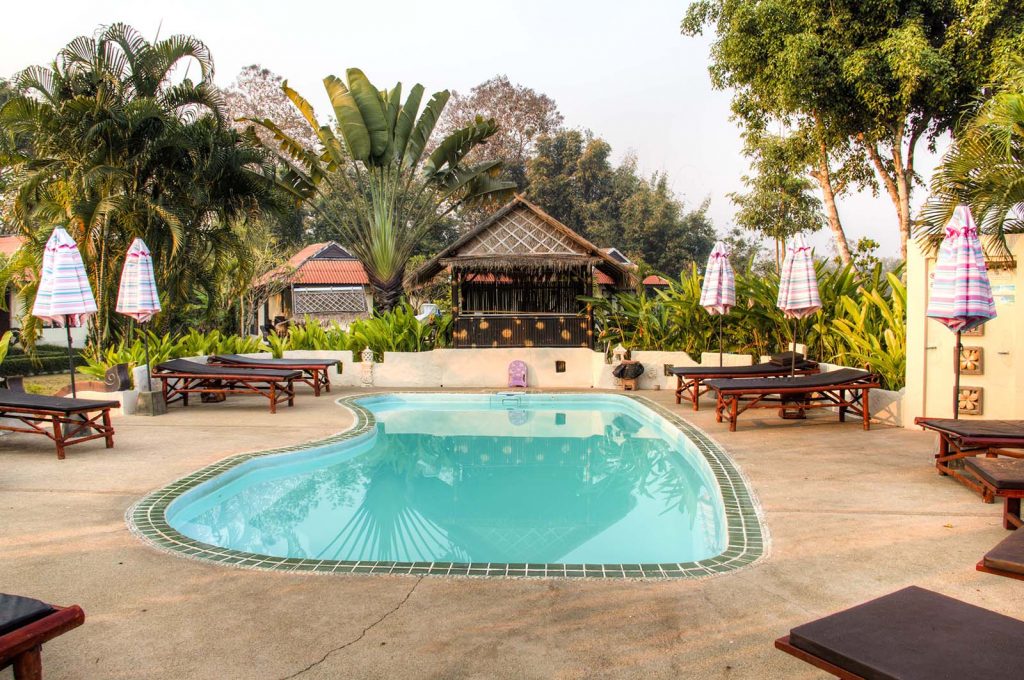 Facilities
A swimming pool where you can skinny-dip while watching over the Thai fields? That's quite unique! But there's more. The Oriental Village has a beautiful garden to wander around in with several "meditation hut" type structures where you can get zen if you still need to or otherwise just go for a nap. In case you like to get busy after an afternoon of baking next to the pool there's a fitness area, a table tennis table and a petanque field and to relax your muscles after all that intense sporting, the massage service is just what you need.
The town doesn't exactly have plenty of nightlife options and although there's a place or two where you can get lunch, your best bet will be the Oriental Village restaurant. Delicious Thai and western food is served at very reasonable prices.
A light breakfast (coffee, tea and fruit) is included in the room price, the heavier stuff (bacon and eggs or Thai food) has to be paid for.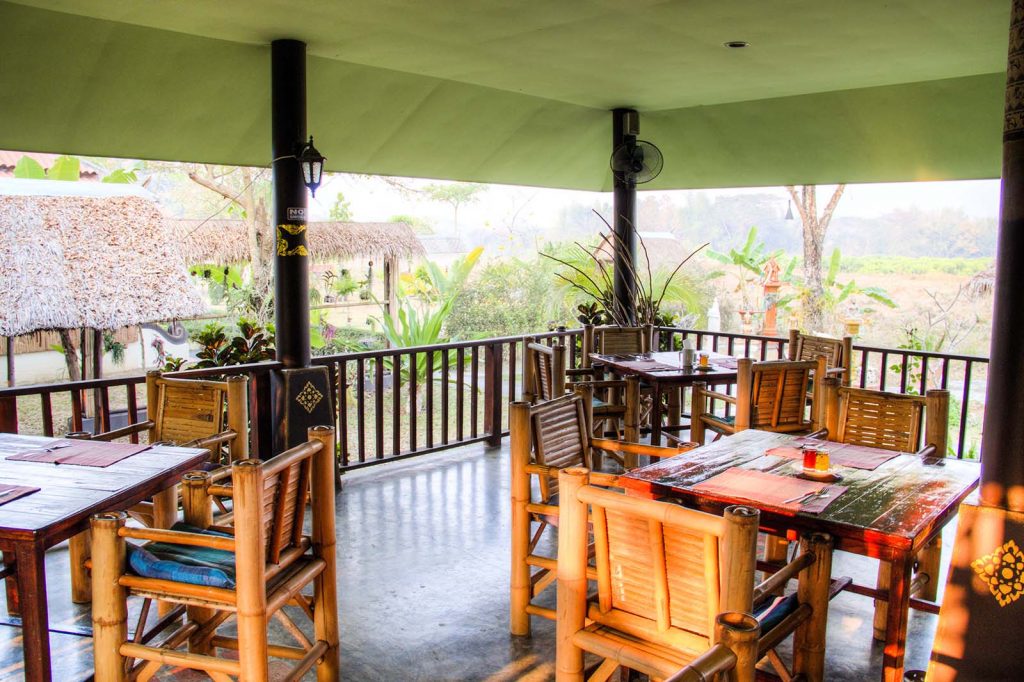 Surroundings
Fields, fields and more fields. That's about it when it comes to sights in walking distance from the resort. A much better idea is to take one of the available bicycles, which will get you to the nearby San Khamphaeng Hot Springs or the Mae Kampong waterfall and then there's, of course, the beautiful Chiang Mai city but you'll need to have transportation to get there.
Other tourist attractions in the area include several elephant farms, a tiger camp and the "Flight of the Gibbon" adventure park. Transportation to these attractions and other tours in the area can be arranged via the staff of the resort.
Staff
Paulo, the owner, is a French expat who left his home country about thirty years ago in search of adventure in Asia. He has been all over the continent and gained a load of experience about how to run a very successful business. You'll often find him wandering around the resort, checking up on people and having occasional chats with his guests, but during rush hour you're most likely to see him helping a hand in the kitchen.
But like in most places in Thailand, the person who you get in touch with the most is a woman and in the case of The Oriental Village, she comes under the name of Nui. Nui will check you in, make sure everything is as you wish and answer all your possible questions. Then there's also a very good cook and a number of other staff who take shifts in the restaurant and the cleaning.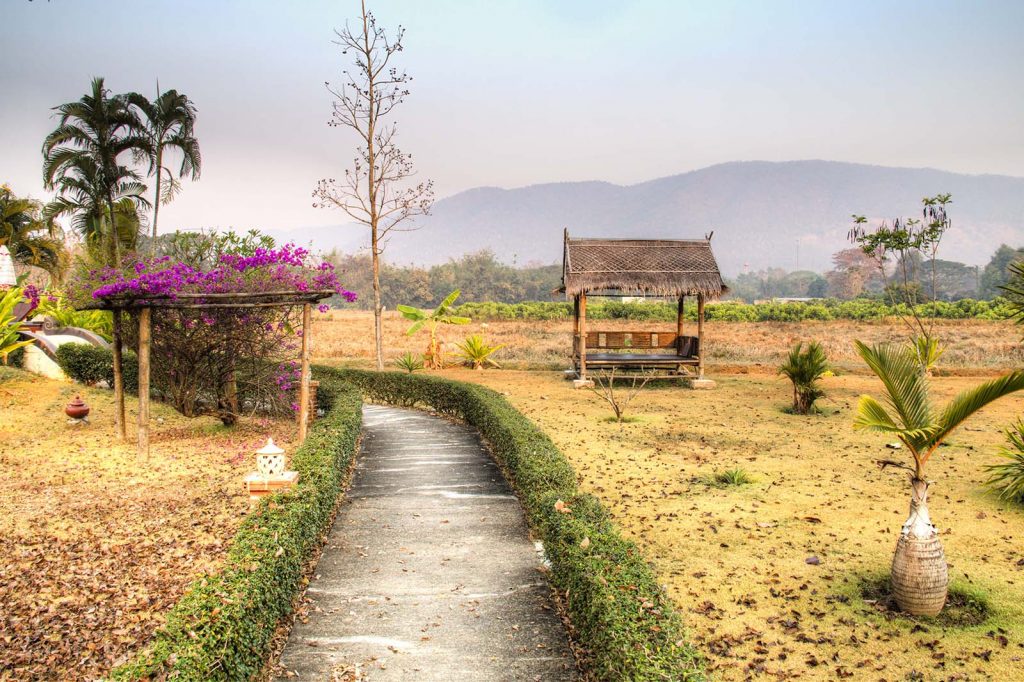 Guests
Most of the other guests at The Oriental Village were European couples. We've met a very nice Dutch couple, a German couple, a French couple and an Indian couple. There was also a Dutch single man and a very adventurous eighty-something English guy. The Oriental Village attracts visitors from all over the world and everyone seems to have the time of their life. Many visitors we met never left the property during their whole stay.
Summary
The staff, the restaurant and the facilities should be enough to go to The Oriental Village, but it's the location that really does the trick. It has a huge WOW-factor and we think that it's a must-visit place during everyone's naked trip around Thailand.
Paulo is also planning to open a second naturist resort in Thailand by the end of the year, it will have the same setup as The Oriental Village with a focus on relaxation, tranquility and openness. But this one will be a beach destination. For us, that's reason enough to come back to Thailand!
Read more about this resort on
NUDE
More info and reservations: http://www.orientalvillage-chiangmai.com
Naked Wanderings' Ultimate Guide for Naturism in Thailand ebook

Are you looking for great naturist resorts in Thailand?
Are you looking for the best tips for a nude vacation in Thailand?
Then our ebook will be the perfect resource for you!

Learn More
Need help with planning your trip? Check out our Resources Page for an overview of the best companies we use during our travels
Disclaimer: We have been invited as guests of Oriental Village, but of course all opinions are our own. We are super confident you will like this place as much as we did!
---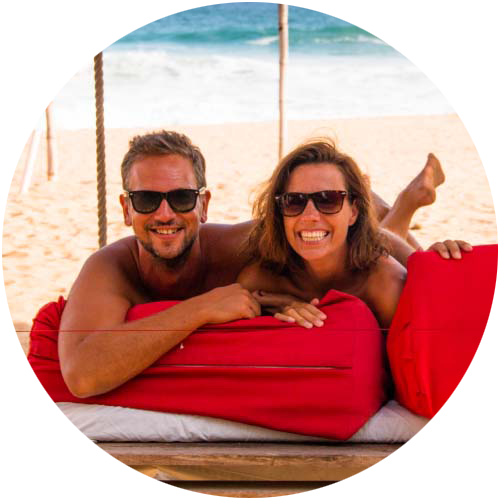 Support Naked Wanderings
Do you like what we do for naturism and naturists? Did we make you laugh or cry? Did we help you find the information you were looking for? Then definitely join our Patreon community!
---