We like to save the best for last. After spending some naked time in a
private villa
and in a
villa resort
, we were very much looking forward to moving on to Au Naturel, the one and only couple-friendly (we have to add this because there are two other nudist resorts on the island which are men only) nudist resort in
Bali
.
As soon as we arrived we were approached by a gang of young Balinese men who enquired about our purposes, they clearly didn't want any peeping Toms (or peeping Nicks and Lins for that matter) but as soon as we told them that we had a booking, a smile rose on their faces and they led us to the reception. Well… "reception". The building looked more like an immigration office in some obscure border town than the reception of a resort. A thought flung through our minds: "What if this is actually a nudist trap? What if this isn't a resort, but a secret jail for those who like to let it all hang out?" Only minutes later we passed the swimming pool on our way to our cottage, we spotted the other nudies relaxing in their deck chairs and we figured that if this was nudie jail, we hopefully had to do a very long time.
How to get to Au Naturel resort
Tejakula is not exactly a hot spot in the itinerary of the average Bali tourist, but many have possibly passed by on their way from Amed beach to Lovina Beach or vice versa. It's a sleepy village set on the north side of Mount Batur which you could miss during the blink of an eye. If this is your destination, keep your eyes open for the small side street from the main road which has the blue sign saying "Au Naturel". Then follows about a kilometer on a small road and right before you're about to drive into the sea there's a building. You have arrived.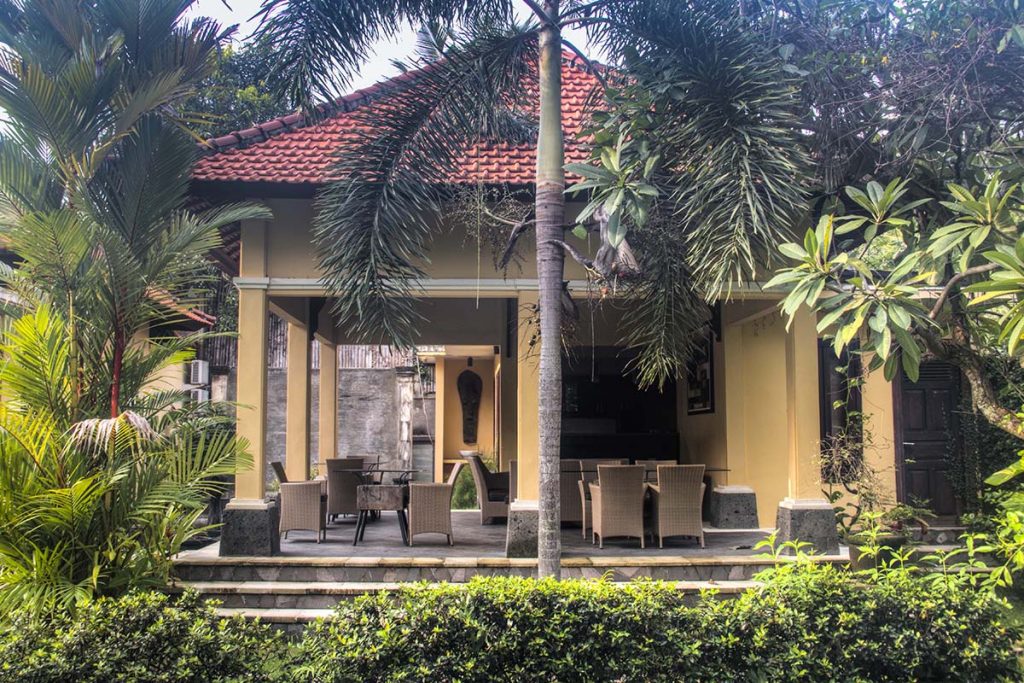 Where to stay at Au Naturel resort
Au Naturel has three types of accommodations differing in price and comfort. The budget option (indeed, the one we took) is a wooden cottage. A very spacious cottage that is, with its own terrace and bathroom. Then there are a couple of standard rooms and luxury rooms. All the rooms are immediately next to one of the pools so you could probably jump through your window directly into the water if that would be on your bucket list. But most guests just took the door.
The domain of Au Naturel is huge and because there are only a limited amount of rooms, the place will never feel crowded even if it would be fully booked. In each room you'll find a brochure with the obligatory guidelines ranging from "shower before you swim" to "don't make any indecent proposals to the staff", but more importantly it's full of useful information about Bali, Balinese customs, and how to get wherever your next stop is.
If you prefer things to be a bit more luxurious, there's also the option to rent the Glass House. A complete villa on the domain but separated from the other parts where you have your own kitchen, living room, garden, swimming pool, and amazing outside bathroom. The Glass House can be rented on a weekly basis and is full-option, even including two massages a day.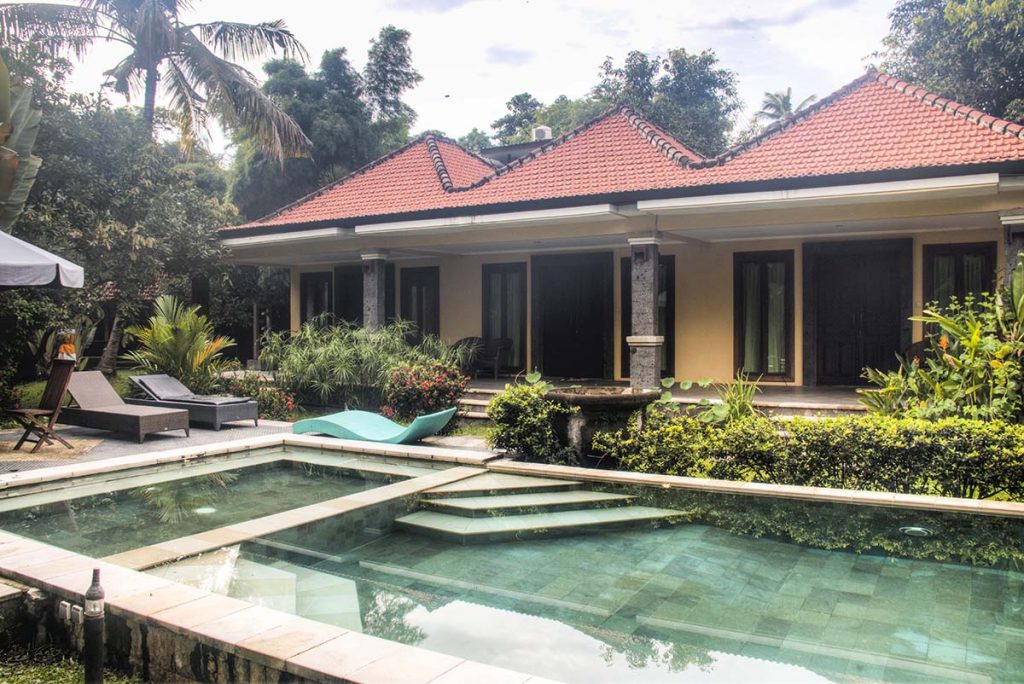 What to do at Au Naturel resort
The moment we arrived, we already saw the top of the bill facility: A beautiful swimming pool. Only later we would see the real number one: An even more beautiful swimming pool! With two pools for such a limited amount of guests, you'll never feel like a sardine in or around them. Then there's a huge garden to relax in with access to the beach (not nude), a fitness room, a yoga/meditation room, a massage room with two trained masseurs, and a comfy couch with TV and a DVD collection for the rainy afternoons.
The thirsty can get refreshed at the pool bar and for the hungry, there's an onsite restaurant with delicious (although a bit pricy) options for lunch and dinner. The staff will also be happy to help you arrange any excursion or day trip and they have their own driver.
Around Au Naturel resort
Although we thought that Tejakula is actually a charming little village, there's not much to keep you busy for let's say more than 45 minutes. But this wouldn't be Bali if there weren't any attractions nearby. The beaches of Amed and Lovina, the hills of Kintamani, Mount Batur with its adjoining lake, even the floating palaces of Ujung and Tirta Gangga are possible to visit on a day trip.
Much closer to the resort is Singaraja with its royal palace and Chinese temple or the waterfall of Yeh Mempeh in Les which is not yet on the tourist radar and thus hasn't been turned into a public swimming pool… yet… Right in front of the resort lays a coral reef which can be explored with the freely available snorkel gear or by arranging a dive trip. Also, a couple of canoes and bicycles can be used from the resort free of charge.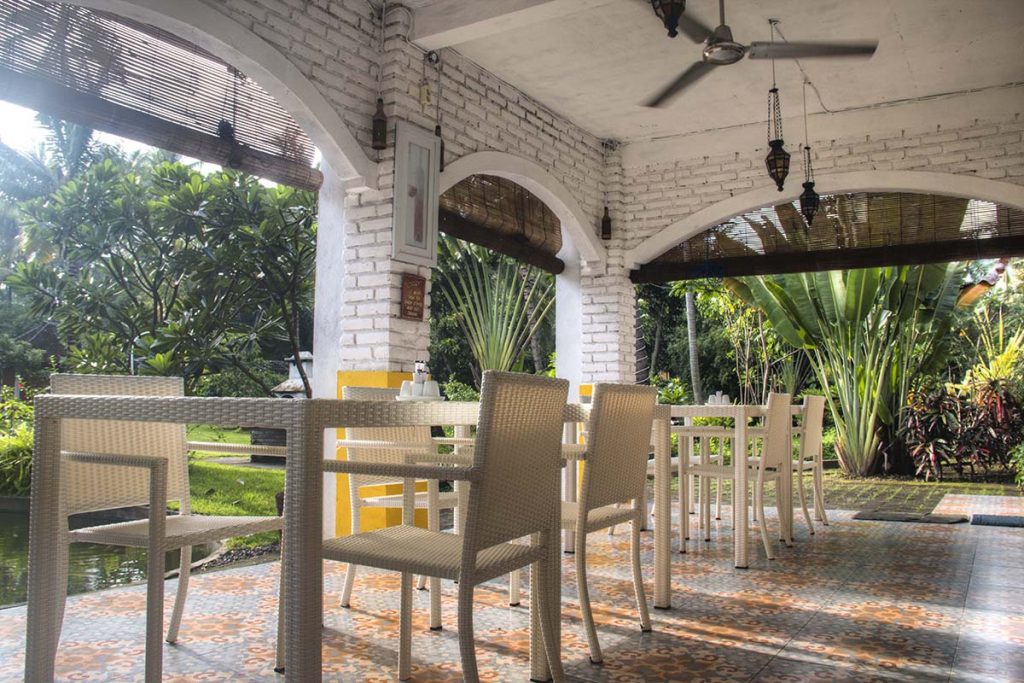 Staff of Au Naturel resort
Some would call him a bit extravagant, but we liked Nick from the minute we met (maybe it's because of his name and because he's also
Belgian
though). He has spent most of his life traveling all around the world from one place to another until he decided about 15 years ago to settle down in
Bali
and start the first naturist resort in Asia. We probably don't need to tell you that he's a never-ending source of interesting stories, about his history as a nudist, his life of travels, and his successful business.
But maybe we shouldn't count Nick as part of the staff because most of the time you'll just see him wandering around, keeping an eye on things or having a chat with one of the guests. He could easily be mistaken for another guest. The person you'll be in touch with the most is David, a very friendly Balinese kid who never seems to rest. He's always everywhere, making sure that things run smoothly.
Then there are a dozen or so more Balinese staff, from waiters to gardeners to security to drivers. All with a friendly smile making sure that all your needs are served. Although the staff is always dressed (except for David, who's always naked) they handle the nudity of the guests in a very professional way which adds a lot to the comfort.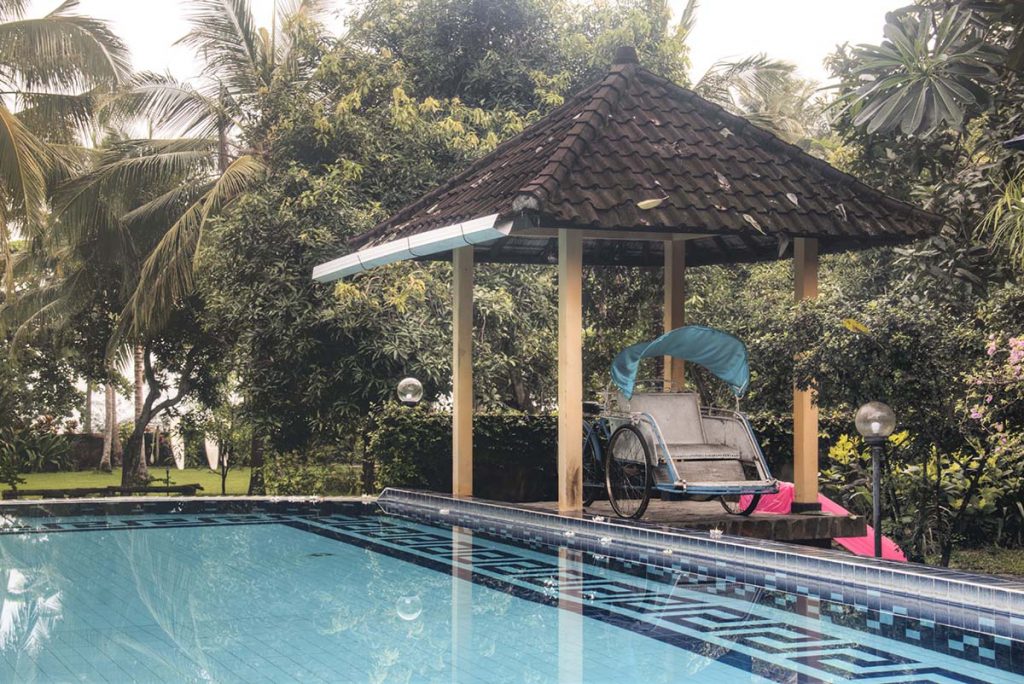 Guests at Au Naturel resort
While we were there, the other guests were a Hungarian couple, a German couple, a French couple, an Indian couple, a Vietnamese couple, an American guy, and a Swedish guy. A very interestingly mixed group. For several of these visitors, it wasn't their first time at Au Naturel, some even come back every year.
Summary
There is no way a nudist can visit Bali without staying a couple of days at Au Naturel. Although it has a bit of an alternative touch, the garden could use a little bit more maintenance and some walls were begging for some new paint, in the end, this added to the atmosphere. On the island where everything is possible, this is the place where you can be free. And naked.
More reviews on Booking.com
Read more about this resort on
NUDE
---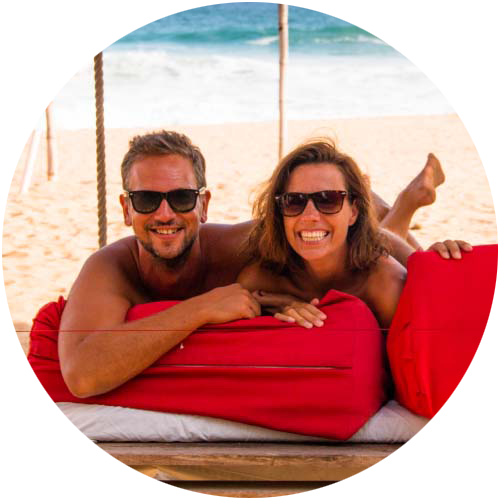 Support Naked Wanderings
Do you like what we do for naturism and naturists? Did we make you laugh or cry? Did we help you find the information you were looking for? Then definitely join our Patreon community!
---