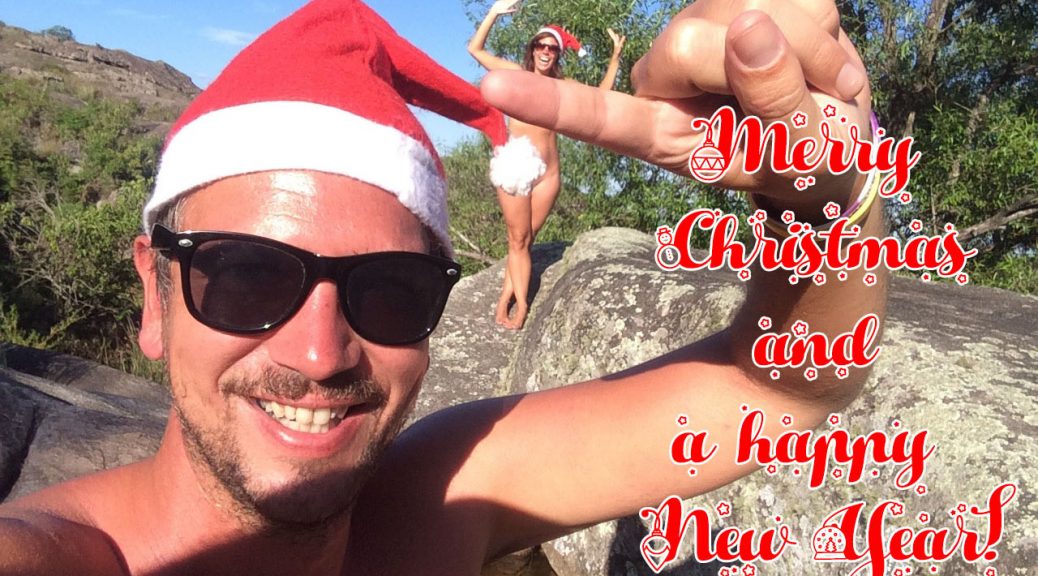 Happy Nude 2020!
Happy Nude 2020!
This post was last Updated on August 26, 2020
Oh what an amazing year was 2019!
This is already the 4th time that we (as in Naked Wanderings) are wishing you a wonderful new year. This blog post is the 344th one on this website. And this is also our 3rd year of traveling. Meanwhile, it has become a bit of a tradition that in this first blog post of the new year we reflect on what's behind us and try to have a peek at what's waiting down the road.
For Naked Wanderings, 2019 has been a success story. We visited so many naturist campings, B&Bs, resorts, beaches, clubs, and events. In 2019, almost 1.4 million different people from 234 different countries have visited this website. We don't know the exact stats but we do believe that this makes Naked Wanderings one of the most read naturist/nudist publications in the world.
The naked road – Part One
Exactly one year ago, we found ourselves in Montevideo, the capital of Uruguay. We had just left
El Refugio
at Playa Chihuahua nude beach and were on our way to explore the naturist options in
Brazil
. We soon found out that naturism in Brazil has different faces. On one hand are the public opinions, most often spread by non-Brazilians. These will either tell you that nudity in Brazil is as common as samba music or that, given the temperament of the Brazilians, non-sexual nudity could never exist in the country. Neither of those appeared to be true.
In our experience, public nudity is still quite a taboo in Brazil, but yet there is a growing naturist movement which mostly happens among the younger generations. And even though Brazil doesn't have much more than a handful of naturist options, we did find some of the world's most idyllic resorts, beautiful nude beaches and amazing naturists. You just have to know how to find them.
The next country we decided to visit was even more controversial. Nudity-wise as well as in other areas. We moved on to
Colombia
. The Pablo Escobar days, when this country was among the most dangerous in the world, are long gone and Colombia has become an amazing destination to travel to. Also here, we found a nudist movement that is young, vital and inventive. Even though they're still taking baby steps towards a decent organization of nudism, we wouldn't be surprised if new movements within naturism and nudism would come from this part of the world.
The cherry on our South-American cake came when we visited Colombia's only official nude beach, located in Tayrona National Park. The moment our toes touched the soft sand, this beach was catapulted into the top three of our most favorite nude beaches.
The naked road – Part Two
When we started Naked Wanderings, one of our goals was to show the world that there are naturist options everywhere, not just in the popular places. So we wrote about naturism in
Thailand
,
Colombia
and
California
instead of the much more obvious France, Spain, and Florida. In the summer of 2019, we changed this plan and organized a huge road trip through naked Europe. Planning to visit some of the world's most popular naturist destinations.
"Epic" is the least we can call this lap of our naked travels. In a little more than three months, we visited 23 naturist resorts and an equal amount of nude beaches in
Italy
,
France
,
Spain,
and
Portugal
. Although all of these countries are pretty much neighbors, the differences are still huge. While France has a long history of naturism and is still the country with the most naturist options, naturism in Portugal and Italy has only started to decently grow in the last decade.
The large majority of naturist options in France are still campings, only recently there are also quite some bed and breakfasts added to the assortment. In Spain, on the other hand, there's much more focus on small villa resorts. In Portugal, the tendency within naturism goes either to campsites in a very natural environment or guesthouses with lots of luxury. And Italy gets a mix of it all, still trying to find its own niche in the naturist travel world.
The other things we write
Our travels have always been the common thread of this website. Sometimes very obvious, like the many reviews we write about naturist resorts and nude beaches around the world. But also in our more generic blog posts our travels, or rather our experiences, will always trickle through. The places we visit, the activities we take part in and the people we meet along the way are the biggest influence on all our writings.
If you would decide today to binge-read all 344 previously published blog posts, starting from
the first one
from back in September 2016 all the way to this new-year-post, chances are that you'll find them to be pretty incoherent. Thanks to the many different experiences and to the other naturists who share their visions with us, we still learn about naturism on a daily basis. This causes us to share a certain opinion today, and possibly the complete opposite in a couple of months from now.
From the very beginning, we have made it clear that Naked Wanderings is not an encyclopedia for naturism and nudism. That we only share our own visions. Today, we have to add that these are our "temporary" visions. Just like the world changes every day, so do our ideas and opinions. And we believe that this is the strength of Naked Wanderings. Another reason why we decided to start this blog 4 years ago was because we found the existing information about naturism old fashioned, rusted up and obsolete. This is something we don't want to happen to Naked Wanderings.
The social media drama
While many naturists have turned away from the common social media like Facebook and Instagram, we always kept believing that we had to invest a lot of time in those channels if we wanted to reach a large public. It's a revolution we see within naturism in general. When you keep hiding behind a large fence, you can't expect others to just believe you when you say what you're doing there. If you want the general public to understand naturism, you have to face them. Let them have a look inside and show them what it's all about.
We thought that social media was the perfect way to show the world about our naturist lifestyle. It took exactly one month of sharing naturist content on Facebook to get us our first ban. Over the years, many other bans would follow. If you're friends with our Nick & Lins account on Facebook, you may have noticed that we've been sharing very little lately. That's because the account is either banned or about to be banned again. The other day, we got another 30-day ban for posting a picture of just our two faces. Really Mark, if you think our face looks like a butt you can just tell us.
Anyway, we've learned to work around the strong Facebook radar and (knock on wood) our
Naked Wanderings Facebook Page
has remained pretty untouched. In April 2019, it was that other Zuckerberg company that started to cause us problems. Big problems. Just like that, our Instagram account with 43 000 followers
disappeared from the web
. No explanation, even after we'd sent them over a hundred messages, we've never seen it back. If you've seen some of the pictures we take, you can imagine that they require quite a lot of time to take and that meanwhile, we have thousands of bloopers. We probably don't have to tell you that the day we lost our Instagram account was not the best day in our naturist blogging career.
But we
came back
. Being even more careful not to burn the Silicon Valley eyes with nipple colored pixels or too obvious butt cracks. This is something every naturist influencer has to go through. A constant fear that all the work you've been putting in creating fun and engaging photos might go through the drain from one moment to another.
The other Naked Wanderings projects
In the course of reading this blog post, you may have noticed a gap in the chronology. So we traveled to Brazil and Colombia and several European countries, but then autumn most have come to Europe, so what happened next?
For the first time on this Naked Wanderings world trip, we decided to include a part where we don't cross the globe from one naturist place to another. There are two main reasons for that. One is what we called the "Europe overload". By traveling to so many naturist places around Europe, that became pretty much the only thing we wrote about during the 2019 summer months. There was not much space left for more generic topics about naturism and also the
Naturist Talks interviews
had to make place for European nude travel content. Good news for those who are planning nakations within Europe but we also understand that there are some among you who got bored of reading yet another review of a French naturist resort.
The other reason is that time has really come to start thinking about how we can keep all of this feasible, financially-wise. We wish that we can keep up this naturist travel blogging lifestyle for a long time to come, but one way or another the bills will have to be paid. Since the start of Naked Wanderings, we had the idea that if we want to reach an as broad public as possible, we can't ask money for what we do. That's why we never had a donate button or a Patreon or Onlyfans account.
Of course, the money has to come from somewhere. At the end of 2018, we made an exception on this "rule" by creating
Naturist Guides
. They took a lot of work and we think that they're definitely worth the couple of dollars we ask for them. Then came our
line of "I Need Air" t-shirts
, a cool gadget and although certainly not a source of financial stability, they did pay back some of our daily expenses.
There had to be a better way. We found out that if Naked Wanderings had been a website about anything else than nudity, we could easily make a decent living via advertising. Unfortunately, thanks to anti-nudity policies, we are not allowed to use any of the mainstream advertising networks. Leaving us either with shady companies and porn ads. We decided that it was time for a change. Not just for us, but for all naturist bloggers out there. If we could create a platform for naturist advertising, it would give naturist businesses the unique opportunity to advertise their business on a variety of naturist websites. On the other hand, it would give naturist websites (like our own) the chance to finally earn some money. This could be a motivation to write even more and better content and for newcomers to give naturist blogging a chance.
Long story short, in November 2019,
NaturistAds
was born.
What's coming up?
With the launch of
NaturistAds
we somehow also defined a strategy for the near future. By investing a little less time in continuous traveling to naturist places and a little more in our side projects, we hope that eventually, we will find a perfect balance where one part pays for the other.
How we're going to arrange all of that practically is still a big mystery and something we'll find out along the way. What we do know is that after almost two months at the same place, working on
NaturistAds
and brand new
Naturist Guides
, the travel bug starts itching again. It's time to move on and start exploring more of what this wonderful naturist world has to offer.
Recently we announced the next big step in our nude travels: At the end of January 2020 we're finally going to attend the
Zipolite Nudist Festival in Mexico
. Later in spring, also the nudist resorts of Jamaica are on the agenda and after that, the summer will return to the northern hemisphere and the options to get naked will be plenty again. How we're going to fill up our summer is still work in progress. We'll let you know when the time is right and the plan is more concrete.
The Naked Wanderings public (Yes, You!)
If there is one thing we'd like you to remember from this very long blog post, it's that all of what you've just read, the South American trip, the epic Europe trip, the large social media accounts and the launch of NaturistAds would never have happened if it wasn't because of you. Our dear readers.
In 2019 there have been 1.4 million of you, interested in our writings, sharing your opinions and following our recommendations for the next great nude holiday. Without you, Naked Wanderings would just be a useless page in a dark corner of the world wide web.
So we'd like to take this opportunity to thank you for being there, thank you for the support, thank you for all your messages and comments and chats and tweets and all the other ways you've been in contact with us, sharing your ideas with us and probably also influenced our writings.
We hope to see all of you back in 2020!
Have an amazing new year!