Colombia… The name must certainly ring something but chances are that it's an alarm bell. Isn't that the country of which you saw a documentary the other day on Netflix? A country full of drugs and violence and FARC rebels? What got into our minds to search for nudism in Colombia? Luckily, most of what you saw on TV is long history. The Colombians prefer to look towards the future and luckily so does the tourism industry. When we first visited this wonderful country in 2013 it was already on South America's "Backpacker Trail" and since Lonely Planet elected Colombia the second-best country to visit in 2017, lots of travelers have found their way.
Today, 6 years later we found ourselves back in Colombia and this time we came for a whole other reason. We were going to find out about nudist opportunities.
Guess what… There are! And quite awesome ones as well!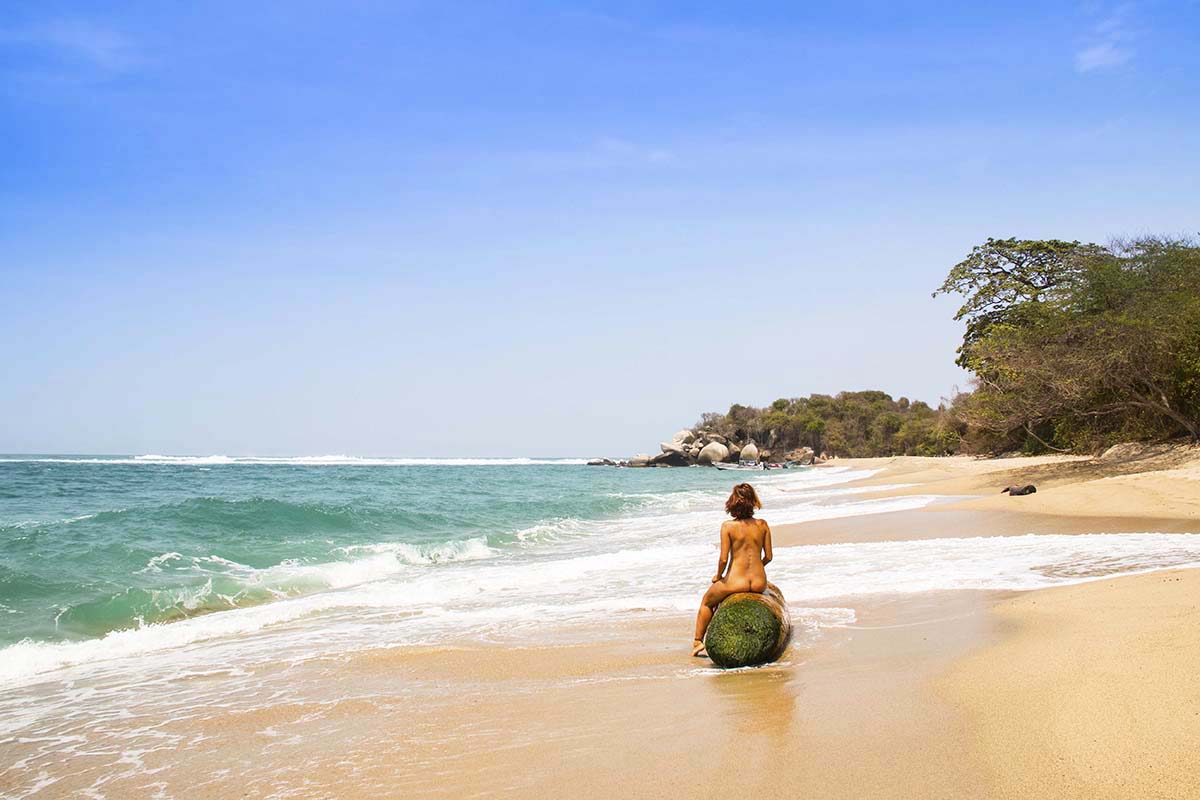 The Playa Nudista (nudist beach) in Tayrona National Park
In the north of Colombia, right on the Caribbean coast, is one of the most beautiful national parks we've ever visited: Parque Nacional Tayrona. An amazing combination of lush forest, cool wildlife, and wonderful beaches. There's so much we can say about this place, but many others have done so before us. For general info about Tayrona National Park, we recommend reading
this guide by Road Affair
. We'll focus purely on the Tayrona's nudist beaches instead.
The gateway to Tayrona is the city of Santa Marta, which has a domestic airport. If you're flying in from another country, you'll probably have to switch in Cartagena, Bogotá, or Medellin. From Santa Marta, there are two ways to enter the park. If you have time and you're planning to stay in the park for the night, we highly recommend taking the bus from Santa Marta to the entrance of Tayrona and hike through the forest from there. The hike from Cañaveral to the nude beaches takes about two hours and passes by some magnificent scenery.
The easier and faster way, which we recommended for day trips, is to take a boat from nearby Taganga (about 20 minutes from Santa Marta). The cool thing is that this boat will drop you off right at the first nude beach.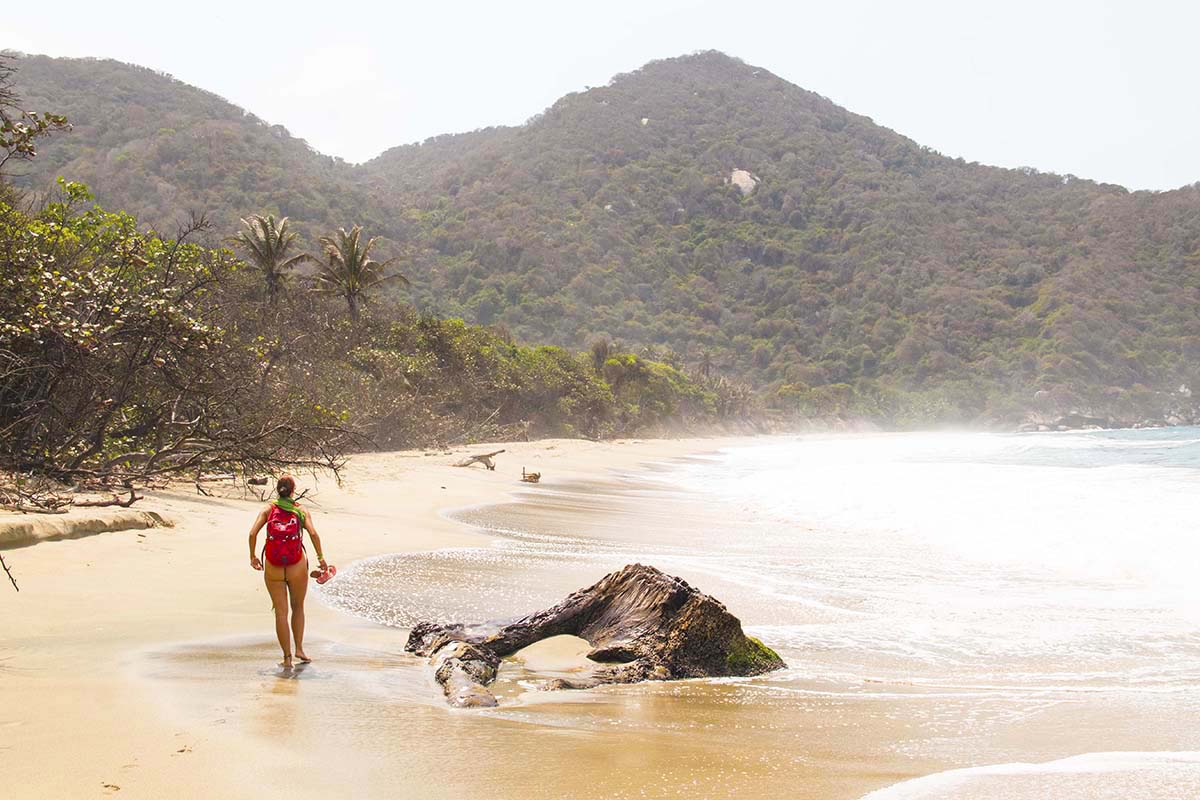 Did we say the first? Yes, we did. Although most maps will only point at one nude beach, there are actually two (trust us, we asked). It's very simple, they are the two beaches west of the famous spot Cabo San Juan.
We've visited Parque Nacional Tayrona's nudist beaches two days in a row and found the beach closest to Cabo San Juan to be the better one. While we were there, there was always a mix of local Colombian nudists and tourists. Although Tayrona is not on many "top nude beaches" lists, from the moment we arrived the place catapulted into our top five. If not our top three. Two wonderful nude beaches with an emerald blue sea appear to be the perfect first-time nude beach experience for both Colombians and foreigners.
Nudist groups in Colombia
The nudist beach in Tayrona is the only official nude beach in Colombia. So we figured that there should be more nudist activities in the country and went for a search. It wasn't hard to find them. Only two days after our arrival in the city Medellin, we found ourselves nude in the surrounding hills with a group of about 30 other Colombian nudists. Members of the
nudist community Otro Cuento
.
During our travels, we have been able to witness some milestones in nudist history, and that day there would be yet another one. We were about to enjoy the first nude temazcal ever in Colombia. This was going to be an extraordinary experience and not just because it's the first one. It also happened to be the hottest temazcal we ever placed our naked butts in. With a little embarrassment, we have to admit that we did not make it to the end. Unlike all the others. Nudists from Medellin are a strong kind, that much is certain.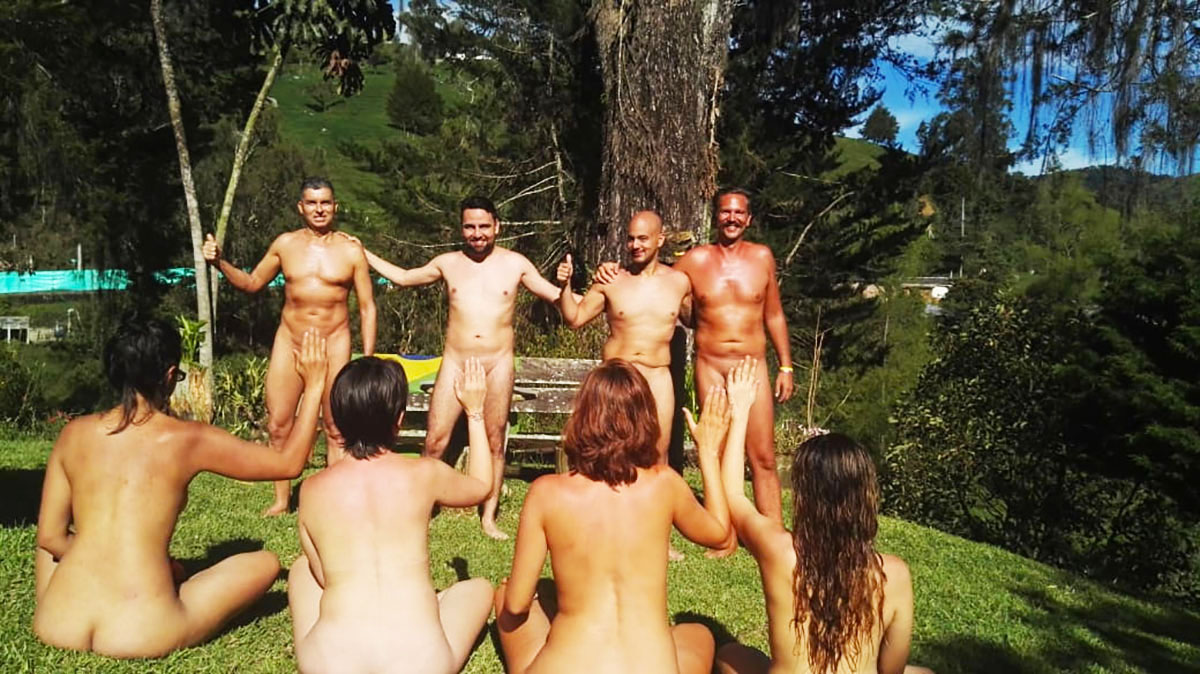 Nudist events in Colombia
Three days later we would attend another event of
Otro Quento
, a discussion night. This did sound a bit less spectacular than a day in the hills and a temazcal but for us, it would be the perfect opportunity to learn more about nudism in Colombia and meanwhile share some of our stories. What made it even more interesting was that the event would happen in a museum dedicated to the work of
Pedro Nel Gomez
, a Colombian artist who is famous for his nude art.
Again this would prove to be a night to remember. Around 35 nudists showed up for a nude evening in the museum and time literally flew by.
We believe that the popularity of these nudist gatherings in Medellin is because of the variation and frequency of their events. But most of all it's because of the dedication of Daniël and Carina. They put lots of effort and time into the organization of all this. Again it has been proven that nudism and naturism can really flourish if you have the right people at the right spots.
For more info about the nudist community Otro Cuento in Medellin: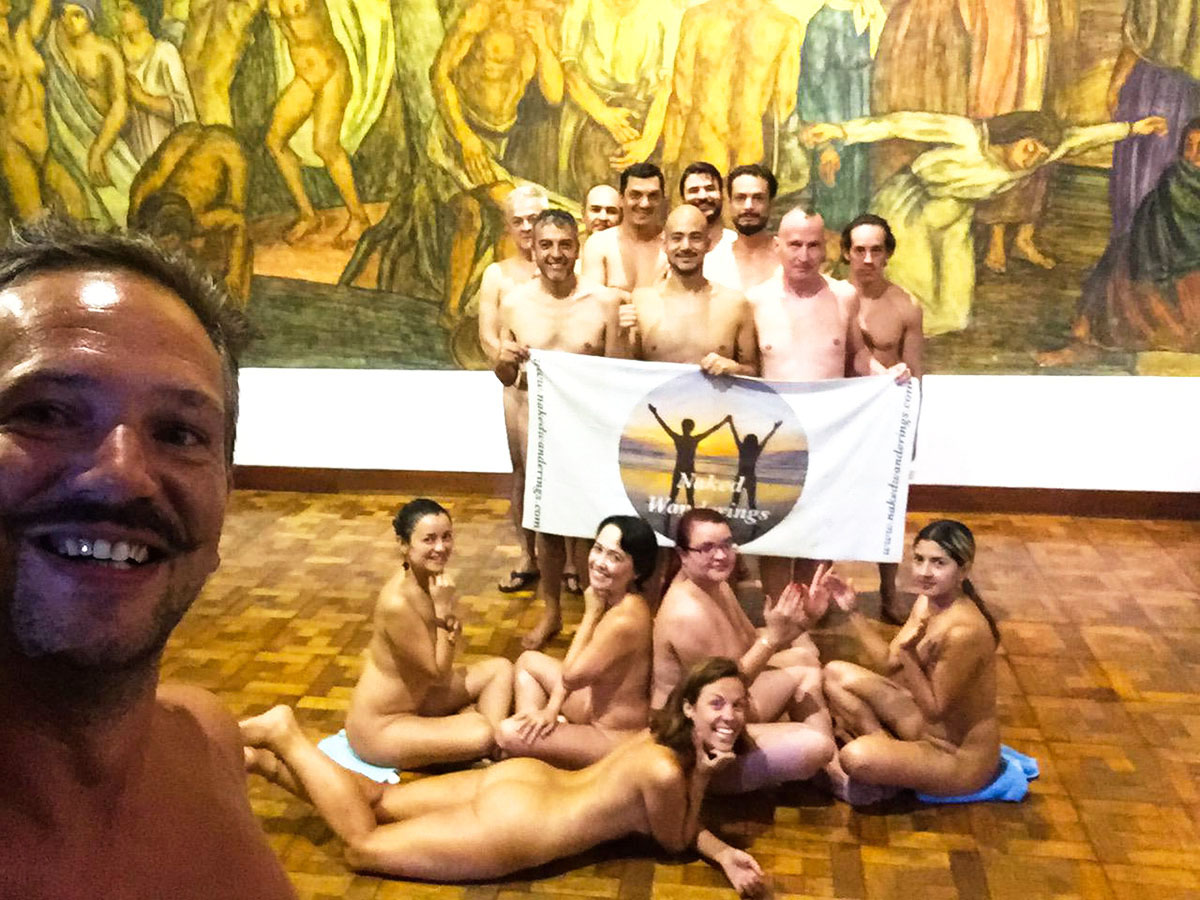 Nudist hotel The Naked House near Bogotá
Last week we've already published a
complete review of The Naked House
, so we don't have to mention again how much we loved the place. A pure nudist getaway, just around the corner of Bogotá. What's important is that Filipe and Edwin have decided to put their shoulders under a never seen project: The first nudist hotel in the country. It's certainly a risk, but we have little doubt that they will end up being pioneers in Colombian nudism. Just like Daniël and Carina from Medellin are, when it comes to organizing successful nudist events.
The fact that several young people are ready to put their shoulders under social nudity projects is proof that nudism starts moving forward in Colombia, a country where nudity is still quite a taboo. These pioneers are not preaching about nudism or naturism, or setting up a whole set of rules or do's and don'ts. Instead, they are creating spaces and opportunities for nudists and they're giving nudism in Colombia a face. Last year we had already seen in Mexico how well this works.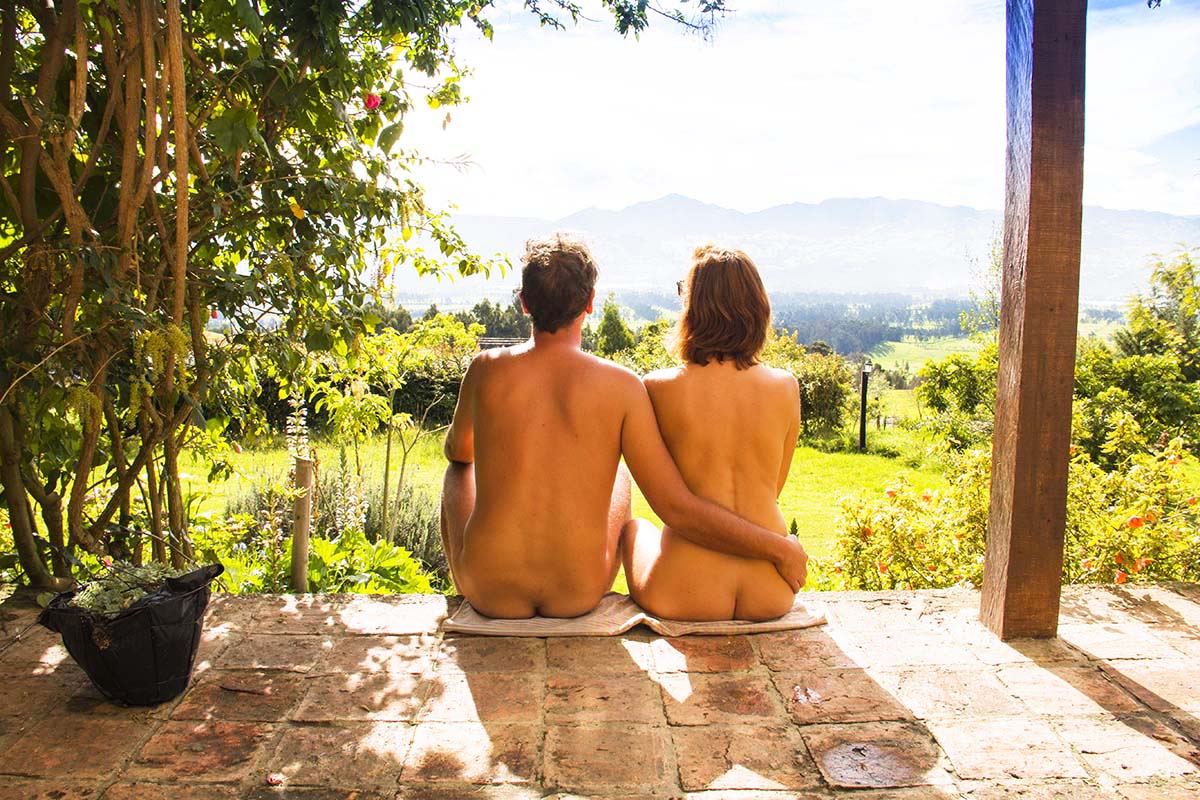 In this point of view, Colombia is not much different from
Mexico
. Young Colombians drop their pants at the nude beach in Tayrona, nudists from Medellin get naked on a regular basis during the Otro Cuento gatherings, and people from all over Colombia and around get there nude behind up on the hill of the Naked House. Often for the very first time.
We are sure that these are the kind of initiatives that help nudism grow. And that soon Colombia will be added to the itinerary of the new generation of naked travelers.
---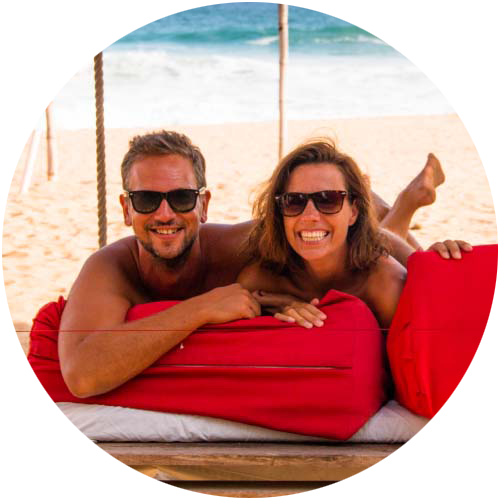 Support Naked Wanderings
Do you like what we do for naturism and naturists? Did we make you laugh or cry? Did we help you find the information you were looking for? Then definitely join our Patreon community!
---