Remember the times when the magazines and websites of naturist federations were the only available source of information about naturism? On one hand it did make things pretty easy. Whatever they said, was the one and only truth. Their definitions, rules, and etiquette defined naturism. Period. Of course, not every naturist had the same opinion, but there wasn't really a platform available to share other visions about naturism.
This was one of the main reasons why we started Naked Wanderings, back in the day. We enjoyed naturism, but our ideas definitely weren't always conformed with the often boring and patronizing information that we found online at the time. The internet provided us with an easy and cheap way to spread our own thoughts and visions. Several others would do the same. Only recently, we've published a blog post with the
naturist blogs that we think you should follow in 2020
.
Also on other online platforms, the word about naturism becomes louder and louder. There are lots of social media communities (some better than others), there are a couple of podcasts and recently also naturist video is starting to grow. Here are some naturist YouTube channels which are definitely worth some of your time in 2020.
Let's start off with the most important naturist vlogger of the recent years and certainly in 2020 as well. Hector from Mexico got in touch with naturism less than 10 years ago via the World Naked Bike Ride. Soon after he started a naturist group in his hometown Guadalajara, which quickly grew to be the largest in Mexico. Back in 2018, at the age of 27, Hector became
president of the Mexican naturist federation
and the youngest president of a naturist federation in the world. During the last several years, Hector is dedicating pretty much all of his time to the promotion of naturism.
The
YouTube channel of Hector Martinez
has 1.2 million subscribers at the time of writing and his videos regularly get millions of views. Hector talks about his personal experiences within naturism/nudism, about the events of the naturist group in Guadalajara (NNG) and about other topics related to Mexican nudism like the
Zipolite Nudist Festival
. For a long time, his videos were in Spanish only, but recently he's been creating more and more English spoken content as well.
Naturisme TV
Another big name in the naturist vlogging world is the French YouTube channel
Naturisme TV
. They started back in 2012, which makes them the longest-lasting naturist YouTube channel and some of the longest-lasting promoters of naturism online. Back in the day, the channel mainly published "NATMAG" videos, in the style of human interested TV programs. In this NATMAG series, they went to several
naturist resorts in France
, interviewing guests about their naturist experiences.
Recently,
NaturismeTV
has grown out of their NATMAG concept and now also create excellent promo videos for French naturist resorts, while still holding on to their human interest interview style. All videos of NaturismeTV are in French, so they focus mostly on a French-speaking audience. This makes them very popular in their country and we do believe that they're one of the reasons why
naturism is currently growing in France among the younger generations
.
Other similar videos would follow, of which we particularly enjoy the one
"Primera vez na praia de nudismo"
(translated: "First time on the nudist beach") in which they, you guessed it, talk with first-time visitors of a nude beach. Most of their videos are filmed at Tambaba nude beach in northern Brazil and also document topics like the beach cleanup and the annual nude surf contest. All videos are in Portuguese, but some of them have English subtitles.
Although we don't follow their
website
all that much, the YouTube channel of
A Naturist Family
definitely deserves a place in this naturist vlogger list. The beauty of this channel lays in the very natural way in which the family documents their naturist activities. There's not much cutting or perfect lighting but very natural videos which will seem strikingly familiar to many other naturists.
The
Naked Traveler
has gone through a couple of phases in her vlogging life. Just like millions of others hoping to step in the footsteps of Justin Bieber she started with uploading videos of herself singing and playing different instruments. Although definitely not bad at all, her timing wasn't right. Back in 2016, the record companies weren't particularly looking for the next Sheryl Crow. She moved on to videos about how to cut your own hair, how to tattoo your own leg, how to crash a longboard and how to become a vlogger.
It gets interesting when in March 2019, she decides to step away from conformity and becomes The Vagabond. While this still has nothing to do with naturism, at least she's back to one main topic. About two months later she crashes her car in the south of Spain, gets a ride and ends up in Vera Playa, a Spanish
naturist village
. In the next couple of videos, you see her struggle about what to do next with her life and whether or not to indulge in naturism. The fact that soon after she becomes the Naked Traveler, you can probably imagine which life choice she went for. All the Naked Traveler videos are in English.
Some of you may not know this, but
Naked Wanderings has a YouTube channel
as well! The thing is, we're not vloggers. We're fans of the written word. Maintaining a blog does take quite a lot of time (more than one would think) and the rest of our time we prefer to spend at some nude beach instead of sitting behind a computer and editing video. Not to mention that we would first have to learn how to edit video.
During our travels we also take a lot of pictures and at a certain point, we were wondering what to do with all them. Some appear in our blog posts and on social media, but we wanted something more. Long story short, we started creating short videos with our pictures and the
Naked Wanderings YouTube channel
was born. This is something we'll keep doing in 2020. Don't expect high-quality videos like the ones above, but if you're not that much of a reader, these videos do give a visual summary of some of our blog posts.
---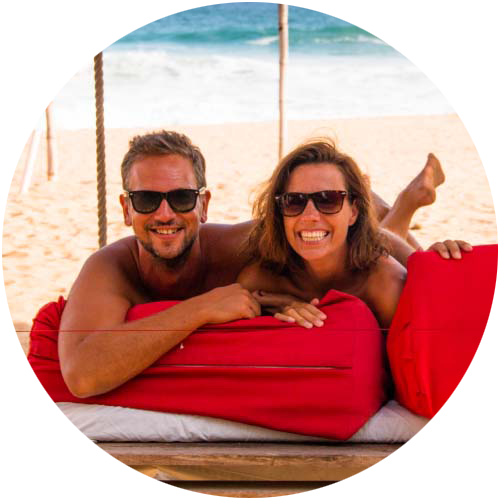 Support Naked Wanderings
Do you like what we do for naturism and naturists? Did we make you laugh or cry? Did we help you find the information you were looking for? Then definitely join our Patreon community!
---