Europe is no doubt the best place in the world for naturism. You can find all types of naturist resorts, ranging from small 2-bedroom guesthouses to actual
naturist villages
, and everything in between. Most European countries have at least one and probably more (if not a lot) nude beaches.
To give you an example, Spain has over 400 official nude beaches. That is more than all non-European countries together. We've been travelling extensively through Europe during the last few years, and in this blog post, we'll give you an overview of our favourite nude beaches on the continent.
Do note that the title is not "the best nude beaches", because we think that whether you enjoy a beach or not is a very emotional decision and depends on a lot of factors. Instead, we'll tell you about the beaches that we loved the most.
Linguizzetta beach (France)
We didn't want to make a Top X list, but if we had, Linguizzetta beach would most likely be at the very top. This beach just has it all. It's several kilometres long, it has beautiful white sand, the sea water is warm, there are several beach bars, and the surroundings are nothing but splendid nature. As if a green wall separates the beach from everything behind it. As a cherry on the cake, there are some magnificent mountains in the backdrop.
What we also love about this beach is that it's directly accessible from
naturist campsite Bagheera
. So if you're staying there, you don't need a car or find a parking spot. You don't need to get dressed to go to the beach and you can leave your belongings at your accommodation. And then there is the sunrise, coming straight out of the sea and putting a golden glow over the whole beach. It's one of life's few reasons to wake up early.
France's Atlantic beaches (France)
On the whole other side of France are the Atlantic nude beaches near
CHM Montalivet
,
Euronat
,
La Jenny
, and further south near
Arnaoutchot
. Because these beaches are both long and wide, they look absolutely immense. We think that if everyone in France would decide to go there one day, it still wouldn't feel packed.
The Atlantic Ocean is not particularly known to have warm waters, on the contrary, but it does have waves which make it interesting for the more active beachgoer. Some of the naturist resorts have their own surf school where you can take classes or rent a board. Another very popular activity at these beaches is very long naked beach walks.
Vera Playa beach (Spain)
Vera Playa
probably doesn't need an in dept introduction, as it's one of the most famous naturist destinations in Europe. One reason for this is because Vera Playa is one of the few real naturist villages in the world, in the sense that you're not just allowed to be naked on the beach and in the resorts, but also on the streets and in (many of) the bars and restaurants.
The other reason is obviously its beach, which is long and sandy and has plenty of facilities including several naturist beach bars. What we particularly enjoyed about Vera Playa is that it can pretty much be visited year-round. We've spent quite some time there in the middle of the European winter, and still had plenty of days when the sun was strong enough to allow us to sunbathe naked and even go for a skinny dip.
Playa Cantarrijan (Spain)
We only visited Playa Cantarrijan once, and it was on a pretty cold day in winter. We did get naked, but only to take a couple of pictures before we quickly put our clothes back on. So we can't really say that it was such an amazing nude beach experience. Except that it actually was. The reason for that was that we went there with a
local naturist group
, and that's always a great source of fun even when the weather is not that optimal.
But even if we hadn't met the local naturists, we would still recommend a visit to this beach. It's beautifully located in a naturist reserve on the Mediterranean Coast, with lots of greenery and high hills behind it. The beach is split into 2 parts, which you only realise when you walk to the far left (when facing the sea). You arrive at a rock with a big hole in it and then comes the "Ooooh, there's even more" feeling.
Canarian nude beaches (Spain)
When it comes to spectacular nude beaches, as in stolen straight from a magazine nude beaches, there are few places in Europe (or even the world) that can compete with the Canary Islands. To be fair, we have only visited
Lanzarote and Fuerteventura
, but those two islands (and the beaches we found there) were enough to skyrocket the area into our all-time favourites.
One of the cool things is that the nude beaches are all so different. Some are rocky coves, some are wide and sandy, some have the most tranquil waters and at others, you'll dream away by the sound of the crashing waves. Our personal favourites include (but are not limited to) Playa de las Conchas, the Papagayo beaches, El Cotillo, and Playa Cofete.
Another reason why we loved the beaches on the Canary Islands is that pretty much every beach is clothing optional by default. Even when we went to beaches that are not known for nude use, we could perfectly get naked and nobody would say a word about it. Or even look like they've noticed it.
Costa da Caparica beaches (Portugal)
Portugal
is not particularly known to be a popular naturist destination, so you can imagine our surprise when we learned that there are quite some nude beaches in the country. Correction: Quite some spectacularly beautiful nude beaches. They all have this wild look that's created by endless sand and sea and high cliffs in the backdrop. When on these beaches, it's not difficult to forget that there's a whole inhabited world somewhere behind you.
While the beaches in the south of the country are probably the most picturesque ones, we decided to spotlight the three nude beaches of the Caparica coast here: Praia da Bela Vista, Praia da Adiça, and Praia do Meco. The reason for that is that they are just south of Lisbon. Having nude beaches so close to a country's capital is very rare, and it provides the unique opportunity to combine a city trip with a visit to the nude beach. In the morning you could do some shopping or awe at the famous tower of Belém, then have a delicious fish lunch in the harbour, and spend your afternoon naked on the beach. Only in Lisbon.
Istria beaches (Croatia)
Croatia is one of Europe's top naturist destinations and this is all thanks to the Istria peninsula in the north of the country. This area is said to be one of the cradles of modern-day European naturism and is home to some of the largest resorts on the continent, such as
Koversada
. For decades, naturists from all over Europe have been spending the best parts of their summers without clothes in Istria.
This has left its traces in the form of a clothing-optional culture. Except for the very urban beaches, we would dare to say that every beach in Istria is a potential nude beach. Especially because there are so many coves, where you're likely to be the only person on the beach anyway. If having your private nude beach is something you dream of, Croatia is probably the place you want to go to.
Ada Bojana (Montenegro)
Ada Bojana is a strange place. It's a river island right on the border of Montenegro and Albania and in times of former Yugoslavia, this was by far one of the best naturist resorts in Europe. The official nude beach, where nudity is mandatory, isn't much longer than a couple of hundred meters and is not all that spectacular. But what we loved was that the many kilometres of "other" beach were considered very clothing-optional as well. When we were there in the summer of 2017, about 80% of the people on the non-nude beach were nude as well.
Important to mention is that Ada Bojana is going through some rough times and that its future is very uncertain. Idyllic places like this are in high demand for mass tourism and constructors are willing to pay big money to make the naturists disappear. Local groups are protesting against this and created
a petition
. We would like to ask you to sign this, even if you have no plans to ever visit Ada Bojana. Just because it would be a shame to see such a beautiful and mythical naturist place disappear.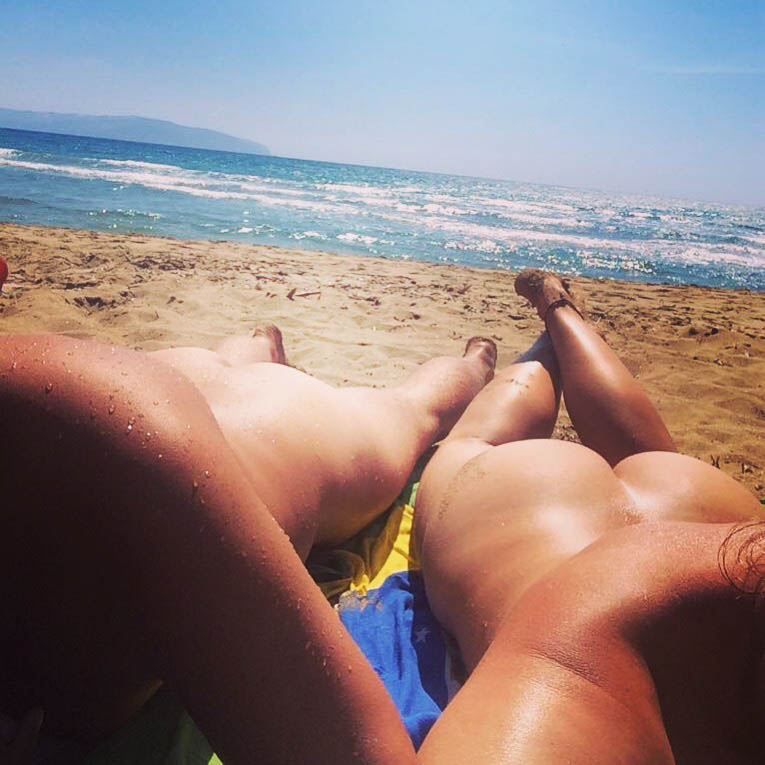 Antiparos (Greece)
Moving on to
Greece
, a country with not much more than a handful of naturist resorts, but a sprawling nude beach culture. Interestingly, there are only about 5 official nude beaches in Greece, but many hundreds, if not thousands, unofficial ones. For this overview, we picked one of the official ones, which is conveniently called "Nudist Beach" on the island of Antiparos.
The setting is absolutely picturesque, with pure white sand and emerald-coloured water. Because the water is very shallow, it also has very agreeable temperatures. This allows you to wander deep into the sea, even all the way towards a nearby uninhabited island. A lot of naturists like to do this, so the island unofficially became a naturist island as well.
Galderse Meren (Netherlands)
We mentioned in the introduction that this blog post would not be a "best of", but rather one about our personal favourites. This beach is a perfect example. Galderse Meren near Breda is not a spectacularly beautiful nude beach. It's not at the sea or ocean but at a muddy lake. It's not really large either nor has extraordinary facilities. But it's the nude beach that we regularly visited when we were still living in Belgium.
The beach was less than half an hour's drive from our home, so when we woke up on weekend mornings and saw bright sunlight coming through our curtains, often before we got out of bed we already knew the plan for the day. We would load the cooler with rosé wine and snacks, put our beach chairs in the trunk, and drive to the Galderse Meren for an afternoon at the nude beach. Even after all these years, those are still very vivid memories. And after all, that's what really counts, doesn't it?
---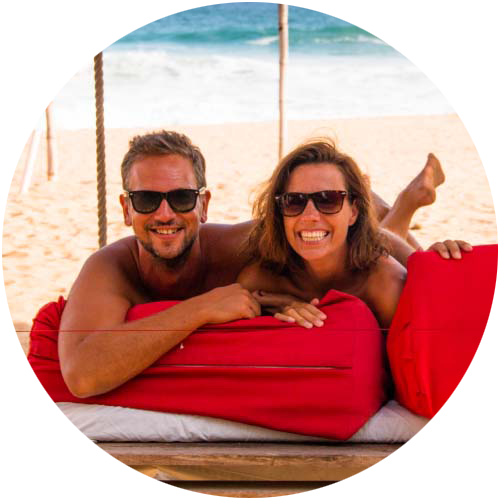 Support Naked Wanderings
Do you like what we do for naturism and naturists? Did we make you laugh or cry? Did we help you find the information you were looking for? Then definitely join our Patreon community!
---