At the end of November 2020, we traveled to Spain with a plan. Normally, when winter comes to Europe, we tend to move to places a bit closer to the equator, to make sure that we can continue our naked getaways. But because of COVID, those options were off the table. So we looked for a place in Europe that was likely to have agreeable weather even in the winter months. Our eye fell on the Spanish Mediterranean coast.
The idea was to travel to Alicante and move south from there, all the way towards the Portuguese border. The Mediterranean Sea is known to have almost no waves, but COVID, apparently, did come in waves. Not long after we set foot on Spanish grounds, the provinces closed their borders and the travel options became very limited. As a result, we've been spending the last months in Benidorm, a popular beach city at the Costa Blanca. At less than 50 kilometers from the airport where we landed almost half a year ago.
We soon found out that "our lockdown" would have some advantages. The weather in this region often allows outside nudity year-round. And Spain happens to be the country with the most nude beaches in Europe.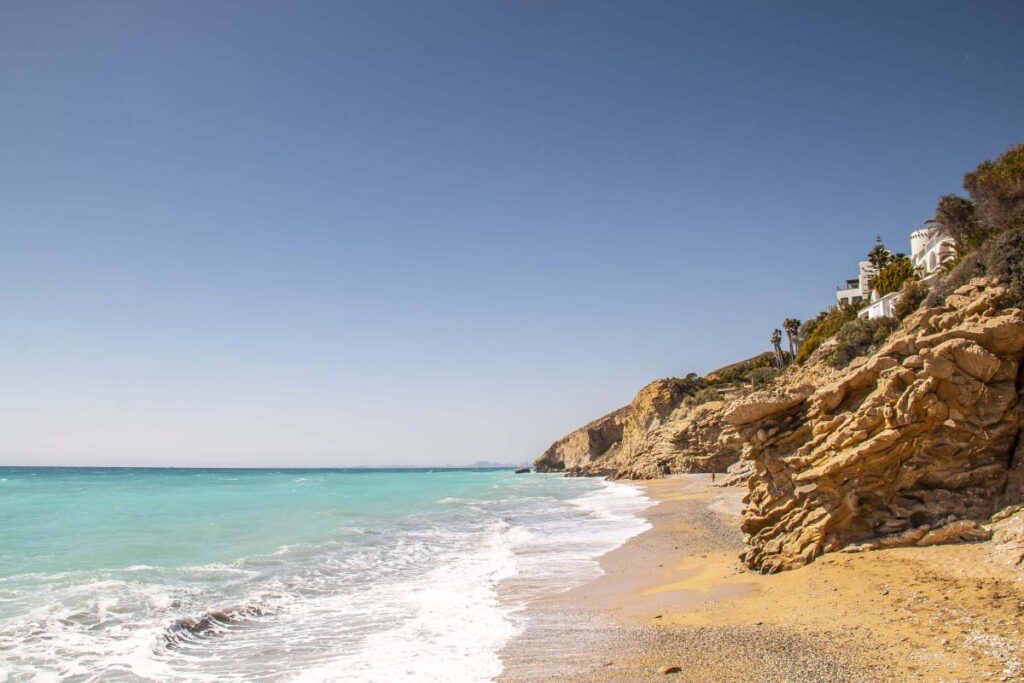 Nudity in Spain, how does it work?
Spain is an interesting country when it comes to getting naked. Since there are no laws against public nudity, you're technically allowed to be nude in all public places. This includes every beach, but also on the streets or in parks, for example. But before you board a plane with no clothes in your luggage, there are a couple of things to keep in mind.
Some cities do have local laws that specifically prohibit social nudity. These are quite few, but they do exist and the most known examples are Barcelona and Cadiz. A more important aspect is that even though nudity is totally legal according to the Spanish Constitution, this doesn't mean that it's socially accepted. In other words, it may be legal to wander the streets of Benidorm naked, but it's likely that it won't be appreciated, that you will disturb the public peace, and that the authorities will react. This doesn't only count for the streets, but also for all other public areas. Including the popular beaches.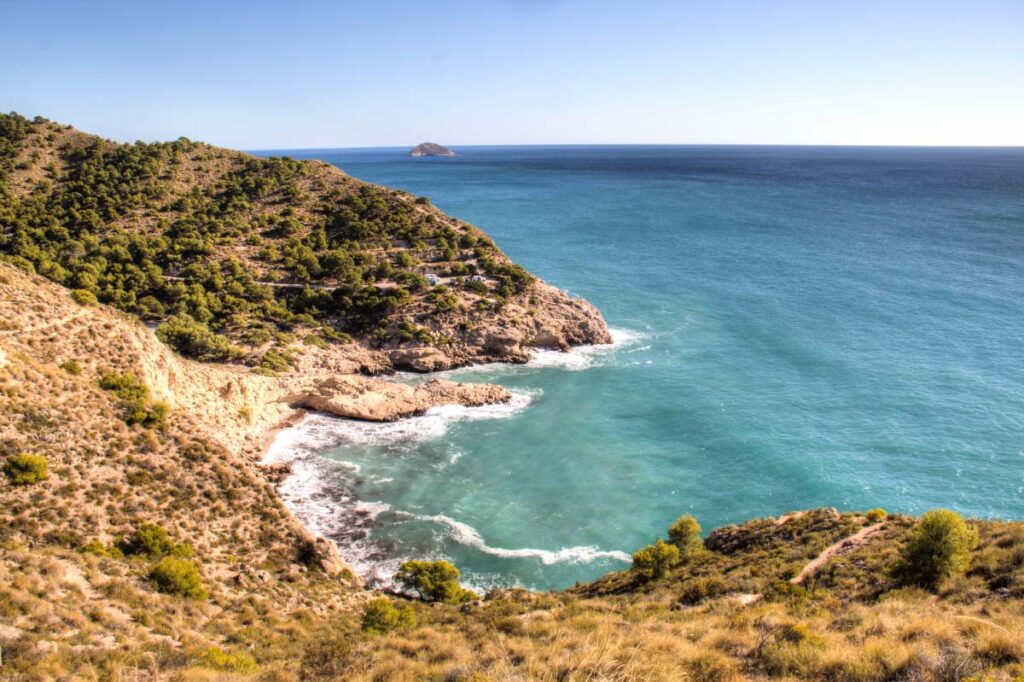 The nude beach tradition in Spain
As a result, even though every beach in Spain can technically be a nude beach, specific beaches are designated for nudists and it's recommended to only get naked at those beaches. Luckily, there are plenty of those along the Spanish coast. The
Spanish Naturist Federation
together with several small nudist groups has a history of actively promoting and protecting nude beaches.
Until recently, these beaches were promoted as "beaches with a nudist tradition". For a couple of years, this changed to "beaches where nude use is recommended". Why is this important? Because the nude beaches tend to be overrun by textiles in the summer months, creating awareness for the rights of nudists is much needed. An official recommendation by the government definitely helps with that.
Today, because of COVID, pretty much all of the sunbathers at the nude beaches that we visited in the region got naked. If that's not the case when you are here, do know that it's your right to be nude and that it's recommended by the government.
Cala Tio Ximo and Cala Almadraba (Benidorm)
GPS: 38.527710, -0.105855
Benidorm has two coves where nude use is recommended, which can be found in the far east of the city. Basically, if you get to the end of the main beach, you take a street up the hill and then follow the coastal road. These are the first two coves that you'll pass by. It's hard to miss them, there are road signs towards Tio Ximo and there's a huge sign saying "Benidorm" right in between the coves.
We weren't very impressed by these beaches. They are quite small and we imagine that they get very full in the high season. There's also no sand, just big rocks, and pebbles. And there are no facilities at all. The advantage of these beaches is that they are within walking distance from Benidorm, that they provide an easy getaway from the busy city, and that you get some amazing views of the Benidorm skyline.
Playa de la Olla and Playa de la Solsida (Altea)
GPS: 38.621211, -0.022819
Just 10 kilometers east of Benidorm lays the white village Altea. This is definitely a recommended visit in itself, but the town also has two nude beaches. From the seaside of Altea, you can just keep walking east for about an hour to get there. An easier solution is to take the tram for two stops and it will drop you off at a 10-minute walk from the beach.
Both nude beaches are close to each other and there are no signs mentioning that nude use is recommended. The coastal stretch is very long, so it's best to just get away from possible crowds and get naked. We're sure that you'll find a good spot. The beaches are partially sand and partially pebbles and are secluded by cliffs. It's definitely a nice green area and perfect for a skinny dip after exploring Altea. There are some bars and restaurants at the west end of the beach.
Racó del Conill (Villajoyosa)
GPS: 38.516999, -0.179325
Villajoyosa is an example when it comes to nudism in Spain. Not only do they actively promote their nude beaches, but they've also put up nice signs that show you where you need to be and that promote the nude use of the beach.
Racó del Conill
has lots of large parking space, just steps from the beach, so it's easy to get there by car. But we also recommend hiking to the beach from the coastal town Cala de Finestrat (don't confuse with Finestrat, which is several kilometers inland), as this will give great views of the town and the coastline.
Racó del Conill
is divided into two sections by a large rock. One part is mostly flat stones, the other part is a sandy beach. Both sections, including the rock, are part of the nude beach. Due to its proximity to Benidorm, because it's so easy to get to, and because there's a popular hiking trail passing by, this beach does, unfortunately, suffer from many textile visitors during the summer months. It is an excellent place to visit during the other seasons though because the large surrounding rocks keep away the cold wind. And the idyllic surroundings make
Racó del Conill
one of the nicest nude beaches in the region.
During the summer months, there's a chiringuito (beach bar) at Racó del Conill, unfortunately, you'll need to put on some clothes to enter.
Playa L'Esparrelló (Villajoyosa)
GPS: 38.494909, -0.267025
The other nude beach of Villajoyosa lays on the west end of the town. The 45-minute walk from downtown is very nice as it mostly goes via paths along the coastline. You can also take the tram and get off at the stop "Paradis", from where it's about a 20-minute walk to the nude beach.
Of all the nude beaches that we visited in the region, we liked L'Esparrelló the most. The beach is a combination of sand and pebbles and you'll find plenty of soft and/or shady spots. The calm sea is excellent for skinny dipping and the color of the water is such a magnificent shade of blue of which we thought that only existed in the Caribbean. There are no shops or bars nearby the beach, so come prepared.
When you're in the region, we highly recommend a visit to the town of Villajoyosa as well. Literally translated, it means "the joyful village" and it's said that only happy people live there. When you're strolling through the narrow streets with colorful houses, it's not hard to imagine why everyone is so happy.
Naked Wanderings' Ultimate Guide for Naturism in Spain ebook

Are you looking for great nudist resorts and nude beaches in Spain?
Are you looking for the best tips for a nude vacation in Spain?
Then our ebook will be the perfect resource for you!

Learn More
Need help with planning your trip? Check out our Resources Page for an overview of the best companies we use during our travels
---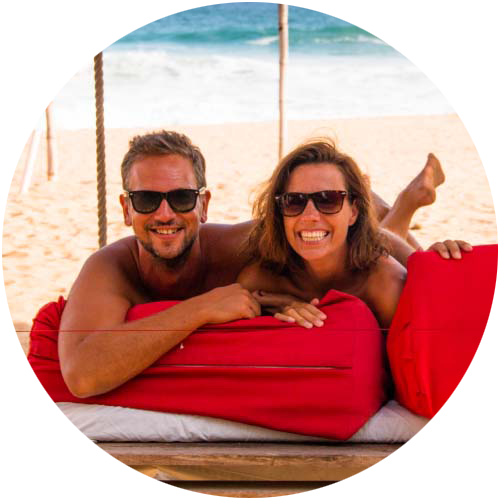 Support Naked Wanderings
Do you like what we do for naturism and naturists? Did we make you laugh or cry? Did we help you find the information you were looking for? Then definitely join our Patreon community!
---