Spain is one of the few countries in the world where nudity in public places is completely legal. Really, if we decided to walk out of our door naked this afternoon for a long stroll on Benidorm boulevard, there's not a single law that can prohibit us from doing so. But that's not the plan for today. Although we like to strive for a world in which nudity is normalized, we also realize that we're not there yet and that the shock effect of walking naked among the clothed families would probably work counterproductive.
A short walk down the road from our place is a lovely beach called Cala de Finestrat. White sands, emerald-colored sea, you get the picture. But even there, we won't be going full monty. Instead, we rather hike for half an hour through the mountains towards
Racó Del Conill
, one of the official nude beaches in the region. Or as they are locally called: "playas de tradición nudista". Beaches with a nudist tradition. You got to love the poetry in the Spanish language.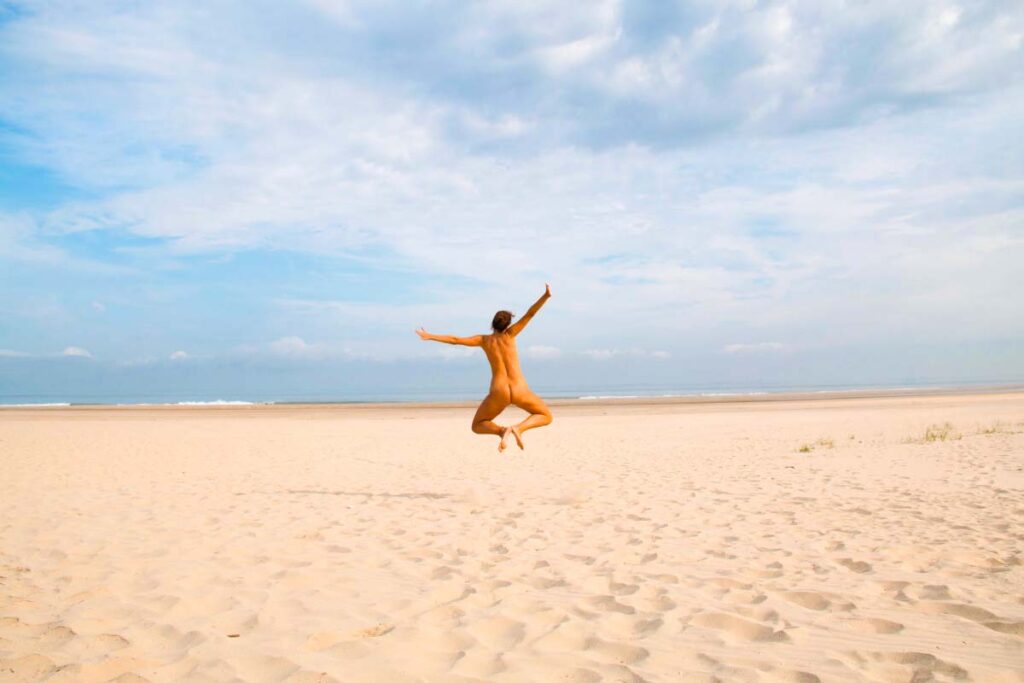 Why do nude beaches exist in Spain?
In a country where nudity is allowed all around, why do we still feel the need to go to actual nude beaches? On one hand, there's the social aspect of naturism. Other than getting a tan and skinny dipping in the Mediterranean, we also like the friendly atmosphere among naturists. We like the friendly waves, the smiles, and the conversations. And we like that we don't fall out of tone. Although we can legally get naked on the beach down the road, we can be sure that there will be quite some gawks and stares. Just because we would be the only nudes on a clothed beach.
The first time when we visited
Racó Del Conill
, we met up with a local naturist group. They call themselves activists, who strive for the protection of the nude beach. These groups can be found all around Spain, each protecting a specific nude beach. So let's get this straight. Nudity is legal in Spain, especially in natural places like beaches. We already figured out why designated nude beaches are more agreeable, but why do they need to be protected?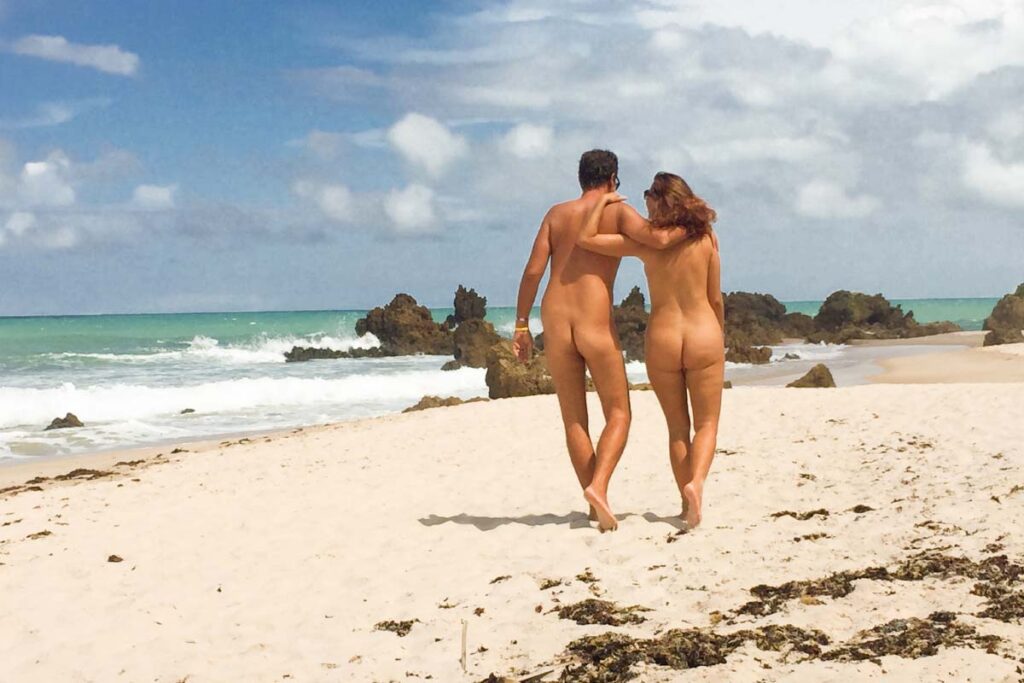 Why do nude beaches need to be protected?
During the several times that we have meanwhile visited the Racó Del Conill nude beach, we were never the only naked people. In fact, most of the time, the nudes were the large majority. We've had no negative experience yet at the beach. So what does this beach need protection for? Of course, we ended up here in winter and in the height of the COVID pandemic. It's not hard to imagine that during the summer months, when tourists from around Europe flock together on the Spanish Costas, the number of bathing suit covered butts could easily outnumber the naturists.
We have already seen this several years ago in southern Croatia. Hours of research had produced an extensive list of
nude beaches at the Dobrivnik Rivièra
, but once we got there, we found most of them flooded with clothed visitors. Who sometimes even crossed out the "FKK" sign. It felt as if the walls were closing in on us. If there had been groups of activists who talked with the local government about the importance of the nude beach, educated the clothed visitors about the naturist tradition of the beach, and made sure that thanks to their presence you're never the only naked person, we may have had a much more agreeable time.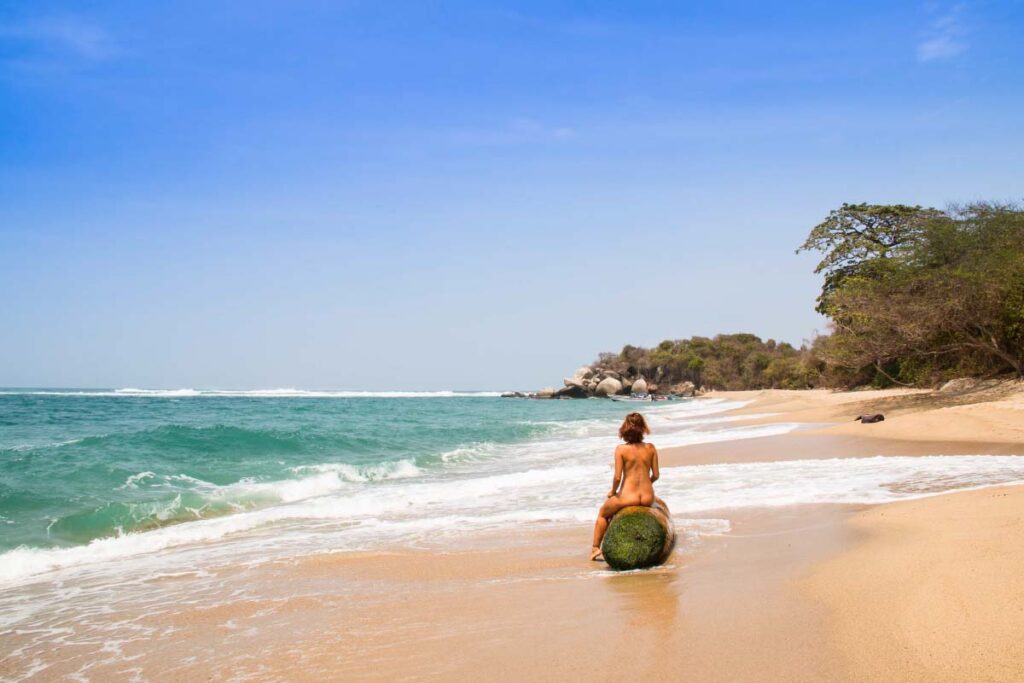 Nude beach activism around the world
Spain is not the only country where people dedicate their time to the protection of nude beaches. When we were going to visit
Praia do Abricó
near Rio de Janeiro in Brazil, we had been told to only come during the weekends when the local naturist group would be present. We didn't listen. It was a warm Friday afternoon and we wanted to go skinny dipping. We never actually made it into the water. When we arrived at the beach, the only other visitors were a handful of single men. All of them were standing, a couple of meters from each other. Nobody said a word. They just stared. It felt as if something was about to happen, but we weren't sure if it was going to be an orgy, a drug deal, or a fight. In any case, nothing that we wanted to experience.
When we went back to the beach the day after, the atmosphere couldn't have been more different. There were couples, families, groups of women. There was a guy selling beers, someone giving beach massages, and nothing but kind hellos and friendly smiles. The naturist group was present.
In Portugal, we met with the group
Alma Naturista
. Their goal wasn't to chase the creeps away from the dunes but to focus on the natural side of naturism. Together with a team of volunteers they often organize beach cleanups. Not only do they remove litter from the nude beaches south of Lisbon, but while they're at it, they clean some of the textile beaches too. If you ever find yourself on a
beach at the Caparica coast
and you think "damn, it's clean here", make sure to send Alma Naturista a thank you note.
Why nude beaches are so important
Exploring a new nude beach is always a toss of a coin. Sometimes you arrive in the most wonderful scenery. Other times you're not sure whether you ended up in a peepshow or a freakshow. With naturist resorts popping up all around the world, isn't it just a lot easier to put some money on the table and visit a private place instead?
For a long time, resort owners weren't big fans of nude beaches either. They figured that if nudity wouldn't be allowed in public places, they would have the monopoly on the naked butt. They would be able to charge whatever they want and not give you much in return except for a jail-free card for taking off your clothes. As resort owners didn't only provide most of the fundings for naturist federations but regularly had board positions too, local groups of beach protectors were often not supported.
The
Spanish naturist federation
is an exception to this and has a long history of activism and protecting the right of public nudity. And the results are there. Not just in numbers of nude beaches, but also in terms of gender and age balance. In fact, if there's something that we've learned during our naturist travels around the world, it's that in countries where the naturist federation supports the local groups more than the resorts, there tend to be more female naturists and more of the younger generations.
There was one thing that the resort owners didn't realize: Most people don't get naked for the first time at a resort. They don't put tens or hundreds of euros on the table to try something of which they're not even sure whether they'll like it. Most people have their first naturist experience at a nude beach. And when they enjoy it, they will start looking at the other options. So instead of eliminating the competition, resorts were actually biting the hand that fed them.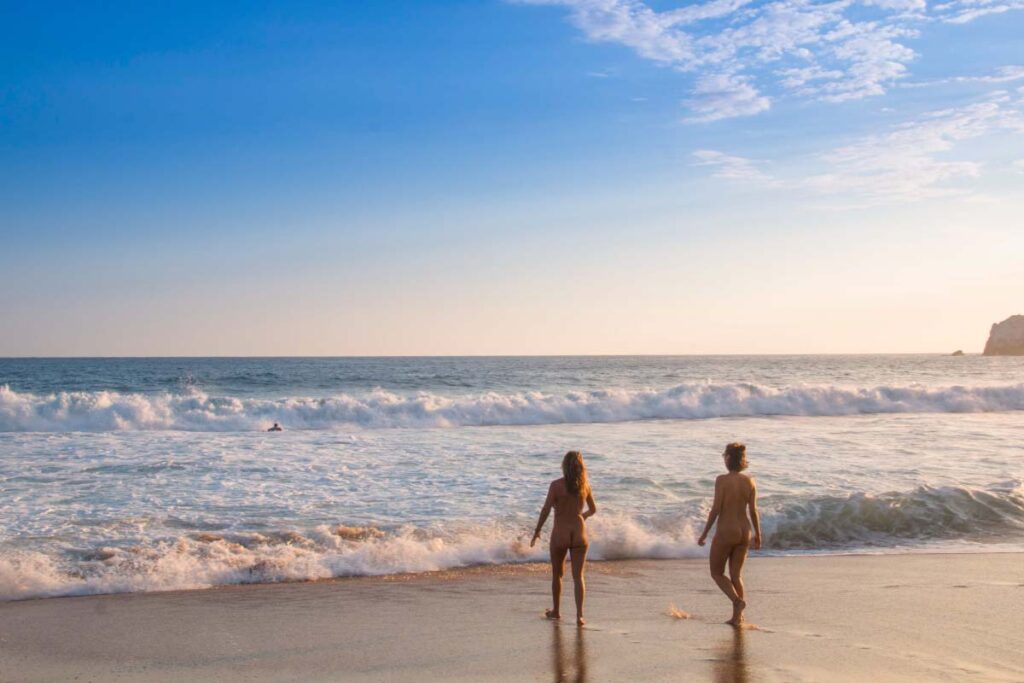 How can you help to protect the nude beaches?
The absolute very best thing that you can do to help the protection of nude beaches, is just going to the beach, taking off your clothes, and enjoying a wonderful day in the nude. That doesn't sound so bad, does it?
The more naked people on the nude beaches, the more the clothed visitors will realize that this may not be the kind of beach for them. Or the more they will feel encouraged to take off their clothes as well. The local governments too will realize the importance of a nude beach when it's frequently visited by local and foreign guests.
And if you want to do more, join a local naturist group. Not only will you help to build on a future for naturism, but you may also meet some great people and you'll always have some friends to go to the beach with.
---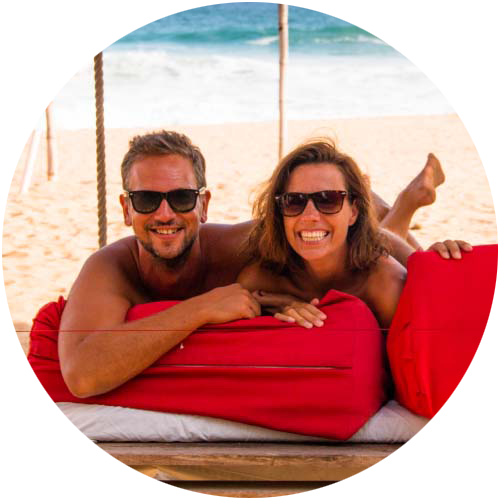 Support Naked Wanderings
Do you like what we do for naturism and naturists? Did we make you laugh or cry? Did we help you find the information you were looking for? Then definitely join our Patreon community!
---