Since we started traveling full-time, back in 2017, not a year has gone by that we didn't end up in France. Still, there are several French naturist venues that haven't been crossed through yet on our bucket list. For long, La Jenny was one of these places, and year after year it moved more towards the top because people we met who had been at La Jenny before had nothing but praise. We just had to go there. In the summer of 2021, the time had finally come and we found ourselves driving through the sandy hills towards the entrance of La Jenny.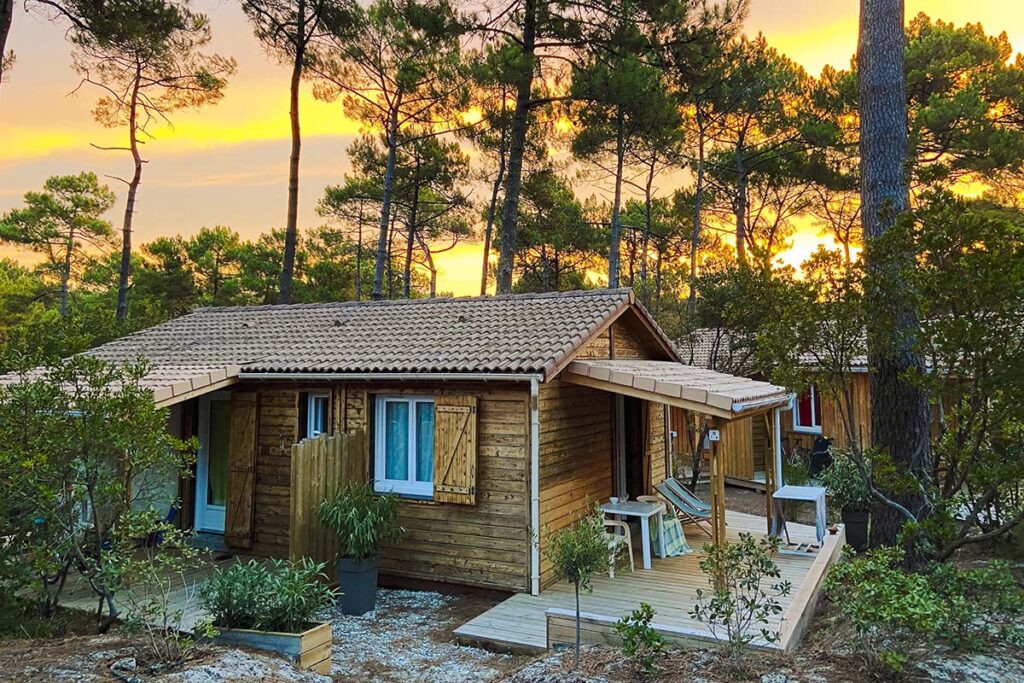 How to get to La Jenny
One thing is certain, you need a car to get to La Jenny as there are no bus stops or train stations anywhere near the resort. Most guests who visit from France or the neighboring countries are traveling with their own transportation. If you're coming from the south, the road signs towards Bordeaux should be your main point of focus. For the northern countries, it might be more interesting to drive towards Nantes and travel south from there. Especially for visitors from the UK who take the ferry in Bournemouth, Nantes will be your direction.
But driving all the way is not a necessity. The city of Bordeaux is only an hour away from La Jenny and has both an international airport and a TGV (high-speed train) station. In fact, we were coming from Paris and the train ride only took 2 hours. If we'd driven, we would barely have been halfway in that time and by plane, we would probably still be waiting at the airport. So do consider traveling (at least a part of your journey) by train.
Both the train station and the airport have a variety of rental car offices. It's always a burden to find the best car rental deals without getting overcharged with extra fees and insurances. We recently found an excellent website to help us with this:
Orbit Car Hire
. We've booked our rental car in France through them and can highly recommend their service.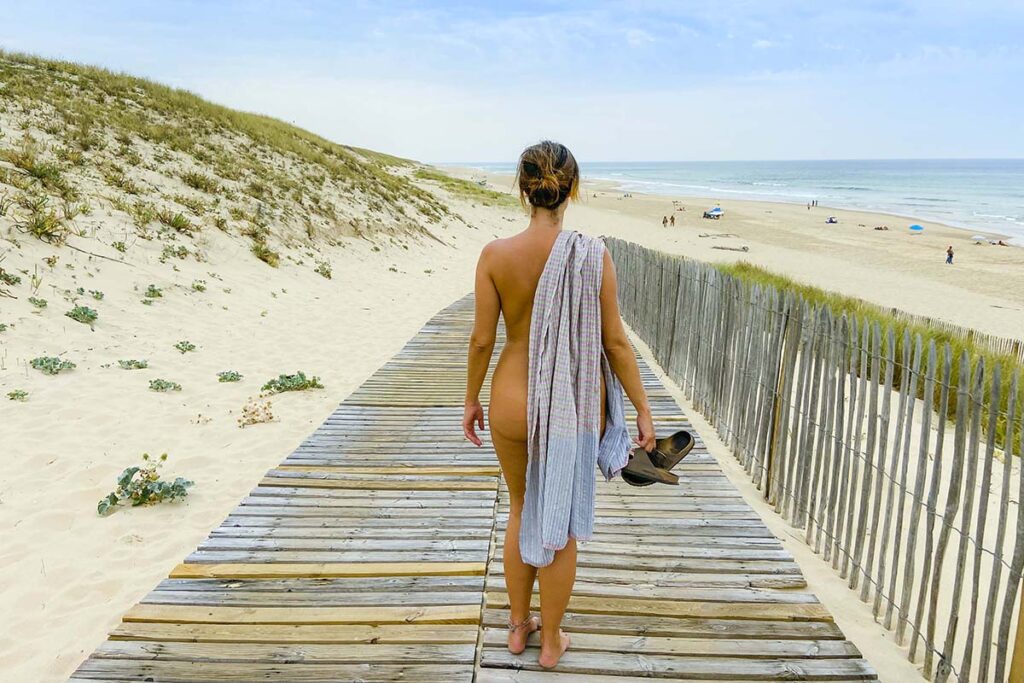 Where to stay at La Jenny
La Jenny is one of the "BIG 4" naturist villages on the French Atlantic coast, completing the list of
Arnaoutchot
,
CHM Montalivet
, and
Euronat
. But there is one major difference with its southern sister resorts: La Jenny is not a campsite. Although the domain is about 127 hectares large, you won't find a single camping pitch and it makes no sense to arrive with a tent or camper.
Interestingly, La Jenny is not a hotel either. It is a true holiday village that consists of many wooden bungalows in all different sizes but that are more or less built in the same style. This makes La Jenny unique in France and we dare to say even in the world.
The term "naturist village" has become quite popular in recent years and more and more resorts are calling themselves this. But they rarely have the real feel of a village. Yes, you can go to the restaurant and do your shopping naked, but which real-life village consists of mostly campsite pitches or has a huge hotel as its main town building? La Jenny is one of the few places where we actually felt like being in a village. Not the typical French village, but more like a secret village in the woods, almost a magical village. A place where like-minded people gather and where the dress code of the outside world just doesn't apply.
Video Tour
What to do at La Jenny
When it comes to facilities and activities, La Jenny is very much comparable to the nearby naturist campsites. The central area has its typical swimming paradise with several pools and sundecks for those who are working on their tan or are looking for a welcome refreshment during the hot summer months.
Surrounding the pool area are the bar, the restaurant, a number of shops, sports facilities, and playgrounds. One of the highlights of La Jenny is, of course, its direct access to the Atlantic ocean with a designated nude beach. If you're a beach person, you'll love this part of France. While the Mediterranean coast is more popular, the Atlantic one is by far more beautiful. Endless coastline, a sandy beach that is more than 100 meters wide during low tide, the gentle waves of the ocean, and nothing surrounding it but dunes and pine forest.
Although the nude beach will be the main point of interest for many of the guests, there is one other thing that makes La Jenny really unique: Its golf course. La Jenny is the only naturist resort in the world that has an official golf course. We don't know much about golf, but from what we see on TV it's a sport that has quite a typical dress code. Well, not at La Jenny. Just like at the other facilities of the resort, the dress code at the golf course is also nude.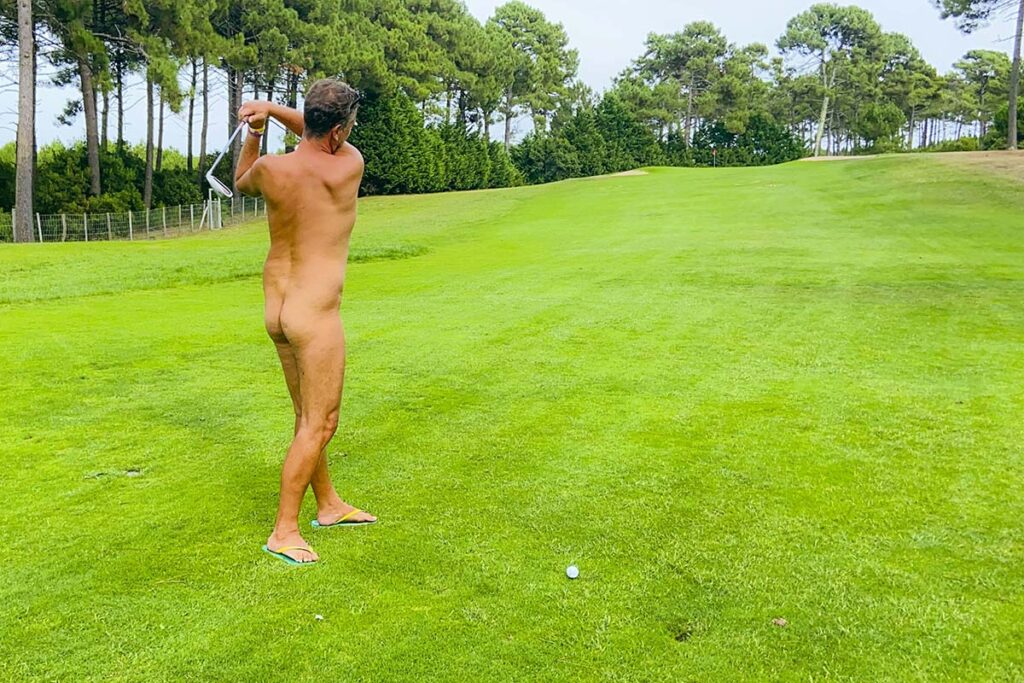 Around La Jenny
We only spent 3 days at La Jenny and never felt the need to set one foot outside of the resort. That is mostly because we had already explored most of the area before. If you have the time, we can highly recommend visiting some nearby places.
Just south of the resort, you'll find the peninsula of Cap Ferret at the Bassin d'Arcachon. The sandy beaches, the surrounding nature, and the beachside restaurants will make you feel like you're on a Caribbean island. Cap Ferret town is often called "the Saint-Tropez of the Atlantic, but with less decadence". If you're into seafood, you definitely want to visit Cap Ferret as it is the official oyster capital of France.
Another highlight in the region is the nearby city Bordeaux. It's UNESCO World Heritage and the historical center takes you back to the early eighteen hundreds. Bordeaux is also one of the very few cities in France that has wineries inside the city center.
Talking about wine, the Bordeaux wines probably don't need an introduction and you'll find wine chateaux around every corner and behind every hilltop. This is what we recommend you the most: Enjoy the good life of France while you're at La Jenny. The food and wines of the region are excellent and you're likely to fall from one culinary surprise into another.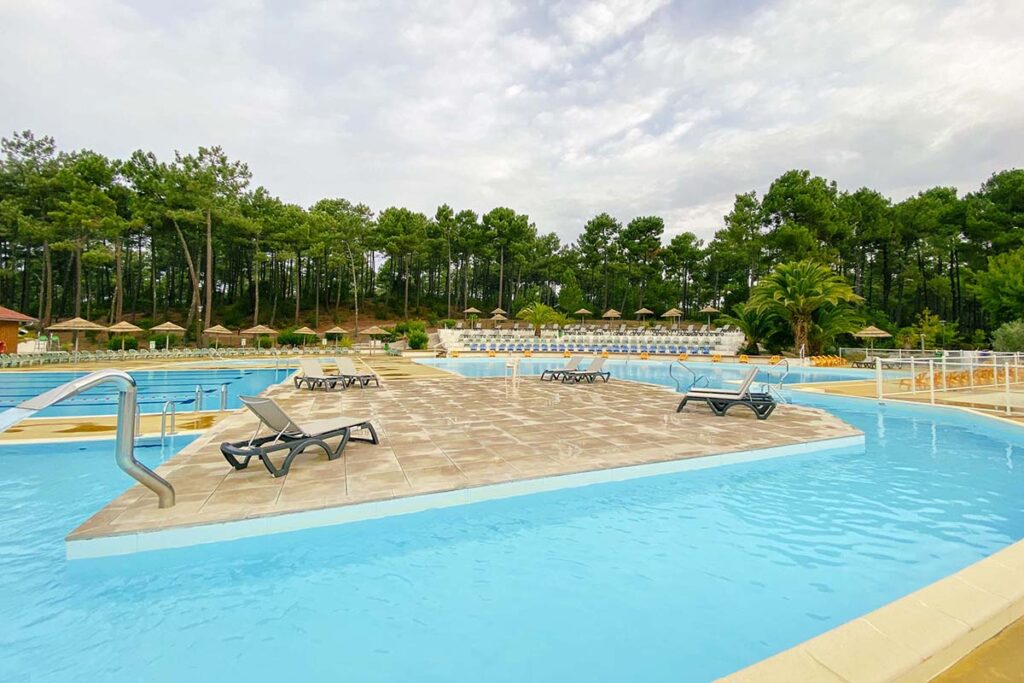 Staff of La Jenny
For resorts the size of La Jenny, it's always difficult to give a general impression of the staff. First of all, because there are so many, and also because they are often invisible. We will definitely remember the friendly girl at the bar who was always up for a joke, the people at the gate who never failed to wish us a good morning, good afternoon, or any other greeting depending on the time of the day, and the receptionists who patiently answered all our questions (as bloggers, we always have more questions than most other guests).
But of course, there will be many more staff members who made our stay better in one way or another but with whom we haven't been in direct contact.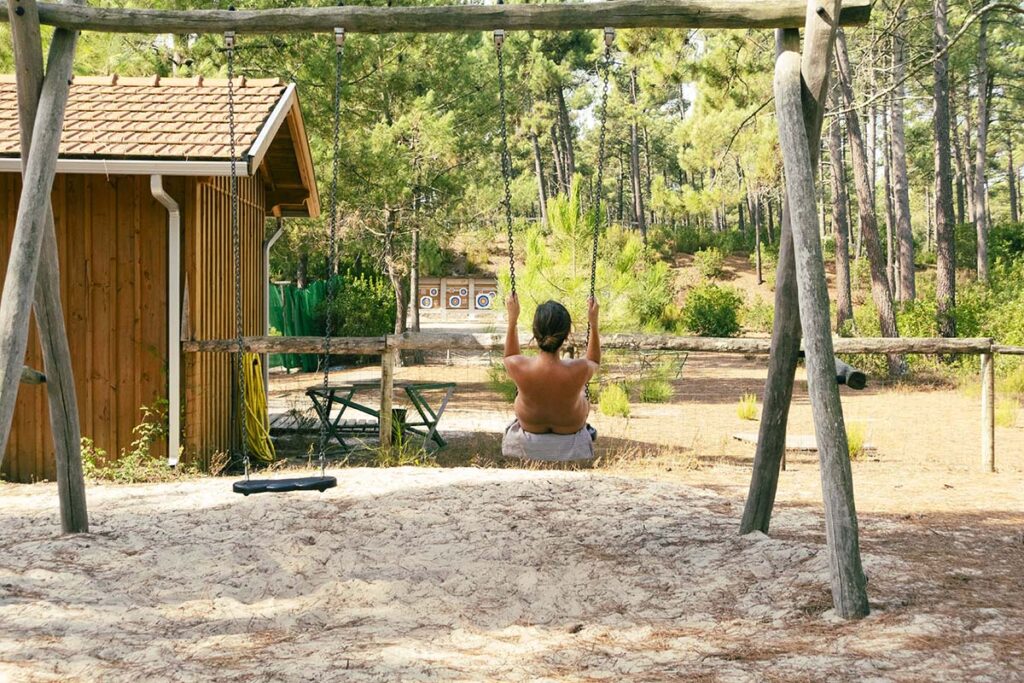 Guests at La Jenny
We will be honest with you, we had heard rumors about the dress code before we came to La Jenny. Some of the long-time visitors had told us that the naturist paradise it once was had recently adopted more of a clothing-optional atmosphere.
We are happy to let you know that we noticed nothing about that during our stay. Maybe it's because we visited La Jenny in September, right after the high season, but in our experience the one and only dress code was nude. There are many huge signs around the resort that encourage the guests to not wear clothes and you are allowed to be naked everywhere on the domain. Yes, that does include the restaurant, bar, and shops.
The majority of the guests seemed to come from France or the neighboring countries. We noticed quite a lot of Belgian and Dutch license plates and also the UK was very well represented.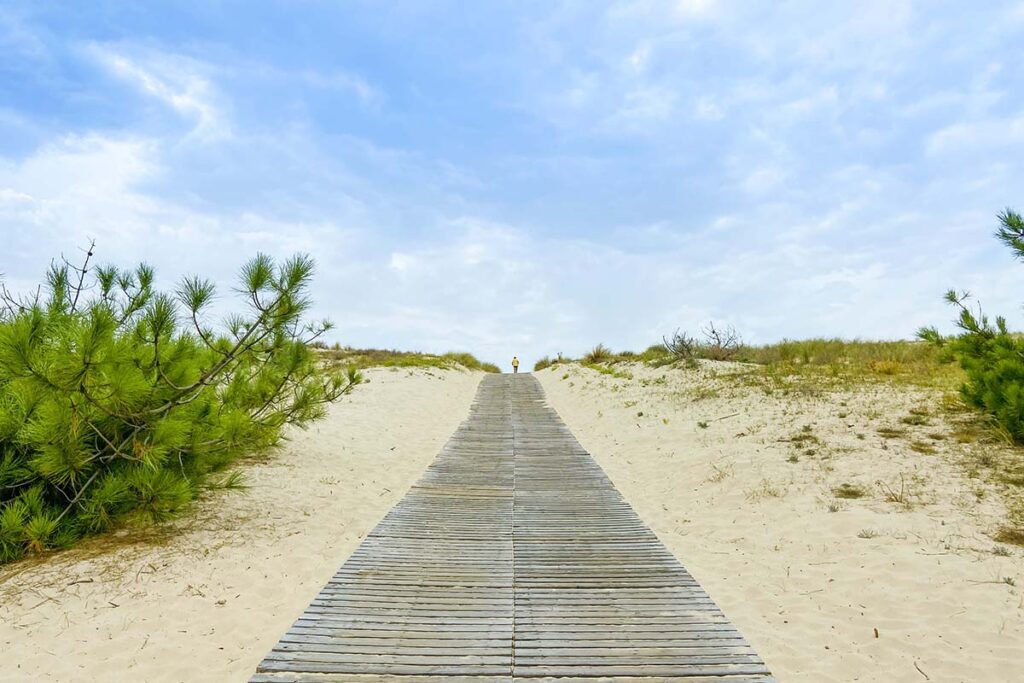 Reservations & Contact
La Jenny has its own travel agency called La Jenny Vacances and this is also the main point for the bookings. You can contact them here:
Summary
When we hear a lot of great things about a certain place, our expectations start to skyrocket and that is not always a good thing. But in the case of La Jenny, we found that the resort was even better than what everyone told us. We hope that with this review we have given you an insight into what La Jenny is, but we can also tell you that it's impossible to completely describe the domain. La Jenny is one of those places that you actually need to visit to realize what all the fuss is about.
Watch the video: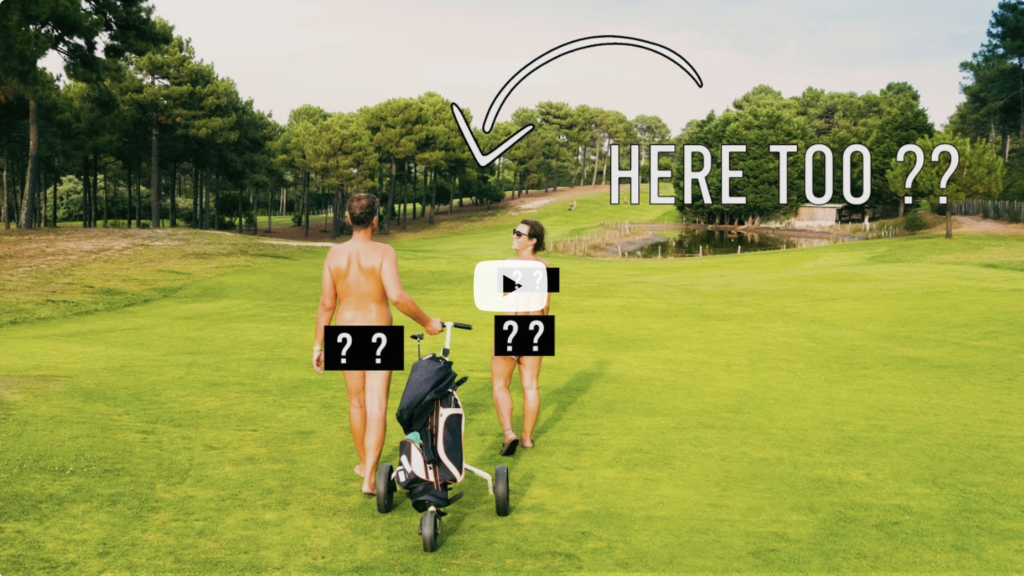 ---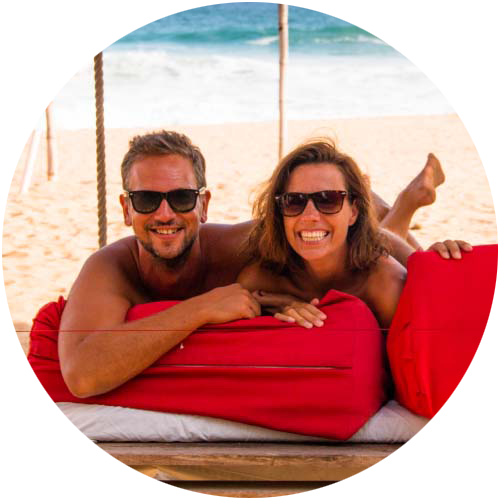 Support Naked Wanderings
Do you like what we do for naturism and naturists? Did we make you laugh or cry? Did we help you find the information you were looking for? Then definitely join our Patreon community!
---