For the next stop on our little "Tour de France", we drove further south towards a department called Landes, another popular tourist destination at the Bay of Biscay. We were on our way towards Vielle-Saint-Girons in the south-west corner of the regional park. The colorful ride could have been reason enough to visit the area but of course, we came here to visit naturist camping Arnaoutchot (or shortly: Arna). We had been told that Arna would be the perfect mix between a
village naturiste
and a family nudist camping, something we just had to see with our own eyes.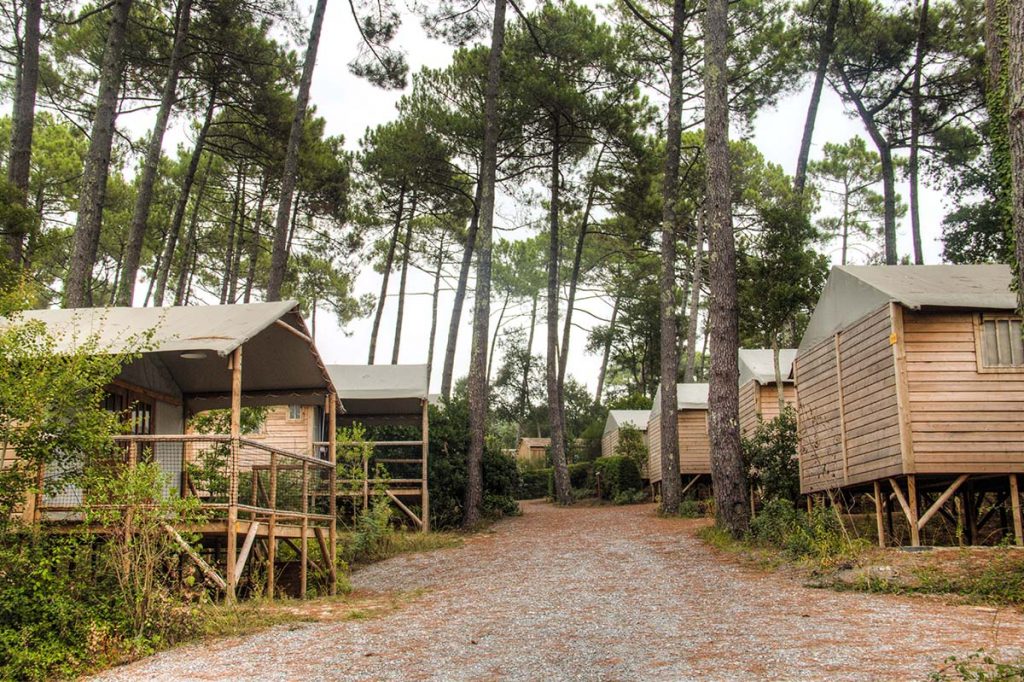 How to get to Arnaoutchot
With 45ha of land, Arnaoutchot can hardly be called a regular-sized campground but yet it can't be compared with the huge naturist centers like
CHM Monta
or
Euronat
either. Its location alone is something magnificent. Right inside the provincial park, you have the feeling that you've been away from society for hours when you finally arrive, but getting there certainly isn't that bad.
No matter which direction you're coming from, you want to get on the A63 (the motorway which connects Bordeaux with the border of Spain). Your best bet will be to take direction Bordeaux and drive south from there. On the A63 you take exit 12 in Castets and drive towards Vielle-Saint-Girons.
Gare de Dax is the nearest train station for those who prefer to come on rails, from there you can either take a bus or a taxi. This train station connects directly with Paris and Bordeaux. Another option would be to fly in. Biarritz airport connects with most capitals in north-west Europe including Paris, Madrid, Helsinki, and Geneva among others. Visitors from outside of Europe will probably have to reconnect in Paris.
No matter which type of transport you prefer, we would strongly advise you to
get some wheels
while you're at Arnaoutchot. The area around the campground is magnificent and it would be a pity if you could only explore the parts where your two feet can take you.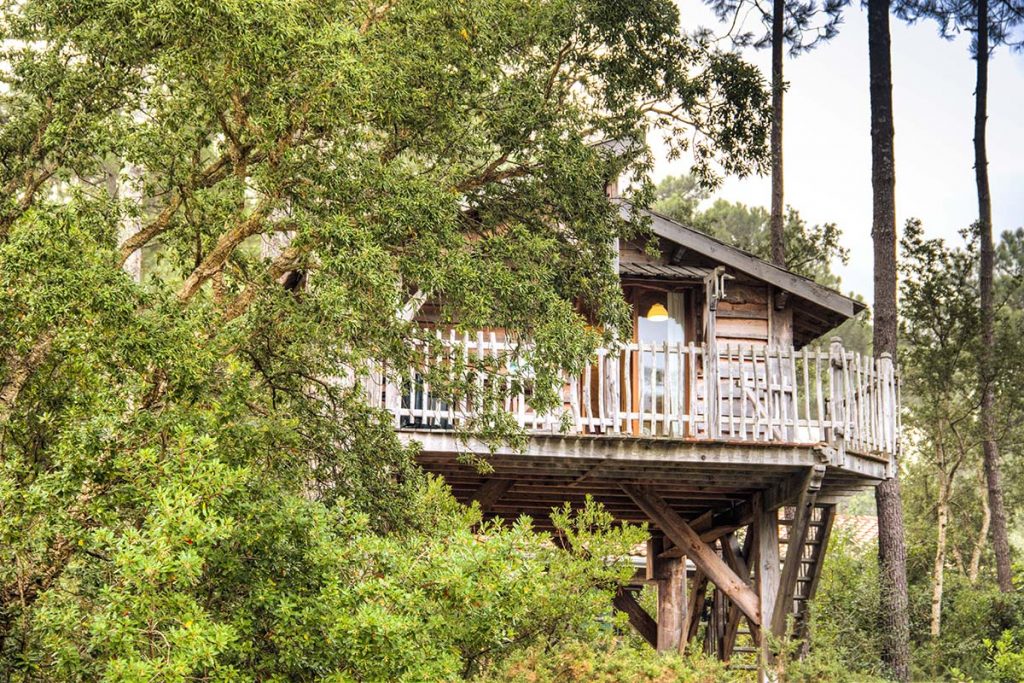 Where to sleep at Arnaoutchot
Although it's technically still called a campground, there's no real need for you to bring your own accommodation. With more than 15 different rental options which provide a very nice range in price, size, and style we're pretty sure that you will find something that fulfills your needs. The accommodations can roughly be divided into two categories: the chalets which can accommodate at least 5/6 persons and which have the looks of a vacation home and the cottages which are mobile homes and where you can put two to four people to sleep.
Before you make up your mind, it's also interesting to have a look at what we like to call the "special accommodation options". The Cabane Nid Perché for example. Although a bit pricy for a two-person place, staying here is certainly something you will remember. Because it's built high off the ground it gives you the feeling of staying in a treehouse, with the complementary amazing view.
Other cool options which are much more budget-minded are the roulotte, a smaller mobile home that still accommodates four, and the Coco Sweet, a brand new and pretty funny looking type of glamping tent.
Many of the accommodations have been adjusted for people with disabilities.
We have spent our time at Arnaoutchot in a Cottage Ouessant, a very comfortable kind of mobile home which had everything needed for at least a month-long stay, although we were only there for a couple of days. The top of the bill was certainly our 20 square meter terrace. The architecture of Arna depends a lot on hedges, which will always give you a feeling of privacy. Certainly on your terrace. Yet the chalets and cottages are built near each other which does create a social atmosphere.
Bringing your own home is certainly an option as well, several areas are designated for campers, mobile homes, and tents. If you like the real "camping in the woods" feeling, we would advise you to pick a spot in the area called "Far West". In low season it might feel like you're all alone in the forest and even in high season, your neighbors will still be a nice walk away. This is the place where you want to camp if you want solitude, at least while you're in or around your tent.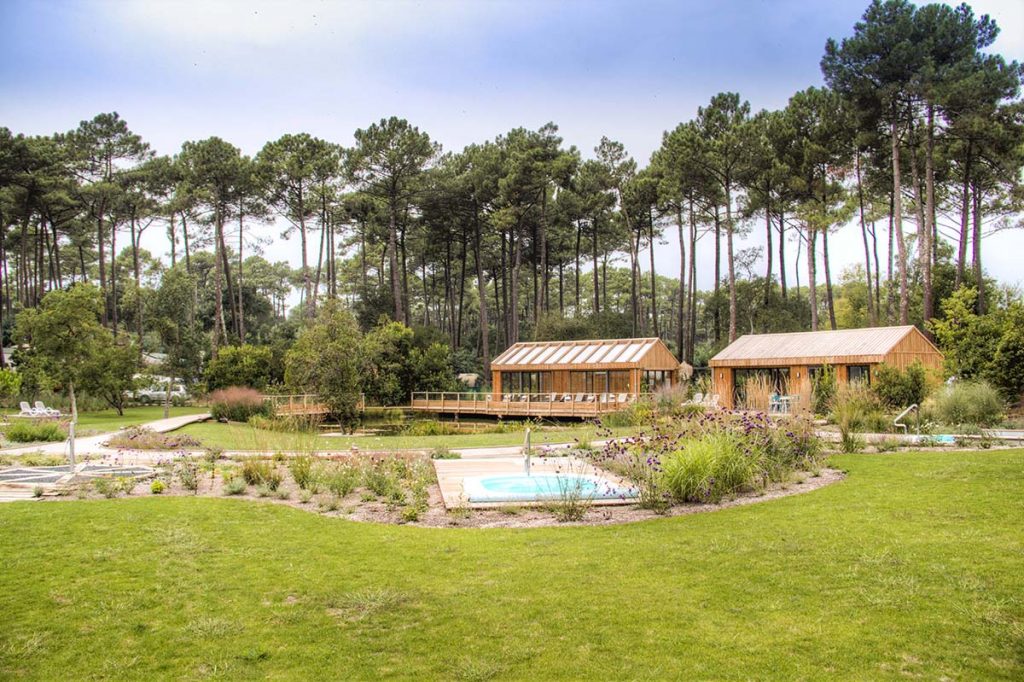 What to do at Arnaoutchot
People at Arna are working very hard to modernize the place. Every winter when the campground has closed for the season, construction workers arrive to tackle yet another part that could use a new look. When we were there during the season of 2018, the brand new addition to the campground was an impressive spa complex. From the moment we entered we got visions of a Japanese garden, including a pond with a picturesque bridge over it. Opinions may differ whether this style fits in a French pine forest, but the only thing we can say is that we just LOVED it! It's a wonderful 4000 square meter oasis which can make you completely come at ease within minutes. A huge lawn to relax and sunbathe, two outdoor bubble baths, a sauna, Turkish baths, a solarium, and a herbal tea plantation. Several types of massages, beauty treatments, and therapies are available on request.
For us, the spa complex was certainly top of the bill. But there's lots more. The 200 m nude beach accessible directly from the campsite is certainly an added value. Other than skinny dipping and baking your bare behind in the French sun you also have the option to take surf classes. The morning sun hits the waterpark immediately after it got up so that's a good place to get awake. If the early temperatures are a bit too chilly for you, refreshing in the indoor pool is certainly an option as well. Other sports are also available, from Tennis to Shiatsu, whatever you need to get those muscles stretched. Even a fitness trail is among the options, the combination of running and fitness exercises, it's nothing for us but you might actually enjoy it.
We've noticed that Arnaoutchot adopts a "semi-clothing optional" strategy, meaning that clothing is not strictly forbidden on the premises but it's encouraged and the pool areas are strictly nude only. A very reasonable idea for a place this size if you ask us.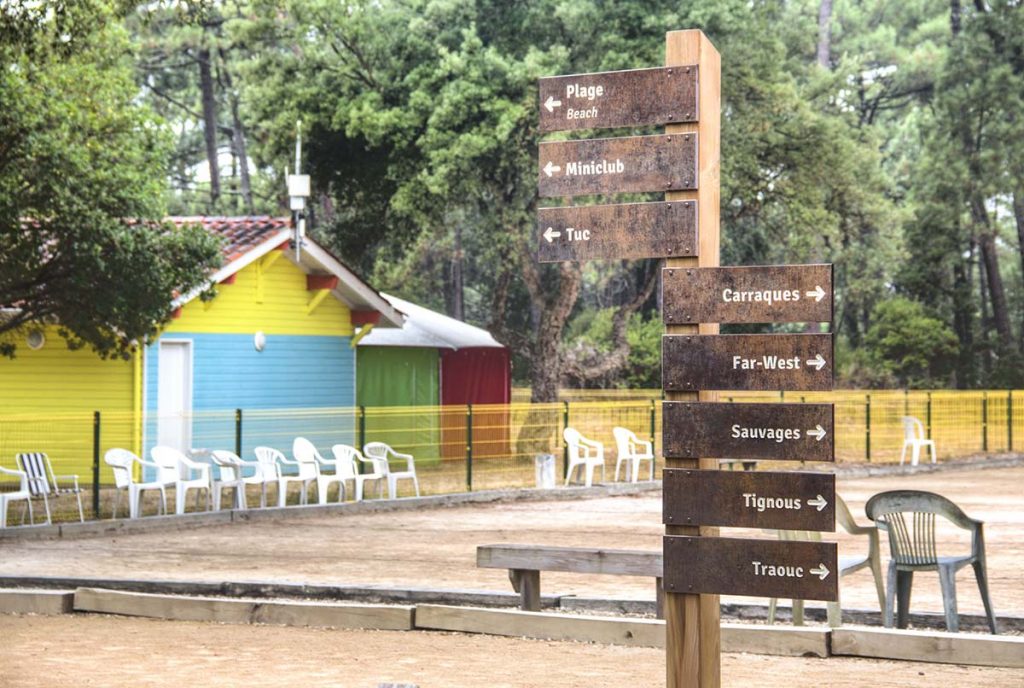 Arna is very much focused on family naturism and the 4 different kids' clubs are a good proof of that. The Miniclub (3-6 years), Club Adventure (7-10), Fun club (10-14), and the Fresh club (15-17) are the places where your offspring will be entertained from morning till evening and where they will make lots of new friends. Or where you can drop them when you've planned a day at the spa… just saying.
Also, your evenings will be entertained with several theme nights. Dance, cinema, live music, quizzes, and parties for the grown-ups and treasure hunts, night challenges, and kids disco for the little ones. Important to mention here is that unlike at many other places, activities are also organized outside of high season.
Your stomachs can be pleased in La Tapita restaurant (seafood, only in high season) or Le Landrais Gourmand (local cuisine, from the start until the end of the season). During high season it's also possible to get some snacks at La Pizzaiolo.
Around Arnaoutchot
If long walks in the forest between tall pine trees and purple heather flowers are your thing, you don't even have to leave the campground. But you could, to find more hiking trails than you can ever complete in your life just next door. We hate to repeat ourselves, but yet we're going to do so anyway… if you like wonderful nature, this is the place where you want to be.
More nature can be found at the réserve naturelle Courant d'Huchet. An impressive lake and a maze of connecting rivers will often make you think that you're rather in the Brazilian jungle than in the south of France. There's an office next to the lake where you can organize tours in a rowing boat, but don't worry, you don't have to row yourself. We've been there and we can tell you that this is something you don't want to miss.
Because of its proximity to the Pyrenees, a nice mountain walk is even an option for a day trip.
There's more to be seen than nature though. The city Bordeaux with its UNESCO protected center is only an hour away and a great source for culture. Landes is also a popular wine region and several chateaux can be visited in the area. Other than that you can go rafting, kayaking, golfing, go-karting, and lots of other things that end with "-ing". Several theme parks and animal parks are also a good option to visit with the family or why not go shopping for local farm products? This is an area that your taste buds will adore. Fresh honey, foie gras, oysters, cheese, gizzards, duck, it's all there. Oh, and by the way, wine also counts as a local farm product.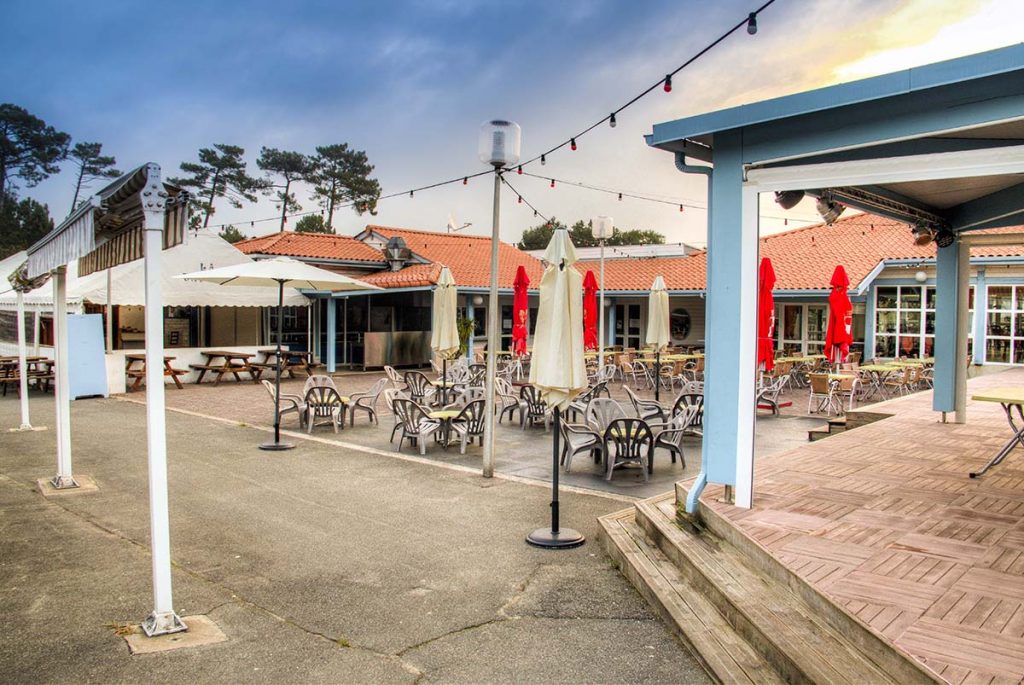 Staff of Arnaoutchot
After more than a year of traveling, we've gotten pretty used to receptionists. Every couple of days we're moving from one place to another and we're always asked the same questions and we always have our passports by hand because we know they'll probably want a copy. And yet we have to admit that we've been speechless for a couple of seconds when we arrived at the reception of Arnaoutchot and Joke asked us "Hallo, hoe was jullie rit?". Translated this means "hello, how was your ride?" and this isn't really something that would blow us out of our shoes but the fact that it was in our own language was something that hadn't happened to us since sometime in 2017.
After a second or three, we could finally answer that our ride had been very fine.
If you're running a tourist business in a country like France, speaking multiple languages is of course a huge advantage and we were very happy to see that someone actually spoke our own. But Joke was a polyglot, if we remember well, she also had the English, French, German and Spanish flag on her name tag. A lot of the world population can be addressed by her.
Joke was not our only pleasant surprise that day, soon after we got installed in our cottage we met up with Barbara, the new manager. In the hotel business, new management is not always the way to success, but we've noticed that this does happen to be the case more often at naturist places. Especially if the new manager takes over from her parents and is about the same age as we are. During the half-hour or so that we've spent with Barbara she has been able to convince us that the future of Arnaoutchot is bright. Her vision is a perfect mix between naturist values and modern accommodation and facilities. We'd love to go back every year just to see things evolve.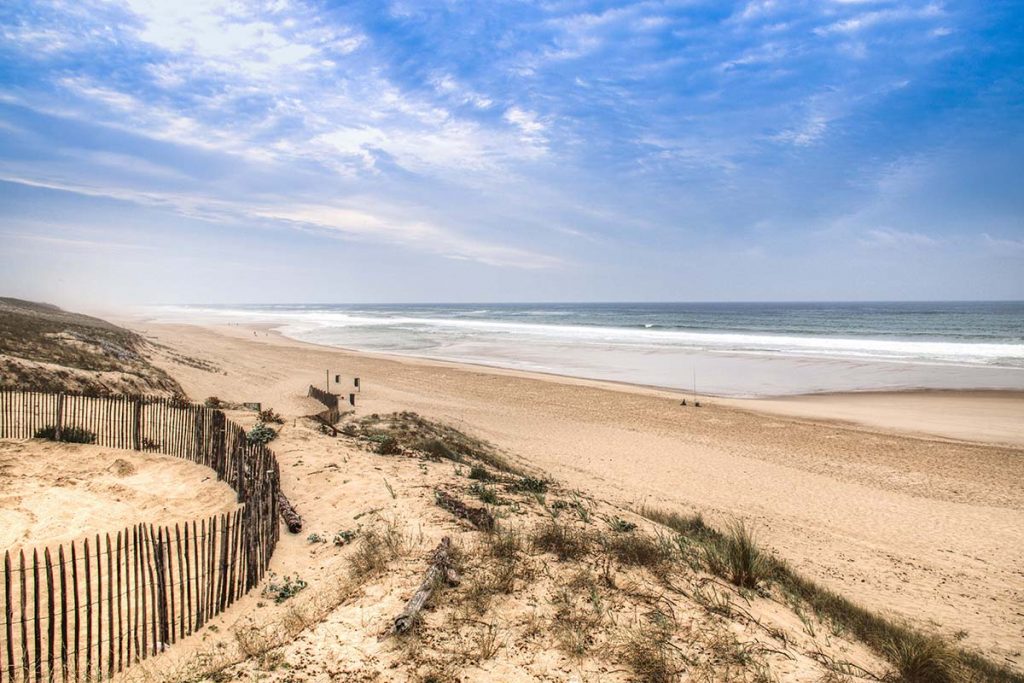 Guests of Arnaoutchot
In many countries, Arnaoutchot would be considered an enormous place, yet with spots for "only" 2500 visitors, in France, it's often considered pretty average. Because we were at Arna at the end of the season, we only saw a fraction of that ultimate amount. Given the facilities and the atmosphere, we do think that Arnaoutchot is the perfect place to visit with your family, but it's not uniquely like that. The friendly atmosphere makes it easy to connect with the other visitors, whether you came with 10 kids or just as a couple or a single.
From the license plates, we've learned that France, Germany, and the Netherlands were the most represented but others are never far away. When we heard a very Flemish accent during one of our morning walks, we almost felt completely at home.
Summary
We have to agree with what we had been told from the beginning. Although Arnaoutchot is quite a large naturist camping, it's still family managed and this feeling trickles down towards the guests. At Arna, you don't feel like a number or like just another guest. Here we were Nick and Lins. And we had an amazing time.
Read more about Arnaoutchot on  
NUDE
Disclaimer: We have been invited as guests of Arna, but of course all opinions are our own. We are super confident you will love this place as much as we did!
---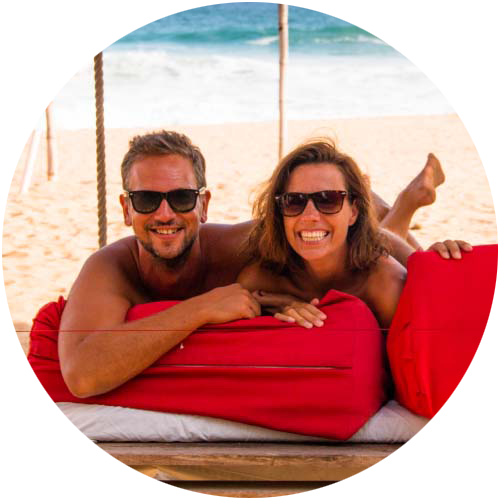 Support Naked Wanderings
Do you like what we do for naturism and naturists? Did we make you laugh or cry? Did we help you find the information you were looking for? Then definitely join our Patreon community!
---