Every now and then, the discussion about the financial aspects of naturism seems to pop up on social media. It's one of those endless debates that live on a pilot light most of the time, but a little spark is enough to start yet another series of heated tweets. Recently, such a spark came from
Hector Martinez
(quite known for not fearing controversial topics), when he talked about how censorship on mainstream social media forces the naturist content creators to move to paid platforms like Patreon.
Although endless and often very repeating, we do kinda like this conversation. It shines a light on how people really think about naturism and how some aspects are often misunderstood. As our personal opinion about this topic is much more than what fits into a handful of tweets, we decided to write a blog post about it.
View this post on Instagram
Naturism is, and will always be FREE
It's interesting how some people like to shout that "naturism should always be free". Because it is already free. There's no question about it. Nobody can charge you money to call yourself a naturist and neither does it require any investment. Naturism is not something that one can own. It's a philosophy, a belief, something in your head. Even better is that nobody can stop you from being a naturist. Your local laws may be against it, or your religion, or your partner, but as long as you believe in naturism, you are a naturist.
This is one of the main misunderstandings because these people confuse naturism with the facilities. While naturism is free, resorts and events are not. And we believe that it's only fair that you have to pay for those. If someone invests time and money into providing you with a better naturist experience, these people should be compensated. We like to compare this principle with a sunset. Sunsets are always free, but if you want to enjoy them in a more comfortable way, you'll have to buy a chair.
View this post on Instagram
Are naturist resorts overpriced?
During our latest
Live Q&A session
, someone asked why naturist resorts often cost more than similar textile resorts. We believe that this is true in some cases, but that it often has to do with supply and demand. When we look at
naturist campsites in France
, for example, we don't feel like they are more expensive than textile campsites. While they do have quite some advantages (other than the fact that you can be naked), their pitches are often larger and you rarely need to pay for the showers.
At the more upscale accommodations, you can see a significant difference. Rental apartments at
Vera Playa
, for example, tend to be more expensive during the high season than rentals in nearby textile urbanizations. This is because on the whole Spanish coast, there's only one place like Vera Playa. If you want to experience the "naturist village" feel on mainland Spain, it's your only option. So they have a monopoly from which they can benefit. It's the same for many naturist hotels and guesthouses, they are often rare, so they can charge whatever they want.
We don't want to say that naturist resorts are benefiting from their uniqueness, because there's a lot going on behind the scenes as well. For example, they often have a shorter season than textile places, meaning that they need to make all their money for a whole year in just a couple of months. In some less naturist-friendly countries, there's also the risk factor. If the neighbourhood turns against them or the government wants to shut them down, they'll lose their business. A risk that we believe is worth compensating for.
View this post on Instagram
Wasn't it cheaper in the past?
We all have a tendency to romanticise the past, and we notice that this is something typical for long-time naturists. They look back at the eighties when camping pitches at the naturist club cost little more than nothing. But there are some factors that we seem to forget about. On one hand, the eighties are 40 years ago. Everything has gotten more expensive. If naturist venues would maintain the same prices today, they could probably not even pay the electricity bill.
Then there are the facilities, which used to be much fewer in the past. We have stayed at naturist campsites in France where a tent pitch costs up to 50€ per day. That is A LOT of money for a couple of square meters to set up your own tent. But you're not just paying for the pitch, you're paying for all the facilities as well. For the several swimming pools, the sports courts, the activities, etc. You pay for the package. It's not that this is the only option though, we once wrote a blog post about
naturist campsites in Europe for less than 30 euros per night
. You'll probably find even cheaper ones if you start looking at the really small clubs. But the whole package will include much less too.
Lastly, there's the membership. Some decades ago, it was almost impossible to visit a naturist venue if you weren't a member of a club or federation. This is an additional cost that people seem to forget about. We've noticed that a lot of the complaints about overpriced naturist resorts come from the USA, a country where membership cards are still a big thing. If you only go on one naturist vacation every year, and every time you need to renew the membership for every family member, it's probably much more economical to visit a textile resort instead.
View this post on Instagram
Promoting naturism as a business
Let's get back to the original tweet, the one where Hector gave a pretty long rant to explain why you should support naturist creators on Patreon. Just like ourselves, creating naturist content is Hector's (and his wife Francelli's) full-time job. It's their income. If they would give it all away for free, they would have to stop eventually. A question that quickly arose was whether it's okay to turn the promotion of naturism into a business concept. Won't this eventually hurt the values of naturism? Where does it end when we start commercializing naturism?
A valid fear, because there's a very well known example of where commercial naturism has gone wrong:
Cap d'Agde
. It started as a huge genuine naturist destination, but the smell of money from the swinger and sex industries has turned the place into something completely different. What if Hector and ourselves and the other online promotors of naturism start doing the same thing? What if we start sexualizing naturism in order to get access to the swinger dollars?
It's all a matter of trust. While some naturist resorts have turned swinger, many others have not. And we expect that the same will happen with naturist content creators. We've seen some of them turn to the dark side, to dubious OnlyFans accounts and webcam chats. You probably won't even remember them, because as soon as you've seen this happen, you've unfollowed them. And that's the beauty of this concept. You support the promotors of naturism that in your opinion bring value. If they change direction, they lose the support of the naturist community and their presence in the naturist world.
View this post on Instagram
Should you support naturist content creators?
With the uprise of platforms like Patreon, a big fear is that all the good content will disappear behind a paywall. We won't deny it, for us too,
our Patreon page
has become an important source of income. And from one day to another, we could decide to make all our content payable. You can still read this blog, but it'll cost you 5$ per month. Wanna watch our pictures and videos too? That's 15$. We could do that, but we won't. Because even though this is our income, we will always stick to our goal of promoting naturism as widely as possible. And that can not be done if we only reach a small number of Patreons.
This is where we expect to see a distinction in the near future. Well, we can actually already see it today. You will find naturist content creators who will put all their best stuff behind a paywall with the goal of making money from their content. They will reach an audience that is willing to pay for unique content. On the other hand, you'll find creators that will give most content away for free, with the goal to promote naturism. They will reach an audience that appreciates what they do and will pay to support their cause.
Eventually, the success of both is in your hands, because you decide what you do with your money. From that point of view, it's a very democratic system. The content creators that earn the most, will be encouraged to do more of what they're doing. The ones that earn the least will be discouraged and will eventually have to quit because it's not sustainable anymore.
View this post on Instagram
What's the price of naturism?
We've mostly talked about naturist resorts and naturist content creators in this blog post, but there are many other forces that try to make your naturist experience better. We're thinking about clubs and associations, about federations, about organisers of naturist events. While they are not always aiming to make a profit, they need money to work with. They need to be able to invest in infrastructure, and in promotion material, and to buy their volunteers a beer at the end of the day.
All of this determines the price of naturism. Well, not of naturism, because naturism is and will always be free. The price of your naturist experience. And once again, the choice is yours. If you don't think that it's worth it or if your think that it's ridiculously overpriced, just don't go. A sunset is equally beautiful when you watch it standing up or from a hot tub. The price of your naturist experience is whatever you want it to be.
---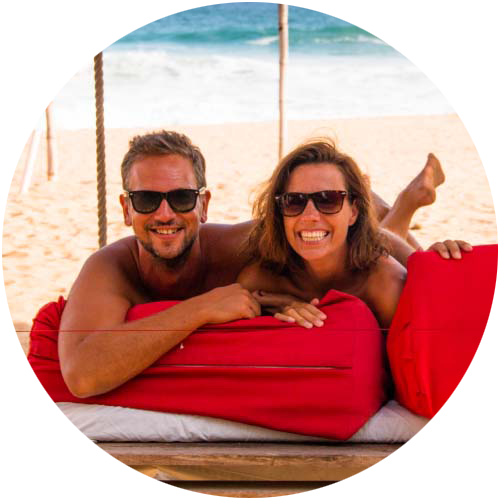 Support Naked Wanderings
Do you like what we do for naturism and naturists? Did we make you laugh or cry? Did we help you find the information you were looking for? Then definitely join our Patreon community!
---